2023 DFSK Glory 500
Expected Launch in Pakistan:

 2023 or 2024

Expected Price in Pakistan:

45,000,00 PKR

1st Generation
Dongfeng Sokon has made its entry to Pakistan as a joint venture with Regal Automobiles Industries Limited. It has already launched DFSK Glory 580, K01S mini truck, and DFSK Glory 580 Pro 7-seater SUV. Now the news has been received about the launch of its all-new subcompact crossover DFSK 500. The DFSK Glory 500 will be the newest addition to the DFSK products in Pakistan. The Pakistani automobile market is witnessing a boom in crossover SUVs since last year, and DFSK Glory 500 will be adding more competition to all the already existing SUVs. It is a five-seater crossover SUV with a 1.5 liters engine capacity, and it offers you a variety of features. It provides automatic headlamps and automatic wipers along with electronic parking and Brake Auto-Hold. You will be provided with a panoramic sunroof to add more light and fresh air to the cabin. The cabin facilitates you with a multi-function steering wheel and a 7-inches touchscreen to give you infotainment. The DFSK Glory 500 will add more convenience to your driving by providing you with the feature of an engine start and stop option with a push button. Your safety will be a priority, and two airbags will offer you extra protection during emergencies. Other than this, all standard safety features will be available in Glory 500. The exact price and date of its launch are not released yet, but it is expected that DFSK Glory 500 will hit the automobile markets in October 2021 in Pakistan.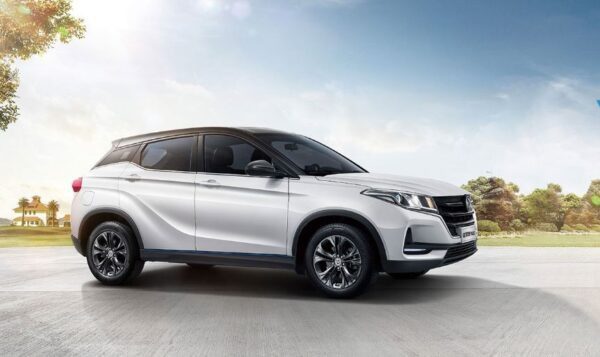 Trims & Variants:
The upcoming DFSK Glory 500 in Pakistan will be a petrol-powered SUV, while in China, two electric versions of the DFSK Glory 500 are also available. DFSK Glory E3 and Glory E3 EVR are the electric versions of Glory 500 available in export markets. The E3 EVR is also known as Series ix3 in China. It is the hybrid version of Glory 500, while Glory E3 is the all-electric version of it.
Engine & Power:
The DFSK Glory 500 to come in Pakistan will have a 1.5 liter naturally-aspirated, internal combustion engine that produces a maximum of 116 hp of horsepower and a maximum of 14.5 Nm of torque. It will have a five-speed transmission mated with either a manual gearbox or a continuously varying automatic transmission—Macpherson strut suspension at the front axles and torsion beam semi-independent strut suspension at the rear axles.
Performance & Drive:
The DFSK Glory 500 will be another great SUV coming to Pakistan equipped with all the latest features so you can enjoy exceptional driving performance. The 1.5 liters petrol engine produces enough power to run the front wheels efficiently and offers front-wheel-drive only. The four-wheel-drive option will not be available yet in this SUV, but it will be delivered exceptional driving performance. The suspension system in SUVs is sound, and it provides a balanced ride. The DFSK Glory 500 is designed in a way so it can cope with the uneven roads of the country and absorb all its irregularities. The comfort of the passengers will not be compromised in any way. The steering wheel is power-assisted and easily controlled so the drivers can turn the cars around corners and turn quickly, making the car's handling easy. The barking system is well developed, letting you apply brakes smoothly without producing any jerks. An Anti-lock Braking system prevents the locking of the brakes in emergencies, thus ensuring the protection of the passengers. It also offers you an electronic parking system with a brake auto-hold feature assisting you in parking your cars. The reversing assist further gives more convenience to the drivers when parking the vehicle. The SUV features automatic headlamps which switch on automatically when you enter a dark zone and illuminate your path with bright light. The continuously varying transmission Glory 500 offers precise with smooth throttle changes. It facilitates you in driving in extreme weather conditions, especially in heavy rainfall, with the help of its automatic wipers that have sensors that activate automatically when rain falls on its screen. Nothing can be said yet, about the fuel economy of DFSK Glory. Still, it is expected that the 1.5 liters of the engine will offer you a budget-friendly fuel economy which will make it attractive among its competitors.
Exterior Design & Features:
The DFSK Glory 500 has a stylish and beautiful design with a long tapered front end, which has three silver strips of chrome grille on it, which has an embossed DFSK logo on it. The SUV has an overall length of 4385 millimeters and a width of 1850 millimeters, while it has a wheelbase of 2665 millimeters. The headlamps are designed sleekly with automatic adjustment. The rear end has narrow taillights and a large size power tailgate. It has 18 eighteen inches alloy wheels that give it a bold stance and empower sportiness to it.
Interior Design & Features:
Moving inside the Glory 500, you will find a comfortable and luxurious cabin with a premium feel. It is a five-seater SUV with two rows of seats. The passenger room in the cabin is spacious, accommodating five adults very comfortably. The plastic trim pieces on the dashboard do not look cheap, and the seats are covered with leather which gives it a premium look. The steering wheel is also covered with leather and offers multi-functions so that drivers can quickly command phone calls, and voice controls are also given. A seven-inch touchscreen display mounted on the dashboard gives you infotainment and is compatible with Android Auto and Apple Carplay interface. The gear knob is very stylish and shorter in size, fixed between two front seats in a way, so it occupies less space. The engine start button is set just aside from the steering wheel, and air vents designed in the circular are present throughout the console. There is a panoramic sunroof in it which is opened by pressing a button, and it adds fresh air to the cabin. On the whole, the DFSK Glory 500 will give you maximum comfort and luxurious features so you can enjoy your trips, and the car is spacious enough to accommodate your family easily in it. It will be a good option for a family trip.
Safety & Features:
DFSK Glory 500 features all the standard safety features that a good SUV should offer. Some of the safety features are as follows:
2-airbags
Anti-lock Braking System
Electronic Brake Force Distribution
Power door locks
Reverse assist
Major Competitors: