2023 FAW Carrier
Sold in Pakistan = 2020-Present
1st Generation
2023 FAW Carrier Price in Pakistan
FAW Carrier

1,139,000/

– PKR (Ex-Factory)
Al-Haj Group made a subsidiary with FAW Group of China, and Al-Haj Faw Motors Limited came into being in 2013 in Pakistan that has introduced a list of passenger vehicles and commercial vehicles in Pakistan at a very reasonable price. FAW Carrier has always been a hit code by the Company since the time of its launch in 2013. It has been updated from time to time, and the love for FAW Carrier remains the same over these seven years. 2021 FAW Carrier is still the first choice by customers when a small pickup truck is to be bought. You should go for FAW Carrier because it comes with a 1.0-liter Efi powerful engine, and the Euro-IV compliant engine is all you need in polluted cities that have smoggy weather. The driver's and passenger's seats are quite comfortable to give you a better ride quality for an all-day-long commercial tour. It can carry one ton of cargo in its eight feet loading deck which makes it best for commercial purposes. FAW Carrier is equipped with some of the necessary features like front fog lights, a heating system inside the cabin, an air conditioning system, USB input, seat belts, and disc brakes.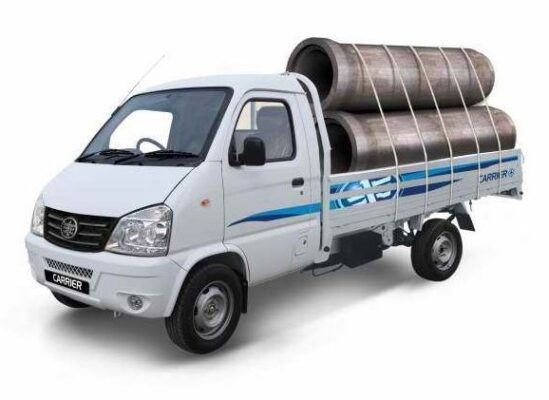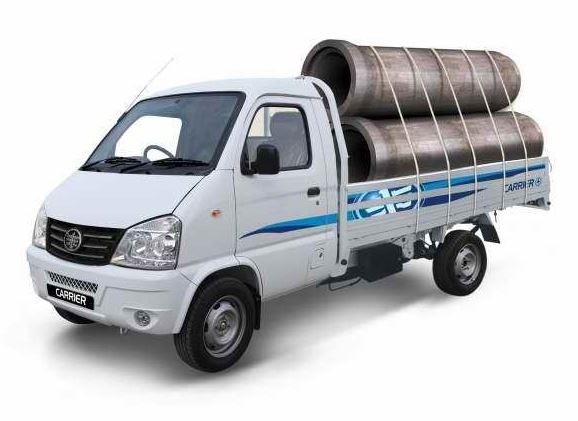 Trims & Versions:
FAW Carrier 2021 is available in three variants that are as follows: Standard trim, Flatbed trim, and Deck-less trim. The powertrain for all the versions is similar; Basic features for the Standard Trim are FM/AM radio, CD player, defogger, heater, and front fog lights. The Flatbed trim has a curb weight of 865 kilograms, and it features a large trunk for transporting goods. Its features are the same as Standard trim, but it also carries cup holders and auxiliary cable. The Deckless trim features a rack and pinion steering wheel, an EFI fuel system, disc brakes at the front and rear, and a curb weight of 850 kilograms.
Engine & Power:
All the trims of FAW Carrier are powered by a 970 cc OHC eight-valve four inline cylinder engine that features an Electronic Fuel Injection system and the Euro IV compliant engine that produces less co2 emissions from the exhaust that is safer for the environment. This Efi petrol engine generates a total power of 60 hp at 5200 RPM and 84 Nm torque at 3000 RPM. The braking system features disc brakes on the front and drum brakes on the back.
Performance & Drive:
FAW has ensured its customers get a better ride quality whether it's a passenger vehicle or a commercial van. The FAW Carrier gives you quite a good ride quality as compared to all its competitors, and it makes sure that the driver does not feel exhausted in a day-long driving. The suspension system of FAW Carrier is also improved, giving a soft-driving experience and minimizing all the jerks and bumps over the speed breakers. The suspension system features coil spring suspension on the front and leaf spring on the rear. The steering response of the Carrier is also good giving good control on such a loaded pickup, and its rack and the pinion steering wheel are somehow light that takes little effort by the drivers to turn the pickup. It can carry one ton of cargo in its eight feet long-loading deck. The loading capacity is quite enough, and it can directly affect the operating expenditure, but "FAW" tries its best not to affect the quality of the ride with cargo loaded and making your deliveries quite easy and convenient. It is a multipurpose vehicle used for multiple works; for transporting goods in a small business, commercial business, or at a national level. It's being used as the first choice by Albayrak Waste Management company for transporting vehicles. Rawalpindi, Gilgit, and many other Waste Management corporations are using FAW Carrier as the solution for waste management services. It offers you a five-speed manual transmission with smooth throttle changes, and it gives you a maximum speed of 110 kilometers per hour which is quite impressive and safe in such commercial loading pickup trucks. The mileage of the FAW Carrier is also good, as it can drive up to fourteen to fifteen kilometers per liter with loaded cargo in its deck with a fuel tank capacity of thirty-seven liters. The brake of the FAW Carrier is also efficient as it applies the brakes smoothly whenever required. The projector headlamps designed on the front give better illumination of the road and vehicles ahead and give the drivers enough confidence to drive the loaded truck even on dark roads.
Exterior Designs & Features:
FAW Carrier is 4260 millimeters long and 1475 millimeters wide, and it has a ground clearance of 156 millimeters. It has a protruding front-end design with a small bonnet and an elegant grille with an embossed FAW logo on it. Two big box-shaped projector headlights are designed on their sides, and they are also given with front fog lights to assist the drivers when driving in foggy weather. It is equipped with plastic door handles and side mirrors, and an eight feet long deck is fixed on its rear to carry goods. It is equipped with thirteen inches steel wheel caps with 165 inches of tire size which is quite ok at such an economical price.
Interior Designs & Features:
The cabin of FAW Carrier is limited to the driver's compartment that has two doors, and the driver's and passenger seats are covered with fabric given with headrests along with cushioned seats that are very comfortable for a long trip in transporting goods. Some of the features present inside the cabin are three-point seatbelts, a heating facility in winter, an air conditioning system in summer, a USB port, an auxiliary cable, AM/FM radio, fabric seats, an RPM meter, and a trip meter.
Safety & Features:
Many of the Basic safety features are not present in the vehicle like many other carrier vehicles in Pakistan. Basic missing safety features include airbags, hill assist, and seat belts warning. Overall the FAW Carrier is designed in a way to avoid damage to the driver during accidents. The front end is protruding with contains the radiator, wiper, and washer reservoir. The bonnet is very small, and the bonnet is extended, so the driver is not exposed to accidents directly. On the other hand, the three-point seat belts make the journey safer for the driver and the front passenger in case of collisions.
Major Competitors:
Verdict:
AL-HAJ FAW Motors has more than twenty 3S centers all across Pakistan that make the deliveries of these pickup trucks to your doorsteps quite easily. Secondly, the versatility of this pickup truck is quite impressive at such a low price, perfect for your budget. Lastly, the resale of FAW Carrier is pretty good, and it has gained a trusted choice among all other small commercial pickup trucks.