Hyundai Porter H-100
Hyundai Porter was first debuted in South Korea in 1977 as a cab over truck which undergone many changes and up gradations and currently fourth generation of it is available in market. It is also known as Hyundai Shehzore in Pakistan where it was first introduced in 2004 as a front wheel drive pickup truck. Bookings for 2020 model of Hyundai H-100 was already started nationwide from 3rd December, 2019 and its deliveries have been started from the start of this year. The exceptionally dynamic driving capabilities of H-100 deliver powerful and smooth experience while your daily business needs are especially taken into consideration when giving it new standard for remarkably flexible and versatile light truck. It has been designed with solid building material giving it extra strength so you can drive it in extreme tough conditions with confidence.
It is available only in one trim option that is 2.6 T2 TCi and rear wheel drive is standard that ensures more powerful and exciting ride overcoming all toughest conditions. You can select the rear deck of your choice as per your requirements like long wheel base standard cab with low type rear deck, long wheel base standard cab with high type rear deck, extra-long wheelbase with low type rear deck, extra-long wheelbase with lower type rear deck and long wheel base double cab with lower type rear deck.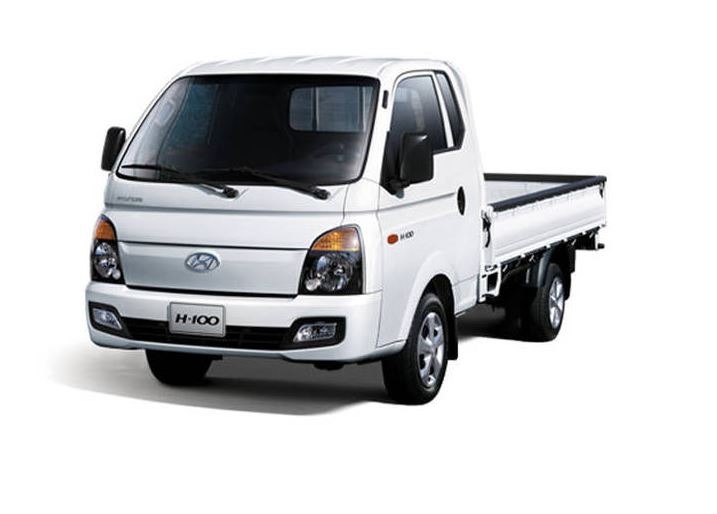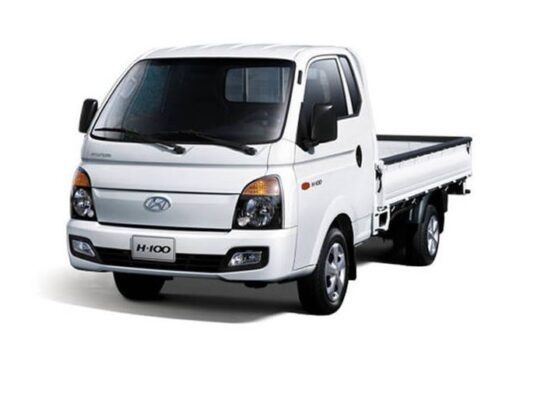 Engine, transmission and performance:
It is charged by 2.6 Liter T2 TCi engine producing maximum power of 80 hp at 4000 rpm and maximum torque of 170 Nm at 2200 rpm. It offers you five speed manual transmission with durable and efficient gearbox and clutch is extremely smooth and progressive. There is also an option of 2.5 liters engine that offers you six speed automatic transmission. This powerful truck has the ability to accelerate from 0 to 100 kilometers per hour in 13.2 seconds with a maximum speed of 122 kilometers per hour.  It can achieve an average fuel economy with range of 8 kilometers with the consumption of one liter of diesel giving you driving range of around 480 kilometers with a fuel tank capacity of sixty liters.
Driving Dynamics:
 As the acceleration of the vehicle is quite sluggish so you may feel underpowered and thus the maximum power can be achieved at high rpms but still moving to higher hill stations and tops can be annoying. The best thing of H-100 is that its performance is not affected whatever load you are carrying. The hydraulic power steering handles H100 efficiently allowing cornering with confidence. Braking system of H100 is also good enough even at high speeds but some flaws can be observed in Noise, Vibration and Harshness when driving on difficult terrain.
Exterior design and features:
Hyundai H-100 has a typical Asian design with aerodynamics reserved. Its front end features curved style with wide windscreen and two enlarged massive circular headlights highlight the front end also having integrated turn signals in it. There is also a small rectangular chrome grille on front that has encrypted Hyundai signature logo on it .The bumper design is traditional following same aerodynamic design while rear end has rounded tail lights and round door handles makes it look attractive among other crowd. Overall length of this pickup truck is 4795 millimetres with single cab configuration while double cab configuration features a total length of 5085 millimetres.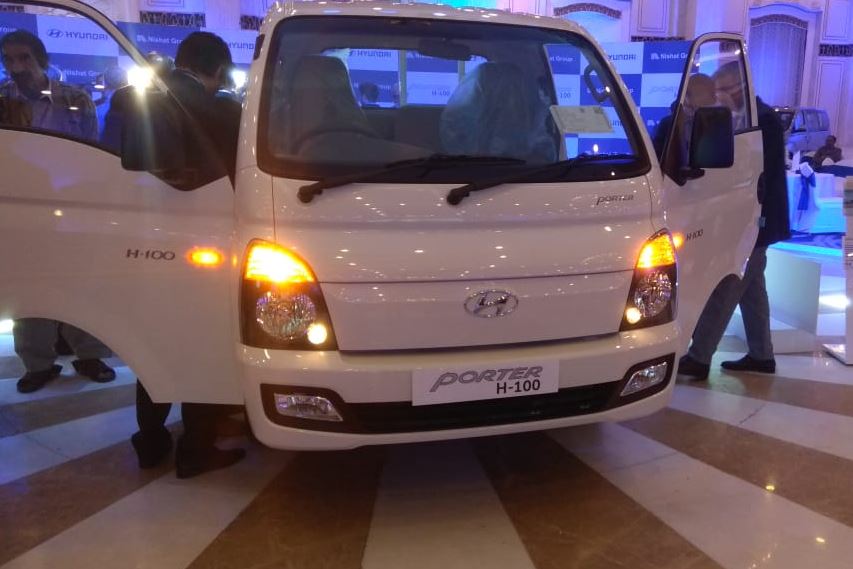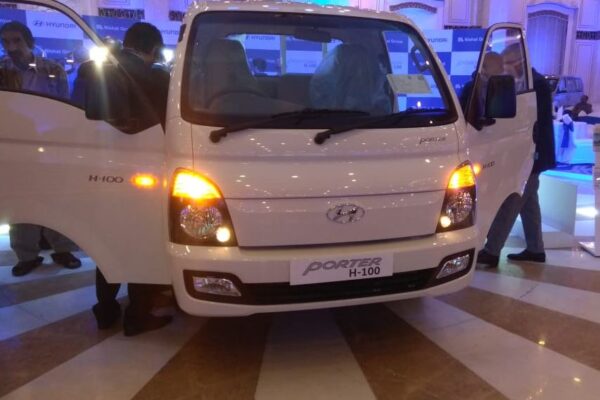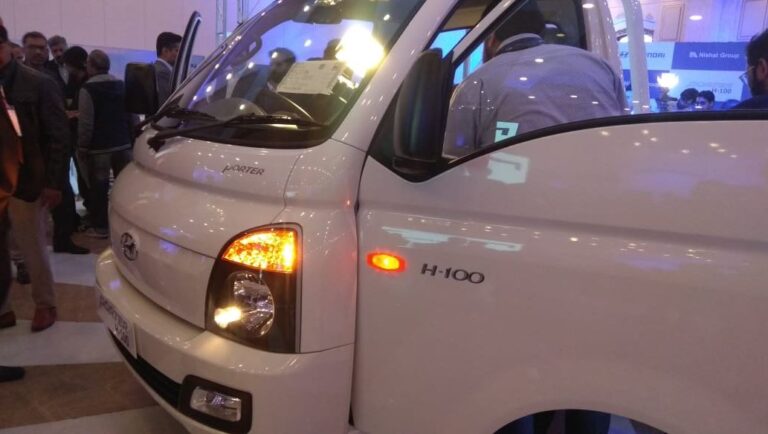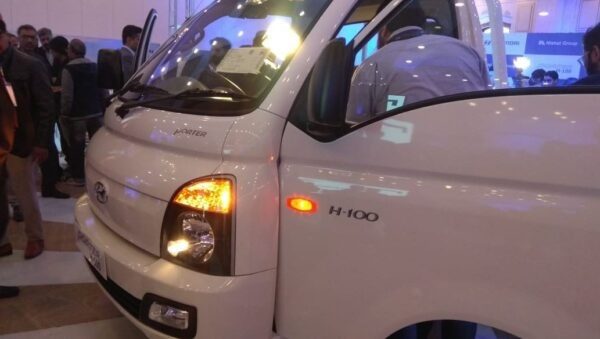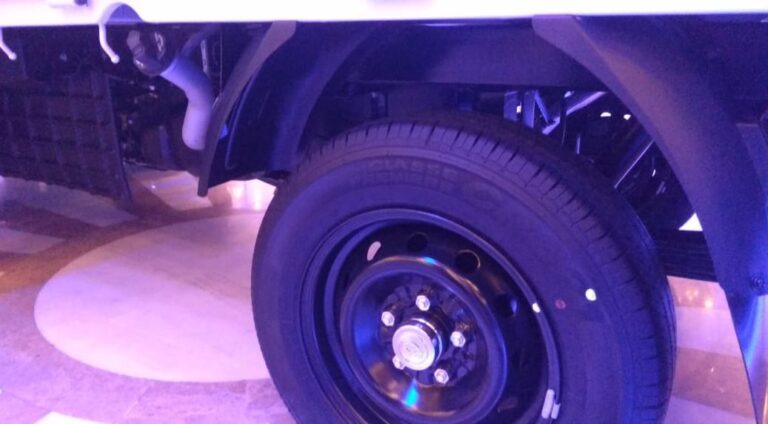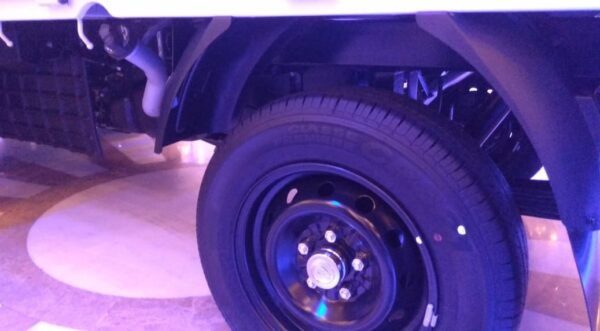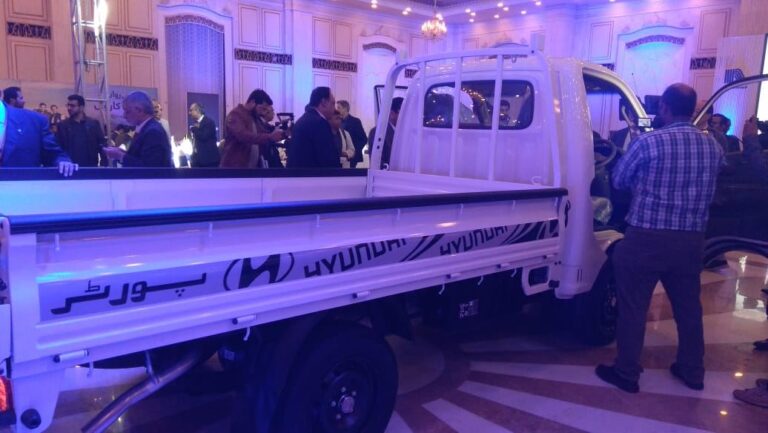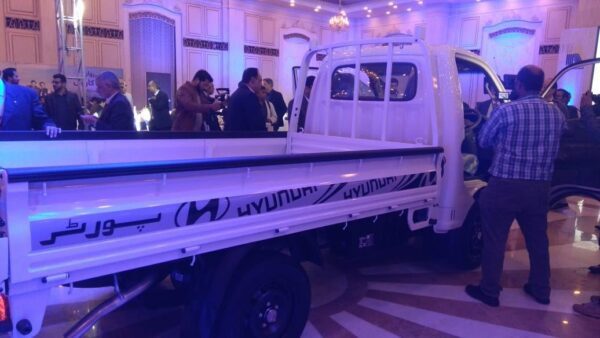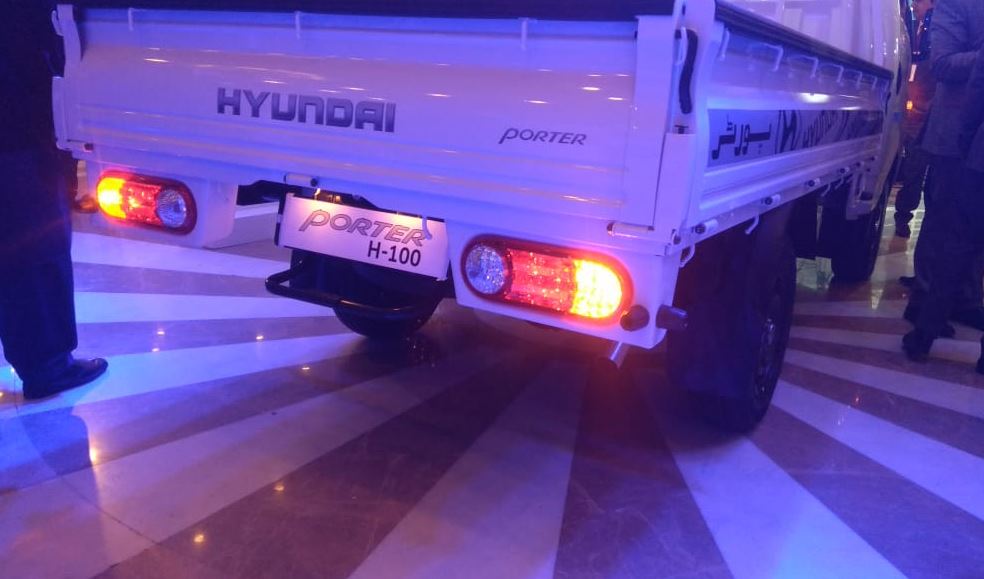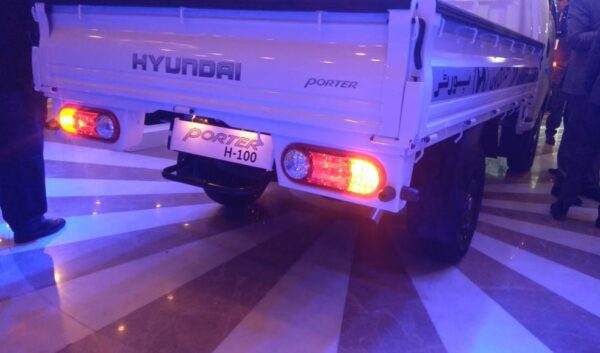 Interior design and features:
 Interior of Hyundai H-100 looks better than previous generations having upmarket materials used in the cabin and the ergonomic is also well, you can also hop inside the vehicle easily as it is close to ground. It gives you seating capacity for three adults and gives you satisfactory comfort with good headroom and visibility.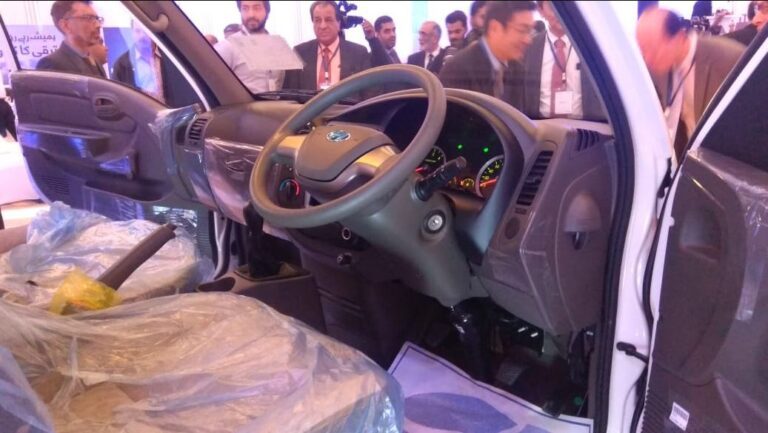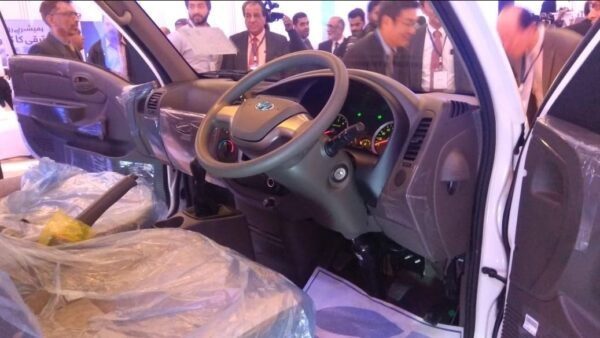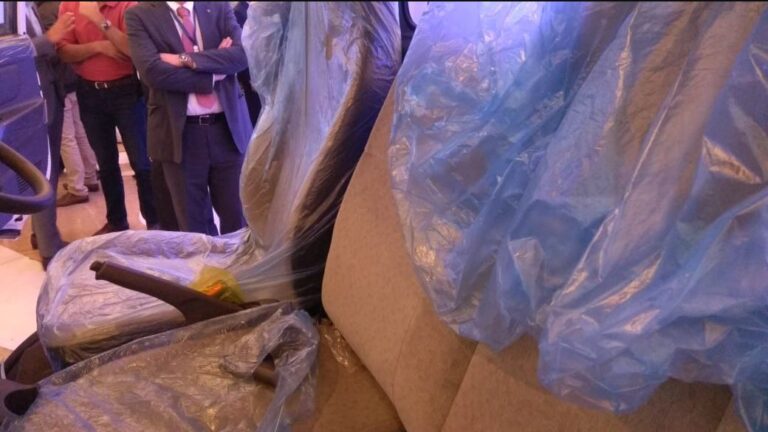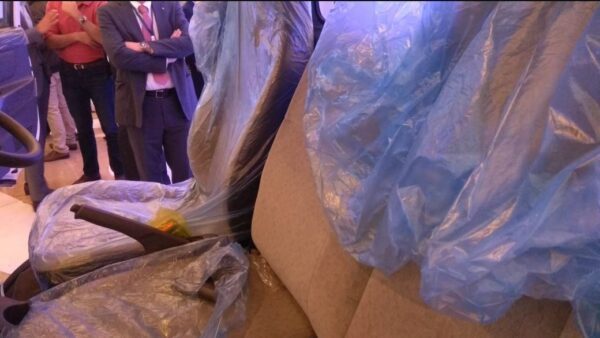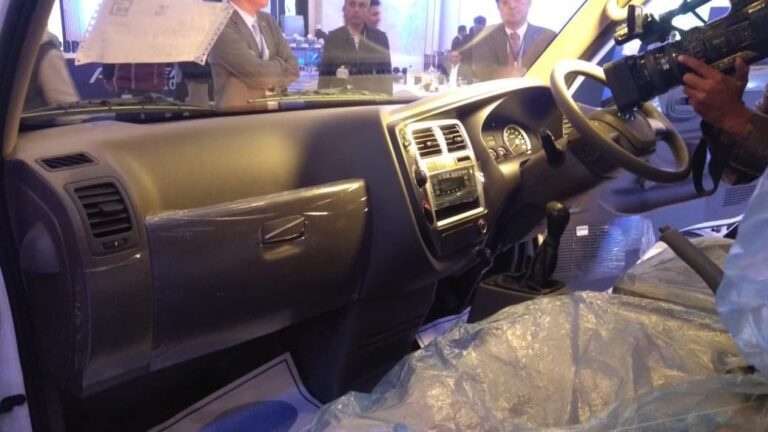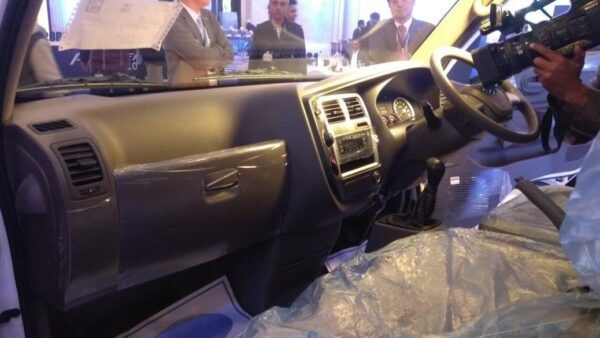 The instrumental cluster is big and has clear layout while basic equipment for entertainment is also given to passengers like Mp3 and CD player. Cabin is also equipped with satisfactory air conditioning system and climate control system. Steering wheel features a pretty modern design with fairly good ergonomics not seen in its competitors while talking about the storage places in the cabin then there are not enough cup holders or door pockets to carry your things safely.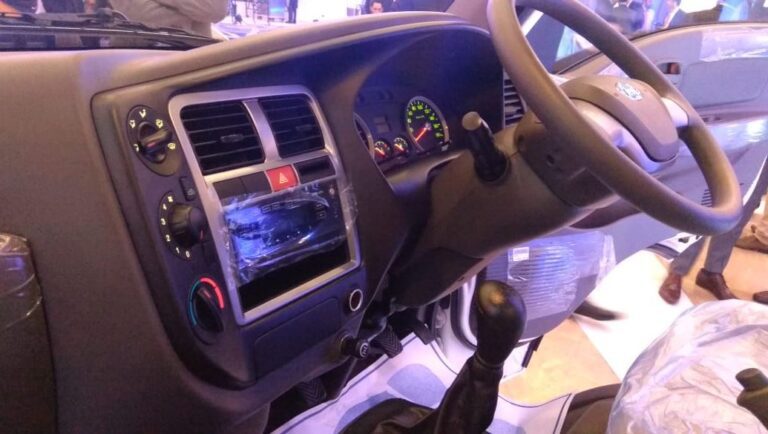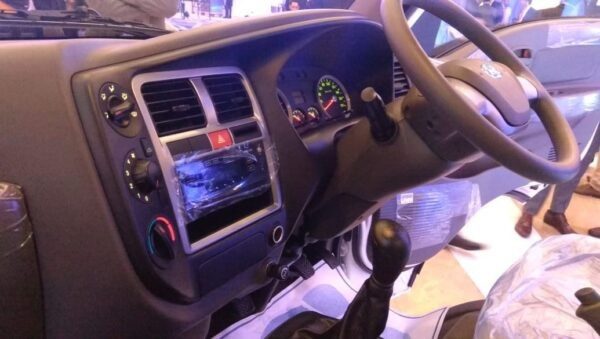 Major competitors:
Some of the competitors of Hyundai H-100 include FAW Carrier, Foton TM3h, Mushtaq Ky10 Suzuki Mega Carry Xtra, Kia Frontier K2 and Suzuki Ravi,
Price:
The introductory price of Hyundai H-100 in Pakistan is 25 lacs Pakistani rupees.