2023 Kia Frontier K2700
Expected Launch in Pakistan = 2023 or 2024
Expected Price in Pakistan =

40-45 Lac PKR

4th Generation
Kia Motors have invested 150 million dollars in Pakistan in collaboration with Yunus Brothers Group and Lucky Motors and already have launched Kia Grand Carnival, Kia Frontier 2700, Kia Rio, Kia Sportage, and Kia Picanto that have taken over the competitive place in our automobile industry. Kia Frontier K2700 was launched in 2018 in Pakistan as a 4th generation with a front-engine and a front-wheel-drive pick-up truck and became a high-demand pick-up in our country. It is presently available in two trims in Pakistan including the base variant and the XL trim whereas only one engine option of 2.7 liters is available in Pakistan in contrast to other countries where 2.7, 2.5, and 3 liters diesel engine options are available in Kia Frontier. Kia has worked hard on pickup trucks and it has now aimed at its forthcoming pickup with more advanced features and upgradations which is due for the year 2022 or 2023 this news has been confirmed by the South Korean's brand chief operating officer in Australia and its is expected that the latest model will have a worldwide launch including Pakistan.
Engine and performance of Kia Frontier 2700 upcoming model:
The COO of Kia stated that Kia Frontier 2022 model will be offered in both single and double cabin options and engine options of gas or diesel. Kia 2700 will be powered by 2.7 liter 3000cc diesel engine that will be more powerful than the presently available engine and it is expected to generate more engine power of 85ps at 4000 rpm and torque of 181 Nm at 2200 rpm that offers enough power to haul many heavy loads. This powerful engine generates more economic efficiency. The latest model will be available in both five-speed manual transmission and automatic transmission and the automatic transmission will be more reliable than the recent vehicles of Kia. Steering controls will be improved to make turning the truck easier than before.
Exterior Design & Features:
The exterior looks of the Kia Frontier K2700 upcoming model will feature an unconventional design engineered more aerodynamically with a curved front fascia that will let the handling and curving of the truck more convenient. The front grille will be refurbished with a thin Kia design logo and the polycarbonate lenses Headlights will be upgraded to make the drive easy in darkened areas. The wheels will be larger to enhance the road grip and assure smooth drive while size dimensions will be revised as 5115 millimeters in length, 1985 millimeters in width, and 1767 millimeters in height while the top trim will have a longer deck. A major change expected in the upcoming model will be the lighter weight of its body that will help the drivers to control the car easily.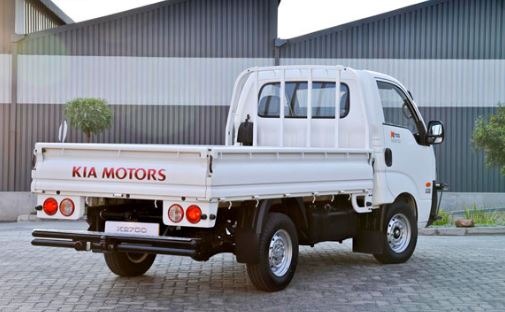 Interior Design & Features:
Kia Frontier K2700 is a two-door car that can accommodate up to three persons and the basic design of the cabin in the 2022 model will remain the same as it will also accommodate three adults including the driver but the seats are expected to be more comfortable and spacious by slightly increasing the width of the car whereas fabric-covered seats will be comfortable enough for carrying luggage on longer routes. Power steering and steering switches will help us control the truck with enough amount of cargo easily.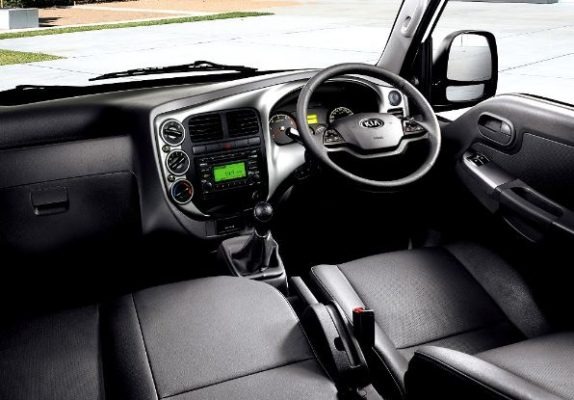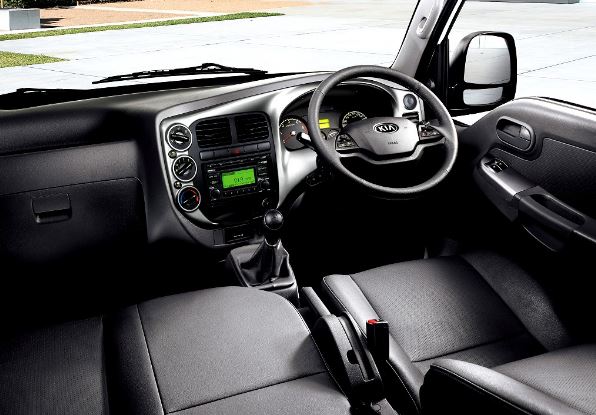 The cabin will have an eloquent look with its wooden trimmed paneling all over the dashboard while it will be equipped with all essentials including the power windows, power door locks, air conditioning, and heating system, CD player, USB, auxiliary cable, fog lamps, and tachometer. Visibility from the front screen will be clearer letting the drivers focus on the roads with more attention and a clear view.
Major Rivals :
Major rivals of the Kia Frontier K2700 model will be the most demanding pickups nowadays that include Suzuki Mega Carry Xtra, Daehan Shehzore, Faw Carrier, JW Fordland C19, and JAC X200 by Ghandhara Nissan motors in Pakistan while Chevrolet Colorado, Nissan Frontier, Toyota Tacoma, Ford Ranger, and Jeep Gladiator will be rivals in other parts of the world.
Price:
it is expected that the latest model will have a price between 35 to 40 lacs Pakistani rupees. The exact date of launch and price is not released yet.