2022 Kia Sonet
Sold in India = 2020-Present
Generation = 1st
2022 KIA Sonet Price in India :
HTE
Starts at:

6,89,000 ₹

HTK
Starts at:

7,89,000 ₹

HTK+
Starts at:

8,75,000 ₹

HTX
Starts at:

10,39,000 ₹

HTX+
Starts at:

11,85,000 ₹

GTX+
Starts at:

12,29,000 ₹
Kia Sonet was debuted in February 2020 as a subcompact crossover SUV in India which was the third model of Kia to be launched in India after the entry of Seltos and Carnival. This crossover started its sale as a production version on August 7, 2020, while it became available for customers actually from 18th September 2020 in India. This front-engine front-wheel-drive car is available with three engine choices having manual and Automatic transmissions including dual-clutch transmission too. The Indian automobile market has shown quite an interest in SUVs in recent times that sensed by Kia and company bring one after another SUV's in the Indian market and introduced Kia Sonet after Kia Seltos while the story does not end here as this marvelous SUV is released globally. Kia sonet shares the same DNA as Hyundai Venue and also resembles its previous sister SUV Seltos with its similar exterior design, while some more technical aspects are also added to its drivetrain. We will discuss some of the important features and technicalities in detail.
Trims & Versions:
1st Generation Kia Sonet is available in three engine options that include Refined 1.5 CRDi Diesel engine trim, Powerful G1.0 T-GDi Petrol engine trim, and Advanced Smart stream G1.2 Petrol Engine trim. Total six variants are available among the GT line while the Tech line trims in Kia Sonet are THE, HTK trim, HTK plus trim, HTX trim, HTX plus trim and GTX plus trim. The Tech line trims highlight more on the exterior looks giving Sonet elegant looks while the GT line displays bold and sporty looks to the car by adding red inserts to it all over from inside and outside.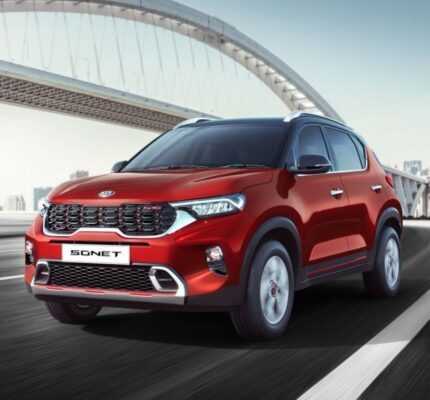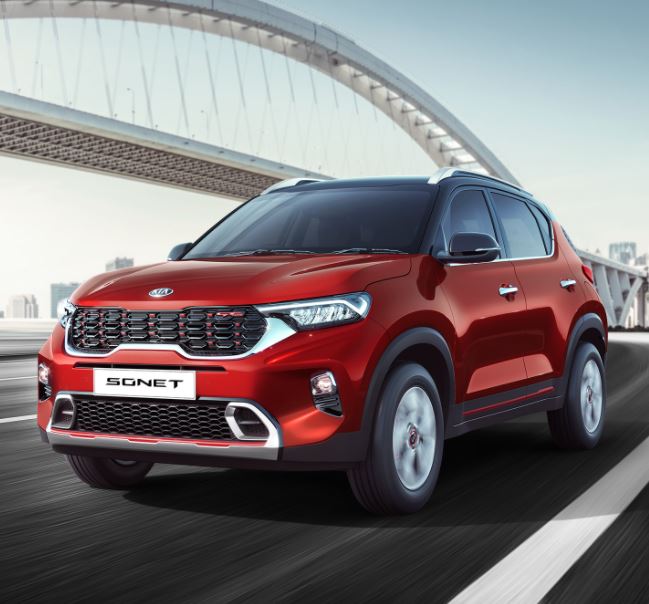 Engine, drive train & Power:
Sonet 1.0 GDi is powered by a 998 cc petrol engine offering six-speed manual transmission that generates total power of 120 PS at 6000 rpm and torque of 172 Nm at 1500 rpm to 4000 rpm while Smart stream G1.2 is powered with 1197 cc engine generating power of 83 PS at 6300 rpm and torque of 115Nm @ 4200 rpm and offered with a five-speed manual transmission. The 1.5 CRDi engine is available with two options either with manual transmission or with automatic transmission. The manual transmission car is charged with a 1493 cc turbocharged engine producing 100 PS power @ 4000 rpm and torque of 240 Nm @ 1500 to 2750 rpm while the automatic transmission car is powered with a 1493 cc turbocharged engine producing maximum power of 115 PS @ 4000 rpm and torque of 250 Nm at 1500 to 2750 rpm.
Performance & Drive:
Sonet is a versatile and practical front-wheel-drive car that offers three engine choices with five transmission options. We are discussing the performance and drive of 1.0 liters petrol engine trim that offers a six-speed manual transmission, the engine is superbly refined and sporty. It speeds up in no time by surging from 2000 to 3000 rpm but runs linearly at higher speeds after 3000 rpm. This powerful engine is quick and precise which makes the car curving and turning smooth even on highways as well as it delivers convenient performance within the city too. While talking about its manual throttle changes minus the clutch meaning you can change the gears easily without pressing the clutch.
 Quality of ride is fairly good with balanced suspension and the stiffer geometry of the car soaks up all the potholes and kept the driver engaged in careful drive especially during turning the car that minimizes the body roll too. The uneven streets in the city can sometimes make the ride harsh but overall it is a good choice to buy. Fuel Economy: It gives you a mileage of 18.2 kilometers per liter combined which is quite decent, economical, and appealing. It can accelerate from zero to hundred kilometers per hour in 12.3 seconds which is the same as 1.5 liters diesel engine but with its 1.2 liters petrol engine Kia Sonet sprints from zero to hundred kilometers in 13.3 seconds. One of the disappointing things is its steering control technique that is not efficient because it lacks in heftiness that decreases the thrill which one could expect while driving a turbocharged petrol engine.
Exterior design and features:
Kia Sonet displays a bold and stylish design with a tiger-nose grille on front flanked by its distinctive crown jewel-shaped LED headlights and it is the real beauty. The LED daytime running lights that are given on the front end add more unique looks to the Sonet while the Kia logo that is encrypted above the central grille looks astonishing on the front. The side profile is clean which includes roof rails, alloy wheels, bold wheel arches, and lastly its rear end is completely known for its tail light unit connected with tail lamps and attractive two-sided muffler design on its rear bumper.
Interior design and features:
Kia has given the Sonet a very premium feeling especially to the cabin by adding up to mark trim pieces. When moving inside the Sonet your eyes will be driven to the narrow and tall old school styled dashboard with air-con vents that gives a unique look inside and two screens including 10.25 inches touch screen with an additional 4.2 inches display screen aided with driver's assistance program displaying as an instrumental cluster feels helpful.
The GT line trim features a black theme-colored cabin with red stitching details that has a seating capacity for at least 4 adults. Boss Audio with Seven speakers gives you an exceptional sound quality while some of the other up to the mark features inside the cabin include wireless charging, ventilated seats on front, AI voice recognition system, USB charging sockets at the front and rear compartment, driver's seat easily adjustable, fully automatic air conditioning system, electric sunroof, remote engine start along with the smart key, smart pure air purifier, sound mood lighting, rear AC vents, and navigation system.
Safety features:
Kia uses high strength steel structure for the manufacturing of Sonet body that adds comprehensive safety and helps in reducing the impact of severe accidents. Some of its safety features include six airbags, electronic stability control, anti-lock braking system, hill start assistance control, vehicle stability management system, speed alert system, electronic traction control, braking assistance, driver's seat belts given with pre-tensioners and parking sensors at the front and back.
Major competitors:
Verdict:
Kia has provided everything we expect from an SUV and the biggest competition Sonet has to face is from its sister rival Hyundai Venue but the price for Sonet is kept quite economical that set this vehicle on fire and we hope for a good market for Sonet as it has the potential to be a winner as like Kia Seltos.