2023 Seres SF5
Expected Launch in Pakistan:

2023 or 2024

Expected Price in Pakistan:

7-9 Million PKR

1st Generation
The Seres SF5 is a Chinese vehicle launched in 2019 as a compact crossover SUV. The Seres SF5 was introduced as a concept car in 2018 and officially launched in 2019. It offers both a two-wheel-drive and an all-wheel-drive option. The 2021 version of Seres SF5 launched by Huawei flagship is an updated version of the previous model of SF5. The Huawei Seres SF5 launched at the start of 2021 at the Shanghai Auto Show in China. There is news that Prince DFSK is bringing the Seres SF5 to Pakistan soon. This news had revealed on the Facebook page of Prince DFSK in April. The Facebook post stated the features and qualities of Seres SF5, which operates by Huawei DriveOne electric motor. It shared further that the Seres SF5 offers a Huawei HiCare infotainment system, and it gives you a range of 1000 kilometers. Prince DFSK ended their post by saying that they are trying to bring this Huawei product to Pakistan soon. The exact date of its launch has not been revealed yet, and its price is also not confirmed yet. The hybrid SF5 may be a fantastic SUV in Pakistani automobile markets and may be priced on the higher side.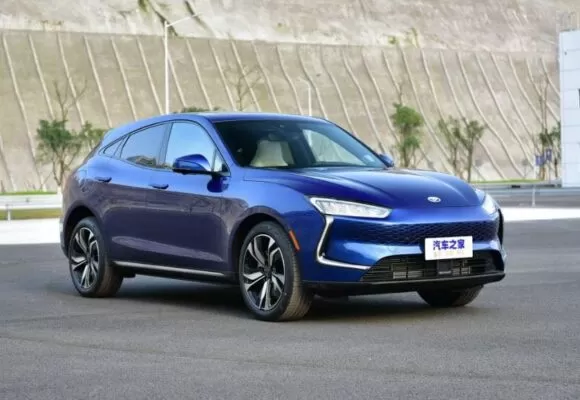 Variants Available:
It will be available in only a single hybrid version. The details of its engine and electric motors are discussed below in the article. It may offer you the choice of a two-wheel-driving version SF5 or an all-wheel-driving version.
Engine, Power & Transmission:
The Seres SF5 will get its power from a 1.5 liters petrol-powered engine, paired with 2-electric motors, powered by a battery pack. It has a 1498 cc, SFG15TR engine, and 255 kW electric motors. The battery has a capacity of 35 kWh.The hybrid powertrain generates a maximum of 550 horsepower and a total torque of 820 Nm. The battery generates a power of 116 hp. It offers you one-gear automatic transmission. The battery can be charged at the charging stations and take 6 hours to charge the battery fully. It features double-wishbone independent suspension at the front and multi-link independent suspension at the rear axles, while the brakes at the front and rear axles have ventilated discs.
Performance & Drive:
The hybrid powertrain is efficient enough to deliver remarkable performance. Moving from its transmission, which is smooth enough to run all the wheels efficiently. We move towards the handling maneuvers and suspension of the SUV, which is again remarkable as the car drives smoothly on the roads, absorbing the odds and irregularities, and the SUV can be turned around corners with fewer efforts. The power steering is light-weighted and gives extra confidence to the drivers. Now talking about its acceleration, that is quick, as it accelerates from 0 to 100 kilometers per hour in 4.68 seconds. The driving range of Seres SF5 is its main attraction, and we expect the Seres SF5, to come to Pakistan to give similar Ranges. The electric powertrain of SF5 provides a range of 180 kilometers when driven alone on electric power, and when the petrol engine also runs simultaneously, the driving range increases up to 1000 kilometers. The fuel consumption of Seres SF5 is not as bad, and it consumes 8.5 liters of petrol when given a mileage of 100 kilometers in the city and 5.9 liters of petrol when traveling a distance of 100 kilometers in the suburbs. It runs at a maximum speed of 190 kilometers per hour. The all-wheel-drive feature in Seres SF5 let you drive the car in all type of road conditions and make your off-road adventures more thrilling and practical. The SF5 offers automatic high and low-beam headlights that increase and decrease the intensity of the light in headlights according to the outside light on roads. It offers an adaptive cruise control feature to keep running without race and by keeping a safe distance from vehicles ahead to avoid accidents. You will get parking radars on the front and rear to assist you in parking, and a 360-degree rearview camera helps the drivers in parking their cars safely. We hope all these features in the upcoming Seres SF5, coming to Pakistan too.
Exterior Design & Features:
This SUV features a stylish exterior body with a 4700 millimeters long body with a width of 1930 millimeters and a ground clearance of 181 millimeters. The front end has a mesh grille almost fused into the bumper, and sweptback headlights are provided on both sides of it. You will also find LED daytime running lights along. There will be fine contour lines on both sides, and it has a tapering roofline. The rear end has beautiful slim LED taillights connected with a full-width length light strip capturing all beauty in the rear.
Interior Design & Features:
The interior of the Seres SF5 is very stylish and gives you modern look. You will find wooden inserts and metallic accents in the cabin that gives it a premium feel. The seats are covered with premium leather, and the front seats have a heating and ventilation facility, along with a massage feature. There will be a large-sized portrait-oriented touch screen that gives you infotainment, and as mentioned above, the Huawei HICARE gives you infotainment. Apart from it, a digital instrument cluster provides necessary information about the vehicle to the driver, and a head-up display further assists him during driving. A panoramic sunroof adds more color and fresh air to the cabin, while the cabin offers ambient lighting to brighten it up. You will be provided with 11 speakers to give you an audio sound system. It gives you L2+ autonomous driving capability, and an adaptive cruise control feature is also offered to you.
Safety & Features:
The Seres SF5 coming to Pakistan will provide you with all the latest safety features. Some of the safety features include:
Brake Assist system
Traction Control system
Adaptive cruise control feature
Low-speed Traffic Assist
Lane-keeping Assist
Forward collision warning alarm
Low-speed Traffic Assist
Major Competitors: