Suzuki Swift
Sold in Pakistan: 2010-2021
Generation: 2nd (Discontinued)
Suzuki Swift Price in Pakistan in 2021:
Swift DLX with Navigation =

1,972,000 PKR

Swift Automatic with Navigation =

2,148,000 PKR
The Swift name was previously used to sell Suzuki Cultus all across the globe, primarily for the Japanese Domestic Market. 1st generation of Suzuki Swift was introduced in 2000, while Pak Suzuki introduced Swift in 2010 as a five-door hatchback. The sedan version of Suzuki Swift was introduced too and discontinued later on. The first generation sedan version of Suzuki swift is sold under different nameplates in different countries like Chevrolet Cruze, Holden Cruze, and Subaru Justy. The first generation hatchback version of Suzuki Swift in Pakistan is available in two variants with a front-wheel-drive option only. It features sufficient legroom, headroom, and boot space. Currently, the fourth generation of Swift available in international markets since 2016, and it is about to end its lifespan globally. Pakistan will receive the 4th generation when it will be completely dead in other countries, and thus we expect to see the launch of the 4th generation of Suzuki Swift at end of 2021 or 2022. Talking about its first generation that was loved a lot by the customers, and fill the space of hatchbacks favorably since the time it made its entry in the Pakistani market. Suzuki Swift's better styled and design compared to other cars of Suzuki present in Pakistan at that time and loaded with all standard features that make it a demanding car in markets. The first generation of Swift is still sold by the company, and you can also purchase a 2nd hand Swift from the market. If you have a low budget and you are looking for a mini family car equipped with a list of all necessary features, then Suzuki Swift should be on your list.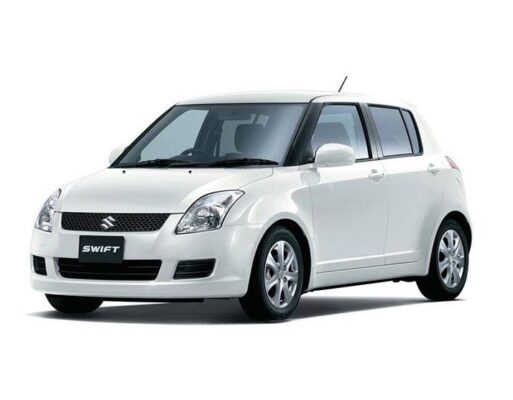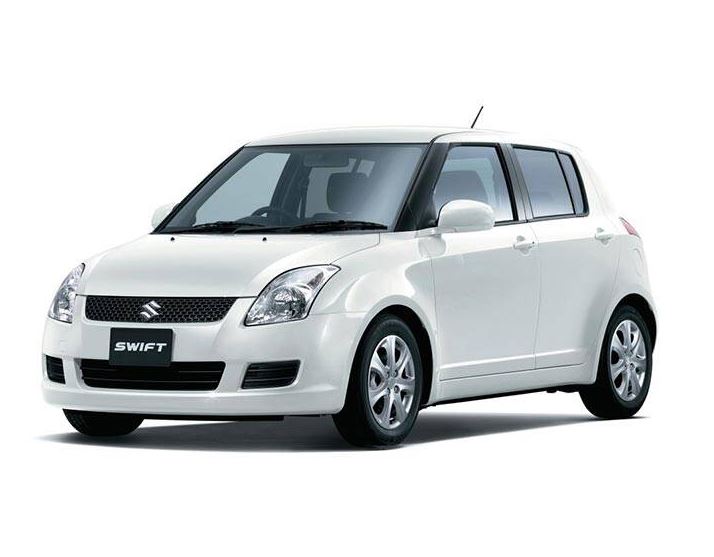 Trims & versions:
1st generation Swift is available in two variants that are DLX 1.3 manual and Automatic. The main difference between both the Trims is transmission only. DLX 1.3 manual gives you five-speed manual transmission, and 1.3 Automatic gives you a four-speed automatic transmission.
Engine & Power:
Both trims of Suzuki Swift are powered by a 1328 cc DOHC 16-valve VVT petrol engine that produces 90 hp with 114 Nm of torque. As already mentioned above, it offers you both manual and automatic transmission and gives you the choice of front-wheel drive option only. The most appreciated things in Swift are brakes and the suspensions that work very well and are also well-tuned, which give you a smooth ride.
Performance & Drive:
The small size and lightweight of Suzuki Swift make it responsive and give an enthusiastic driving experience. Both the transmissions are pleasantly quick, making it enjoyable. The manual transmission is more preferred over automatic transmission because its throttle changes are smoother. The steering wheel is nicely weighted and never feels inconsistent in handling the car confidently where ever you want to go. The handling of Suzuki-Swift is remarkable and makes every turn and curving easy, but the uneven roads and bumps may sometimes feel uncomfortable and can produce jerks. The ground clearance of Suzuki Swift is not enough that does not make it a suitable car for the off-road venture. The engine is refined enough to send few vibrations through the pedals even when revved hard, and thus, engine noise does not disturb the passengers even when driving it on highways. The only noise that will count is the road noise when driving at high speeds on highways. The wide tires of Swift provide a better grip on the road with traction and deliver a well-balanced driving experience, but you can upgrade the tires for even better performance. The acceleration of Suzuki-Swift is also average as it takes 8-10 seconds to accelerate from 0-60 km/h and achieve a maximum speed of 180 kilometers per hour, but it is not bad for a small car like this. The fuel economy of Suzuki Swift is good, which makes it a more demanding car in the market of both new and 2nd-hand cars. It gives you a mileage of 11 kilometers per liter in the city and around 14 kilometers per liter on highways. It comes with a defogger that makes the drive easy in foggy weather and an Anti-lock Braking system that prevents the brakes from being locked in case of emergencies and ensures a safe ride during bad weather conditions. The braking system works well and applies brakes smoothly whenever required without producing jerks.
Exterior design and features:
1st generation of Suzuki Swift features a good design body. The front of Suzuki Swift has a horizontal chrome-accented grille and boxy headlights. Rectangular air intake and circular foglights are also present on its front fascia. The rear end features trapezium-shaped taillights and a traditional case hatchback. The overall design of Swift is well-proportioned and is available in various exterior colors that include graphite grey, pearl red, phoenix red, sand beige, and silky silver. It is equipped with fifteen inches wheels that are sufficient for a small hatchback like this and looks beautiful from all sides.
Interior design and features:
The interior design of 1st generation Suzuki Swift is not very classy and attractive as it features plastic trim pieces all over the cabin that looks very cheap. But you will get similar quality in other vehicles too in this budget. It features fabric-covered seats at the front and rear, and the cabin is spacious to accommodate five adults. The trunk can carry enough luggage, but the capacity is not very impressive to cart a lot of cargo. Overall the cabin is comfortable enough to promise an enjoyable journey. The air conditioning system works well even on hot summer days, and the heater also works well in winters. It gives you a variety of standard features that include defogger, central locking, front speakers, interior lighting, keyless entry, power mirror, power windows, power door locks, rear folding seat, and tachometer. It features a DVD player, AM/FM radio, and auxiliary cable for giving you entertainment, while a USB port is also present. 
Safety & features:
There are no airbags or any of the standard safety features present in Suzuki Swift. The first generation of Suzuki Swift comes with an Anti-lock Braking System and seat belts only, for saving you in severe accidents. An anti-lock braking system gives more control over the vehicles, but that is not enough to provide a safe ride.
Major competitors:
Verdict:
All world is getting the 4th generation of Suzuki swift, but we Pakistani still getting 1st generation of Suzuki swift that discontinued Eight years ago. We buy Suzuki with only two things in mind 1st is its resale value, and the 2nd is the availability of its spare parts. We Need to get out of this mentality to get better products. There is no doubt Suzuki has become the national brand of Pakistan because of its spare parts availability in markets and low maintenance, but that didn't change the low quality of vehicles. The resale value of Suzuki Swift is also promising, and its fuel economy is also good, so if you are planning to buy a small-family car on a low-budget, then you should wait for 4th generation Suzuki Swift.