2022 MG RX5
Sold in UAE = 2016-Present
Generation = 1st Pre Facelift
2022 MG RX5 SUV pride in UAE : 
| | |
| --- | --- |
| MG RX5 1.5T Standard | AED 60,795 |
| MG RX5 2.0T COM (FWD) | AED 68,250 |
| MG RX5 1.5T COM | AED 69,195 |
| MG RX5 1.5T Luxury | AED 74,445 |
| MG RX5 2.0T LUX (AWD) | AED 81,795 |
MG RX5 is a blend of sporty design, eye-catching elegance, and the versatility of SUV which incorporates the up-to-date latest technology along with a spacious interior. The concept of RX5 was first introduced in China in 2016 by SAIC motors as a front-engine front-wheel five-door SUV. RX5 was then sold by MG motors with the option of petrol powertrain only and it also launched in the Middle East and Phillippines in February 2018. Moreover, this vehicle is also available in Cambodia and South America. The 2020 (2nd Generation) version of MG RX5 is introduced with refined exterior styling and automatic transmission. Previously the RX5 was available in two variants only are Core and Style variants, and now the new trim is also added in its latest model. The 2nd generation model of MG RX5 comes with a keyless entry, eight inches touchscreen display, adaptive cruise control, turbocharged engine, and push start and stop. MG Motors has also planned to be a rival in the Pakistani automobile market by introducing some of its vehicles like HS, ZS EV, and Gloster. MG Motors is also planning to introduce 27 different vehicles all across the world, which include hatchbacks as well as sedans, crossovers, vans, and SUVs. We might witness MG RX5 in the Pakistani automobile market in the future if it gets included in the list of upcoming 27 vehicles.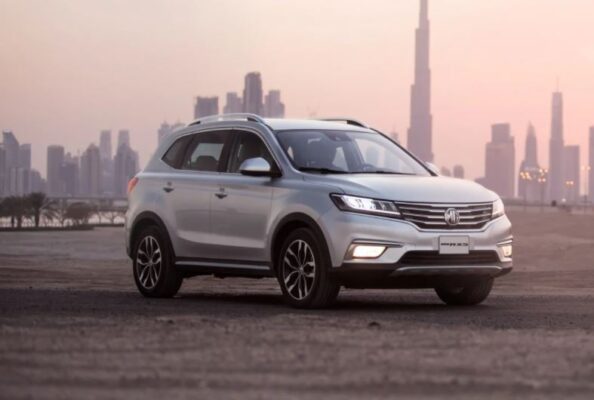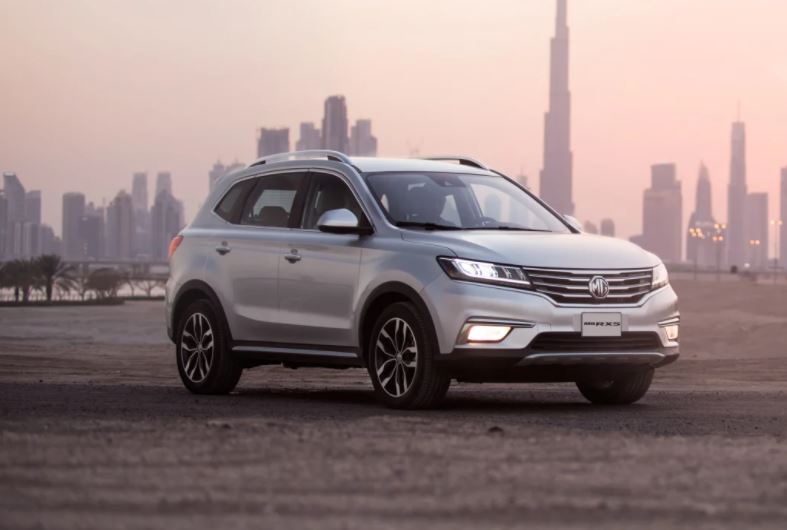 Trims and Versions:
MG RX5 is available in three trims that include Core trim, Style trim, and Alpha trim. The Core trim features fabric seats, six-speed manual transmission, eight inches infotainment screen, a reverse camera, six speakers, seventeen inches alloy wheels, and an Anti-lock braking system. The Style trim features seven-speed automatic transmission, eighteen inches alloy wheels, leather upholstery, keyless entry, and an electronic stability control system. The higher-end Alpha trim features electronically adjustable power seats, panoramic sunroof, sporty LED headlights, and up-to-date safety features. Five trim levels are available now in the Middle East that includes 1.5T STD, 1.5 COM, 1.5 T Lux trim, 2.0 T COM trim, and 2.0 T Lux trim.
Engine and Power:
The current MG RX5 is powered by 1.5 liters 15E4E inline four-cylinder turbocharged gasoline engine producing 166 hp horsepower and torque of 250 Nm. The new trim available is powered by a 2.0 liters engine that delivers a torque of 350 Nm and horsepower of 221 hp. It is equipped with improved suspension having Macpherson Strut front suspension and independent multi-link rear suspension. On the other hand, the braking system features disc brakes at the front and rear.
Performance & Drive:
The driving performance of RX5 is not so bad gives you a comfortable ride quality. It is available with both six-speed manual transmission and seven-speed automatic transmission that is improved, smooth, and changes the throttles politely. The transmission system of MG RX5 sometimes becomes finicky at low speed that is not much impressive. It may sometimes feel a little agile when driving RX5 as compared to its competitors. The steering response is very light, making the control of RX5 quite effortless and easy. Thus handling of the car has been made easy for turning and curving around turns, with the least effort and more safety. RX5 drives better at higher speeds on highways as the 2.0 liters vehicle accelerates to hundred kilometers per hour in 8.2 seconds while the 1.5 liters RX5 speeds up to a hundred kilometers per liter in 7 seconds. Both the engines are smooth and quiet and do not produce engine noises even at higher speeds. The suspension system of RX5 also improved over the previous models that absorb all the imperfections of the road nicely and is well suited for all types of driving situations. It offers you a front-wheel driving feature only, but the engine generates enough power to run the front wheels efficiently. Parking is now made easier with rear sensors that help a lot to park the car while driving anti-lock braking system prevents the brakes from locking in case of emergencies and a tire pressure monitoring system reminds the driver to check the pressure in tires. Driving RX5 in hilly areas is also made exciting ensuring you safe drive with its features like hill hold control system, auto-hold function, and hill-descent function. The fuel economy of MG RX5 is quite impressive, attracting customers to purchase it. It gives you a mileage of hundred kilometers by consuming fuel of 6.8 liters.
Exterior designs and features:
The exterior design of MG RX5 is attractive that has a chrome-trimmed grille on the front while the Style trim features matte silver rear and front plates. MG logo is embedded beautifully in the center above the grille. Halogen projector headlights look beautiful from all angles, and now it has given LED daytime running lights as well. The side mirrors are also equipped with LED turning signals. The rear end now features frameless wipers and LED violin-styled rear taillights. The aesthetic looks are completed with its eighteen inches bold alloy wheels that give it a real sporty appearance. It is now available in various exterior colors that include red, brown, blue, silver, white and black.
Interior designs and features:
The interior of MG RX5 is exceptionally comfortable and flexible that gives accommodation to five adults. The fold-flat seats are covered in two-tone leather that not only looks beautiful but it is also comfortable with its adjustable feature. The driver's seat features a six-way manual adjustment that lets the drivers drive the car with full support and comfort. The panoramic sunroof now adds natural air to the cabin to create a perfect climate and keep the cabin bright. The dashboard layout is driver-centric that features an eight inches touch screen display giving you infotainment, and it comes with Android Auto and Apple Carplay interface. It also offers you satellite navigation, keyless entry, power tailgate, one-touch start, power windows, child locks, central locking system, and six speakers audio system. The cargo area can carry enough amount of luggage with you and if there is a need for more space then rear seats can be folded further to increase the luggage space and let you fit more inside.
Safety & features:
The high-strength steel cage of MG RX5 ensures a safe drive to the passengers by minimizing injuries during accidents. It has been given a five-star rating by C-NCAP that further increases the trust of customers towards RX5. Some of the safety features of MG RX5 include two airbags, auto-hold function, seat belt reminder, engine immobilizer, reversing camera, electronic stability control function, anti-lock braking system, and anti-roll protection system.
Major competitors:
Verdict:
MG RX5 still gets only two airbags those are not enough according to current safety requirements. Its transmission can be finicky sometimes which might not be impressive. As a whole, it is a safe car that features modern technology, an infotainment system, and a spacious interior. Are you looking for an SUV having automatic transmission and modern technology?. Then stop looking further and add this to your list. While among all the trims we would recommend you to go with higher-end Alpha as it comes with the latest and up-to-date luxurious features.