2023 BAIC BJ40 SUV
Looks Similar to Wrangler
Sold in Pakistan = 2022-Present
1st Generation 
2023 BAIC BJ40 SUV Price in Pakistan
Price Effective from 08-March-2023
| | |
| --- | --- |
| BAIC BJ40 Plus SUV | 11,225,000 PKR |
Sazgar Motors have introduced three vehicles (BAIC D20, BAIC X25 & BAIC BJ40L) in collaboration with Chinese automobile company BAIC in Pakistan and displayed their upcoming projects in the PAPS show held at Expo center Lahore. Among the list of vehicles soon to be launched by BAIC motors in Pakistan, one is the BJ40 L which is an off-road SUV Jeep that formerly was available in two doors only but the latest versions introduced are four doors facelifted models named BJ40 L and BJ40 those will launch in Pakistan soon. It is offered with two engines either you Can purchase a 2 liters turbocharged engine or a 2.3 liters turbocharged engine.
This SUV has a similar design to Jeep Wrangler, and its spectacular exterior design and awe-inspiring interior cabin attract customers. This SUV comes with fearless power and unlimited passion for letting you enjoy long route journeys even on bad roads, and an ultra-high anti-roll frame protects passengers sitting inside the car and makes the rides safe. BAIC BJ40 L is the best choice for every kind of weather, and every kind of topography as its four-wheel drive at low and high speeds makes your ride comfortable and relaxing in all types of conditions. It served as a military vehicle and was equipped with superb technology and powerful engine capability. Still, it is not sure yet which engine option will be available for sale in our country.
Engine, Transmission & Power:
As mentioned earlier, it is available with two engines one is (INTRODUCED IN PAKISTAN) 2.0 liters turbocharged petrol engine which produces 218 hp at 5500 rpm and torque of 320 Nm at 4500 rpm paired with automatic transmission.  2.3 liters turbocharged petrol engine generating 211 hp power at 5200 pm and 330 Nm torque at 1900 to 4000 pm. Maximum torque is attained when driving at low speeds, getting ninety percent of peak torque at 1600 rpm. It offers you the option of five-speed manual transmission and six-speed automatic transmission.
Drive & Fuel Economy:
 BAIC BJ40 L gives you complete control on roads of all types, challenging, more challenging environments, and more excitement. The four-wheel driving option of BAIC BJ40 L provides the driver with maximum confidence in driving, letting him beat all the rough roads. The off-road feature is displayed on the dashboard allowing the driver has information about altitude, pressure, height, direction, and atmospheric pressure. The fuel economy of BJ40 L is efficient enough to give you a mileage of 100 kilometers with a consumption of 14.9 liters in the city and 8.0 liters on highways with a fuel tank capacity of 80 liters and a maximum speed of 160 kilometers per hour.
Exterior Design & Features:
The construction of BAIC BJ40L is rugged and masculine with an ultra-high anti-roll frame on the front and end, ensuring maximum protection to passengers while the roof is strong enough to bear full force up to 22240N. Ground clearance is 210 millimeters letting the car roll over all the digs and imperfections easily to ensure maximum comfort to the passengers.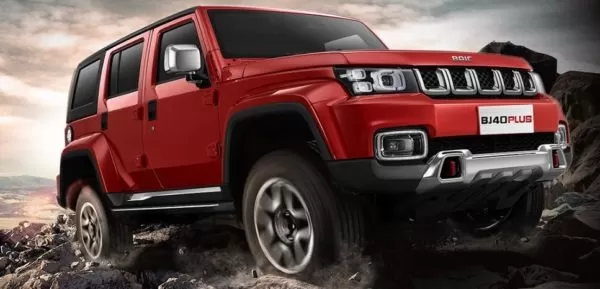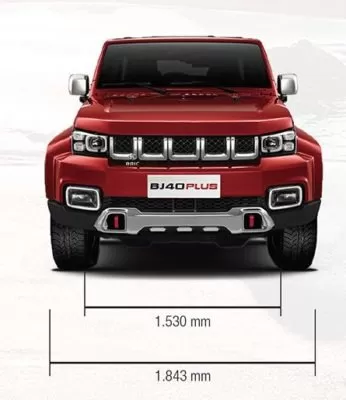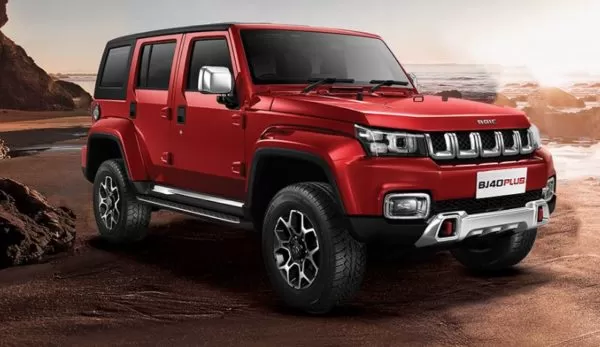 The matted chrome imparted grille on the front is very attractive. At the same time, LED headlights are given with daytime running lights, and some of the features in the exterior area include a rear window defroster, rear wiper, folding and heated side mirrors, and antenna. Seventeen-inch alloy wheels give boldness to the overall looks of BJ40 L and help in attaining maximum road grips with its big all-season tires.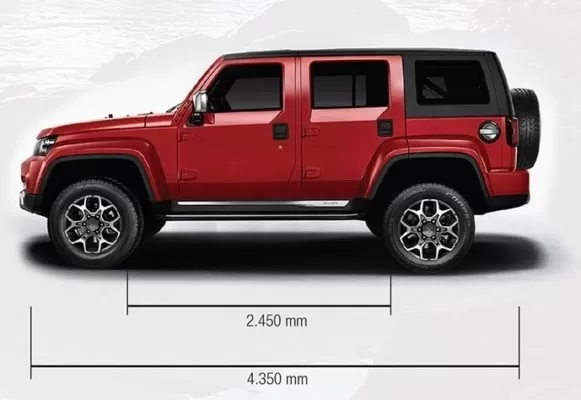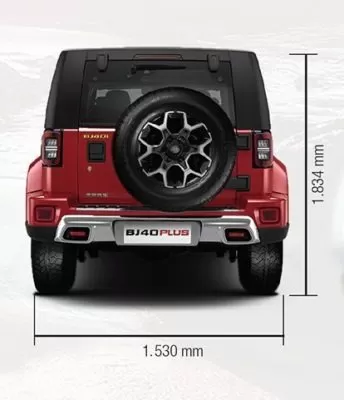 Interior Design & Features:
The Interior of BJ40L is very comfortable and has high-quality leather-covered seats and a seating capacity of up to five adults. The wheel is also leather-covered that not only gives an upscale look to the cabin but also helps for better hand grip during driving. The driver's seat is provided with six-way manual adjustment, and the passenger's convenience is also kept in mind so does provide features including cup holders, power control windows, power doors, a sun visor with mirror, and a digital clock and air conditioning system.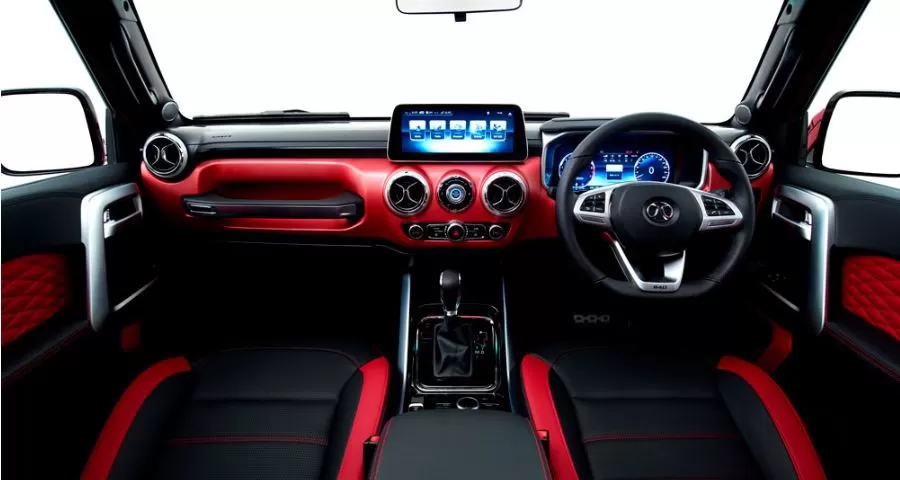 Seven inches touch screen display is mounted on the dashboard to give you infotainment coupled with Bluetooth connection and your smartphones while the audio system consists of six speakers. SAFETY FEATURES include an Anti-lock braking system, Electronic brake force distribution, parking sensors, anti-roll cage, airbags, central locking system, and hill hold control system, all to ensure the safety of passengers during the journey.
Pros & Cons:
Pros:
Value for Money
Comfortable Ride Quality
One of its Categories in Pakistan
The roof and doors are detachable
The 2.0L Turbo engine is not sluggish for a 2.2-tonne SUV
Appropriate for both city use and offroading capability
Rigid exterior
Luxury interior
True Off-Roader
Cons:
Cabin noise
High fuel consumption
Moderate high-speed handling
Sluggish brakes
Software Issues
Less Market acceptability being a Chinese Brand
Major Competitors:
BAIC BJ40 L is expected to give tough competition to all the all-time favorite SUVs in-country including Toyota Land Cruiser, Toyota Land Cruiser Prado, Toyota Hilux Surf, Toyota RAV4, Nissan Pathfinder, and Wrangler Jeep.