Peugeot 3008 SUV 
Sold in UK = 2016-2020
Generation = 2nd Pre-Facelift

(Discontinued)

Peugeot 3008 Price in the UK in 2020: starting Price

(27,165)

, Hybrid

(37,310)

New Facelift Model Introduced in 2020
The Peugeot 4007 and Peugeot 4008 were replaced by Peugeot 3008 in 2009, that first unveiled to the public in May 2008. The Peugeot 3008 is a compact crossover SUV with a front engine and all-wheel-drive feature. The 2nd generation of Peugeot 3008 hit the markets of Europe, China, and Malaysia in 2016. This 5-door SUV is available with multiple powertrains that include petrol, diesel, and a hybrid powertrain. 
Peugeot 3008 received a major facelift in 2020 that features a restyled front end and an enlarged touch screen display. The Peugeot 3008 has its plus points in terms of its lots of cabin space, boot space, and an attractive design inside but the overall appearance. This new model has square chrome trims that extend from one headlamp to the other, and the daytime running lights restyled to a vertical shape. It is one of the best SUVs that offers boxy boots with enough space that becomes perfect for a weekend trip. The Peugeot 3008 lineup for Pakistan after the entry of Peugeot in Pakistan will have a 1.2 liters turbocharged engine and will give direct competition to Hyundai Tuscon, Toyota CH-R, and Honda HR-V, Kia Sportage, and all other vehicles present in this category. The cabin has loaded with up-to-date features like airbags, 12.3 inches instrument cluster, 8 inches infotainment screen, Nappa leather seats, adaptive cruise control, a 360-degree view camera, and a panoramic sunroof. Once it made a debut in Pakistan, it will cost around 40 to 50 lacs Pakistani rupees.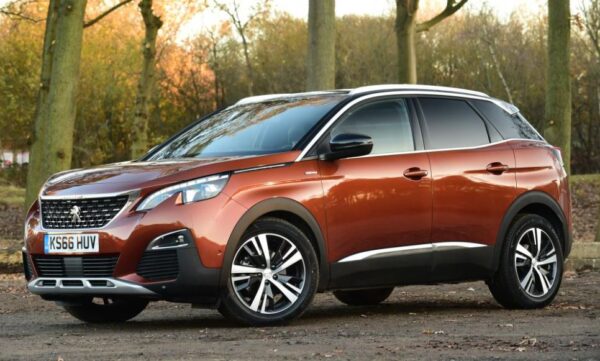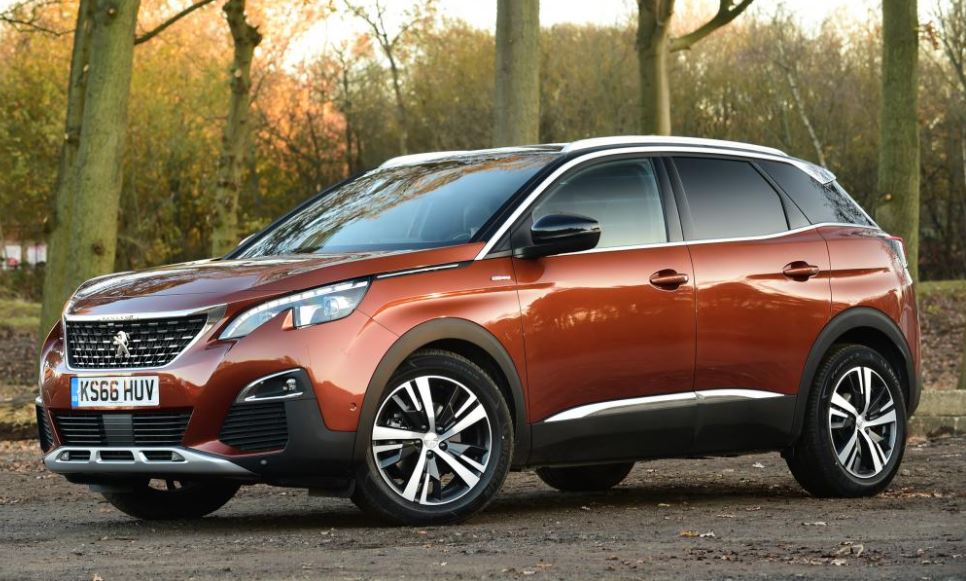 Trims & Versions:
Peugeot 3008 is available in the following 5-trim levels in the United Kingdom.
Active Premium Trim: it offers a 180-degree reversing camera, parking sensors at the front, a Mirror screen, Android Auto, and Apple Car Play.
Allure trim: it features Mistral cloth upholstery, 10 inches touch screen display, Connected 3D Navigation, illuminated sun visor vanity mirrors, and eighteen inches alloy wheels.
Allure Premium trim: it offers open and go keyless entry with push-button start, blue ambient cabin lights, Brumeo fabric upholstery, folding front passenger seat, and aluminum longitudinal roof rails.
GT trim: it offers Drive Assist Package, electro chrome rearview mirror, Mistral black roof lining, Mistral ALCANTARA leather upholstery, 2 USB sockets, full LED headlights, and eighteen inches alloy wheels.
GT Premium trim: it features a FOCAL HIFI audio system, acoustic laminated front windows, and nineteen-inches alloy wheels with a diamond-cut design.
Engine, power & transmission UK:
Peugeot 3008 gives various powertrain options that are as follows:
1.2 L Pure Tech 130 engine: it has a displacement of 1199 cc and has mated with a 6-speed manual transmission. It produces a maximum of 131 horsepower @ 5500 RPM and a torque of 170 pounds-feet @ 1750 RPM.
1.2 L Pure Tech 130 EAT8: the specifications of this engine are similar to the 1.2 L Pure Tech 130 except for its transmission, and it offers an 8-speed automatic transmission.
1.6 L Pure Tech 180 EAT8: it has a displacement of 1598cc, and it offers an eight-speed automatic transmission. It generates a maximum of 181 horsepower @ 5500 RPM and a torque of 184 pounds-feet @ 1750 RPM.
1.5 L Blue HDI 130: 
This diesel engine has a displacement of 1499cc and produces a maximum of 131 horsepower @ 3750 RPM with a torque of 221 pounds-feet @ 1750 RPM mated with six-speed manual transmission.
1.5 Blue HDI 130 EAT8: the specifications of this engine are similar to the 1.5 L Blue HDI 130, but it does not offer a manual transmission and only offers an eight-speed automatic transmission.
The Hybrid version is coupled with two 110 hp electric motors backed by a 13.2 kWh battery pack.
Performance & Drive:
All the trims of Peugeot 3008 offer a well-balanced ride with a smooth transmission that changes the gears precisely without giving jerks. The steering wheel is well-tuned and light weighted, so you can control your car efficiently and makes the turns confidently. It offers you both a front-wheel driving feature and an all-wheel-driving feature. The all-wheel-driving feature makes your adventures and journeys more exciting and your family trips more convenient. The entry-level petrol-powered trim accelerates to 100 kilometers per hour in 9.5 seconds with a maximum speed of 117 kilometers per hour, and the diesel-powered trim takes 11.5 seconds to accelerate from zero to hundred kilometers per hour. The fuel economy of Peugeot 3008 is not bad as the entry-level trim consumes 5.9 to 7.2 liters of fuel to give a mileage of 100 kilometers, and the diesel with automatic transmission consumes 4.9 to 6 liters to give a mileage of 100 kilometers. All the trims with Blue HDI technology come with Selective Catalytic Reduction technology to treat exhaust gases and eliminate less gaseous emissions.
Exterior design and features:
The exterior design of Peugeot 3008 is eye-catching has a prominent radiator grille on the front, and two full-LED headlamps are on its sides. The Peugeot logo encrypted on the grille enhances its beauty, and the front door sills feature PEUGEOT lettering. There are two chrome trim exhaust pipes, and chrome window line trims. The rear end is not changed and looks similar to the previous model. The entry-level trim offers seventeen inches diamond-cut alloy wheels, while the higher-end trim offers eighteen inches glossy black wheels.
Interior design and features:
The inside of the Peugeot 3008 is known for its spacious and comfortable cabin. The cabin is spacious enough to accommodate 5-adults comfortably, and the boot space is 530-liters which is enough to carry your luggage for a family trip. The higher-end trim comes with ALCANTARA leather upholstery and heated door mirrors. The automatic climate control maintains the temperature in the cabin, and the rear ventilation system makes the atmosphere airy to the rear passengers. There is a 12.3 inches LCD instrument panel that assists the driver and an 8 inches touch screen mounted on the dashboard for infotainment. Other than this, there has been given the facility of rear parking aid, remote central locking, map pockets on the back of the front seats, Mirror screen, Android Auto and Apple Car Play, illuminated glove box, electric parking brakes, 6-speakers, and Bluetooth connectivity.
Safety & features:
Peugeot 3008 gets the full score with 5-star ratings by EURO NCAP, it scored 86% for the protection of adults and 85% offered for the children. Some of the safety features Peugeot 3008 offers are as follows:
Anti-Lock Braking System

Adaptive Cruise Control

Gear Shift Indicator

Dynamic Stability Control

Electronic code immobilizer

Lane Departure Warning

Hill-Start Assist

Airbags

Advanced Emergency Braking System

 Speed Limit Recognition

Automatic wipers

Automatic lights
Major competitors:
Ford Kuga

Nissan Qashqai

Renault Kadjar