Toyota RAV4
Sold in Pakistan = 2005-2015
Generation = 3rd (Discontinued)
Toyota RAV4 price in Pakistan =

23- 45 lacs PKR

(As per Condition & Model year)
The third generation of Toyota RAV4 was introduced by Toyota Japan in 2005, and it ruled the automobile markets till 2012 when the export of it was stopped. It is exported to Australia, Malaysia, the Middle East, North America, China, Mexico, and other parts of Asia. The 3rd generation of RAV4 was also available in Pakistan from 2005 to 2015 and offered in three trim levels that include Style S, Sports trim, and Style trim. It was available in short-wheelbase and long-wheelbase layouts. It is also expected that Toyota Indus Motor Company will introduce a locally assembled RAV4 in Pakistan due to increasing competition in the automobile sector, and it will be a direct competition to the other newly introduced SUVs here, but there is no confirm news about the date of its launch. Toyota RAV4 is available as an imported CBU in Pakistan and the 3rd loved generation be purchased in used condition. It is a five-door SUV built on the Toyota New MC platform and offers various engine choices along with continuously varying automatic transmission options. It is available in both front-wheel-drive options and an all-wheel-drive option. Let us have a detailed look at the features and specs of the 3rd generation of Toyota RAV4.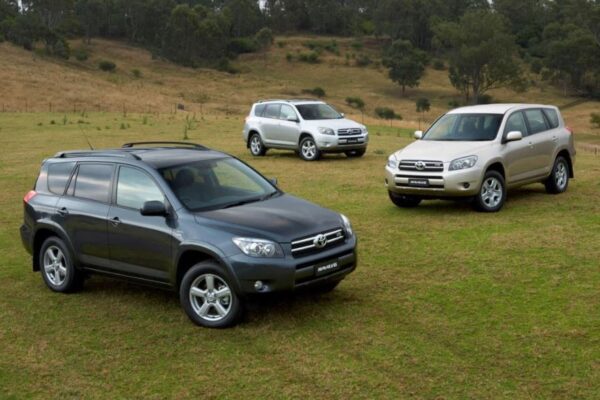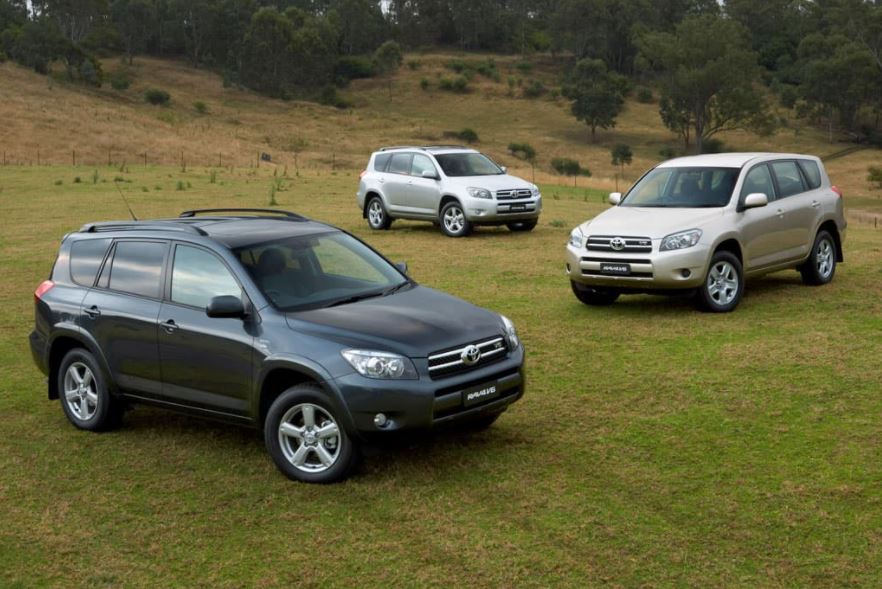 Trims & variants:
Toyota RAV4 3rd generation is available in three trim levels that are; Sport trim, Style trim, and Style S package. The Sport trim offers eighteen-inches alloy wheels, four-wheel-drive, defogger, foglights, keyless entry, four airbags, and power windows. The Style trim features seventeen-inches alloy wheels, Anti-Lock Braking System, steering adjustment, navigation, and other standard features. The Style S package is updated with a cruise control feature, multi-infotainment system, leather upholstery, nineteen-inches alloy wheels, and a power tailgate.
Engine & Power:
It is offered in various engine choices. The 2.0 liters, four-cylinder, dynamic force unit engine produces a power of 171 Ps (168hp) at 6600 RPM and torque of 207 Nm at 4800 RPM. It is mated with the continuously varying transmission, and the dynamic torque control system offers a four-wheel-drive feature that distributes torque to all four wheels. The other engine option is 2.5 liters hybrid engine, which is paired with an electric motor and produces a power of 218 PS (215hp) in a two-wheel-drive configuration, and it delivers a 222 PS when choosing an all-wheel-drive configuration. All the trims have an automatic transmission as standard.
Performance & Drive:
Toyota RAV4 delivers you a comfortable ride with balanced handling that makes sure you enjoy your journey. It is built on the new Toyota Global Architecture that not only gives responsive handling but also creates a spacious interior cabin with a better view outside and of the road ahead. It is a good performer on twisty curves, but its body roll is not minimal that can bother its driver. On the other hand, this body roll is balanced by its nicely weighted, light steering wheel response that changes the direction of the car with comparatively fewer efforts. The paddles mounted on the steering wheel play with the stepped ratios, particularly for braking. The increased torque with the great capacity of its engine delivers a smooth continuously varying automatic transmission. The acceleration power of RAV4 is also exceptional that runs this car within seconds. The all-wheel-drive edition of Toyota RAV4 takes 8.4 seconds to sprint from zero to sixty-two miles per hour, while the plug-in hybrid version of RAV4 takes 6.0 seconds to hit sixty-two miles per hour. The engine noise is not zero, and you may hear engine noise, especially when driving at higher speeds on the motorway. The multi-link rear suspension helps in keeping traction steady by controlling its body and ensuring enhanced handling. The Toyota RAV4 is a good SUV for off-road adventures which is driven easily on muddy terrain and rocky roads. The off-road drive gets even easier with the help of four modes of driving, which enhances traction on different surfaces. These driving modes include Sports mode, which drives the car with fast acceleration, Eco mode that maximizes fuel efficiency, and normal mode for everyday driving. The mileage of Toyota RAV4 3rd generation is also impressive on Pakistani roads giving an estimated range of 806 to 868 kilometers. It gives you a fuel economy/mileage of around 13 kilometers per liter in cities and 14 kilometers per liter on highways. 
Exterior design and features:
The sporty character of the Toyota RAV4 3rd generation makes it attractive among other SUVs. The bold fenders on its corners enhance its attitude, and its double-tone exterior expresses its unique style. The bold matte grille on front holds the Toyota logo stamped on it, and two LED headlamps flanked on its sides with LED foglights and daytime running lights. The rear end features two chrome-tipped exhaust that looks powerful from all sides and LED taillights, that have a modern appearance. The higher-end trims feature nineteen-inches alloy wheels with chrome finishing that looks good and sporty.
Interior design and features:
The interior end of the Toyota RAV4 gives you an elevated feel of refinement and build with high-quality materials like SofTex-trimmed seats and leather-covered steering wheel. The driver's seat comes with an eight-way power adjustment and gives you relaxation in long-route journeys. The interior lighting in the cabin is ambient to provide you perfect mood for the drive. The dual-zone climate control feature helps to circulate the temperature all around the cabin for providing maximum comfort to the passengers. You are also given a panoramic sunroof built of fine-detailing and premium materials that adds bright light to the cabin along with fresh air. The tailgate is operated with a smart key fob that automatically opens the tailgate. There is a seven-inches multi-information display that assists the drivers by providing safety information and other alerts. The other features present inside are USB ports, a DVD player, AM/FM radio, 8 inches infotainment screen, and Bluetooth connectivity so you can have entertainment of your choice. 
The infotainment system comes with Android Auto and Apple Carplay interface. Other than this, you also get multiple speakers to have a good quality of sound.
Safety & features:
The 3rd generation of Toyota RAV4 is equipped with a pre-collision system with pedestrian detection, dynamic radar cruise control, lane departure alert, automatic high beam headlights, blind-spot detection, airbags, and child locks. NHTSA has awarded Toyota RAV4 five stars in crash tests, and even IIHS has also rated it as a top safety pick vehicle.
Major competitors:
Price:
The 3rd generation of Toyota RAV4 is not the latest and competitive as compared to the other latest SUVs available but Japanese imported vehicles are always considered durable and reliable as compared to local vehicles, and this is the reason for its demand in the local market. The price for 3rd generation Toyota RAV4 ranges depends upon the condition and model year.