Suzuki Vitara (2016-2022)
Status =

Discontinued

Sold in Pakistan = 2016-2022
4th Generation
Suzuki Vitara Last Price in Pakistan
| | |
| --- | --- |
| Suzuki Vitara (2022) | 69,15000/- PKR |
Suzuki Vitara was launched in 1988 globally, and four of its generations have been launched until now. The current fourth generation is also known as Suzuki Grand Vitara or Suzuki Escudo in other countries. Pakistan's auto policy started in 2016 attracted many manufacturers to promote the automobile industry in Pakistan, and Pak Suzuki also played its role in this regard. Suzuki Vitara was officially launched in Pakistan on 21st December 2016 in a ceremony where Pakistani actor Fawad Khan presented with the Suzuki Vitara and became the first owner and official brand ambassador of the car. The fourth generation of Suzuki Vitara available for the year 2021 comes with a stylish exterior and captivating interior. The 2021 Suzuki Vitara is a game changer to all the SUVs, and it gives you a spacious cabin that is comfortable enough, and you will indulge in its beautiful layout. The engine works well, and it revs efficiently, giving you more excitement in your journeys. It was available in two trim levels initially, but today only the GLX trim is available in Pakistan. On the whole, Suzuki Vitara is a versatile car fit for every generation and every situation, perfect for your daily traveling or off-road adventures.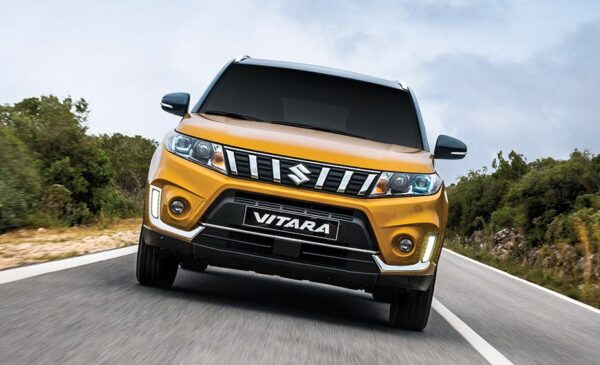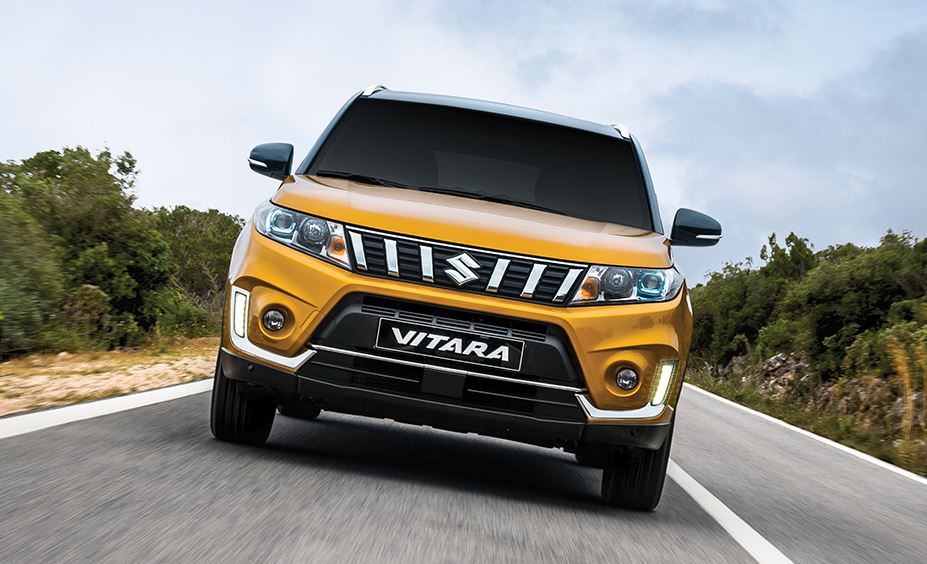 Trims & Versions:
Previously two trims were available in Pakistan, but today only one trim level of Vitara is available for the Pakistani market which is GLX. The GLX trim features an automatic transmission, electronic power steering, alloy wheels, cruise control, climate control, defogger, defroster, foglights, keyless entry, moon roof, seven airbags, and a multifunctional steering wheel. Previously the GL+ trim did not feature a moonroof, chrome grille at the front, polished alloy wheels, leather upholstery, parking sensors, power windows, automatic wiper, and daytime running lights.
Engine & Power:
Suzuki Vitara GLX is powered by a 1.6 liter 1586 cc displacement, four-cylinder, DOHC engine producing power of 86 kW (115 Horsepower) at 6000 RPM and torque of 156 Nm, at-4400 RPM. It comes with six-speed automatic transmission, and it provides you with two-wheel and four-wheel driving features.
The four-wheel drive comes with ALLGRIP technology that gives you more confidence and satisfaction. The ALLGRIP technology comes in three varieties that include ALLGRIP AUTO, ALLGRIP SELECT, and ALLGRIP PRO.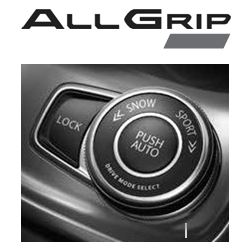 (ALLGRIP system: "A vehicle that can take on rough roads and go places that cars couldn't go in the past." With this philosophy, our first four-wheel drive model was developed in 1970. This was the start of ALLGRIP, Suzuki's renowned four-wheel drive technology. Our FWD technology has been refined to provide drivers with even more excitement, pleasure, and reassurance. With ALLGRIP in your Vitara, you can expand your range of activities and enhance your diverse lifestyles.)
ALLGRIP AUTO coupled with a four-wheel driving feature and best for everyday driving. The ALLGRIP SELECT comes with four driving modes options, that are: auto, sport, snow, and lock mode. The ALLGRIP PRO offers you the best off-road driving ability with reduction gear and fulfilling your adventure spirit.
Performance & Drive:
Driving Suzuki Vitara does not feel like hard work, and it makes your ride thrilling. The steering of Vitara is lightweight and makes the handling of the vehicle easy, but its steering is heavier than some of its competitors. On the whole, Vitara holds the road confidently, even at higher speeds. It offers you a six-speed automatic transmission that is flexible in nature and gives you smooth throttle changes, while the slickest manual transmission is not available anymore in Vitara. It comes with both two-wheel drive and four-wheel drive. The four-wheel drive offers you various driving modes to choose from when cruising on the roads. You will have the options to choose from Auto, Sport, Snow, and Lock mode. All these modes help you drive efficiently with a four-wheel driving feature. The Auto driving mode is the best for driving on the highways and drives the vehicle with fuel-saving.
Hill descent control
When the vehicle is traveling down a steep downward slope and engine braking is not sufficient to slow the vehicle, hill descent control applies the brakes and keeps the vehicle at certain low speeds. This allows the driver to concentrate on steering.
Auto Mode
Prioritizes fuel economy in typical driving conditions and switches to FWD when detecting slippage.
Sport Mode
Improves cornering performance by allocating more torque to the rear wheels. For a better engine response, it optimizes the accelerator/torque characteristics.
Snow mode
Optimal for snowy, unpaved, and other slippery surfaces as it enhances traction during acceleration and promotes stability.
Lock Mode
For extricating the vehicle from snow, mud, or sand, the system apportions more torque to the rear wheels. The ESP** and other control technologies are optimized to get the car-free. Lock mode automatically switches to Snow mode at speeds over 60 km/h.
The Suzuki Vitara's acceleration is also remarkable, and it accelerates 0-62 miles per hour in 9.5 seconds only, while the four-wheel drive is a bit slower than the two-wheel drive. The four-wheel driving accelerates from 0 to 62 miles per hour in 10.2 seconds. The ESP feature in Vitara helps you drive the vehicle without side skidding. It ensures smooth handling when turning the car on slippery roads as it controls the engine torque and applies brakes to suppress the wheel slip. The cruise control system lets the drivers keep and maintain a speed of 45-100 kilometers per hour on the highway without pressing the acceleration pedal continuously. The fuel economy of Suzuki Vitara is just average, giving you mileage of 13 kilometers per hour in cities and 14 kilometers per hour on the highways, and can achieve a maximum speed of 180 kilometers per hour.
Exterior Design & Features:
The exterior design of Suzuki Vitara is characterized by bold styling, while the main essence of Vitara is its five-element chrome-accented grille and its muscular stylish bumper design. LED headlamps can be seen on both sides of its grille, and LED daytime running lights along with foglamps also accompany them. This rear-end features a typical SUV design, and the taillights are sleek in shape that looks beautiful from all angles. Lastly, the seventeen inches painted alloy wheels give it a dominating sporty stance. It is available in Atlantic turquoise pearl, cool white pearl, galactic grey metallic, the cosmic black pearl, and horizon orange metallic exterior colors. 
Interior Design & Features:
The Interior Design of the Suzuki Vitara calls attention to its high quality and spacious compartment where you will experience a premium feel the moment you enter the car. All the switches and buttons are driver's centric, and the new soft pad instrument panel looks impressive. Suzuki Vitara is upgraded with new geometric pattern leather-covered seats, and the multifunctional steering wheel is covered with premium leather. There is also a new clock layout designed on the dashboard that gives the dashboard an attractive appearance. A 4.2 inches multi-information color LCD works as an instrumental cluster and displays fuel consumption, outside temperature, and driving mode. There is a seven inches touchscreen display that gives you infotainment and comes with smartphone connectivity. Suzuki Vitara now comes with a panoramic sunroof that consists of two glass panels that open up to nature by sliding. The cabin gives you the facilities of air conditioning, climate control, cruise control, defogging, defrosting, central locking, interior lighting, keyless entry, navigation, power windows, power door locks, and rear folding seats.
Safety & features:
The Suzuki Vitara holds up-to-date safety features that ensure a safe drive. The advanced forward detection system uses a camera and laser to detect any vehicle or pedestrian coming your way. The dual-sensor brake support system works in three ways when detecting a collision that are warning, brake assist, and automatic brake. Some other safety features include seven airbags, blind-spot detection, rear cross-traffic alert, adaptive cruise control with a stop-and-go facility, and a lane-keeping assist feature.
Major Competitors:
Verdict:
Suzuki Vitara is a comfortable car to drive that will make your ride memorable with its efficient driving performance and cutting-end technology that gives you ultimate luxury as soon you enter into Vitara. Despite all these features, Suzuki Vitara is a highly-priced car which is one of the main reasons for its low demand, but people still buy the Vitara, which is not a wrong decision either, and you will be delighted every time you ride in it.