2022 Jeep Wrangler
Sold in USA = 2018-Present
Generation = 4th (JL)
2022 Jeep Wrangler Price in the USA :
Sport

Starts at: 

$32,570

Willys Sport

Starts at: 

$34,875

Sport S

Starts at: 

$36,765

Sport Altitude

Starts at: 

$38,010

Willys

Starts at: 

$39,865

Sahara

Starts at: 

$39,715

Sahara Altitude

Starts at: 

$43,310

Rubicon

Starts at: 

$43,265

High Altitude

Starts at: 

$51,375

Rubicon 392

Starts at: 

$74,640
Jeep Wrangler was introduced in 1986 as a midsize compact SUV that was restyled from time to time and the latest generation of it was debuted in 2017. Jeep Wrangler sooner becomes hit code in automobile markets of the United States and was able to sell 228,032 units in the year 2019. Currently, the latest model of Wrangler is available in markets while the latest model is available by the end of 2020 officially, most probably in December 2020. Plug-in hybrid Wrangler was seen on roads in the testing phase bringing the good news of electrified Wrangler to its customers in January 2020 while officially was launched in December 2020. This iconic Jeep brings off-road capability with extra electric power. This 4xe powertrain feature will be available to four-door models of Wrangler while similar ground clearance is retained in this model despite the battery back addition because the battery pack is placed under the rear seats. A larger-sized infotainment display screen of 8.4 inches is now available in the latest model while some of the new features introduced are optional Rock Track 4 wheel drive, 2-speed transfer case, and exterior camera system. Jeep Wrangler is already ranked number thirteen among other compact SUVs.
Trims & versions:
Jeep Wrangler is available in three major trim levels that are Sport trim, Sahara Trim, and Rubicon trim, these trims are further divided into sublevels in which Sport trim is available in Sport S variant, Black and Tan variant, Willy's variant, and freedom variant while altitude variant is also available in Sahara and Sport trims. The Sport trim features seventeen inches alloy wheels, cruise control, a two-way adjustable driver's seat, five inches touch screen display, eight speakers sound system, manual mirrors and doors, and a rearview camera. Sahara trim is equipped with the four-wheel driving feature, central lock system, painted body panels, and four-door body style. The higher-end trim is Rubicon which delivers excellent off-road capabilities and features seventeen inches alloy wheels with special tires, electronic front and back lockable differentials, keyless entry, heated seats on the front and heated steering wheel, nine speakers sound system, 8.4 inches touch screen display given with navigation facility too and up to date safety features.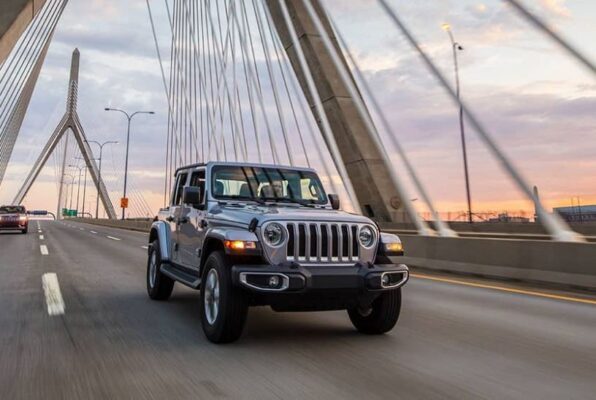 Engine, drive train & Power:
The Jeep Wrangler gets its power from a 3.6 liters V4 engine paired with an electric motor driven by a 17 kWh battery pack that generates a horsepower of 285 hp while it is paired with either 6-speed manual transmission or 8-speed automatic transmission. The standard V6 3.6 liters petrol engine is available too that generates 285 hp @ 6,400RPM and is paired with 6-speed manual transmission. Besides these two options, another engine available is V6 three liters diesel engine paired with a plug-in hybrid battery generating 375 hp horsepower and providing you 8-speed automatic transmission. It facilitates you to such an extent that even if the battery runs out, the turbocharged 4 cylinder delivers enough power to run all four wheels.
Performance & Drive:
Jeep Wrangler is a full-time beast on roads with its superb off-road driving performance featuring transfer cases, lock differentials, and skid plates. Every trim of Wrangler features nine inches of ground clearance with a four-wheel driving option which means even the base trim also tackles with mud, snow, or uneven pathways and even the Rubicon trim comes with a ground clearance of eleven inches. It delivers you a firm and smooth ride but it is not that sporty as expected for on-road drives because it is specifically made for off-road driving while on the other hand body roll around turns is smooth and the braking system is also efficient to provide enough stopping power. 
The standard V6 engine delivers more efficient acceleration power capable to sprint from zero to sixty miles per hour in 7.2 seconds. Two-door Wrangler can tow up to 2000 pounds while the four doors Wrangler can tow up to 3500 pounds. Fuel Economy: The 4Xe Wrangler can get a mileage of twenty-five miles per gallon when running on electric power while the standard V6 engine gives you a mileage of 20 miles per gallon in the city and twenty-four miles per gallon on highways and on the other hand, the diesel engine gives you a mileage of twenty miles per gallon in the city and twenty-nine miles per gallon on highways and lastly, the turbocharged V4 engine gives twenty-four miles per gallon of mileage on highways and twenty-two miles per gallon of mileage in city.
Exterior design and features:
Jeep Wrangler has multiple designs for roof all convertible either soft tops made of vinyl or canvas material or the black colored Freedom top and the sky one-touch power roof that acts as a giant sunroof. It is present in either two-door body style or four-door body style. Jeep Wrangler comes in a variety of exterior color options that depends on which trim you want to buy. You can now customize the looks of your Wrangler with your choice by adding a red Tail Rated Badge, polished wheels having black pockets, and accented mirrors along with grilles and door handles.
Interior design and features:
Jeep Wrangler gives you one of the best-looking interiors with tall and upright seating positions and easily reachable controls. The driver's seat is easily adjustable and gives a clear view from the front windshield. A five inches touch screen display is mounted on the dashboard for infotainment or the higher trim features 8.4 inches touchscreen that is users friendly and compatible with Android Auto and Apple Car play interface while nine speakers sound system along with charging ports is also available.
 The Base trim features plastic and rubber trim pieces inside the cabin while the Rubicon trim features all leather boxes inside. Wrangler provides you with enough space to carry your luggage with you by carrying 2 suitcases in two doors Wrangler and ten suitcases in a four-door Wrangler.
Safety features:
The 2021 Jeep Wrangler earned a "Good" rating from the IIHS (Insurance Institute for Highway Safety) in most crashworthiness tests, including moderate overlap front side tests, and elements such as roof strength, head restraints, and seats.
Jeep Wrangler is equipped with a handful of driver's assistance programs whose most important features include blind-spot detection, rear cross-traffic alert system, rear parking sensors, the rearview backup camera, adaptive cruise control and forward-collision warning alarm along with automatic emergency braking system.
Major Competitors:
Verdict:
Jeep Wrangler focuses more on off-road drives thus its ride quality and handling performance is not much appreciated on roads but the whole, its off-road driving ability is unbeatable that makes it fun to drive and unique in its way and it gives a modern vibe to its upcoming model to feel remarkably up to date.