Alfa Romeo Giulia 2017
Things used in cars are mostly same that works in same way but when I write about cars it didn't mean I am going to change something in that I just write those things in way that make it easy for users understanding. I write things that are important related to design, comfort and security. People mostly not even aware where inline cylinders are used or inline cylinders are part of engine, it was just little description why I write about cars. Today we are going to discuss about Alfa Romeo Giulia Released in 2017. Before that lets look behind for little history about Alfa Romeo Company also with meaning to the word Alfa Romeo Giulia. Alfa Romeo is an Italian automobile manufacturer, this brand working since 1911 and mostly has fame for production of luxury cars also involved in racing.
Meaning of Alfa Romeo Giulia:
 Alfa is basically a word that generated from Italian pronunciation where Alfa stands for (Anonima Lombarda Fabbrica automobile) that means anonymous Lombard automobile factory. There has not been given meaning for Romeo (an attractive, passionate male seducer or lover). Now if we combine these two words it generates or we can infer that there is a anonymous Lombard automobile factory that produces attractive and passionate cars, This can be meaning for company but what about Giulia so this is also an Italian word that most given to women/girls like Romeo to boys if we define properties of Giulia girl you will automatically understand what they want to tell you about the car. Giulia is extremely gorgeous, polite and beautiful face girl now I think this has become easier for you to understand what does Alfa Romeo Giulia whole meaning. Now move toward car Design.
Design:
Alfa Romeo Giulia is a beautiful sedan car that given seating for five persons, interior of this beautiful car is available in black where exterior is available in multiple beautiful colors. Front of car made by using central grille in triangular shape with functional air fans that has added to the low and wide appearance of vehicle. There has been added by Xenon headlamps with day time running LED lights, front also has very nice lines in the hood. Rear of car made appealing with dual chromed tipped exhausts and 2 pieces of tail lights, there also present a backup camera too. It has 17 inch dark aluminum wheels, power folding mirrors with integrated turn lights; this was about its exterior now moving toward interior. Interior of Alfa Romeo Giulia also made mesmerizing as it has door panels covered in nice black leather with white stitching, aluminium release handle and there is written alfa romeo on door sill. Leather not present on door panels but also present on seats, steering wheels and gear shift knob.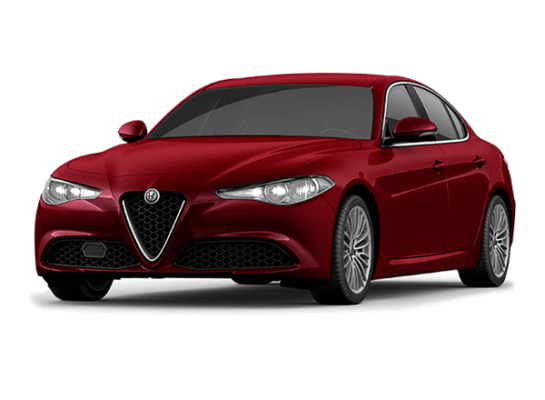 Engine and Transmission:
This beautiful Alfa Romoe Giulia has powerful engine that is 2.0 inter turbo regular unleaded 1-4 gasoline engine. It has four inline cylinders 16 valves that work to produce 306 Nm @ 2000 Rpm peak torque with 280 Horse power. It has rear wheel drive but also has optional all wheel drive too. It is known to be most powerful Alfa Romeo engine till now that give top speed of 149 miles per hour and reaches from 0-60 in just 5.1 seconds. Transmission of car is 8 speed automatic with column mounted paddle shifter that work better with electro power assist speed sensing steering and one more thing at the end there is not manual version available with this car. This car works on three modes first one is (a) that is energy saving mode work by deactivating cylinders, (n) Natural mode that is most comfortable mode and the last one is (D) that is dynamic mode that sets sharper throttle response, Braking and steering means stiff everything.
Comfort and Security:
Most Important part of vehicle is comfort and security, for users comfort It has 6 way auto adjusting leather seats, 2 cup holders on front, remote start, and dual zone front automatic air conditioner. Seats on rear can be folded to make extra cargo space as well as middle seat to have cup holder or rear arm rest, more you dig more you will find so we have added all features below for quick review. Now moving toward security, it has lot of air bags like for driver passenger knee, curtain 1st and 2nd row airbags that also has occupancy sensors. Seat belts are present on both front and rear but it give more security by adding front collision sensor, tire pressure monitoring, traction control, ESC and side impact beams. Don't forget to share your reviews about Alfa Romeo Giulia 2017 a luxury loveable car for their customers.