2023 Alfa Romeo Giulia
1st Generation
Sold in the USA = 2017-Present
overall Rating =

8/10
2023 Alfa Romeo Giulia Price in the USA 
Giulia Spring

44,280 $

(Start Price)
Giulia Ti

46,980 $

(Start Price)
Giulia Lusso

50,180 $

(Start Price)
Giulia Veloce

52,420 $

(Start Price)
Giulia Estrema

55,920 $

(Start Price)
Giulia Quadrifoglio

81,960 $

(Start Price)
When discussing cars, it is important to note that many of the components and mechanisms used in different vehicles operate in a similar manner. However, my intention in writing about cars is not to modify these components but rather to present the information in a way that is easily understandable for users. I focus on highlighting aspects of design, comfort, and security that are essential for readers to grasp. It is worth mentioning that most people may not be aware of the specific applications of inline cylinders or their role within the engine. I provide a brief description of such technical details only to provide context for why I am writing about cars. With that in mind, let us delve into the topic at hand: the Alfa Romeo Giulia, which was first released in 2017.
Before delving into the specifics of this particular vehicle, let us take a moment to explore the history of the Alfa Romeo company and shed light on the meaning behind the name "Alfa Romeo Giulia." Alfa Romeo is an esteemed Italian automobile manufacturer with a rich legacy dating back to 1911. Over the years, the brand has gained renown for its production of luxurious cars and its involvement in the world of racing.
Decoding the Meaning of Alfa Romeo Giulia: Captivating Cars and Exquisite Beauty:
Alfa Romeo is derived from the Italian pronunciation and stands for "Anonima Lombarda Fabbrica automobile," which translates to "anonymous Lombard automobile factory." The term "Alfa" represents a factory that produces captivating and passionate cars, while "Romeo" traditionally refers to an attractive, passionate male seducer or lover. When we combine these words, we can infer that Alfa Romeo represents an anonymous Lombard automobile factory manufacturing alluring and passionate vehicles. However, what about "Giulia"? Similar to "Romeo," Giulia is an Italian word commonly used as a name for women or girls. By understanding the attributes associated with a Giulia girl, we can grasp the message conveyed about the car.
Giulia, in this context, epitomizes a stunning, elegant, and beautiful woman with a charming demeanor. By connecting this description to the Alfa Romeo Giulia, it becomes evident that the car's design aims to capture these qualities. Therefore, the entire meaning behind Alfa Romeo Giulia can be summarized as follows: Alfa Romeo represents an anonymous Lombard automobile factory that manufactures captivating and passionate vehicles, while Giulia symbolizes the car's embodiment of exquisite beauty, grace, and allure. With this understanding, we can now delve into the specifics of the car's design.
Alfa Romeo Giulia: A Sedan of Beauty and Elegance:
The Alfa Romeo Giulia is a stunning sedan that boasts seating for up to five individuals. Its interior, adorned in a sleek black color scheme, emanates an air of sophistication, while the exterior offers a range of captivating colors to choose from. The front of the car commands attention with a distinctive central grille in a striking triangular shape, complemented by functional air fans that contribute to the vehicle's low and wide stance. Adding to its allure are Xenon headlamps equipped with daytime running LED lights, enhancing visibility and accentuating the front-end's clean lines.
The rear of the Alfa Romeo Giulia captivates with the inclusion of dual chromed tipped exhausts and a pair of tail lights, harmoniously blending elegance and sportiness. A convenient backup camera further enhances safety and ease of maneuvering. Completing the exterior ensemble are 17-inch dark aluminum wheels that exude a touch of sophistication, alongside power folding mirrors that integrate turn lights for added practicality.
Transitioning to the interior, the Alfa Romeo Giulia continues to mesmerize with its attention to detail and luxurious finishes. The door panels are tastefully adorned in supple black leather, accentuated by delicate white stitching, while an aluminum release handle adds a refined touch. As you enter, the door sill proudly displays the iconic Alfa Romeo emblem, instantly immersing you in the brand's legacy. The opulence of leather extends beyond the door panels, enveloping the seats, steering wheel, and gear shift knob, creating a cohesive and inviting ambiance throughout the cabin.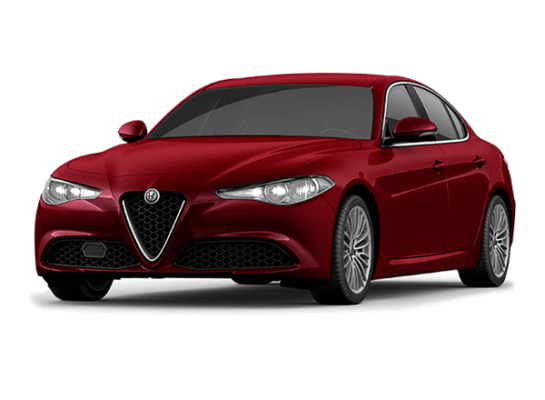 Alfa Romeo Giulia's Engine and Driving Dynamics:
Underneath the hood of the beautiful Alfa Romeo Giulia resides a formidable 2.0-liter intercooled turbocharged regular unleaded 1-4 gasoline engine. This powerhouse features four inline cylinders and 16 valves, working harmoniously to deliver an impressive peak torque of 306 Nm @ 2000 Rpm and an exhilarating 280 horsepower. As the most potent Alfa Romeo engine to date, it ignites a sense of anticipation for the driving experience that lies ahead. The Giulia offers rear-wheel drive as its standard configuration, but for those seeking enhanced traction and control, an optional all-wheel drive system is also available. This versatile drivetrain ensures that the Giulia remains confident and composed on various road conditions.
This remarkable engine propels the Alfa Romeo Giulia to an impressive top speed of 149 miles per hour, while the acceleration from 0 to 60 mph is achieved in a mere 5.1 seconds, showcasing its dynamic prowess. Mated to the engine is an 8-speed automatic transmission, offering seamless shifts and precise control. For enthusiasts who desire a more engaging driving experience, the Giulia provides column-mounted paddle shifters, allowing for manual gear changes at the touch of a finger. The Alfa Romeo Giulia excels in its driving dynamics, incorporating advanced technologies to enhance performance and agility. The electro power assist speed sensing steering ensures responsive and precise handling, instilling confidence in the driver with every turn. It is worth noting that the Giulia does not offer a manual transmission variant, focusing on delivering a refined and effortless driving experience.
The Giulia caters to different driving preferences through its selectable driving modes. The first mode is the energy-saving mode, denoted by the letter "A," which intelligently deactivates cylinders to optimize fuel efficiency. The natural mode, represented by the letter "N," prioritizes comfort, providing a well-balanced and smooth ride. Lastly, the dynamic mode, indicated by the letter "D," unleashes the car's full potential, sharpening throttle response, braking performance, and steering feel. In this mode, the Giulia transforms into a spirited and exhilarating driving machine, offering an engaging and dynamic experience.

Prioritizing Comfort and Security: Alfa Romeo Giulia's Features:
When it comes to the Alfa Romeo Giulia, comfort and security are paramount considerations for the well-being of its occupants. To ensure a comfortable ride, the Giulia offers 6-way auto-adjusting leather seats, allowing both the driver and front passenger to find their ideal seating position effortlessly. Additionally, the presence of two cup holders in the front ensures convenience for storing beverages within easy reach. For added comfort and convenience, the Giulia is equipped with a remote start feature, enabling users to start the engine from a distance, and a dual-zone front automatic air conditioner, allowing for personalized climate control.
Recognizing the need for versatility, the Giulia offers flexible seating arrangements. The rear seats can be easily folded to create extra cargo space when needed, while the middle seat can be transformed into a cup holder or rear armrest, catering to different passenger preferences. Delving further into its features, one will discover an array of amenities designed to enhance the overall driving experience.
Turning our attention to security, the Alfa Romeo Giulia leaves no stone unturned in prioritizing the safety of its occupants. Multiple airbags are strategically placed throughout the vehicle, including airbags for the driver, passenger, and knee protection, as well as curtain airbags for both the first and second rows. These airbags are equipped with occupancy sensors, ensuring they are deployed with precision when needed.
The Giulia reinforces its commitment to safety with various additional security features. Both front and rear seat belts provide crucial protection in the event of a collision. Furthermore, the car incorporates advanced technologies such as a front collision sensor, which alerts the driver and assists in mitigating potential collisions. A tire pressure monitoring system helps maintain optimal tire conditions, ensuring stability and control on the road. The Giulia is also equipped with traction control, electronic stability control (ESC), and side impact beams, enhancing stability and safeguarding passengers from side impacts.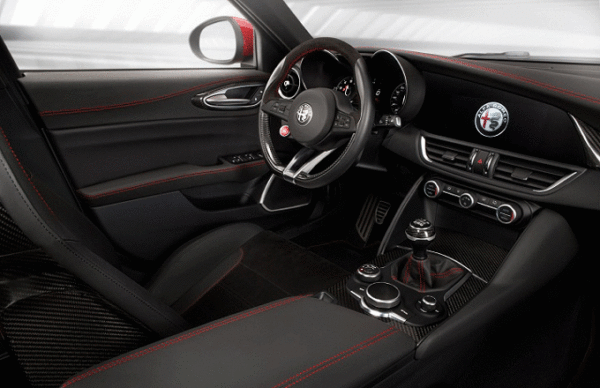 Verdict:
The Alfa Romeo Giulia is a car that seamlessly blends captivating design, luxurious comfort, and advanced security features. With its striking exterior design, including a distinctive front grille and sleek lines, it exudes an air of elegance and sportiness. The interior is meticulously crafted, with leather-clad surfaces, thoughtful details, and flexible seating arrangements that prioritize passenger comfort. The powerful engine, available in both rear-wheel drive and all-wheel drive configurations, delivers exhilarating performance and precise handling, making every drive a thrilling experience. The selectable driving modes cater to various preferences, offering a balance between fuel efficiency, comfort, and dynamic performance. Importantly, the Giulia prioritizes the safety of its occupants, with a comprehensive array of airbags, seat belts, collision sensors, and stability-enhancing technologies. Overall, the Alfa Romeo Giulia impresses with its combination of beauty, comfort, and security, making it a desirable choice for those seeking a luxury sedan that embodies both style and substance.
Major Competitors:
The Alfa Romeo Giulia competes in the luxury compact sedan segment, where it faces strong competition from several notable rivals. Here are some of the key competitors of the Alfa Romeo Giulia:
BMW 3 Series: The BMW 3 Series is a perennial contender in the compact luxury sedan segment, known for its engaging driving dynamics, advanced technology features, and a range of powerful engine options.
Mercedes-Benz C-Class: The Mercedes-Benz C-Class offers a blend of comfort, luxury, and performance. It features a stylish exterior, a high-quality interior, and a variety of engine choices, including powerful AMG performance models.
Audi A4: The Audi A4 is known for its refined ride, well-crafted interior, and advanced technology features. It offers a comfortable cabin, strong performance, and the option of Audi's renowned Quattro all-wheel drive system.
Lexus IS: The Lexus IS boasts a distinctive design, luxurious interior, and a reputation for reliability. It offers a smooth ride, high-quality materials, and a range of engine options, including a fuel-efficient hybrid variant.
Jaguar XE: The Jaguar XE delivers a combination of sportiness and elegance. It features a sleek exterior design, a luxurious interior, and dynamic driving characteristics. The XE is available with a variety of engines, including high-performance variants from Jaguar's "SVR" line.
Volvo S60: The Volvo S60 stands out for its Scandinavian design, comfortable seating, and advanced safety features. It offers a refined ride, a premium interior, and a range of efficient powertrain options, including plug-in hybrid models.
These are just a few of the notable competitors in the luxury compact sedan segment. Each of these vehicles brings its unique strengths and characteristics, appealing to different preferences and priorities of buyers in terms of performance, luxury, technology, and overall driving experience.