2023 Alfa Romeo Giulia Quadrifoglio
1st Generation
Sold in the USA = 2017-Present
overall Rating = 

8/10
2023 Alfa Romeo Giulia Quadrifoglio Price in the USA 
Giulia Spring

44,280 $

 (Start Price)
Giulia Ti

46,980 $

 (Start Price)
Giulia Lusso

50,180 $

 (Start Price)
Giulia Veloce

52,420 $

 (Start Price)
Giulia Estrema

55,920 $

 (Start Price)
Giulia Quadrifoglio

81,960 $

 (Start Price)
When searching for support sedan cars, the majority you come across will likely be from German, Japanese, or American manufacturers. However, the distinct style and inherent beauty of Italian automobiles set them apart from the rest. Alfa Romeo, an Italian automaker, has made a remarkable comeback, distinguishing itself not just with standard vehicles, but also with a commitment to compete on a grand scale. In 2018, Alfa Romeo set an ambitious target for itself: to achieve sales of 800,000 vehicles. To meet this goal, they unveiled a stunning and awe-inspiring sport sedan known as the "Giulia Quadrifoglio." This exceptional car was specially designed to help Alfa Romeo reach its sales milestone. Now, the question arises: what does this car have to offer, and can it propel Alfa Romeo to the coveted 800,000 mark?
The Alfa Romeo Giulia Quadrifoglio represents a fusion of style, performance, and craftsmanship. It encapsulates the essence of Italian automotive design, with sleek lines, a captivating exterior, and a luxurious interior. From the moment you lay eyes on this extraordinary sedan, it exudes an air of confidence and elegance that is quintessentially Italian. But the Giulia Quadrifoglio is not merely a feast for the eyes. Underneath its striking exterior lies a powerhouse of performance. Equipped with a potent engine and cutting-edge technology, this car possesses the capability to deliver an exhilarating driving experience. It has been meticulously engineered to combine power, agility, and precision, making it a formidable contender in the sports sedan segment.
By introducing the Giulia Quadrifoglio, Alfa Romeo aims to elevate its brand presence and appeal to a wider audience. This remarkable car represents a significant step towards achieving the ambitious sales target set by the company. It serves as a testament to Alfa Romeo's commitment to excellence and their unwavering passion for creating exceptional vehicles. As enthusiasts eagerly await the opportunity to experience the Giulia Quadrifoglio, the automotive world is abuzz with anticipation. Will this magnificent sedan live up to the expectations and propel Alfa Romeo towards the coveted milestone of 800,000 vehicle sales? Only time will tell, but one thing is certain: the Giulia Quadrifoglio is a symbol of Alfa Romeo's determination to redefine luxury and captivate the hearts of automotive enthusiasts worldwide.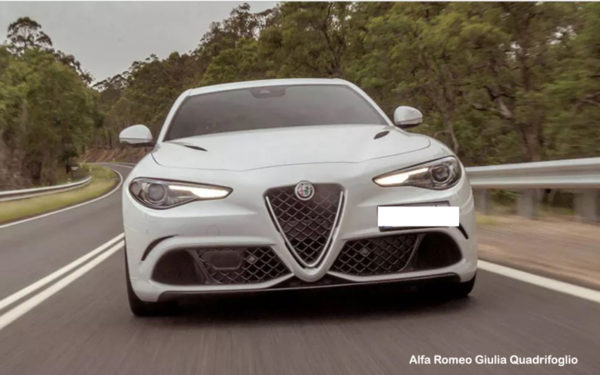 Indulge in Unmatched Design and Style: The Striking Alfa Romeo Giulia Quadrifoglio:
When it comes to investing a substantial amount of money in an Italian car, the primary and compelling reason is undoubtedly the design and style it offers. The Alfa Romeo Giulia Quadrifoglio, in particular, boasts a unique and captivating appearance that is bound to ignite love at first sight. Prepare to be mesmerized by the most beautiful and striking car you'll encounter on the road. The allure of the Alfa Romeo Giulia Quadrifoglio begins with its front fascia, which exudes an unparalleled appeal. The centerpiece is a triangular mesh grille that commands attention and represents a hallmark of Alfa Romeo's distinctive design language. Complementing this striking grille are swept-back headlights that add a touch of elegance and aggression to the overall aesthetic.
However, the front of the Giulia Quadrifoglio is not just visually pleasing—it's also engineered for optimal performance. One notable feature is the lower front splitter, which incorporates a carbon fiber lip. This carefully designed element is not only a testament to the car's attention to detail but also serves a functional purpose. Alfa Romeo proudly states that this front splitter generates an impressive 300 pounds of downforce, an attribute that proves particularly valuable in racing scenarios. The additional downforce contributes to improved traction and stability, enabling the Giulia Quadrifoglio to excel in high-speed maneuvers. Beyond its stunning front design, the Alfa Romeo Giulia Quadrifoglio continues to captivate with its overall silhouette. The sleek and aerodynamic body lines convey a sense of motion even when the car is at a standstill. Every curve and contour has been carefully crafted to enhance both aesthetics and performance.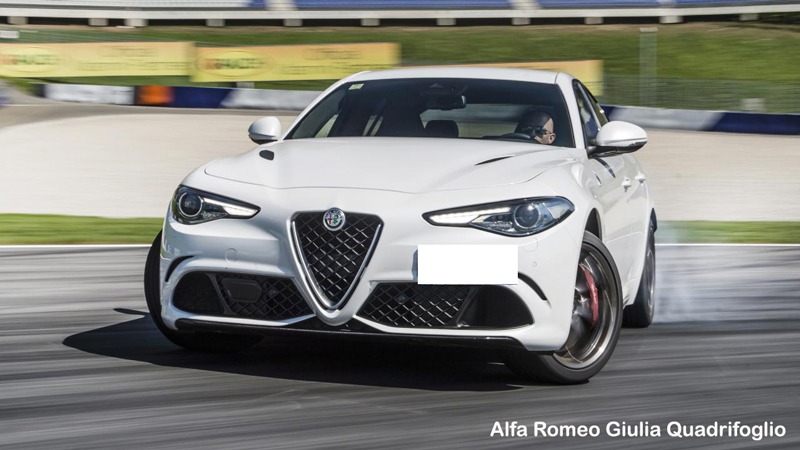 The Alfa Romeo Giulia Quadrifoglio not only mesmerizes with its captivating design but also incorporates performance-enhancing features that elevate its driving experience. Starting with the hood of the car, Alfa Romeo takes advantage of carbon fiber construction. This lightweight and robust material not only reduces the overall weight of the vehicle but also contributes to its structural integrity. The carbon fiber hood not only adds a touch of sophistication to the Giulia Quadrifoglio but also serves a functional purpose. It features strategically placed air vents that actively assist in cooling the engine, ensuring optimal performance even during intense driving situations.
As we shift our attention to the side profile of the car, the Alfa Romeo Giulia Quadrifoglio proudly displays its 19-inch alloy wheels. These wheels not only enhance the overall aesthetics of the vehicle but also play a crucial role in delivering a smooth and dynamic driving experience. However, for those seeking the pinnacle of visual appeal, there is an option to upgrade to the five-hole dark graphite finished wheels. These optional wheels add an extra layer of style and visual impact to the Giulia Quadrifoglio, allowing discerning drivers to truly personalize their driving experience.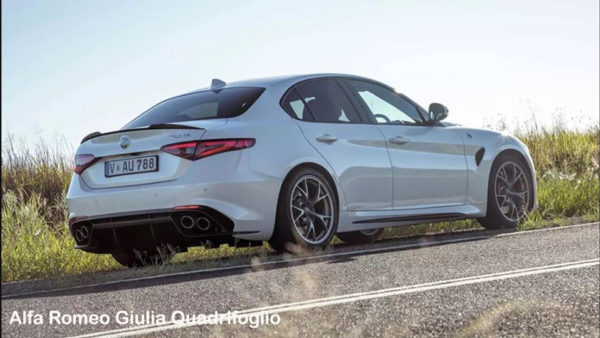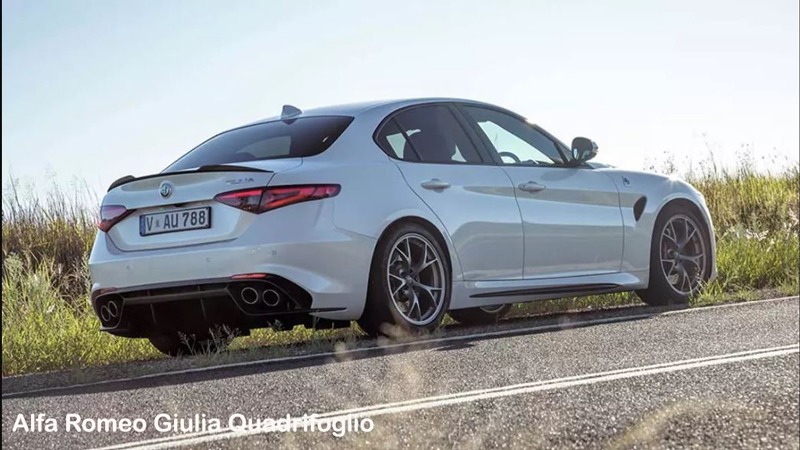 The rear side of the Alfa Romeo Giulia Quadrifoglio is just as captivating as its front, boasting a combination of class and functionality. Adding to the car's allure are two notable features: the carbon fiber lip spoiler and the rear functional spoiler. These elements not only enhance the visual appeal of the vehicle but also serve a vital role in optimizing its performance.
The carbon fiber lip spoiler, located at the rear of the Giulia Quadrifoglio, adds a touch of sophistication and sportiness to the overall design. More than just a style statement, it also serves a functional purpose by contributing to the car's aerodynamics. Additionally, the rear functional spoiler plays a crucial role in maintaining grip and stability during high-speed driving. By generating downforce, it helps the car remain firmly planted on the road, ensuring enhanced control and confidence in various driving scenarios.
Moving to the trunk of the Alfa Romeo Giulia Quadrifoglio, it may not have a power assist feature, but it compensates with ample space for your storage needs. With a generous capacity of 13 cubic feet, the trunk provides ample room to accommodate luggage, groceries, or other belongings. Whether you're embarking on a weekend getaway or simply running errands, the Giulia Quadrifoglio's trunk ensures that you have the space required to carry your belongings with ease.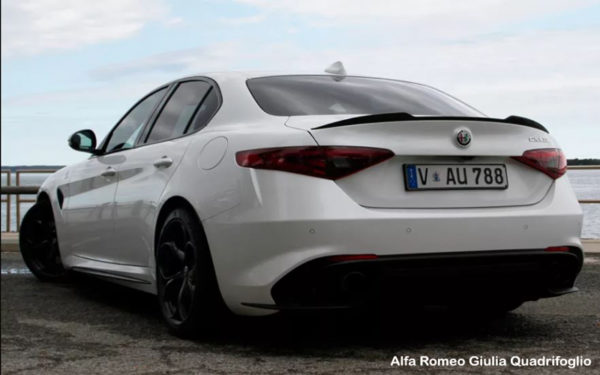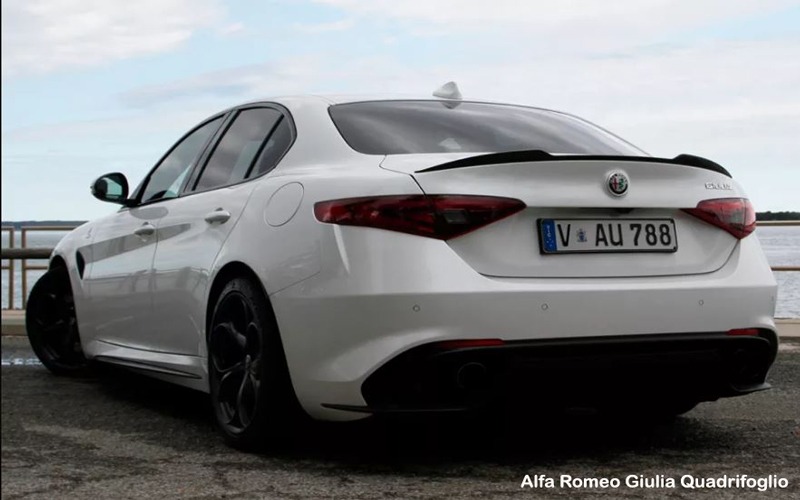 There is no spare tire inside trunk, as space is enough but in case if you need more space there is no option for folding rear seats.
Exquisite Interior Craftsmanship: The Alfa Romeo Giulia Quadrifoglio Sets a New Standard:
Just as the exterior of the Alfa Romeo Giulia Quadrifoglio captivates with its striking design, the interior of this remarkable car is a testament to the brand's commitment to luxury and attention to detail. Step inside, and you'll be greeted by a cabin that exudes sophistication and refinement.
Throughout the interior, Alfa Romeo ensures that only high-quality materials are used, further enhancing the sense of luxury and elegance. The meticulous craftsmanship is evident in every aspect of the design, from the dashboard to the seats. The dashboard showcases exquisite stitching, adding a touch of artistry and refinement. It serves as a visual focal point, drawing attention to the impeccable attention to detail that went into its creation.
In addition to the attention given to the stitching, the seats themselves are a testament to the commitment to luxury and comfort. Designed with both aesthetics and ergonomics in mind, the seats offer a harmonious blend of support and comfort, ensuring an enjoyable driving experience. The careful stitching on the seats not only adds to their visual appeal but also demonstrates the craftsmanship and precision that went into their construction.
Furthermore, the interior of the Alfa Romeo Giulia Quadrifoglio incorporates genuine carbon fiber trim, both on the dashboard and door panels. This thoughtful use of carbon fiber not only adds a touch of sportiness but also serves as a reminder of the car's performance-oriented nature. The carbon fiber trim complements the overall aesthetic of the cabin, elevating it to new heights of luxury and style.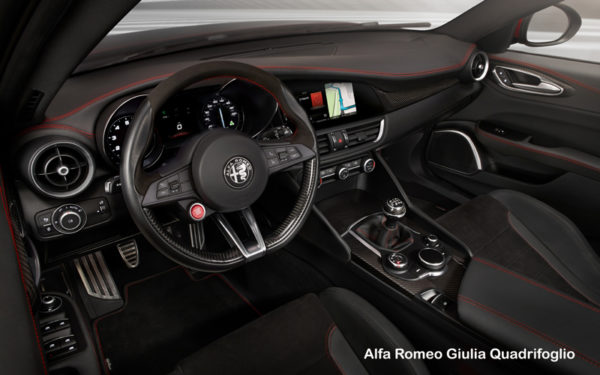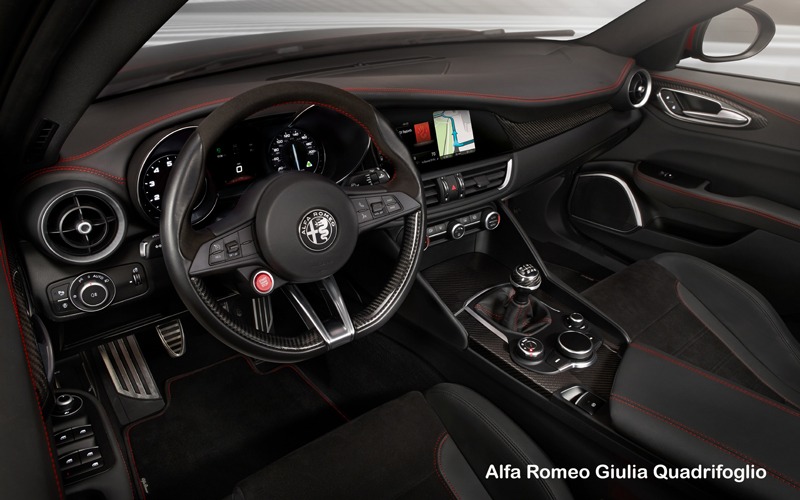 The Alfa Romeo Giulia Quadrifoglio continues to impress within its interior, offering both a generous amount of space and cutting-edge technology. As you enter the cabin, your attention will be immediately drawn to the expansive center console, which provides ample room for storage and functionality. The console is not only practical but also showcases impeccable finishing, reflecting the car's commitment to exceptional craftsmanship. In a departure from traditional placement, the push button start is cleverly integrated into the steering wheel, adding a touch of convenience and innovation. This placement ensures that the start button is easily accessible, allowing for seamless engine ignition without needing to take your hands off the wheel. It's a small but thoughtful design choice that enhances the overall driving experience.
At the heart of the Alfa Romeo Giulia Quadrifoglio's interior is the 8.8-inch infotainment display screen. While not touch-sensitive, it offers a highly intuitive and user-friendly interface. The control of the infotainment system is handled through a touch controller embedded within the center console. This innovative approach allows for precise control while minimizing distractions, keeping your focus on the road ahead. The infotainment system provides access to a range of features, including navigation, audio controls, and vehicle settings, ensuring that you stay connected and informed throughout your journey. In terms of competition, the Alfa Romeo Giulia Quadrifoglio positions itself in the same league as the BMW M3 and the Mercedes-Benz C63. These formidable rivals share a focus on high-performance and luxurious driving experiences. While each model offers its unique features and characteristics, the Giulia Quadrifoglio distinguishes itself with its Italian flair, precision engineering, and striking design.
Engine and Transmission:
The Alfa Romeo Giulia Quadrifoglio 2017 is a powerhouse on wheels, boasting a 2.9-liter twin-turbo V6 engine that showcases the engineering prowess of Ferrari. This impressive engine configuration, featuring 6 inline cylinders, generates an astounding peak torque of 600 Nm @ 2500 Rpm and a remarkable 505 horsepower. The high output of this engine places the Giulia Quadrifoglio among the upper echelons of performance sedans. The Alfa Romeo Giulia Quadrifoglio 2017 offers three distinct driving modes known as DNA: Dynamic, Natural, and Advanced Efficiency. Each mode delivers different levels of fuel economy and performance characteristics. While all three modes provide an exhilarating driving experience, the Advanced Efficiency mode prioritizes fuel efficiency, delivering a commendable 17 MPG in the city and 24 MPG on the highway. This feature is particularly beneficial for those seeking a balance between performance and efficient fuel consumption.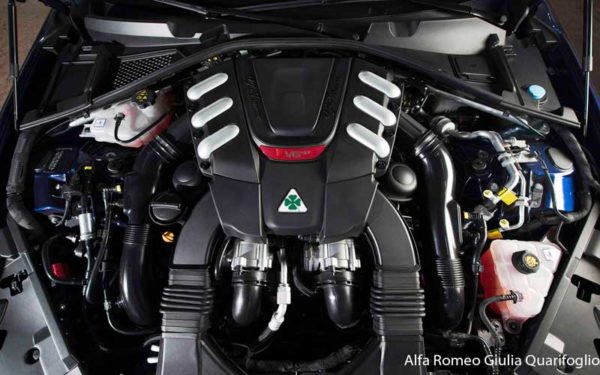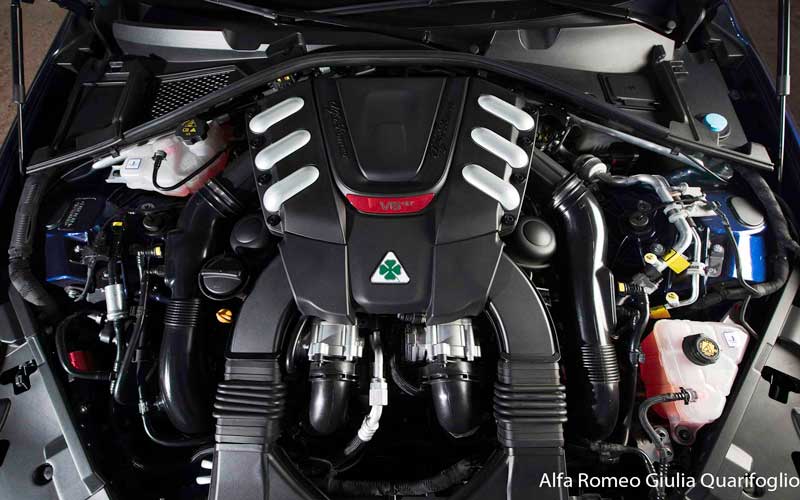 The top speed of the Alfa Romeo Giulia Quadrifoglio 2017 is an impressive 191 miles per hour, showcasing its capability to compete with the fastest cars on the road. Engaging the race mode allows you to accelerate from 0 to 60 miles per hour in just 3.6 seconds, underscoring the car's exceptional acceleration and power.
In terms of transmission, Alfa Romeo initially planned to introduce a 6-speed manual transmission option for the Giulia Quadrifoglio. However, they ultimately opted for an 8-speed automatic transmission, providing drivers with precise and smooth gear shifts. The transmission can be controlled using paddle shifters mounted on the steering wheel or a knob shifter, allowing for a personalized driving experience. The Alfa Romeo Giulia Quadrifoglio features electric power-assist steering, ensuring light and responsive handling characteristics. The steering offers a smooth and engaging driving experience, instilling confidence and precision in every turn. For those seeking an extra touch of luxury and sportiness, there is the option to equip the car with a carbon fiber steering wheel, further enhancing the overall driving experience.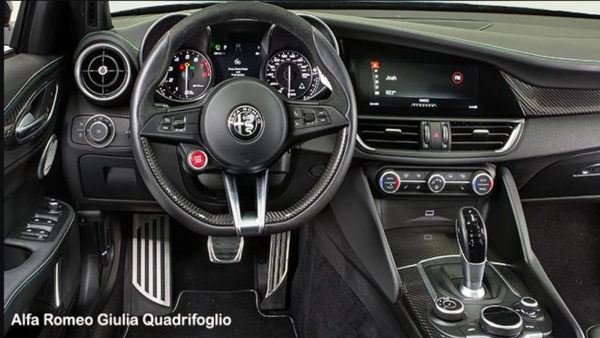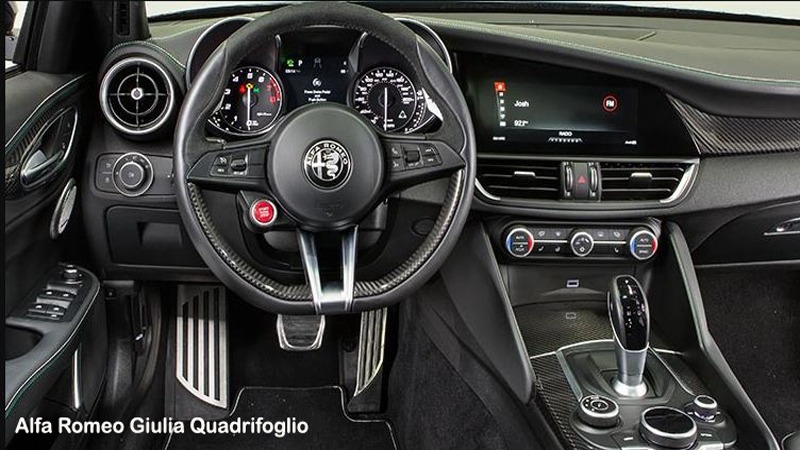 Luxurious Comfort and Adjustable Features: The Alfa Romeo Giulia Quadrifoglio's Seating Arrangements:
The Alfa Romeo Giulia Quadrifoglio prioritizes comfort and convenience, ensuring that every journey is a pleasurable experience. The front driver and passenger seats offer exceptional comfort with their 14-way power adjustable options. This means that you can easily find your ideal seating position, tailoring it to your specific preferences. Additionally, the seats are equipped with four-way lumbar support, allowing for personalized lower back support and reducing fatigue on longer drives. To further enhance your comfort, all seats in the Giulia Quadrifoglio are heated, providing warmth during colder weather conditions. The seats are thoughtfully designed to be supportive, ensuring that you and your passengers can enjoy a comfortable ride even on extended journeys. With their ergonomic design, you can rest assured that the seats will provide adequate support for your body, reducing the likelihood of discomfort or fatigue.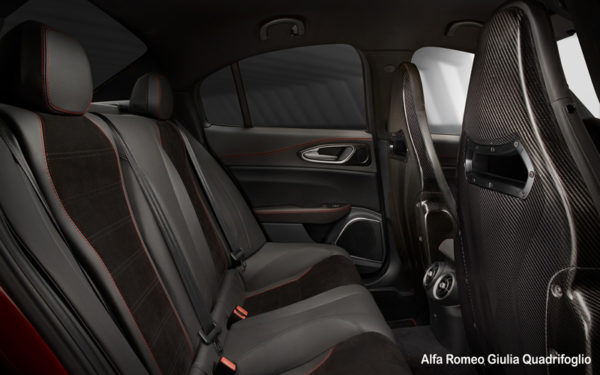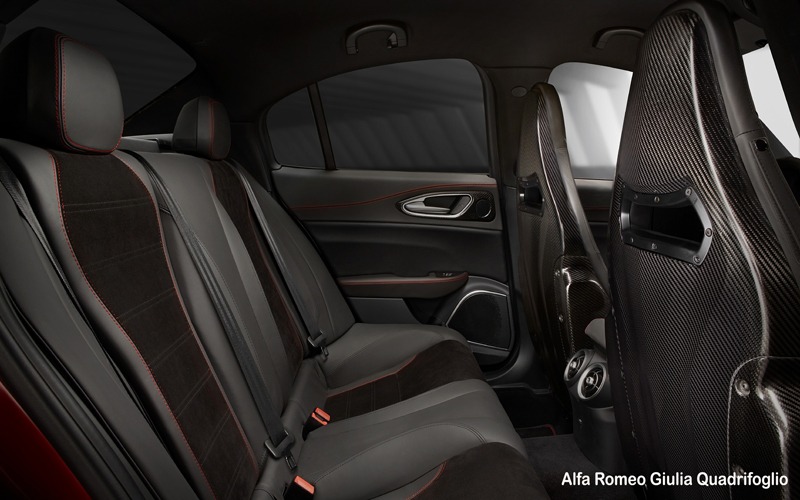 The Alfa Romeo Giulia Quadrifoglio offers different driving modes, and with each mode, you have the benefit of adjustable shock absorber settings. This feature allows you to customize the suspension to suit your preferences and the road conditions you encounter. Whether you prefer a softer or firmer ride, the adjustable shock absorbers make it easier for you to find the perfect balance between comfort and performance.
While the front seats are equipped with an armrest for added convenience and comfort, it is worth noting that there is no dedicated armrest for the rear seats. However, the rear seats still offer decent foot space and headroom, ensuring a comfortable ride for passengers. It is important to note that the rear seating is ideally suited for two occupants, as the middle seat may face some limitations due to the presence of air vents and reduced foot space.
Safety:
Electronic stability control (ESC)
ABS and driveline traction control
Side impact beams
Dual stage driver and passenger seat mounted side airbags
Front and rear parking sensors
Blind spot sensor
Rear collision
Tire specific low tire pressure warning
Dual stage driver and passenger front airbags
Curtain 1st and 2nd row airbags
Airbag occupancy sensor
Driver and passenger knee airbag
Rear child safety locks
Outboard front lap and shoulder safety belts-inc: rear center 3 point-height adjusters and pretensioners
Back up camera
Verdict:
The Alfa Romeo Giulia Quadrifoglio 2017 is a remarkable sports sedan that embodies the perfect fusion of stunning design, exhilarating performance, and luxurious comfort. With its captivating exterior, meticulously crafted interior, and powerful Ferrari-engineered V6 engine, this car is a true testament to Alfa Romeo's commitment to excellence. It offers a thrilling driving experience, exceptional handling, and advanced safety features, making it a formidable competitor in its segment. The Giulia Quadrifoglio represents a milestone for Alfa Romeo, showcasing their ability to deliver a high-performance vehicle that rivals its German counterparts.
Major Competitors: