2023 Chevrolet Traverse
Sold in the USA: 2017-Present
2nd Generation facelift = 2022-Present
2023 Chevrolet Traverse Price in the USA:
Chevrolet Traverse LS

Starts at:

34,520 $

Chevrolet Traverse LT Cloth

Starts at:

37,045 $

Chevrolet Traverse LT Leather

Starts at:

40,740 $

Chevrolet Traverse RS

Starts at:

45,045 $

Chevrolet Traverse Premier

Starts at: 4

7,200 $

Chevrolet Traverse High Country

Starts at:

52,000 $
General Motors introduced its full-size crossover SUV, the Chevrolet Traverse, in 2008. It is built on the Lambda platform, a similar platform used for GC Acadia and Buick Enclave. The 2nd generation Chevrolet Traverse was unveiled at the North American International Auto Show in 2017 and went on sale in the same year. It was also launched in Russia and the South Korean market. The 2nd generation Chevy Traverse offered five trim levels and front-wheel-drive as standard while an optional all-wheel-drive configuration. The 2019 Chevy Traverse was upgraded with changes like the Blackout package, and My Link got replaced by an infotainment system 3.0. The 2022 Chevy Traverse is the model that was planned to go on sale in 2020, but it got delayed due to Covid-19, and it went on sale in late 2021 as the 2022 Chevy Traverse. The 2022 Chevy Traverse is a refreshed model with a revised exterior design, and it offers a variety of driver's assistance programs.
It offers a new upholstery design and has an eight-inch display screen. It provides wireless connectivity and heated and power-folding mirrors as standard.
It offers a new grille, front fascia, and a restyled wheel design.
 It offers Midnight package and Sport Edition packages in LS and LT trims.
It also adds a dual sunroof and rear power sunshade.
The Present Chevy Traverse offers adaptive cruise control as a standard in RS models. It is available in three exterior colors: blue metallic, silver metallic, and red tint coat. The Chevy Traverse is also available at all its dealer networks throughout the United States, but there are no significant changes introduced. The 2022 Chevy Traverse is the refreshed model introduced for the 2nd generation, Chevy Traverse. Still, due to a shortage in the supply chain, some features have limited or late availability and are no longer available. We will discuss the features and specs of the Chevy Traverse in detail today.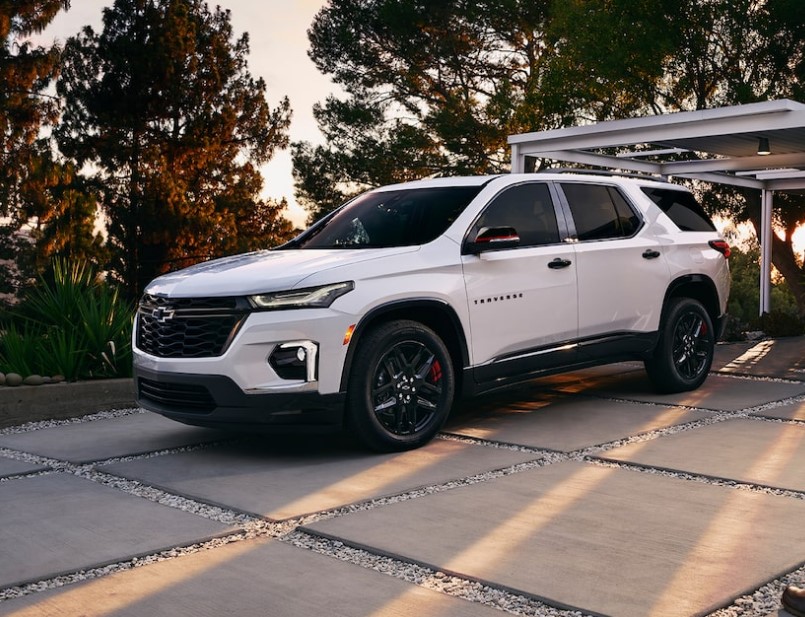 Trims  & Variants:
The Chevy Traverse is available in six trim levels:
LS: it offers eighteen-inch wheels, heated outside mirrors, a seven-inch touch screen, a three-zone climate control system, a blind-spot monitor, a 2nd-row bench seat, and rear parking sensors.
LT Cloth: it offers fog lights, roof rails, leather-wrapped steering wheels, a wireless charging device, satellite radio, and power adjustable driver's seat.
LT Leather: it offers heated front seats, a heated steering wheel, an eight-inch touch screen, a 4.2-inch instrument display, and a power liftgate.
The LT premium package offers a navigation system, 360-degree camera, adaptive cruise control, digital rearview mirror, enhanced automatic emergency brakes, and a 10-speaker sound system.
RS Premier: it offers a hands-free liftgate, power-adjustable steering wheel, ventilated front seats, and heated rear seats.
High Country: it offers a panoramic sunroof, power-folding 3rd-row seat, and trailering enhancements.
Engine, Power & Transmission:
There is a standard 3.6-liter, V6 engine in all trim levels of Chevy Traverse, generating 310 hp power at 6800 RPM and 266 lb-ft torque at 2800 RPM. It offers a 9-speed automatic transmission. It provides standard 4-wheel antilock disc brakes and front-wheel drive in all trim levels.
Performance & Drive:
The V6 engine delivers enough power to run the front wheels efficiently and makes the ride fun. The nine-speed automatic transmission is smooth and shifts gears unobtrusively. The automatic start and stop system is smooth and operates without any problems. The steering requires less effort to control the vehicle and turns the car conveniently around corners and twists. The vehicle exhibits minimum body roll with confident steering control when turning the car around corners. The suspension system is tuned well and maintains a good balance between comfort and good handling maneuvers. The Chevy Traverse delivers efficient performance on highways and low speeds on city streets. The engine doesn't create much noise, and once the windows are closed, the cabin is so quiet that you have to see the tachometer to ensure the engine is switched on or off. The fuel economy of the Chevy Traverse is average and gives you a combined mileage of 27 miles per gallon with an all-wheel-drive configuration. It provides 18 miles per gallon in the city and 27 miles per gallon on the highways with a front-wheel-drive configuration. The front-wheel-drive models have a fuel tank capacity of 19.4 gallons, and the all-wheel-drive models have a fuel tank capacity of 21.7 gallons. It allows a towing capacity of 5000 pounds, comparable to most of its competitors.
The ride is not as thrilling as the competitors, but it handles well even at higher speeds and applies smooth brakes. It offers a traction mode that gives you precise control of the car in all extreme conditions with the four-wheel-drive, improving traction and making off-road adventures thrilling. The V6 engine in Chevy Traverse takes 6.5 seconds to sprint from 0 to 60 miles per hour and is quicker than most of its rivals. The all-season tires in Traverse have a firm road grip and take you through snowy and rough roads confidently. The forward collision warning alarm in Chevy Traverse alerts of a possible collision and applies brakes automatically with automatic emergency brakes. It offers a blind-spot monitor that alerts the driver of any vehicle in the blind spot of the car when changing the lane or reversing the car. It comes with rear parking sensors to alert you to any obstacle behind your vehicle when parking the car.
Exterior Design & Features:
The latest 2nd generation facelift Chevy Traverse is a redesigned model with variations in its exterior design. The Midnight Edition package offers a black exterior design with a black-coloured grille, black front and rear Chevrolet emblems, black nameplates, black roof rails, and eighteen-inch black aluminium wheels. The RS trim has black accents in roof rails and bowtie emblems, black window mouldings, a black grille, and 20-inch aluminium wheels. The Redline Edition offers all similar features and additional black-coloured lower mouldings with black inserts. The hands-free power liftgate has a simple kicking motion to operate and quickly opens the trunk.
Interior Design & Features:
The Chevrolet Traverse interior is spacious and offers seating for seven to eight passengers. The base trims have medium-quality material used in the cabin, while the high-end trims have high-quality materials. The cargo space is enough and can carry up to six suitcases behind the 3rd row. There is a seven-inch infotainment screen mounted on the dashboard in base trims with wireless connectivity as standard; the high-end trims have an 8-inches screen for infotainment and a 4.2-inches digital instrument panel for driver assistance. The high-ends have a 10-speakers audio system that gives premium-quality sound. It offers a memory setting in the driver's seat, ventilated front seats, heated rear seats, a power-folding 3rd-row seat, and a panoramic sunroof in high-end trims.
Safety & Features:
The Chevrolet Traverse is equipped with the latest safety features, some of which are listed below:
Front automatic brakes
Blind-spot monitor
Teen Driver Mode
Forward collision warning alarm
Rear-cross traffic alarm
Adaptive cruise control
Lane-keeping Assist
Automatic emergency brakes
Pros & Cons:
Pros:
The Chevrolet Traverse has a spacious cabin, and the cargo space is sufficiently comparable to most of the competitors. It comes with a straightforward infotainment system with easy-to-use controls. It offers standard driver assistance programs for safety in most trims.
Cons:
The 3rd-row seat is a bit cramped, and the cabin style is not very modern and lush. The fuel economy of the Chevrolet Traverse is not very good compared to its rivals.
Major Competitors: