Hyundai Santa Fe 
Hyundai Santa Fe was introduced as Hyundai's first Sport Utility vehicle in 2000. The all new Santa Fe 2019 is ranked number five in midsized sport utility vehicle. It is fully redesigned with eye catching suite of superb features and smooth base engine. It has been a vehicle with high end reliability being rated 4.5 star rating out of five in reliability by J.D Power. It has been launched worldwide in different trims including SE, SEL, SEL Plus, Limited, Limited 2.0T, Unlimited and Unlimited 2.0T but in Pakistan only one variant has been launched in 2019 that is the 2.4 liters engine trim. The 2019 Hyundai Santa Fe is featured to make your ride safe with its all new advanced safety features.
The engineering of Santa Fe is provided with Advance and high steel strength for up to the mark rigidity and durability that prevents major destructions during collisions. The safety is assured by the driver's assistance programs programmed in the vehicle to keep the driver aware of the surroundings. The rear view parking camera, adaptive cruise control, blind spot detection, automatic high beam headlights, driver's attention monitoring system, lane keeping assistance system, surrounding view monitor, parking sensors and rain sensing windshield wipers are some of the safety features that let the car earned highest safety rating for the prevention of collisions and crashes. When talking about the fuel economy then it is average in fuel efficiency providing a mileage of 19 to 20 kilometers in city and 22 to 23 kilometers per liter on highways. The 2019 Hyundai Santa Fe is a crossover sport utility vehicle with a plenty of room inside for big families and large amount of cargo. It offers an eight speed automatic transmission which is smooth and more powerful.
Under the hood:
Santa Fe 2019 is powered by DOHC 2.4 liters in line four cylinder 2199 cc engine that generates the horsepower of 185hp and torque of 436 Nm at 1800 to 2500rpm. The front and back independent suspension provides a smooth and bump free drive on the car. The 2019 Santa Fe has more powerful engine generating greater torque than previous models. It accelerates quickly to gain the maximum speed and the transmission appears to be ready to kick down few gears to move across a mountain pass. The eight speed automatic transmission is new in the 2019 model that gives smooth and refined character in real. It limits the friction on roads by the replacement of ball bearings in the place of roller bearings. One of the biggest milestone achieved in the new model is the quality of ride provided by the Santa Fe. The front strut suspension is paired with multi-link setup at back and the shocks at back are moved more upright in this model to make the quality of ride better even for longer journeys. It offers the front wheel drive with every version of it. Overall talking about Hyundai Santa FE 2019, it is a car with improved handling with alluring number of features that provide comfortable, fuel efficient and safe drive.
How it is different from the previous models?
The 2019 model has been made better this year with a spacious interior providing increased legroom at rear seat and more cargo space. It provides two rows of seats for accommodating five passengers. Front seats of the car are best in proving comfort as compared to other rivals of the same class. Hyundai has increased the ground clearance with 2.6 inches to prevent jerks and bumpy rides. The leg room for back passengers is increased up to forty inches that ensures maximum comfort even for large distance travelling while the front seats are improved with better bolstering and comfort. It provides storage facilities for all passengers by providing shelves, boon and cubbies like the cut out shelf for carrying mobile under the dashboard. When talking about the dashboard we mention the high quality of trim pieces on top that gives an impressive appearance inside the cabin. The floor is carpeted while the central console and the dashboard is made from hard plastic that provides durability in the cabin. Many new and advanced safety features are introduced in the car which makes it top safety pick car declared by IIHS. It is equipped with life saving features including emergency breaking, forward collision and avoidance assistance system with pedestrian detection, lane departure warning system along with lane keeping assistance driver's attention warning that reminds the driver for taking breaks, bling spot detection assistance, safe exit assistance and adaptive cruise control with parking sensors.
Interior Photos: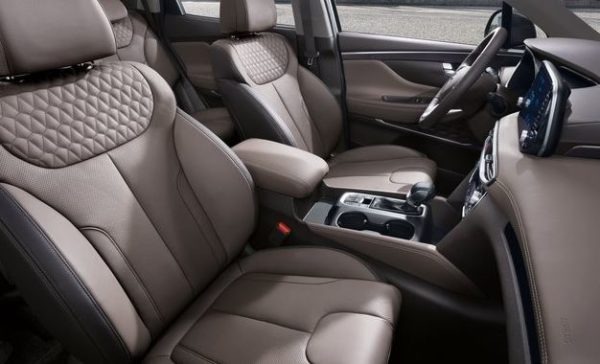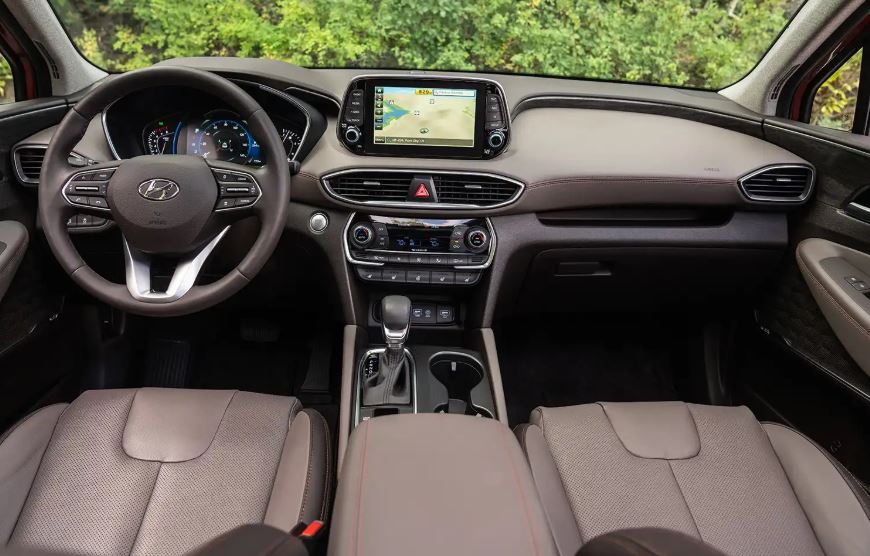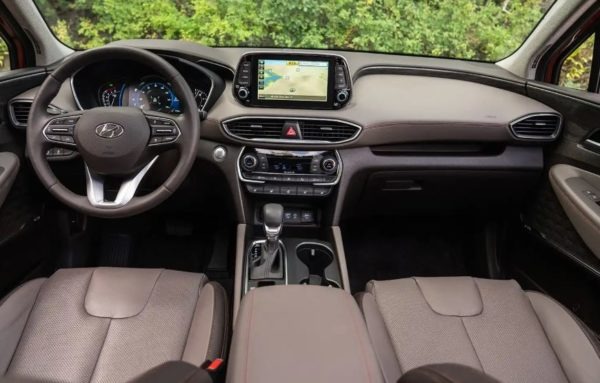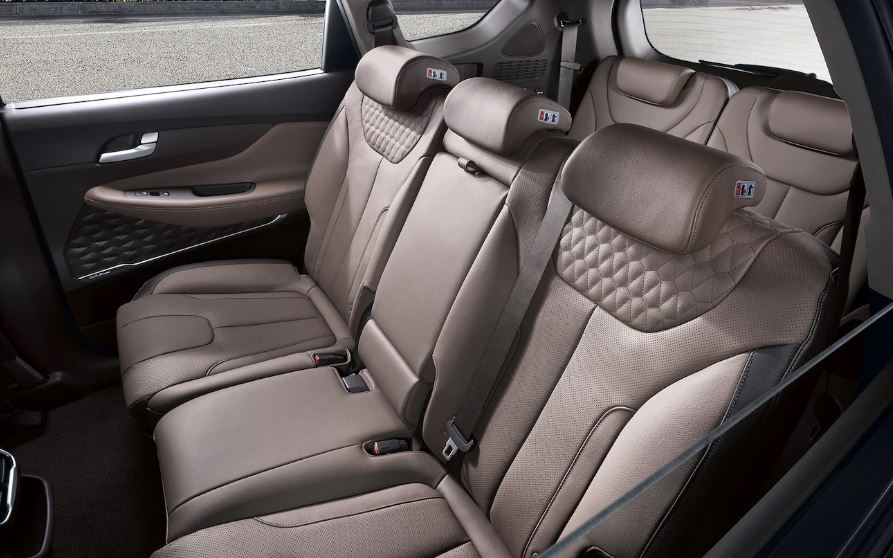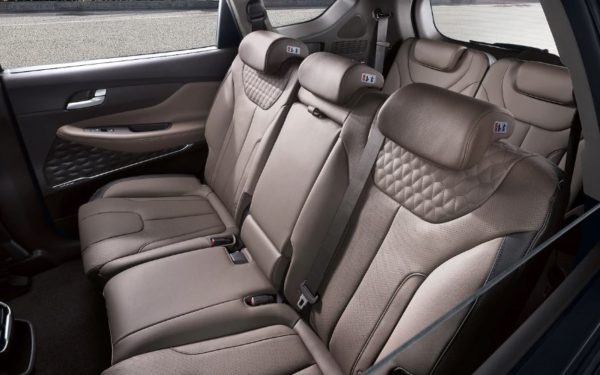 The SUPPERSTRUCTURE feature of car ensures highest possible safety with its high strength steel structure that helps to protect the passengers during collisions by absorbing harmful energy and redirecting it away from passengers. It provides highest level of luxury and comfort to you by its superb infotainment system consisting of seven inches touch screen with anti- reflective system for improved visibility and twelve speaker audio system. It is equipped with Android Auto, Apple Car play, Bluetooth connection and USB port. Built in navigation system along with rear view parking is also monitored on the screen. The front seats are adapted to cold and hot weather conditions along with its ventilation system. The design of the car is also changed with a complete new facelift that is a major attractiveness in the vehicle.
Styling of Hyundai Santa Fe 2019:
The redesigned Santa Fe is taller and longer than the previous model with a length of 4905 millimeters, width of 1886 millimeters and height of 1700 millimeters. The front grille is quite aggressive with more sense of style with a more upright and vertical tailgate. The roofline is the eye catching on the first look which is squarer and the windows are forty percent bigger this year providing more window room for rear passengers. The head lights are thin sweeping back from the large grille on front. The seventeen inches alloy wheels are larger enough to give a sharp sporty look to the vehicle while its aggressiveness is increased a with the angular trapezoid tail lights.
Exterior Photos: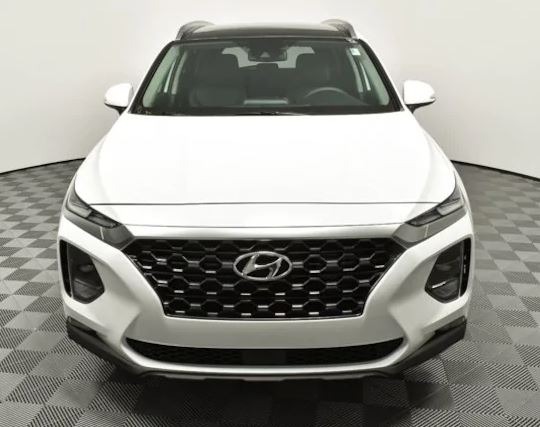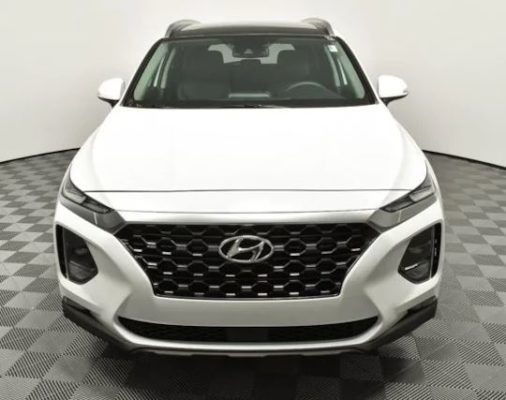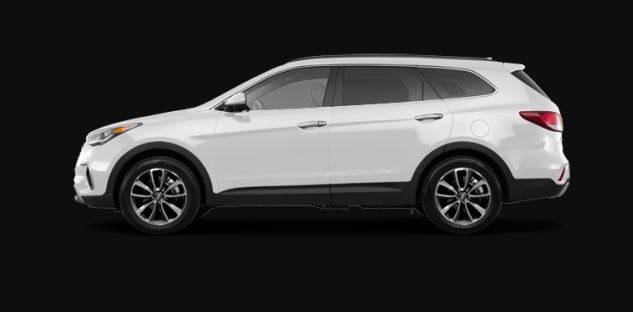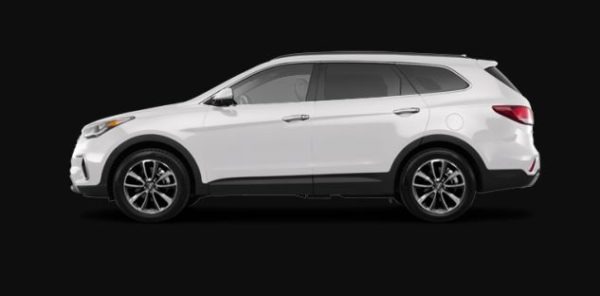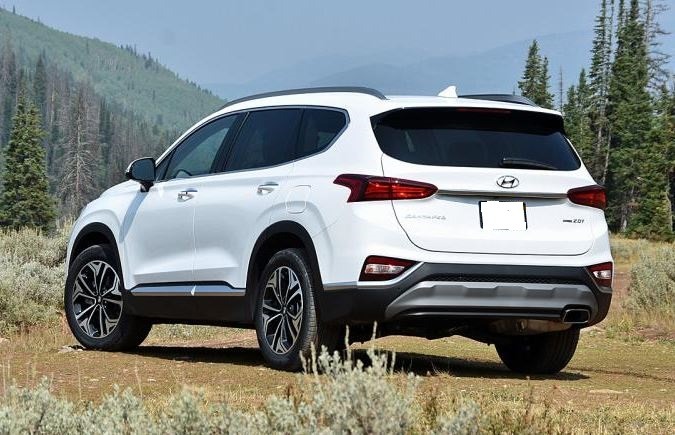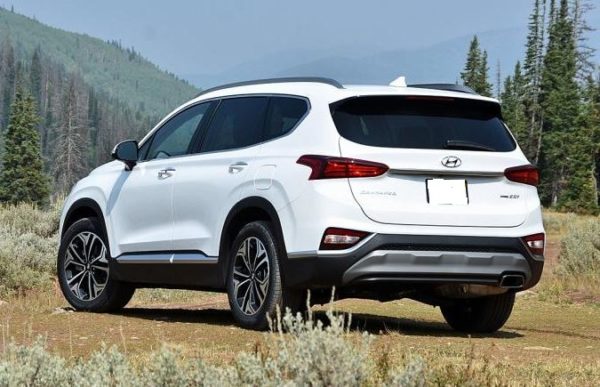 The new design of Santa Fe is big and bolder with smart power lift gate, LED auto high beam headlights and tail lights, LED daytime running lights and roof rack side rails. The style of inside cabin is also made attractive and improved with beige leather covered seats and steering wheel, folding rear seats to increase cargo area, wireless mobile charging, panoramic sunroof that completely mesmerizes the cabin with more light and increased space and the feature of head-up display will let the driver aware of updated information above the steering wheel so the driver don't have to take off his eyes off the road.
Price in Pakistan:
Hyundai has made a marvelous Santa Fe 2019 that can be confined in one sentence as comfortable vehicle that provides high quality ride and equipped with rich features including smooth handling and control on car. All new Sana Fe is available in Pakistan with a price range from 18.5 million Pakistani rupees.