$ 73,900
information 2019
BMW X7 USA
[RICH_REVIEWS_SNIPPET category="page"]
        BMW X7 SUV
 "The third row seat in BMW X7 is comfortable enough for long drives and road trips with the family."
BMW X7 three-row crossover SUV said to be the biggest and most luxury SUV ever produced by the company. The X7 comes with an option of either three seat bench or pair of captain's chair in second row. The X7 is bigger better and more noticeable on roads, in fact it likes to be noticed so much that the BMW badge on the front is even bigger than the regular one due to vehicles enormous size. While I might have discussed the seating capacity on X7, in reality it's not just about stuffing up people inside. Instead it's a luxurious outlook to the German engineering. The X7 get its feel by the 7 series and 8er completing the three-flagship fleet of BMW. Therefore BMW X7 stands above the other SUV offered as it defines the luxury and class side by side. Noticeably enough the BMW has used its full name i.e. Bayerische Motoren Werke as a custom to top brands using their full names for the premium product lines offered by them, call it a custom.
Engine, Power & Ride Quality:
2019 BMW X7 SUV is powered by two different engines according to the choice of consumer. The lower one is turbocharged 3.0L straight six engine with 335 HP.  Whereas the more aggressive engine option in X7 comes as 4.4L V8 twin-turbo engine kicking 464HP.  Both engines are married to eight-speed automatic transmission and all-wheel-drive four corner air suspension as standard. As one might expect, smaller 3.0L straight six drives quietly and gentle as it should. However in case of V8, the acceleration is more brutal with charming performance and growling noise on the roads. There is standard air suspension with adaptive damping offered in both trims which accounts to a steady ride quality on the road while cruising on the comfort mode. However the sports mode unlocks horses from the engine block. As for the off-roads fanatics which I highly suspect one would take an X7 to off-road terrain, you can get off-road package that includes electronic limited slip differential and off-road driving modes along with front skid plate to protect engine from damage. As for the issue that the X7 actually is gigantic as compared to vehicles parked in the city around it, the BMW Reverse Assistant makes it easier to back out from a tight spot as it reads the exact steering movements when you are rolling inside parking spot for up to 50 meters.  Henceforth you drive into a tight parking space and your BMW will automatically back you up by steering itself slowly. Impressive right?
Exterior Photos: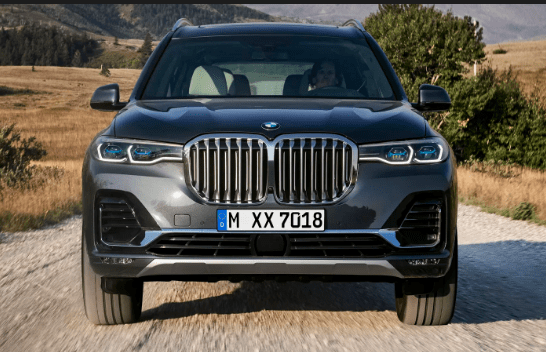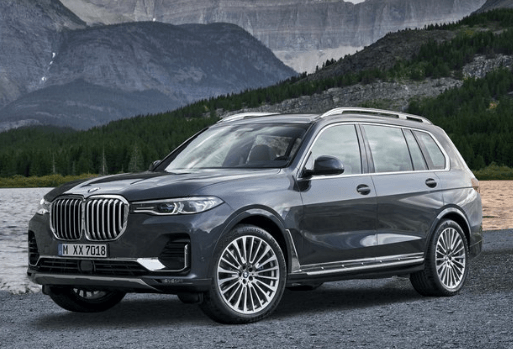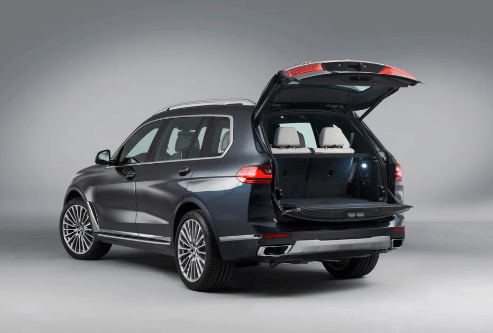 Inside BMW X7:
On the inside BMW X7 is just as much of a luxury to ride as it is a charm to drive. There are no cheap seats offering less comfort. In fact all the 4 seats in front two rows have equal space to each other. You get your separate air con, cup holder and book reading lights. Therefore even though it is a 7-seater, it's overall equally comfortable. Yes the seat adjustments are electric which may be modern but painfully slow too.
Infotainment system used is 12.3-inches BMW's X7 top notch BMW's Version 7.0 with excellent UI design along with i-drive controller wheel which in my opinion is still the most efficient and best device to toggle around controls while driving. Other features include 10-speaker audio system, integrated navigation, wireless smartphone charging pad and onboard WIFI. The list of luxury goes up to heated front seats, power adjustable steering wheel, panoramic sunroof and 12 color interior ambient lighting for the cabin. The safety features on the 2019 BMW X7 include blind spot monitoring with rear-cross traffic alert, automatic emergency braking with pedestrian detection and lane departure warning.
Interior Photos: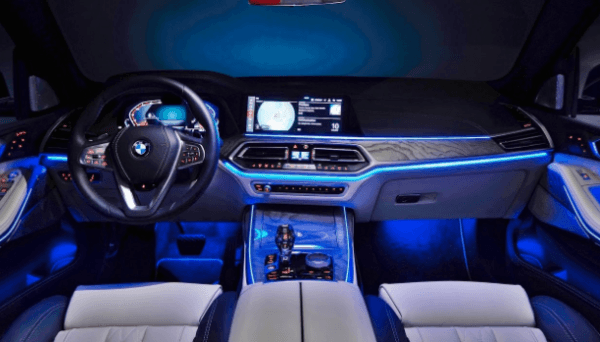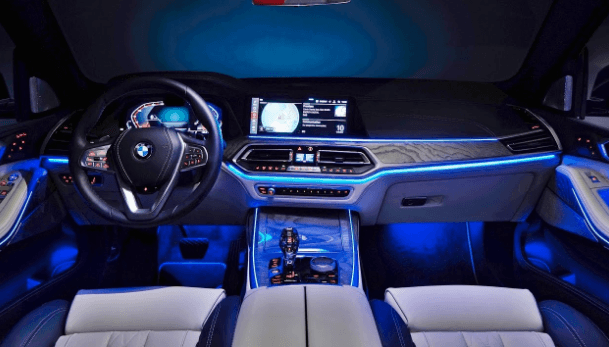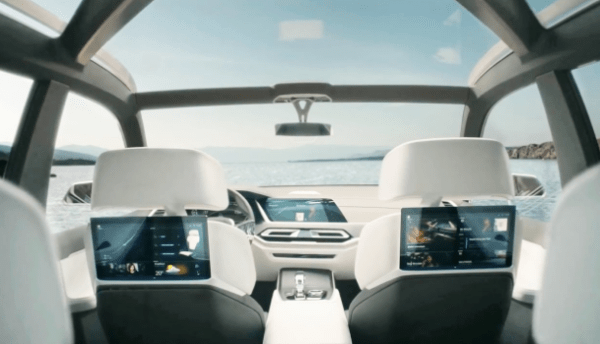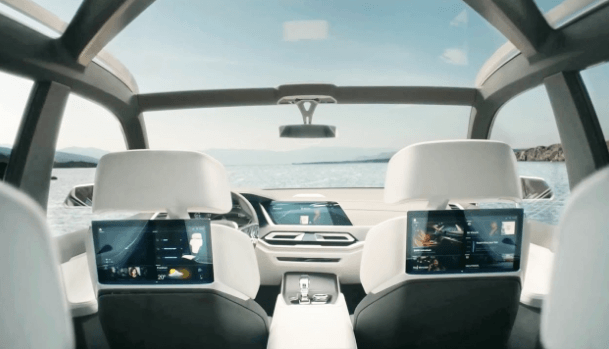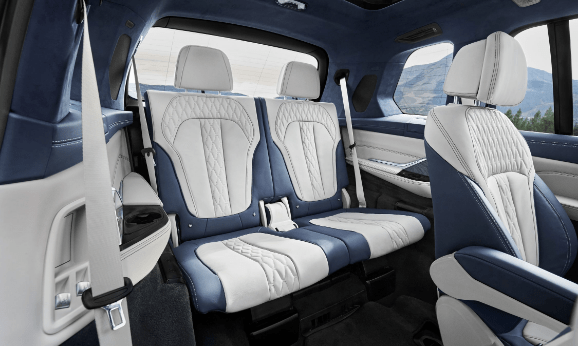 Competitors of BMW X7:
BMW X7 is in competition to the big brand vehicles such as Mercedes GLS-class, Audi Q7, Lincoln Navigator, BMW own X5 and Land Rover Discovery.
Pricing:
The BMW X7 starts at $73,900 and goes as high as $122,425 making it one of most exclusive SUV's available in the automotive market. Now I would like to argue the price of BMW X7 as compared to the Range Rover as the Range Rover has more character to itself as an SU whereas the X7 experience resembles to any BMW's luxury sedan. However we'll leave you the judge to decide it.
[RICH_REVIEWS_FORM]
[RICH_REVIEWS_SHOW category="page" num="5″]