2023 Honda N Wagon
Sold in Pakistan = 2013-Present (As Import Model)
Generation = 1st (Discontinued) & 2nd (Present)
Price in Pakistan =

16-37 Lac PKR

(As per Generation, Model & Condition)
Honda unveiled the second generation of N Wagon after six years of its debut in Japan which had a launch date in August of 2019 and the dealership will properly be started at the start of 2020. This new model of N Wagon is built on the latest N Wagon platform and offers you a vehicle that is versatile enough to blend into your routine and well-friendly to make your ride comfortable. It is available in the following trims: C, Custom G, Custom G L, Custom G turbo, G, GA, GL, and G trim. All trims offer an automatic transmission and similar powertrain while this front-engine front-wheel-drive car is very popular in our country too because of its versatility as it is widely used by Uber and Careem users making this car a popular demanding car of society. Honda N Wagon adopts the typical layout design of Honda having a central tank design placing a fuel tank under the front seats making the cabin spacious enough to provide you with comfortable journeys and the cargo area is also provided with high usability.
Engine & Performance:
It gets its power from a 660 cc DOHC 12 Valve engine producing an engine power of 58 bhp and 65 pounds-feet of torque. This EFI Petrol engine has the capacity to provide a mileage of twenty-eight miles per gallon in the city and thirty miles per gallon on highways with a maximum speed of 140 kilometers per liter. It can accelerate to sixty miles per hour in 15.8 seconds. It offers a four-speed continuously varying automatic transmission. This hatchback crossover is easy to handle because of its small size and smooth steering control which makes the handling of this mini car very easy especially on city streets and narrow roads. Fast acceleration makes overtaking and slope climbing very easy and relaxing.
Exterior Design & Features:
This mini car is 3395 millimeters in length, 1475 millimeters in width, and 1655 millimeters in height with a ground clearance of 1305 millimeters. It is available in a variety of exterior color options including white pearl, silver metallic, crystal black, Milan red, peach, brown pearl, ivory pearl, sea blue, green metallic, agate brown, and horizon sea blue pearl and white. It features substantial looks with a front end classy holding the LED round tail lights and front end design boldly while the overall shape is still boxy with an expression of friendliness the rear end is depicting a minibus shape expressing visual and tactile quality and the rear headlights are exquisitely designed making it attractive on roads.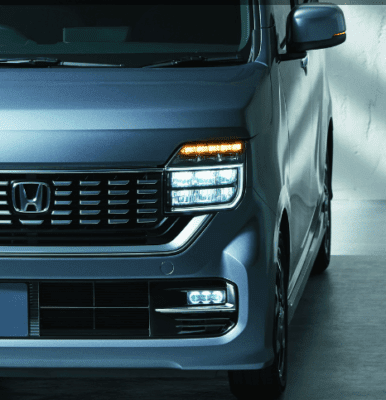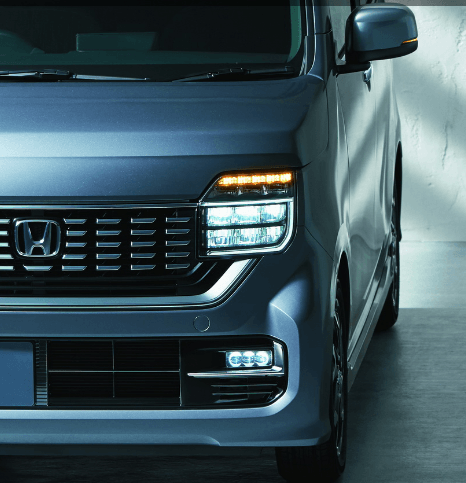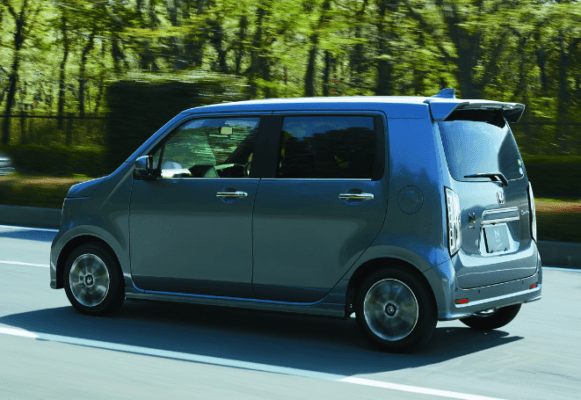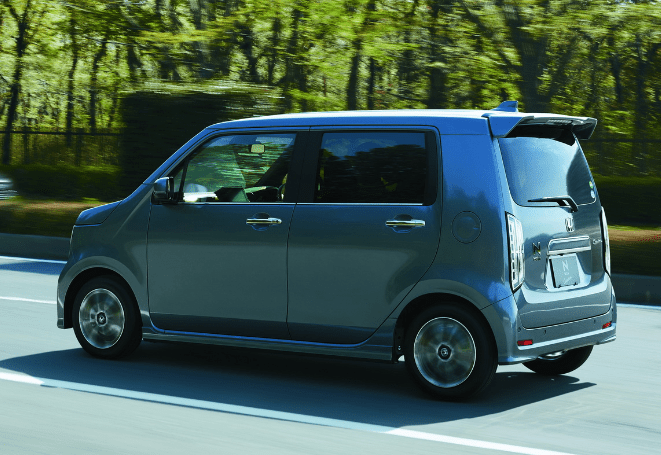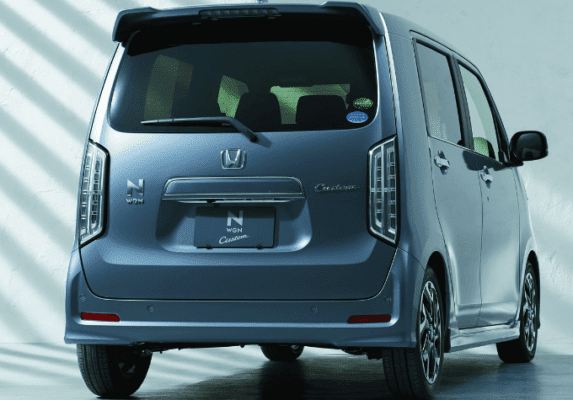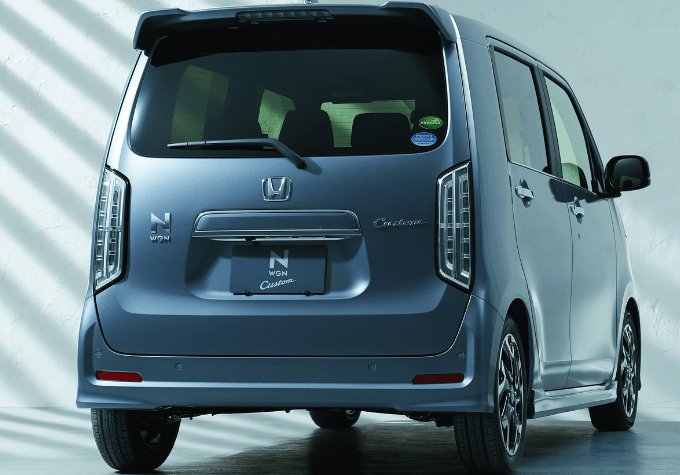 Interior Design & Features:
The interior cabin of Honda N Wagon has a titanium-looking black-colored theme which is graceful enough while the front surface seats are ivory and the rear seats are brown-colored providing full comfort to the passengers. The high quality of materials used in the cabin gives a sharp image of the interior. This four-door car accommodates five passengers and also offers average cargo room to carry a small amount of luggage while rear seats can be folded to increase the cargo area to accommodate tall items. The cabin is equipped with telescopic power steering, climate control system, defogger, child locks, cruise control, air conditioning and heating system, navigation, power door locks, rear wiper, traction control, tachometer, cup holders, and DVD player.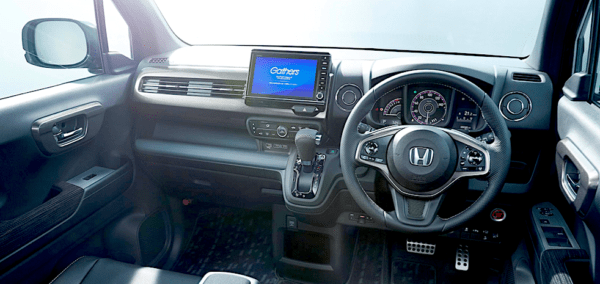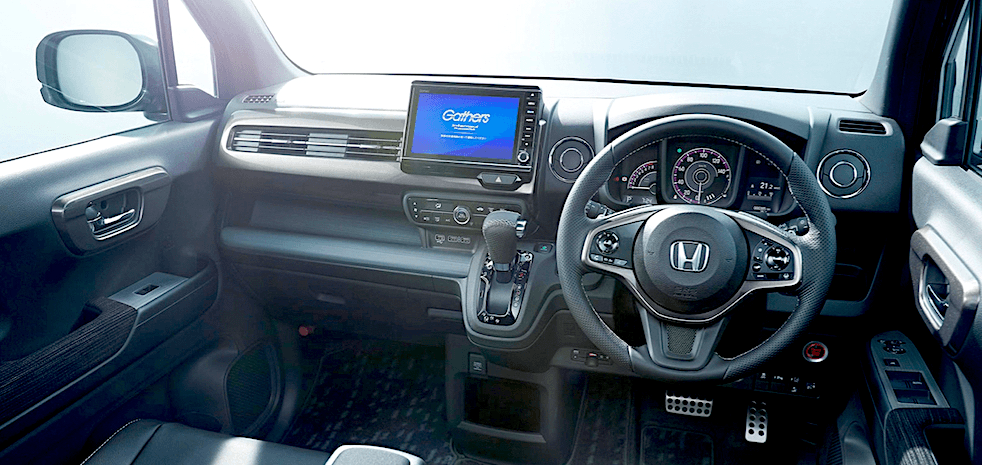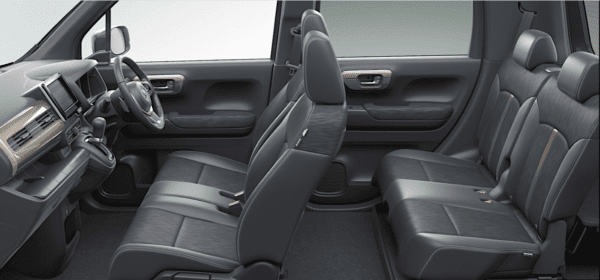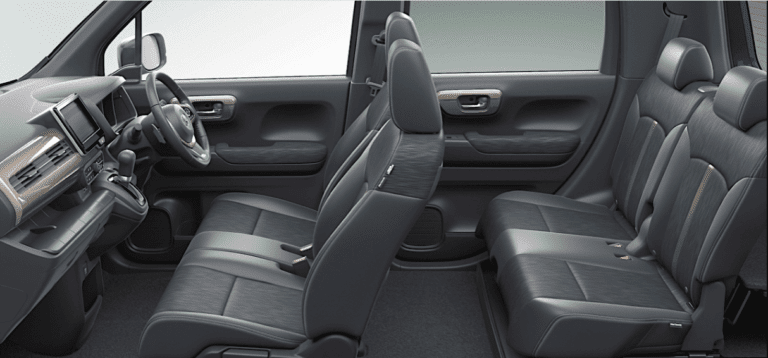 Safety & Features:
It ensures you are a safe driver because it is equipped with a collision mitigation braking system and pedestrian detecting system that even detects pedestrians at night too to avoid collisions. The adaptive cruise control maintains the speed of the car in both conditions when there is no car in front of you or when you are driving in traffic. This mini car is also featured a parking sensor system that uses sensors to detect any obstacle in your way and automatic emergency braking makes the drive easy on hilly roads and in traffic. It also features false start prevention, a leads car departure notification system, lane-keeping assistance, automatic high beam headlights, false backward start prevention, airbags, and a road departure mitigation system.
Major Competitors:
Major competitors of Honda N Wagon in Pakistan will be FAW V2, Toyota Passo, Daihatsu Mira, Suzuki Swift, Suzuki Wagon R, Mitsubishi EK Wagon, Suzuki Alto, Toyota Vitz, and Suzuki Kei.