2023 JW Forland T5 Mini Truck (TM 2.0) 
Sold in Pakistan = 2018-Present
1st Generation
2023 JW Forland T5 Mini Truck Price in Pakistan
| | |
| --- | --- |
| JW Forland T5 | 25,990,00/- PKR |
JW Forland is a Pakistani automobile company founded by Shah Faisal Afridi. It is a joint venture with the Foton group of Motors China. JW Forland is locally assembling various light commercial vehicles, light-duty vehicles, medium and heavy vehicles, buses, and coaches after the green signal was received under Auto Industry Development Policy Pakistan 2016 to 2021. C19 has been the best-seller of JW Forland, and its unique features make it quite popular among customers. After the huge success of C19, JW Forland has launched another wonderful piece in its light commercial vehicle lineup which is TM 2.0. the TM 2.0 light commercial truck was launched in October 2020 and its bookings are still going on at Forland dealership showrooms in Pakistan. You can purchase your TM 2.0 with a 50 percent advance down payment; thus, it is quite accessible and affordable to customers. JW Forland TM 2.0 is a versatile vehicle that is fit for any commercial purpose whether it's a food business, goods transport business, or medical purpose. It has been introduced with a single cabin option only, and it has been equipped with a comfortable cabin and the latest technology. It gives you a two-wheel driving option, and on the whole, it delivers a wonderful driving experience.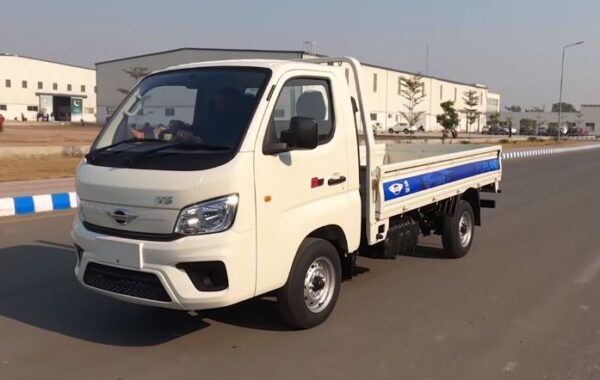 Trims available:
Only a single trim option is available in JW Forland TM 2.0. it is available in a single cabin option, but you can customize your truck to any of the following types.
Ambulance: you can convert the flatbed deck into an ambulance van by installing all the essentials of an ambulance into the rear deck.

Food Truck: you can also convert your vehicle into a food truck by installing a cold storage box in its flatbed deck, so fresh food deliveries can be made easy.

Security truck: you can convert your TM 2.0 into a security van by installing security cameras and essentials in it.

Loading truck:

 Similarly, your flatbed deck can be used as a loading truck to transport goods from one place to another.
Engine & Power:
JW Forland TM 2.0 is powered by a 2087 CC, four cylinders water-cooled direct injection diesel engine that produces a maximum output of 35 kW (47 HP). It features disc hydraulic brakes and rigid axle suspension. It features a 4×2 drivetrain which means two of the wheels of TM 2.0 get the torque, and these can be either front or rear wheels. The transmission type it offers is a 5-speed manual transmission.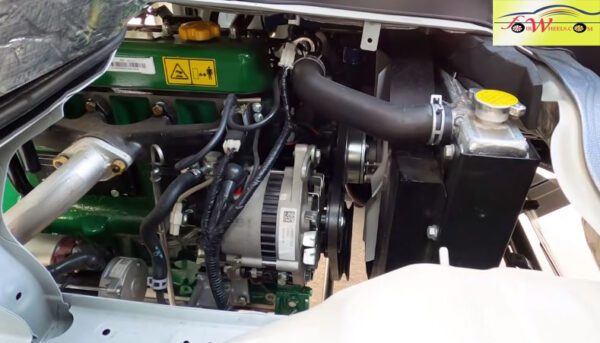 Performance & Drive:
Following the tradition of JW Forland C19, Forland TM 2.0 also gives a wonderful driving performance. It gives you a smooth transmission with balanced gear changes, and the manual transmission works efficiently to provide you with a remarkable driving experience. This JW is a loading truck, so it matters how the truck will drive when a heavy load is loaded in its desk, so it should be mentioned that the load will not affect the truck's performance. The power steering works effortlessly so that the truck can be turned easily on the roads, and its handling is also made easy. The rigid-axle suspension system works powerfully, so the irregularities of the road do not affect the smooth performance of the vehicle. The vehicle runs smoothly by absorbing all the breakers, and high ground clearance will further assist in achieving so. The hydraulic braking system is also quite efficient, and it applies the brakes smoothly, so if any pedestrian comes near the truck. The brakes are needed to apply quickly; it will not affect the smooth performance of the vehicle. On the whole, the ride quality is good that will not make the drivers exhausted. There are projector headlamps equipped in the truck that gives better illumination of the road ahead, so carrying goods on dark roads is made easy with the best technology installed in it. The engine works powerfully to deliver power to both front and rear wheels, but it drives on only two wheels, as already mentioned above. The fuel economy of TM 2.0 is also average, giving you a mileage of 8 kilometers per liter with a fuel tank capacity of fifty liters. The acceleration of TM 2.0 is just average as it does not deliver a very appreciating high speed, and it works best at moderate speeds in the city.
Exterior Design & Features:
It is a 4950-millimeter-long truck with a width of 1680 millimeters. The front end features the Forland logo in the truck's central fascia, and two diamond-shaped large-sized headlights are designed on both sides of it. Two foglights are mounted on the front bumper, and the rear end features a flatbed deck, which is 3100 millimeters long and 1560 millimeters wide with a height of 360 millimeters. The loading capacity of 10 feet deck is 2000 kilograms and comes with a side step to make access to the cargo area easy. The sliding door of the deck opens and closes quickly, so the loading and unloading of goods are made convenient. A projector work lamp is mounted in the cargo area, so it makes loading and unloading easy. The fifteen inches steel wheels given in the TM 2.0 truck look equally good, and it fits nicely in every option for TM 2.0 you are opting for.
Interior Design & Features:
It is a single cabin truck that gives accommodation to two persons, and its seats are very comfortable, giving you a relaxing journey. Transporting goods can be tiring as it requires a whole day traveling from one place to another. Similarly, if using it as an ambulance o a security truck or a food truck, drivers need to drive the truck continuously, so it is essential to give a relaxing journey to the drivers and the front passenger. It comes with a manually controlled adjustment of the driver's seat, and the seats are well-cushioned. You will get various storage areas in the cabin to make your ride convenient. A simple layout of the gauge cluster looks elegant and shows the speed of the vehicle, fuel consumption, and tachometer. An air conditioning system is also given inside the cabin, so the outside heat does not affect the journey, and similarly, the heating system is also given in extreme weather conditions.
Major Competitors: