2022 Mercedes Benz GLS
Sold in the USA: 2020-Present
3rd Generation GLS Class
2022 Mercedes Benz GLS Price in the USA:
Mercedes Benz GLS 450 SUV
 Starts at:

77,850 $

Mercedes Benz GLS 580 SUV
 Starts at:

103,300 $
Mercedes Benz GLS class is the most luxurious SUV of Mercedes and the model of GLS has been recently released in 2020. Mercedes Benz GLS class has been already ranked number three among luxury range SUVs by getting 8.0 scores out of 10 in the evaluation of its superb performance, deluxe interior, up-to-date safety features, and reliability. The latest model has been fully redesigned with loads of technology and more luxury. If you are flushed with cash and need an expensive, big SUV then the all-new GLS wagon will be your first preference. It will let you doze comfortably with your family driving enthusiast on long road trips. It is available in two trim levels that include GLS 450 4MATIC and the GLS 580 4MATIC. Both the trims offer an all-wheel driving facility that promises ride quality and excellent handling by individually tailoring dampers and springs on each corner. On the whole, it is smooth in operation and has unexpectedly good handling letting you enjoy your ride.
Engine & Power:
450 4MATIC Trim Engine & power:
Mercedes Benz GLS is charged by 3 liters inline 6-cylinder engine producing a horsepower of 362 hp and torque of 369 pounds-feet at 1600 rpm. It offers a nine-speed automatic transmission and a fuel economy of twenty-two miles per gallon on highways and sixteen miles per gallon in the city.
580 4MATIC Trim Engine & power:
GLS 580 4MATIC is powered by four liters twin-turbocharged V8 gas engine generating a horsepower of 483 hp at 5500 rpm and 516 pounds-feet at 2000 rpm. This all-wheel-drive SUV provides a mileage of 24 miles per gallon on highways and 22 miles per gallon in the city. It can accelerate to sixty miles per hour in 5.5 seconds. The active suspension of this supercar provides you with a high-quality ride and superb handling, especially when driving off-road terrain and preparing for bumps before they appear. The Curve mode will help you in leaning the GLS body around turn easily and comfortably.
Exterior Design & Features:
 Mercedes Benz GLS is 205.2 inches in length, 71.8 inches in height, and has a width of 77 inches with a ground clearance of 79 inches. The third generation of Mercedes GLS has a sleeker and rounded appearance with an eye-appealing SUV look whose design ethos is rooted in the school of thought of a super luxurious vehicle. The imposing grille fixes happily within the large nose of the front fascia that has softer lines and the sports grille in GLS is horizontal in a position that makes it look wider than its competitors. The flanks have minimum sculpting lines on them while the rear end has encrypted horizontal lines with chrome strips on them and the slim LED tail lights are really attractive giving it a lower stance. Twenty-two inches wheels with Gordon Wagener's design hit the nail on head. The LED headlights on the front are jewel shaped enhancing its beauty.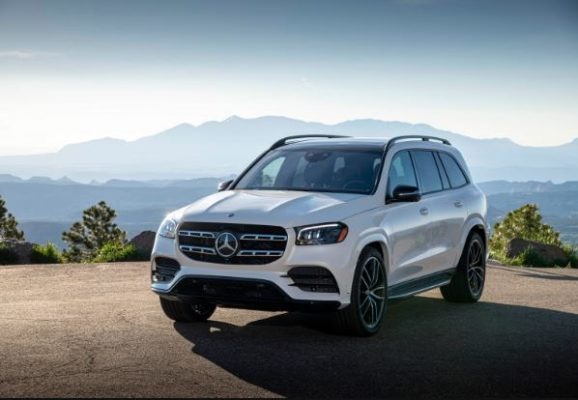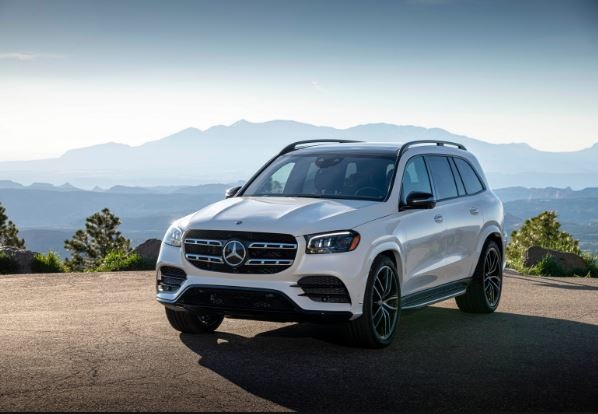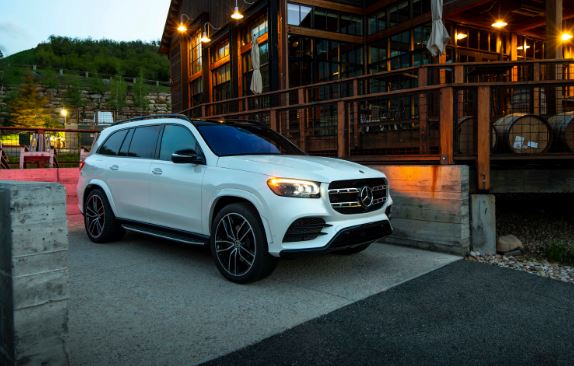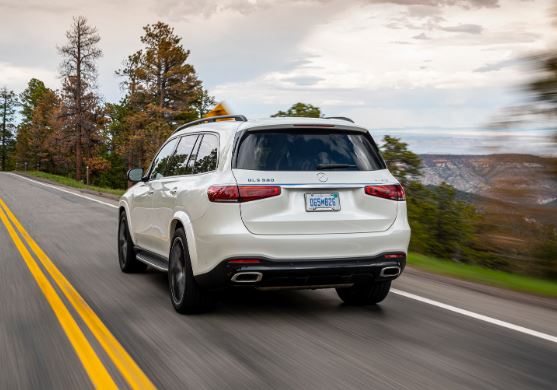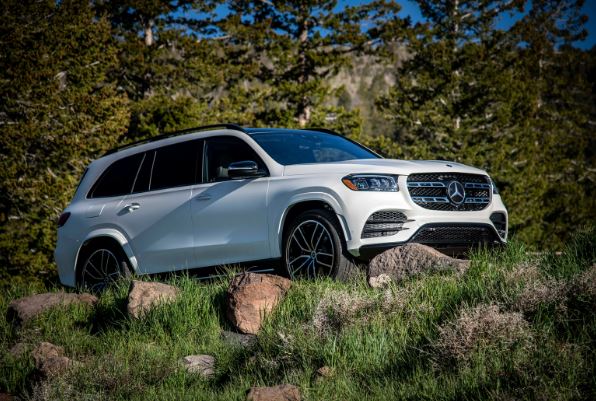 Interior Design & Features:
The cabin of Mercedes Benz GLS offers you a spacious cabin because of a 3.15 inches longer wheelbase providing a sitting capacity for six to seven passengers and the seats are very comfortable and relaxing especially since the driver's seat is made very comfortable giving you a commanding view over the hood. All three rows are easily foldable by touching only one button located on the left side of the tailgate and you can easily carry 84.76 cubic feet of cargo with you.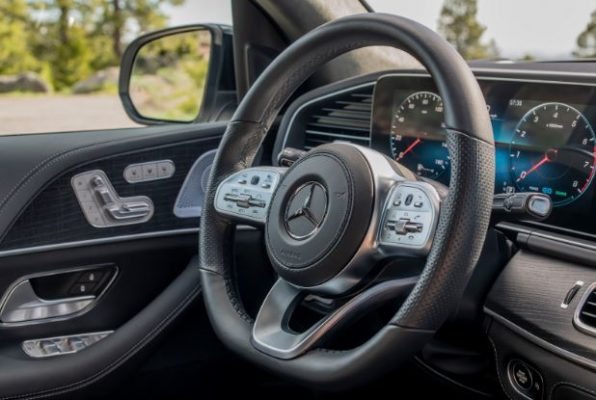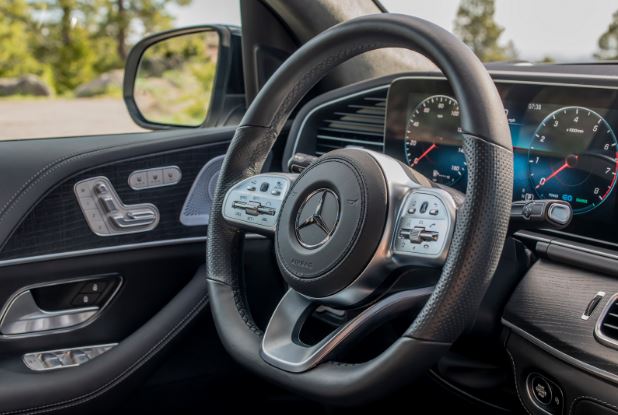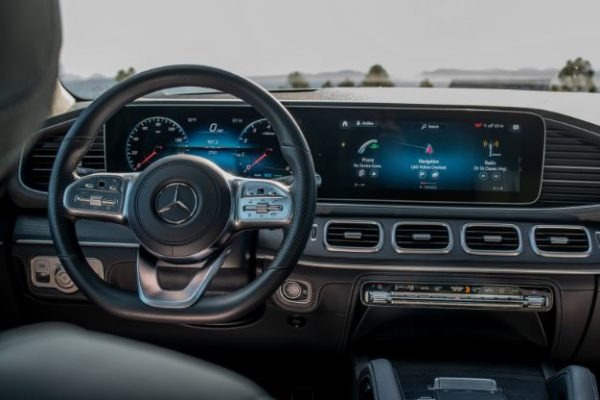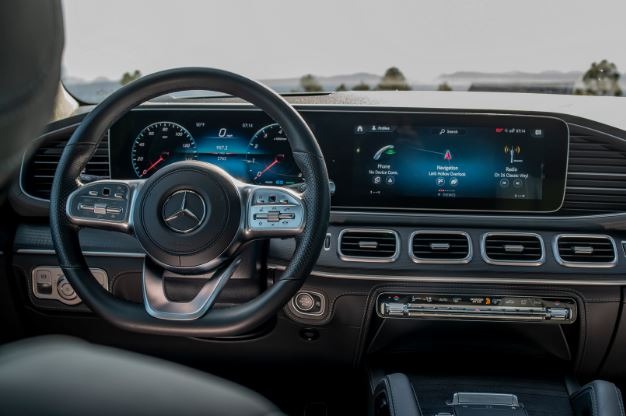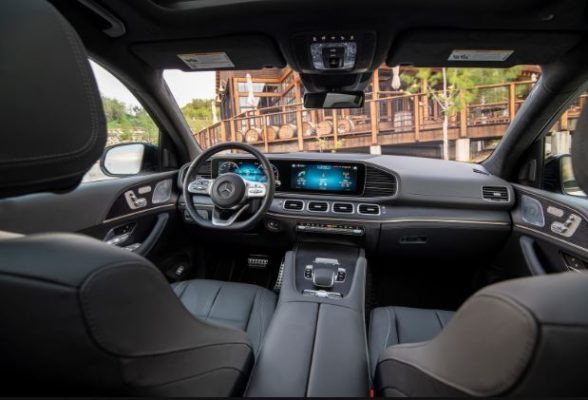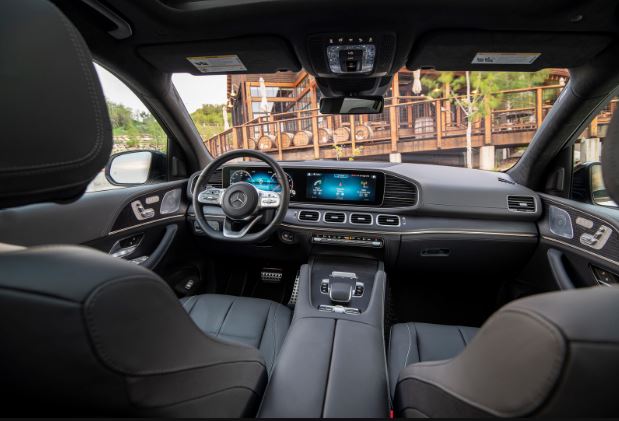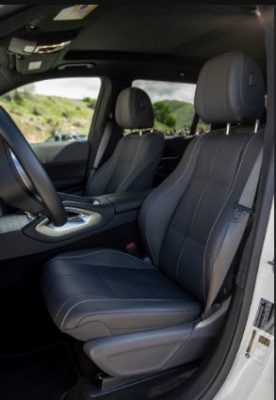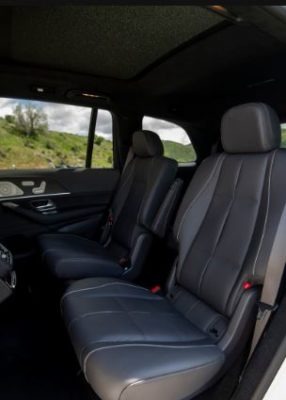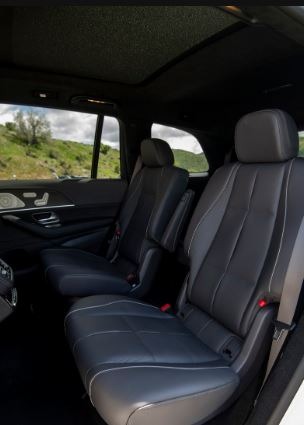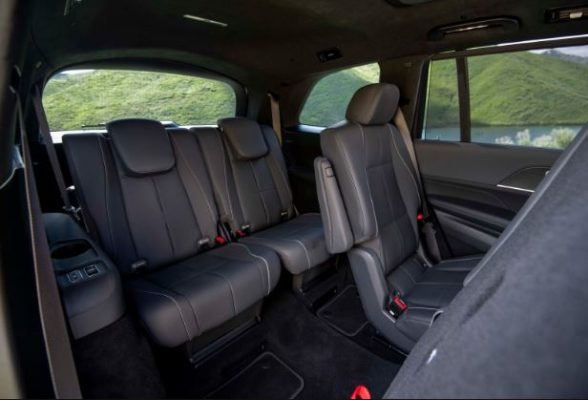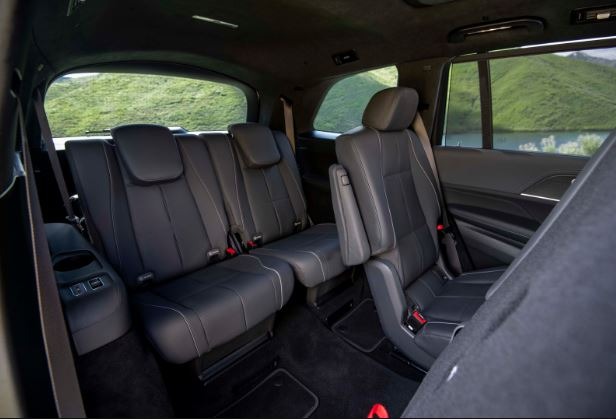 There is one touch screen infotainment system on the front console provided with MBUX software in it and the instrumental cluster aids drivers in driving while two 11.6 inches screens are fixed behind the front seats that provide entertainment for rear passengers and there will be a total of eleven USB ports on board that will also help you in charging your phones. It is provided with the largest panoramic sunroof adding more light and space to the cabin. It also ensures a safe drive by providing you with a cross-traffic alert system, adaptive cruise control, automatic emergency braking system, and active lane control and collision avoidance technology.
Major Competitors:
Toughest competition to Mercedes Benz GLS will be given by BMW X7, Cadillac Escalade, Land Rover Range Rover, Lexus LX, and Lincoln Navigator.