2023 MG 5 Sedan 
Expected Launch in Pakistan:

2023 or 2024

Expected Price in Pakistan:

350,000 PKR

2nd Generation 
Many new entrants have been launched in Pakistani automobile markets, and some are making their way. Morris Garages Pakistan has been in highlights since the start of this year because of its skate holder Javed Afridi, who posted about the upcoming vehicles. Javed Afridi posted the new MG 5 sedan images in his Facebook post and asked for the public's opinion on its price. The MG HS has got a huge success and has been loved by Pakistani people, and now everyone has their eyes on the upcoming sedan. The MG 5 comes among the best sedans around the world. It is an exciting vehicle whether you have to go to work or for an exciting trip. It is a D-segment family sedan that comes between compact and subcompact sedans. The 2nd generation of MG 5 is stylish in its looks, and it resembles Fiat Tipo and Ford Focus. The MG 5 2nd generation available in international markets has two 1.5 liters SAIC 4-cylinder engines, among which one is naturally aspirated, and the other is turbocharged. Its entry into Pakistani markets will compete with Toyota Corolla, Honda Civic, and Honda City here in Pakistan. Like before No exact date of the launch of MG 5 has been released officially by the company.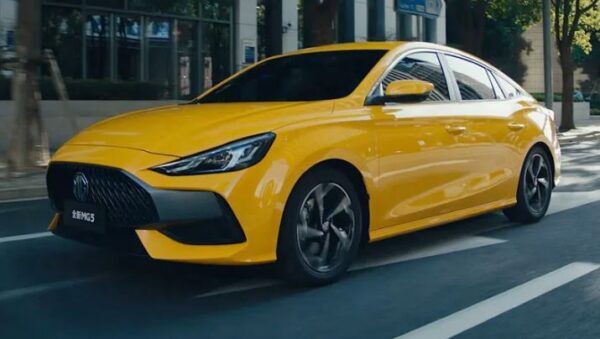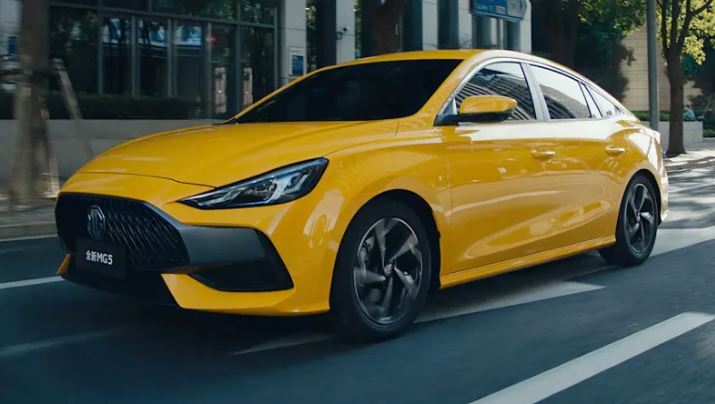 Variants available:
MG 5 will be available in manual and automatic transmission versions. The electric version of MG 5 is available in the United Kingdom, but the electric version of MG 5 may not come to Pakistan soon. It will be available in naturally aspirated engine and turbocharged engine versions. Other than this, details about its trims and different versions are not revealed yet, and nothing can be said for sure before any official news from the company.
Engine and transmission:
The coming MG 5 2nd generation will be available in 1.5 liter 15C4E turbocharged engine or a 1.5 liters 15S4C TCI-TECH I4 engine. The turbocharged engine produces a maximum of 171 horsepower while the other engine generates 118 horsepower. It offers two transmission options that are either the 5-speed manual transmission or a Continuously Varying Automatic transmission.
Performance & Drive:
Both of the engine options offer 150Nm of torque which is quite impressive for your journeys. It delivers an efficient performance and makes your ride memorable. It provides smooth transmissions, and both of them work well, but the continuously varying transmission is more efficient, giving you a top speed of 180 kilometers per hour. The electronic power steering works well to control your car with minimal effort, and you are offered the speed-sensing power steering to help you maintain control. It will give you better control than its other rivals, and you can drive it so smoothly on the motorways too, other than the city drive. The suspension of MG 5 is well-tuned, so it soothes away all odds and moves over the potholes smoothly. The handling maneuvers of MG 5 are so well and better than its sibling MG ZS and it hardly leans around corners when turning or curving the car. The engine produces very little noise compared to other sedans running in Pakistan, and even the wind noise is much less when you are driving the car on highways. It will produce no discomfort to the passengers, and they can enjoy their journeys peacefully. It offers a variety of driving modes for your comfort, but among them, the Eco mode is the best, and it neuters the accelerator and air conditioners. The tires provide enough mechanical grip to drive the car on slippery roads and slopes and provide enough traction to operate it safely. MG 5 gives a mileage of 21.81 miles per gallon in countries like Phillippines and gives you an average fuel economy of 10-12 kmpl. The fuel economy of MG 5 in Pakistan will be good, and the real-world mileage of MG 5 in Pakistan will be confirmed when it will launch here actually. The braking system of MG 5 will be efficient to stop the car smoothly even when applying emergency brakes. The regenerative braking system will not be available as in MG 5 EV version, but the brakes will still be efficient to deliver powerful driving performance.
Exterior design and features
MG 5 will is a five-seater sedan with a total length of 4601 millimeters, a width of 1818 millimeters, and a height of 1489 millimeters. These ample dimensions make sure its presence is felt attractive and sporty; the LED daytime running lights on the front make the front attractive, along with the vertical grille having the MG logo engraved in it. The sporty taillights on the rear are equally good, and the electric sunroof not only gives this sedan a classy appearance but also adds more light and fresh air to the cabin. The sixteen-inch alloy wheels complete its bold stance, and it will most probably be available in different exterior colors.
Interior Design & Features:
You will find style and class as soon you enter MG 5. The MG 5 has a forward-thinking cabin with everything driver's center, so he has complete control of all the features inside the cabin. You will get leather upholstery in higher-end trims that will add a classy feel to the cabin, and the seats are comfortable enough to make your journeys memorable. It provides a seating capacity for five adults, and the passenger room is enough to accommodate them comfortably. It offers a boot space of 512 liters to carry your luggage or goods. There will be a 10.1 inches touch screen display mounted on the dashboard to give you infotainment, and it will be coming with Apple CarPlay and Android Auto interface. It will also offer you a 360-degree camera view that will help you look around for any potential risks that can hit your car. You will be given a phone charging port for charging your phones wherever you want.
Safety & Features:
The MG 5 has been rated 5 stars by C-NCAP safety ratings which means it is equipped with all essential safety features needed to provide you with a safe ride. Some of the safety features it will provide are as follows:
Hill-Start Assist
Electronic Brakeforce Distribution
ISOFIX anchor points.
Airbags
Tire Pressure Monitoring System
Major competitors: