2024 Subaru Crosstrek
3rd generation
Sold in the USA =

2024-Present

Overall Rating = 8/

10
2024 Subaru Crosstrek Price in the USA
Crosstrek Base

24,995 $

(Starting Price)

Crosstrek Premium

26,145 $

(Starting Price)

Crosstrek  Sport

28,995 $

(Starting Price)

Crosstrek  Limited

30,895 $

(Starting Price)

Crosstrek  Wilderness

31,995 $

(Starting Price)
The Subaru Crosstrek is a compact crossover SUV produced by the Japanese automaker Subaru. It is known for its combination of rugged off-road capabilities, practicality, and versatility. Subaru has made a big change in how they build the Crosstrek. They still make the 2024 Crosstrek Base and Premium versions in Japan, but now they're making the 2024 Crosstrek Sport and Limited versions in Indiana, USA.  Some Crosstreks are manufactured in America instead of just in Japan now. The 2024 Crosstrek may seem like the 2023 model, but it's been completely redesigned as it enters its third generation. Just like Subaru usually does, the new Crosstrek keeps building on the design of the older model. It's still roomy and practical from the inside, just like the 2023 version. The engine options haven't changed either. You still have the base engine, a 152-horsepower 2.0-liter flat-four, and the option to get a more powerful 182-horsepower 2.5-liter flat-four, just like in the 2023 model. This year, Subaru introduces a new version called the Crosstrek Wilderness. The Crosstrek Wilderness offers special upgrades like a higher suspension that gives it 9.3 inches of ground clearance, tougher-looking exterior features, and all-terrain tires. This makes it more capable of adventures off the beaten path. Ford Bronco Sport, Chevrolet Trailblazer, Mazda CX-30, Subaru Forester, and Jeep Compass are alternatives to the Subaru Crosstrek.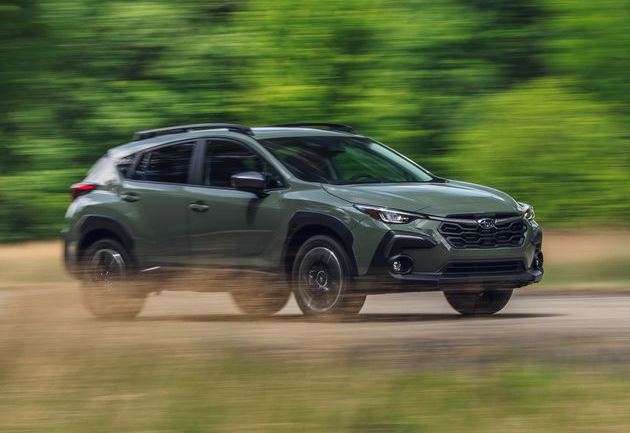 Trims, Variants & Engine:
You can choose from five versions of the latest Subaru Crosstrek: Base, Premium, Sport, Limited, and Wilderness. The first four will be available right away, while the Wilderness will come to dealerships in the fall of 2023. The Base and Premium trims have a 2.0-liter four-cylinder engine that produces 152 horsepower and 145 pounds-feet of torque. On the other hand, the Sport, Limited, and Wilderness trims use a more powerful 2.5-liter four-cylinder engine with 182 horsepower and 178 pounds-feet of torque. Both engines come with a continuously variable transmission (CVT) and include Subaru's standard all-wheel-drive system.
Performance & Drive:
The Crosstrek isn't known for being particularly fast. The Crosstrek Premium with the basic 2.0-liter engine takes 9.9 seconds to go from 0 to 60 mph. If you need to pass other cars on the highway, you'll need some extra patience, especially in the base 2.0-liter Crosstrek. The models with the 2.5-liter engines are better if you want better acceleration.  The Crosstrek isn't a superstar in handling maneuvers, but that's okay because it's not designed to be. The steering isn't super precise, and you'll feel some body roll when you brake hard or take sharp turns. It is a comfortable car to drive every day, and it handles typical daily tasks conveniently.  Its all-wheel-drive system gives you added confidence when driving in bad weather, and it feels stable and secure when you venture off the beaten path. So, don't hesitate to take it on some less-traveled roads. It is built for a comfortable ride, and while it can handle corners better than most drivers will need, it doesn't provide the same level of fun driving as the Mazda CX-30 or Volkswagen Taos. The Crosstrek does excel when it comes to off-road capabilities. It has a minimum of 8.7 inches of ground clearance and includes helpful features like hill-descent control and hill-start assist. If you opt for the Wilderness trim, you get even more ground clearance at 9.3 inches, plus more rugged all-terrain tires for enhanced off-road performance. If you're looking for a crossover that can handle rough terrain, the Crosstrek has you covered. The Crosstrek's fuel Economy varies based on how you configure it. It can get up to 28 miles per gallon in the city and 34 miles per gallon on the highway. The more powerful 2.5-liter engine managed an impressive 35 miles per gallon. 
Exterior Design & Features:
The Crosstrek Wilderness is all about embracing your most daring outdoor journeys, and this attitude shows in its tough, off-road-ready appearance. It's designed to handle rugged terrain with protective cladding and updated front and rear bumpers that shield it from the challenges of rough trails. You'll also notice details like Anodized Copper-finish accents, hexagon-pattern LED fog lights, and the option for a unique Geyser Blue paint color, which is exclusively available for Wilderness models in the Subaru lineup.
Interior Design & Features:
The latest Crosstrek offers a similar amount of space and cargo capacity as the previous model, but Subaru has made some improvements. They have redesigned the seats to make them more comfortable and added extra materials to reduce noise and vibrations inside the cabin. If you're looking for a more stylish and fancy interior, you might find the Subaru's straightforward approach a bit lacking. You can get leather upholstery as an option, most trims come with cloth seats. Higher-end models might have cloth seats with patterned inserts and silver stitching for added style. The updated 3rd generation Crosstrek has some convenient features to keep your stuff organized. The front doors have roomy pockets, so you can easily store water bottles and other small items. You'll find 20 cubic feet of room with the rear seats up, and when you fold the rear seats down, that expands to 55 cubic feet, making it great for hauling large items. You can get a large 11.6-inch display, which is the same size as in other Subaru models like the Outback and WRX. The base model comes with a smaller 7.0-inch display. The screen offers Apple CarPlay and Android Auto, which allow you to connect your smartphone to the car's infotainment system. If you go for the highest Limited model, the Crosstrek typically offers only six speakers for its audio system. This setup leads to sound quality that lacks richness and fullness. The audio can sound thin at all volume levels, and it's especially noticeable because there's not much bass. The car's interior acoustics don't help the situation. If you appreciate good in-car audio, you might want to avoid the standard system and consider the upgraded one.
Safety Features:
The latest Crosstrek comes with an upgraded standard Eyesight Driver Assist Technology, which acts like an extra pair of eyes on the road and, when necessary, an extra foot on the brake while driving. Eyesight includes various advanced safety features to keep you and your family safe during your journeys. One of the new features for the 2024 Crosstrek is Automatic Emergency Steering. This technology can help you avoid accidents by providing automatic steering assistance and applying pre-collision braking support if it detects enough space to intervene. There's Automatic Pre-Collision Braking to prevent or reduce frontal collisions by alerting you and applying full braking force in emergencies. These advanced safety systems work together to enhance your safety on the road.
Pros & Cons:
Pros:
Off-Road Capability: The Crosstrek is known for its off-road capabilities, making it suitable for adventurous driving on rough terrain.
Practicality: It offers ample cargo space, with the rear seats folded down, and features like roomy door pockets for storage.
All-Wheel Drive: The standard all-wheel-drive system provides added stability and confidence in various driving conditions, including bad weather.
Fuel Efficiency: It offers decent fuel efficiency, with the more powerful 2.5-liter engine achieving an impressive 35 miles per gallon.
Comfortable Front Seats: The front seats are comfortable, ensuring a pleasant driving experience.
Safety Features: The Crosstrek comes equipped with advanced safety features, including Automatic Emergency Steering and Automatic Pre-Collision Braking.
Cons:
Sluggish Powertrains: The base 2.0-liter engine can feel sluggish, especially when compared to competitors with more powerful engines.
No Manual Transmission Option: Subaru no longer offers a manual transmission option, which may disappoint enthusiasts.

Uninspiring Interior Design: The interior design is considered somewhat uninspiring and lacks excitement, especially in comparison to some rivals.

Audio System Quality: The standard audio system lacks richness and fullness in sound quality, and the interior acoustics don't help the situation.
Major Competitors:
Mazda CX-30: The Mazda CX-30 offers a more stylish and upscale interior compared to the Crosstrek. It's known for its engaging driving dynamics and a choice of efficient engines.
Ford Bronco Sport: The Ford Bronco Sport is designed with off-road capability in mind, similar to the Crosstrek Wilderness trim. It offers rugged styling and capable off-road features.
Chevrolet Trailblazer: The Trailblazer is a compact SUV that comes with a choice of turbocharged engines, making it competitive in terms of power and efficiency. It also offers a spacious interior and modern tech features.
Subaru Forester: While technically from the same manufacturer, the Forester competes with the Crosstrek due to its larger size and more spacious interior. It offers similar ruggedness and all-wheel-drive capability.
Jeep Compass: The Jeep Compass is another off-road-oriented compact SUV with a Trailhawk trim designed for challenging terrain. It has a distinctive Jeep look and offers a variety of powertrains.
Honda HR-V: The Honda HR-V is known for its versatile Magic Seat, which allows for flexible cargo configurations. It offers good fuel efficiency and Honda's reputation for reliability.
Nissan Rogue Sport (Qashqai): The Rogue Sport is a smaller version of the Nissan Rogue and offers a comfortable ride, decent interior space, and a range of safety features.
Volkswagen Taos: The Taos is VW's compact SUV, offering a refined interior and a choice of engines. It's known for its comfortable ride and European styling.