2023 Ford Bronco
6th Generation 
Present Generation Sold in the USA =

2021-Present
2023 Ford Bronco Price in the USA 
Base

Starts at:

34,595 $

Big Bend

Starts at:

38,585 $

Black Diamond

Starts at:

41,250 $

Outer Banks

Starts at:

46,350 $

Bad Lands

Starts at:

47,395 $

Heritage

Starts at:

46,605 $

Wild Track

Starts at:

58,025 $

Heritage Limited

Starts at:

69,195 $

Raptor

Starts at:

83,580 $
The Ford Bronco, a rugged sport-utility vehicle produced by the Ford Motor Company, was originally introduced in 1965 and remained in production until 1996. The Bronco was designed to be a capable off-road vehicle that could handle challenging terrain and harsh weather conditions with ease.
After many years of anticipation, the Ford Bronco was relaunched in the United States on June 13, 2021, as the sixth generation of this iconic SUV. The new Bronco comes in both two-door and four-door SUV models, equipped with modern amenities, advanced infotainment systems, and cutting-edge safety features. Additionally, the new Bronco features several off-road-focused technologies to help drivers navigate even the toughest terrain with ease. With its exciting design and impressive performance, the Ford Bronco is a fun-to-drive midsize SUV that ranks among the best in the USA, earning a rating of 4 out of 11 midsize SUVs. The 2022 model brought only minimal changes, including the addition of Raptor and Everglade trim levels and a manual transmission option in the Sasquatch package.
Looking ahead to the latest model, the Ford Bronco will offer exciting new Heritage and Heritage Limited trim levels, along with other variants and features. The Bronco boasts a unique white grille, white hardtop, and plaid upholstery, setting it apart from its competitors. The Ford Bronco will continue to compete with other off-road-focused SUVs such as the Jeep Wrangler and Ford Bronco Sport.
In conclusion, the Ford Bronco is a legendary SUV that has proven to be a reliable and capable off-road vehicle. With the launch of the sixth-generation model, it is clear that the Bronco is back and better than ever, offering drivers a fun-to-drive midsize SUV with modern amenities and cutting-edge technologies. The latest model promises to offer even more exciting features and options, making the Ford Bronco a top contender in the off-road SUV market.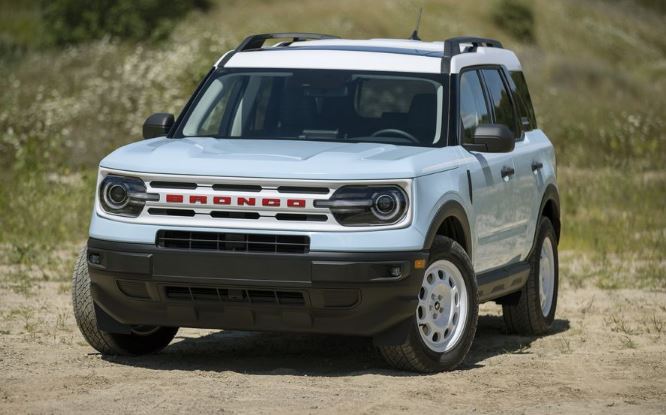 Trims & Variants:
The Ford Bronco is available in the following seven trim levels:
Base: The base trim is the most basic version of the Bronco, but it still comes with a decent set of features such as a 4×4 system, removable roof and doors, 16-inch steel wheels, 7-speed manual transmission, 8-inch infotainment screen, and a SYNC 4 infotainment system.
Big Bend: The Big Bend trim builds on the Base trim with features like 17-inch aluminum wheels, LED fog lights, heated side mirrors, and an upgraded audio system.
Black Diamond: The Black Diamond trim is designed for off-road enthusiasts and comes with features like heavy-duty steel bumpers, 17-inch black-painted steel wheels, vinyl upholstery, rock rails, and an advanced 4×4 system with a rear-locking differential.
Outer Banks: The Outer Banks trim is the most luxurious version of the Bronco, with features such as leather-trimmed seats, a 12-inch touchscreen display, 18-inch aluminum wheels, and a B&O sound system.
Badlands: The Badland trim is also designed for off-road driving and comes with features like a unique suspension system, front and rear locking differentials, and 33-inch all-terrain tires.
Wildtrak: The Wildtrak trim is the most feature-packed version of the Bronco, with standard features like a 12-inch touchscreen display, seven mode terrain management system, a 360-degree camera system, and a Bang &Olufsen sound system.
Everglades: it offers upgraded LED headlights, a 12-inch infotainment screen, an air snorkel, unique exterior graphics, unique front fenders, and vinyl upholstery.
The Heritage Limited Edition for 2023 Ford Bronco offers metal Bronco badges, unique graphics, and vinyl upholstery. It comes with a 2.7-liter V6 engine
Engine, Power & Transmission:
Ford Bronco offers a choice of three engines, depending on the trim level:
3-liter EcoBoost Inline-Four: This engine is standard on the Base, Big Bend, and Black Diamond trims. It delivers 275 horsepower @ 5700 rpm with maximum torque of 315 nm @ 3400 rpm and offers a 7-speed manual or a 10-speed automatic transmission.
7-liter EcoBoost V6: This engine is standard on the Outer Banks and Wildtrak trims and is available as an option on the Black Diamond and Badlands trims. It delivers 315 horsepower @ 5500 rpm with maximum torque of 410nm @ 3250 rpm and offers the same 10-speed automatic transmission as the 2.3-liter engine.
The Raptor trim offers a 3.0-liter V6 engine that generates 418 hp power and 440 lb-ft of torque
The engines come with a standard 4×4 drivetrain and provide excellent performance on and off the road. The 2.7-liter engine is particularly suited for drivers who need extra power for towing or hauling heavy loads.
Performance & Drive:
The Ford Bronco is an impressive vehicle that is designed to provide excellent performance both on and off the road. With its standard 4×4 drivetrain, front and rear locking differentials, and range of available off-road technologies, the Bronco is built to tackle even the toughest terrains with ease. Whether you are navigating rocky trails, muddy fields, or snow-covered roads, the Bronco offers exceptional stability, traction, and control. The Bronco's engine lineup delivers outstanding performance, making your journeys memorable. When properly equipped, the 2.3-liter engine can tow up to 3,500 pounds, and the 2.7-liter engine can tow up to 3,500 pounds as well. Additionally, the Bronco offers a unique suspension system that includes Bilstein position-sensitive dampers, providing optimal damping for any terrain.
With a minimum ground clearance of 8.4 inches, the Bronco can navigate rough terrain and obstacles with ease. It also offers a quick steering response, making vehicle handling easier and driving more enjoyable. The 2.3-liter EcoBoost Inline-Four engine with a 7-speed manual transmission and automatic transmission offers 20 mpg city, 21 mpg highway, and 19 mpg combined fuel economy. Meanwhile, the 2.7-liter EcoBoost V6 engine with 10-speed automatic transmission offers 19 mpg city, 21 mpg highway, and 20 mpg combined fuel economy, while the Raptor with 3.0 liter v6 engine provides 15 mpg in city and 16 mpg on highway.
Overall, the Ford Bronco is an exceptional vehicle that provides excellent performance both on and off the road. Its robust design, advanced features, and outstanding performance make it one of the best midsize SUVs available. Whether you are looking for a reliable workhorse or a fun-to-drive adventure vehicle, the Ford Bronco is an excellent choice that is sure to exceed your expectations.
Exterior Design & Features:
The Ford Bronco's design perfectly blends classic styling with modern design elements. The vehicle's boxy, squared-off design pays homage to classic off-road vehicles while providing a contemporary twist. The Bronco's upright windshield and flared fenders give the vehicle a rugged and purposeful look that is perfect for off-road adventures. One of the most unique features of the Bronco's design is the ability to remove the doors, roof, and rear quarter panels. This allows for open-air driving and customization options, making it easy to adapt the vehicle to different driving conditions. The removable panels are lightweight and easy to store, making it hassle-free to transition the vehicle to your desired driving experience.
The Bronco's exterior features advanced LED lighting throughout the vehicle, including headlamps, taillamps, and auxiliary lighting. The LED lighting provides excellent visibility and adds to the vehicle's modern design aesthetic. The Bronco is available in a range of bold color options, such as Cyber Orange, Rapid Red, and Velocity Blue. These colors help the vehicle stand out and give it a unique personality, making it a head-turner on the road.
The Bronco's exterior design also includes functional elements such as tie-downs, grab handles, and available roof rails. These features make transporting gear and equipment convenient and add to the vehicle's off-road capabilities. Overall, the Ford Bronco's design is an excellent blend of classic and modern styling, providing a rugged and adventurous look with all the necessary features to ensure the best driving experience.
Interior Design & Features:
The Ford Bronco's interior is designed to provide comfort and convenience while also being functional for adventure. The modern and high-tech features in the Bronco's interior include a 12-inch touchscreen display, wireless charging pad, and Ford Co-Pilot360 advanced safety features such as adaptive cruise control and lane-keeping assist. These features are easily accessible and help enhance the overall driving experience. The Bronco's interior is also built with durable materials such as marine-grade vinyl upholstery and washable rubber floors, making it easy to clean and maintain after outdoor adventures.
The Bronco's doors are removable, making it possible to enjoy an open-air driving experience. They are also lightweight and easy to remove, adding to the vehicle's convenience. The Bronco's ample cargo space of up to 77.6 cubic feet, with the rear seats folded down, makes it easy to transport gear and equipment. The flip-up rear glass window provides easy access to the cargo area, making loading and unloading more convenient.
The Bronco's adventure-ready features include available trail maps and off-road technology that helps drivers navigate and conquer challenging terrain. Additionally, the vehicle features auxiliary switches that can power accessories such as winches, off-road lights, and air compressors, adding to the vehicle's off-road capabilities. Overall, the Ford Bronco's interior design offers a combination of comfort, convenience, and adventure-ready features that enhance the driving experience both on and off the road.
Safety & Features:
The 2021 Ford Bronco four-door SUV has completed crash and safety testing from the Insurance Institute for Highway Safety (IIHS). While the new Bronco achieved the top Good rating in five of six crashworthiness tests, it fell short of earning Top Safety Pick or Top Safety Pick+ honors. Its smaller stablemate, the Bronco Sport, did make the Top Safety Pick+ list for 2021 with Good ratings in all six evaluations. However, Bronco lost points for its head restraints and headlight systems, which received Acceptable and Marginal ratings, respectively. Despite this, the Bronco still includes a range of safety features, including Ford Co-Pilot360, Roll Stability Control, airbags, and a Trail Recovery System.
Pros & Cons:
Pros:
Off-Road Capabilities.
Classic Styling.
Modern Technology.
Customization Options
Thoroughly livable ride
Vast configurability
Multiple advantages over the Jeep Wrangler.
Cons:
High Price than competitors
Less efficient Fuel Economy.
Large Size is difficult to maneuver: The Bronco is a large vehicle, which may be difficult to maneuver in tight spaces or urban environments.
The Interior skews more farmhand than fancy
The exhaust note doesn't live up to the excitement of driving one
Epic wind noise on the highway.



Verdict:
After a thorough evaluation, the Ford Bronco is an excellent choice for those seeking an SUV with impressive off-road capabilities, classic styling, modern technology, and ample customization options. It offers several advantages over its main competitor, the Jeep Wrangler. However, potential buyers should note that the Bronco comes with a higher price tag than some of its rivals and has a less efficient fuel economy. Additionally, its large size can make it challenging to maneuver in tight spaces or urban environments. The interior design prioritizes durability over luxury, and some drivers may find the exhaust note underwhelming and wind noise on highways to be bothersome. Despite its flaws, the Bronco remains an attractive option for adventurous drivers seeking a capable and customizable SUV.
Major Competitors: