Toyota CH-R (2018-2022)
Sold in the USA = 2018-2020
Status = DISCONTINUED
Overall Rating
Toyota CHR Price in USA in 2022
| | |
| --- | --- |
| CH-R XLE | $ 25,615 |
| CH-R Limited | $ 28,635 |
| CH-R Nightshade | $ 26,880 |
The Toyota C-HR (Compact High Rider) is a compact crossover SUV produced by the Japanese automaker Toyota. It was first introduced as a concept car in 2014 and later released as a production model in 2016. The C-HR is designed to cater to urban and young buyers looking for a stylish and compact SUV. Toyota decided to remove the cheaper LE version of the C-HR for the 2022 Toyota CH-R model. Now, the XLE model is the starting option. They've also introduced a new color called Wind Chill Pearl, which can be combined with a black roof for an attractive look. Toyota has said that there won't be a C-HR model for 2023. So, if you like this unique crossover, the 2022 model is your last opportunity to get one. The 2022 Toyota C-HR looks cool and eye-catching, but when it comes to how it drives, it's not very exciting. All versions have a not-so-strong four-cylinder engine, a type of automatic transmission called CVT, and they only have front-wheel drive (no all-wheel drive option). It's not very speedy, and even though it's not great for zipping around corners, it's at least pretty comfy to ride in. The back seats of the Toyota C-HR are small, but the rest of the inside is quite useful. They've added playful design touches from the outside to the inside, like a lopsided dashboard, shiny black accents, and a textured roof covering.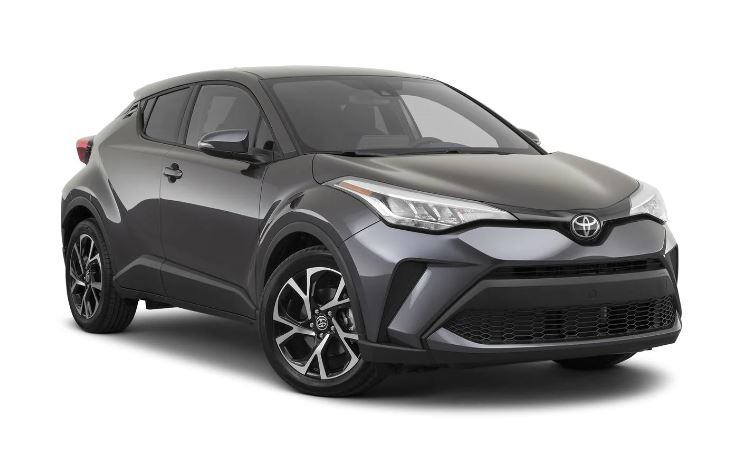 Trims & Variants:
The Toyota C-HR comes in many versions over the time that has been explained below with the three different versions that are still available in the last model of CHR: XLE, Nightshade, and Limited.
Toyota C-HR LE: This is typically the base trim level, offering essential features and a competitive starting price.
Toyota C-HR XLE: The XLE trim often adds more features and options compared to the base model, including upgraded infotainment systems and interior materials.
Toyota C-HR XLE Premium: The XLE Premium trim builds upon the XLE with additional features like leather-trimmed seats and more advanced technology options.
Toyota C-HR Nightshade: The Nightshade trim, if available, usually features blacked-out exterior accents and a sleek, sportier appearance.
Toyota C-HR Limited: The Limited trim typically represents the top-tier option, offering the most advanced features, premium materials, and additional technology and safety enhancements.
Toyota C-HR Hybrid: Some markets offer hybrid variants of the Toyota C-HR, which combine a gasoline engine with an electric motor for improved fuel efficiency and reduced emissions.
Toyota C-HR GR Sport: Depending on the market and availability, Toyota may offer a sportier version of the C-HR under its Gazoo Racing (GR) brand, featuring performance-oriented enhancements and styling cues.
Toyota C-HR Special Editions: Toyota occasionally releases special edition C-HR models with unique features, colors, and limited availability to add some exclusivity to the lineup.
Engine & Power:
Every C-HR runs on a four-cylinder, 2-liter engine that makes 144 horsepower. It uses a special kind of automatic transmission, and it's made for front-wheel drive. Unlike similar small SUVs, you can't get all-wheel drive with the C-HR.
Performance & Drive:
The C-HR's engine isn't very powerful, it could use a boost like a turbocharger or something to make it faster. It takes 11.0 seconds to go from 0 to 60 miles per hour, much slower than similar cars. You might not notice this because the gas pedal makes it feel quick when you start moving. When you press down hard on the gas pedal, the engine makes a lot of noise and tries hard, but it doesn't make the car go much faster. This is because of the continuous automatic transmission it uses. When you drive over bumps, the C-HR feels comfortable, but it's not better than other cars in its category. If you drive over big bumps, the car's suspension bounces back fast. But if you go over a rough road with patches or cracks, it gets loud inside, and you can feel the bumps. The way the car steers are precise, and when you tell it to turn, the front wheels do it right away. It's good at handling turns, doesn't tilt too much, and it's fun to drive. The C-HR isn't for going fast, but it's good at using fuel efficiently. According to official estimates, for the Fuel Economy: it can do about 27 miles per gallon in the city and 31 on the highway, which is similar to most other cars. The XLE got 37 miles per gallon over 200 miles. That's good! The Toyota C-HR is known for its agile and responsive handling. It is designed with urban driving in mind, which makes it easy to maneuver through city streets and traffic. The Toyota C-HR has accurate and direct steering, allowing the driver to have control over the vehicle. It's not prone to excessive body roll during turns, which adds to a sense of stability. This contributes to a more engaging driving experience. The C-HR's suspension system strikes a balance between comfort and responsiveness. This means it can absorb small bumps and imperfections in the road, providing a smoother ride for occupants. The C-HR typically comes with a conventional hydraulic braking system, which is the most common type of braking system in modern vehicles. The C-HR  has an Anti-lock Braking System, which prevents the wheels from locking up during hard braking. This helps the driver maintain vehicle control during emergency stops.
Exterior Design & Features:
The C-HR features sculpted lines that give it a dynamic and edgy appearance. These lines create a sense of movement and energy, adding to its visual appeal. One of the standout features of the C-HR is its coupe-like sloping roofline. This gives the vehicle a sporty and sleek profile, contributing to its unique and modern look. The C-HR's front fascia has a distinctive grille and angular headlights. These elements give the vehicle a bold and assertive presence on the road. The C-HR typically has a higher ground clearance than the traditional sedans, which provides a more commanding view of the road and adds to its crossover SUV aesthetic. The C-HR features eye-catching and distinctive wheel designs that complement its overall styling. The rear of the C-HR often showcases a modern and unconventional design, with distinctive taillights and a sculpted rear bumper. The C-HR often incorporates slim pillars and a high beltline, which not only enhance its aesthetic appeal but also contribute to improved visibility and safety. The design of the C-HR includes aerodynamic features like integrated spoilers and diffusers, which help improve fuel efficiency and stability at higher speeds.
Interior Design & Features:
The inside of the Toyota C-HR is made with the usual high quality you expect from Toyota. The materials used in the interior feel strong and well-picked, except for a couple of plastic pieces near the middle of the console. The dashboard looks fancy with fake leather and stitching, and there's a fun diamond pattern on the doors and ceiling. It has basic comforts like dual-zone automatic climate control, but if you're looking for extra perks like power seats or a sunroof, you won't find them in this model. The C-HR has a big 8.0-inch screen on the dashboard for things like maps and music. The simplest version of the car comes with features like Apple Car Play, Android Auto, and Sirius XM radio. The screen isn't super fancy, but it's easy to understand and use, especially for people who aren't very tech-savvy. The menus are simple and you can use them easily even while driving.
Safety & Features:
The National Highway Traffic Safety Administration gave the 2022 C-HR an overall safety rating of four out of five stars. It got four stars in the frontal crash and rollover test, and five stars in the side crash test. Some of its important safety features are:
Forward collision warning alarm.

Automated high-beam headlights.

Blind Spot monitoring system.

Rearview camera.

Rear cross traffic alarm.

Lane-keeping Assist system.
Pros & Cons:
Pros:
Attractive Design: The Toyota C-HR features an eye-catching exterior design with sculpted lines, a coupe-like roofline, and distinctive front and rear fascias.
High-Quality Interior: The interior is made with high-quality materials, and it has a stylish dashboard with fake leather and stitching. The diamond pattern on the doors and ceiling adds a unique touch.
User-Friendly Technology: The C-HR comes equipped with user-friendly technology, including an 8.0-inch touchscreen for infotainment, Apple CarPlay, Android Auto, and SiriusXM radio.
Safety Features: The C-HR includes several advanced safety features, such as forward collision warning, automated high-beam headlights, blind-spot monitoring, a rearview camera, rear cross-traffic alert, and lane-keeping assist.
Fuel Efficiency: The C-HR is known for its fuel efficiency, with an estimated 27 miles per gallon in the city and 31 miles per gallon on the highway.
Agile Handling: It offers agile and responsive handling, making it suitable for urban driving and providing a sense of stability and control.
Cons:
Lackluster Acceleration: The C-HR's four-cylinder engine is not very powerful, resulting in slow acceleration. It takes 11.0 seconds to go from 0 to 60 miles per hour, which is slower than similar vehicles.
Limited Rear Seat Space: The back seats of the C-HR are described as small, which may lead to discomfort for taller passengers or when carrying a full load of passengers.
Cargo Space: The C-HR's cargo space may be limited if you need to carry large items since the back seats need to be folded down to create more space.
Front-Wheel Drive Only: Unlike some competitors, the C-HR is only available with front-wheel drive, and there is no option for all-wheel drive.
Not Suitable for High-Speed Performance: While it handles well in urban environments, it is not designed for high-speed performance or spirited driving.
Limited Features: Some desirable features, such as power seats or a sunroof, may not be available in the C-HR, depending on the trim level.
No 2023 Model: Toyota has discontinued the C-HR for the 2023 model year, so buyers interested in this unique crossover will need to consider the 2022 model.
Verdict:
The Toyota C-HR offers an appealing and stylish design both inside and out, along with a user-friendly infotainment system packed with tech features. Its agile handling makes it well-suited for urban driving, and it provides a comfortable ride. However, it falls short in terms of acceleration, and the rear seats are somewhat cramped. Additionally, it lacks all-wheel drive as an option, limiting its versatility in various driving conditions. Overall, the Toyota C-HR is a good choice for those who prioritize style, technology, and city-friendly maneuverability, but it may not satisfy those seeking robust performance or spacious rear seating.
Major Competitors: