2022 Suzuki GS 150
Sold in Pakistan = 2007-Present
Technology = OHC Euro-II
2022 Suzuki GS 150SE Price in Pakistan :
Price Effective from 1-Aug-2022
GS 150 (Steel Wheels)

251,000 PKR

GS 150SE (Alloy Wheels)

249,000 PK

(DISCONTINUED)
The Suzuki GS 150SE is the upgraded version of the Suzuki GS 150. The Suzuki GS 150SE has introduced new features like alloy rims, front disc brakes, and front shock absorbers. Other than these, there is no significant difference between GS 150SE and GS 150. It is one of the highly competitive bikes in the 150cc segment of bikes in Pakistan. The  Suzuki GS 150SE is a bike known for its power, durability, and style. It is a masterpiece due to its powerful engine and stylish graphics. It has a self-start system and a 150 cc air-cooled engine. It is available in black and red exterior color options. This special Edition GS 150SE has styled with sporty looks with eye-catching graphics, and it has a wide rear tire. The GS series of 150cc bikes were discontinued in India in 2015 by Suzuki but is available in Pakistan. The price of the Suzuki GS 150SE is a bit high when compared to other companies, but it offers the latest features that stand it out among its competitors. It offers an electric start, kick start, and five-speed gear transmission, which delivers a smooth ride.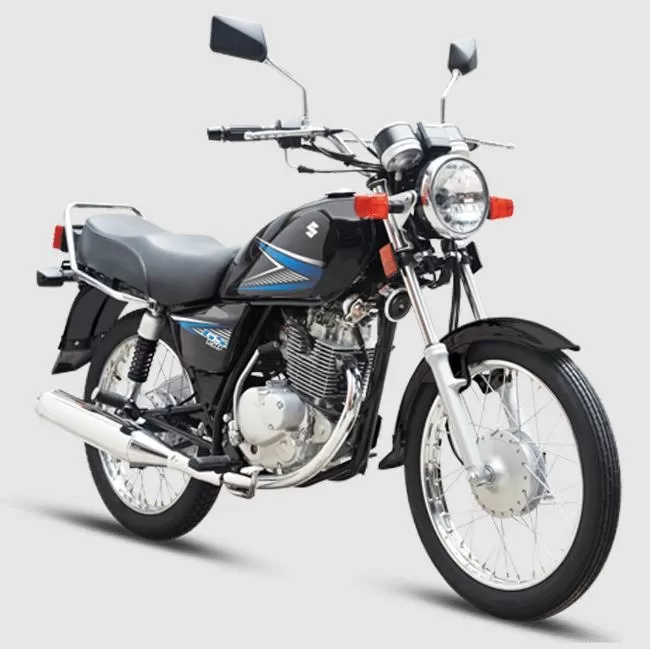 Performance & Drive:
The Suzuki GS 150 & 150SE delivers an impressive ride quality with its 4-stroke, air-cooled, OHC engine with a displacement of 150cc. It offers a five-speed manual transmission that comes with a pressure-driven single brake plate. The suspension at the front is telescopic; oil damped, and at its rear is the swingarm. The suspension system runs the bike smooth over uneven roads and keeps the ride good, even on breakers. Similarly, the brakes are firm, providing disc brakes on the front and drum brakes on the rear. The disc brakes on the front are not present in standard GS 150, but still, the braking system is efficient. The bike comes with an electric start that enhances your convenience and saves time in starting the engine. The kick start technology is also available besides the electric start. It offers a ground clearance of 150 millimeters. The seat height is also ergonomically designed, so the rider can ride the bike comfortably and rest his foot on the ground at a stop.
Fuel economy and mileage:
The fuel economy of the Suzuki GS 150 is not bad, and it gives you a mileage of 35 to 40 kilometers per liter. It gives you a top speed of 110 to 120 kilometers per hour in the city. It has a fuel tank capacity of 12 liters.
Exterior design and Build Quality:
The GS 150 is similar in looks to the Suzuki 150SE with a length of 1890 millimeters and style except for the fender alloy rims in GS 150SE and stylish graphics. The front end is similar with round fog light and side indicators. There is a complete seat comfortable for the rider and passenger and has been designed ergonomically. A stylish speedometer has been given in a Special Edition, and new modern graphics have been added to make it look attractive. It is available in two color options. The quality of the materials used in GS 150SE is good, making it a durable bike. The rear tire is wider than the GS 150, and the brake light and headlight are attractive.
User Reviews:
Most of the users are satisfied with the performance of the Suzuki GS 150SE. They found it stylish and a powerful bike. Its performance is the best, and it delivers the best ride quality no matter how rough road conditions. People also use it in Northern areas and are happy with its performance. The engine of Suzuki GS 150SE is durable, which makes it a budget-friendly bike when talking about its maintenance cost which is a bit high w.r.t Honda Motor-bikes. Some people don't find it comfortable and don't consider it habitable, and it tires you while riding the bike. The fuel economy of GS 150SE is also not very good, and it gives less mileage when driving in city traffic but this cannot be a negative point as it is a 150cc motorbike. This bike is more suitable for touring purposes and long-route journeys while it does not fit regular city routes and chores, because the working person always needs a high fuel economy ride. The price of Suzuki GS 150SE is also considered a bit high for the customers.
Major Competitors:
Yamaha YBR 150
Super Power PK 150 Archi
Crown fit 150
Derbi STX 150.