2023 Road Prince Shift 125 cc
Sold in Pakistan = 2015-Present

Technology = Euro-II

Road Prince official Contact = 

042-111-773-375
2023 Road Prince Shift 125 cc Price in Pakistan
Price Effective From 15-Feb-2023 
Road Prince Shift 125 cc

145,500

PKR
The Road Prince 125 is a fantastic bike with Euro II technology and is based on Japanese technology that could be considered better than Chinese technology. The 125cc bikes are undoubtedly famous among youth, and there are other 125cc bikes in the markets as well, but Road Prince 125 is a fantastic chic that is durable, stylish, and less expensive. It gives you powerful performance and produces less environmental pollution because of the Euro II technology. The Road Prince 125 comes with a black-colored silencer that gives an electrifying sound and gives you a feel of a sporty bike. It makes your ride more thrilling and adventurous. The speedometer is now more stylish, and new graphic stickers are added to it. The bike has a more durable tube and a firm grip of the rear wheel that makes your ride more reliable and durable. The bike comes with kick-start technology and has improved shock absorbers in the front and rear. It is available in red and black exterior colors. The clutch lever is more durable, and the front light has an elegant design while the footrest is strong and the seat is more comfortable now. The price of Road Prince 125 is also economical as compared to its competitors in the markets.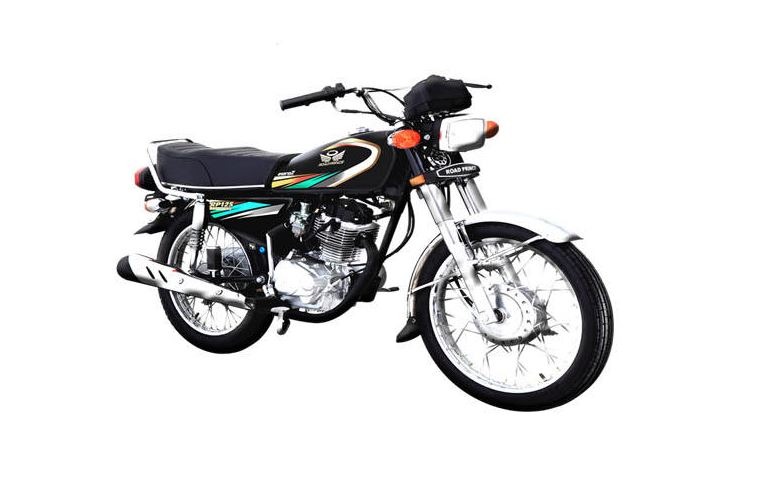 Performance & Ride:
The Road Prince 125 has a 4-stroke, OHV, air-cooled, 125cc engine with Euro II technology. It offers a four-speed transmission and gives you a smooth ride even when riding it over uneven roads as the gear changes smoothly. It comes with drum-type brakes and applies efficiently, even when brakes are applied abruptly in traffic. The bore and stroke are 56.5 millimeters x 49.5 millimeters, and clutch plates are wet multi-plate with left hand worked. It can carry a dry weight of up to 120 kilograms and comes with kick-start technology. The electric-start technology is not offered yet, but the rider can start the bike conveniently with a single kick. It has efficient shock absorbers on the front and rear so you can ride it over all types of roads and does not disturb the comfort of the journey. It is suitable for both long-route travel and for traveling within the cities. It is a perfect bike that fulfills your adventures and makes your ride thrilling. The rear wheel has a durable wider tire and gives you a stronger grip on roads so, so your ride is more durable.
Mileage & Top Speed:
The fuel economy of Road Prince 125 is impressive & good as other bikes of the same class, and it gives you a mileage of 45 kilometers per liter and can hold fuel up to 10 liters in the tank. It has a lubricating oil capacity of 1100 milliliters. The 125 Road Prince gives you a maximum speed of up to 105-115 kilometers per hour which provides you with a feel of a sporty ride but, it gives an efficient performance at up to 60 to 70 kilometers per hour.
Exterior Design & Build Quality:
The overall design of Road Prince 125 is unchanged, but it has been introduced with some minor changes. The front light is kept intact and designed elegantly, while the speedometer is stylish and colorful and clearly shows the entire vehicle's information. The clutch lever is durable, and the footrest is strong. The turn signal has a yellow light, while the brake light has red and orange side reflectors. The black-colored silencer looks quite sporty, and the wheels are stylish in appearance. The rear seat is made more comfortable and spacious so that you can take 2-passengers conveniently with you, and uneven roads do not compromise the comfort of your journey.
User Reviews:
It is a good option among other 125cc bikes. Most users of Road Prince 125 love the bike's performance, and they prefer it over Honda bikes but of less price. It gives you impressive fuel efficiency and gives you all the features of the Honda 125cc bike at a budget-friendly price. The durability and reliability of Road Prince 125cc are good. The maintenance value of Road Prince 125 cc is not so high because its spare parts are readily available in markets at a low price, and its resale value is also good.
Major Competitors:
ZXMCO 125 Stallion
Crown 125
Hero RF 125
Metro MR 125
Osaka Af 125