2023 Yamaha YBR 125 & 125 G
Sold in Pakistan = 2015-Present
Technology = 4 Stroke Euro-II
2023 Yamaha YBR 125 Price in Pakistan
Price Effective From 02-May-2023
The Yamaha YBR125 was launched in April 2015 in Pakistan, followed by Yamaha YBR125G in September 2015. The power trains of both bikes are similar, but they differ in their basic design. The Yamaha YBR125G' design was based on trail bikes of old times with increased ride height and off-road mudguard. The new Yamaha YBR125 is a mechanical stunner and provides better safety to its passengers even when driving on rough roads. It is a sporty model of Yamaha that comes with an attractive design. It offers an alluring speedometer and halogen headlamps. It comes in three color options that are blue, red, and black. It provides a self-start mechanism and a kick-start mechanism for your convenience. It comes with a 5-speed manual transmission. The Yamaha YBR125G comes with new graphics that look beautiful and take your sporty ride to a new level. A 5-step adjustable suspension, long shock absorbers, unique double front fenders, and a block pattern tire in Yamaha YBR125. The  Yamaha YBR125 comes with cast wheels with disc brakes at the front, a sporty seat, an adjustable rear suspension, an engine balancer, and an electric starter. You can book your Yamaha YBR125 and Yamaha YBR125G at any Yamaha dealership showroom or on the Daraz website.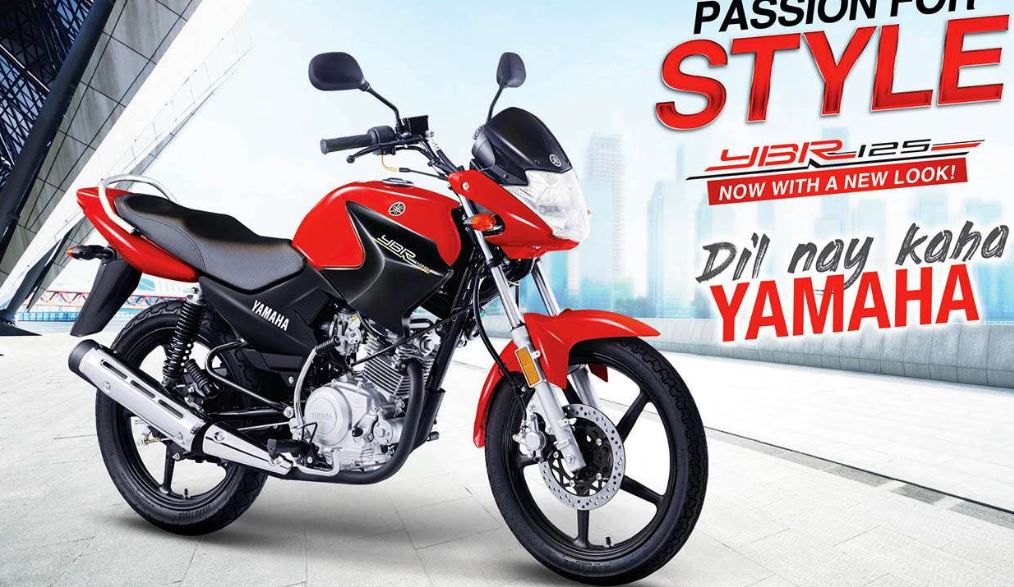 Performance & Ride:
Both the bikes get their power from an OHC, 125cc, air-cooled engine with a displacement of 124cm3 and a CDI injection system. The suspension at the front is telescopic and at the rear is a swing arm that provides an exceptional suspension system and rides the bike efficiently even on rough roads. The engine balancer in the motorbike keeps the engine's vibration under control to ensure a smooth ride for you even when you are on a long-route journey. The YBR125 comes with electric starter technology. The comfort of the rider is ensured. He can start the bike quickly without using a tiresome kick-start mechanism, especially riding in dense traffic. The halogen headlights that come in YBR125 give the rider extra confidence by illuminating your way brightly no matter how dark the road is. The braking system is also efficient with disc brakes at the front and drum brakes at the rear that applies smoothly. It offers a five-speed manual transmission that comes with smooth gear changes and makes the ride smooth on every type of road. The bike comes with special tires that give a sturdier grip on roads and fulfilling all your adventures. The engine guard that covers the engine protects the engine, and the engine is powerful enough to give you a powerful performance. This sports bike is in short best for all adventures, giving you a quality ride on long-route journeys and daily city rides.
Fuel Economy & Top Speed:
The Yamaha YBR125 and Yamaha YBR125G give you better than expected mileage with their 13 liters of fuel tank. It gives you a mileage of 50-60 kilometers per liter which is quite impressive. It gives you a top speed of up to 112 kilometers per hour.
Exterior Design & Build Quality:
The main difference between Yamaha YBR125 and Yamaha YBR125G occurs in its design, and the Yamaha YBR125G has special double front fenders, round halogen headlamps to brighten the road, and cast wheels with a chrome protector muffler to give it a more stylish look. The alluring gear induction and fuel gauge provide information about the bike's running. The seat height is increased, and its sporty seat is comfortable enough to give a relaxing journey. The Yamaha YBR125 has a square halogen headlamp with a smoked shield on the front except for the round headlamp, and the graphics are different from the Yamaha YBR125. It comes with eye-catching cast wheels with eighteen-inch tires. The bike's Build Quality is exceptional, giving you an exhilarating experience, and fulfilling all your wildest dreams.
User Reviews:
The Yamaha YBR125 and Yamaha YBR125G are beyond every other bike and are the hero of all 125cc bikes. Most of the users are satisfied with the performance of both bikes. It gives you a comfortable ride with a reliable journey, and the fuel economy of the YBR 125 is quite economical. The price of Yamaha YBR125 is also impressive which gives you all in one package. All users love the fuel efficiency of the Yamaha YBR125 and Yamaha YBR125G. The maintenance of the bikes is a bit expensive but not too high. Recently it has been seen that Yamaha Bikes have become the most used bike for long trips in Pakistan because of the ride quality and suspension system combined with fuel economy.
Major Competitors: