2023 Yamaha YBR 125 & 125G
Sold in Pakistan = 2015-Present
Technology = 4 Stroke Euro-II
2023 Yamaha YBR 125 Price in Pakistan
Price Effective From 06-Sep-2023
The Yamaha YBR125 and Yamaha YBR125G were introduced to the Pakistani market in April 2015 and September 2015, respectively. Although both bikes share similar powertrains, they have distinct designs that cater to different preferences and riding styles. The Yamaha YBR125G takes inspiration from classic trail bikes, featuring an increased ride height and an off-road mudguard. This design allows riders to venture off-road and tackle rough terrains with ease. The Yamaha YBR125G emphasizes safety and durability, ensuring a reliable performance even on challenging roads.
On the other hand, the Yamaha YBR125 is a mechanical stunner that combines sportiness with an attractive design. It offers a speedometer that adds a touch of sophistication to the bike's overall aesthetics. The halogen headlamps provide excellent visibility during nighttime rides, ensuring rider safety. The Yamaha YBR125 is available in three color options, namely blue, red, and black, allowing riders to choose the one that best suits their personal style. Both models are equipped with a self-start mechanism and a kick-start mechanism, providing convenience and flexibility in starting the engine. The bikes feature a 5-speed manual transmission, enabling riders to effortlessly shift gears and adapt to different riding conditions.
The Yamaha YBR125G introduces new graphics that enhance its overall appearance, giving the bike a sporty and eye-catching look. Notable features of the Yamaha YBR125G include a 5-step adjustable suspension, long shock absorbers, unique double front fenders, and a block pattern tire. These features contribute to improved off-road performance and stability. The Yamaha YBR125 emphasizes sportiness and comfort. It is equipped with cast wheels, front disc brakes, a sporty seat, an adjustable rear suspension, an engine balancer to reduce vibrations, and an electric starter for ease of use. To purchase either the Yamaha YBR125 or Yamaha YBR125G, interested individuals can visit Yamaha dealership showrooms or make bookings online through platforms like the Daraz website.
Overall, both the Yamaha YBR125 and Yamaha YBR125G offer distinct features and designs, catering to riders with different preferences and riding needs.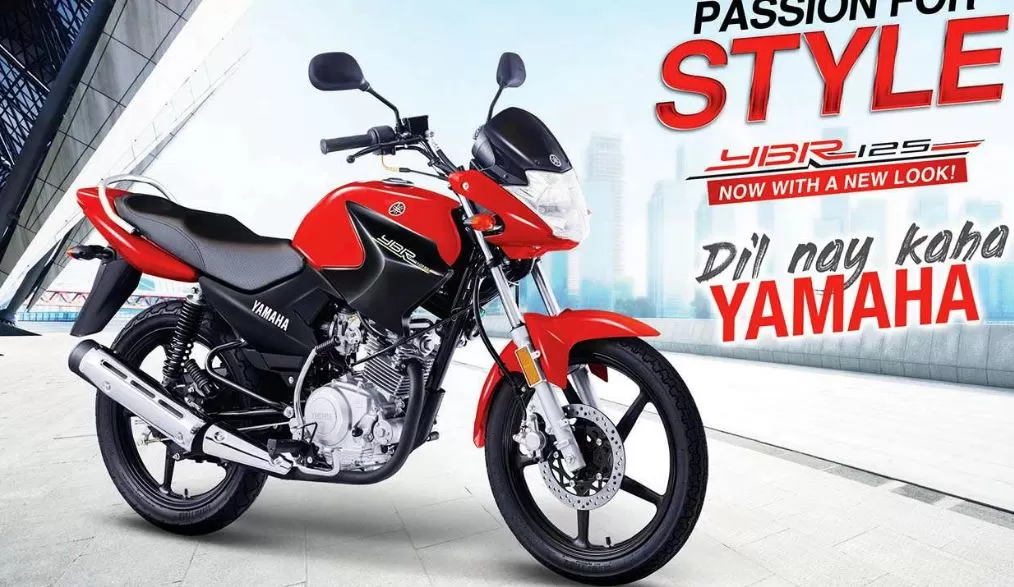 Performance & Ride:
Both the Yamaha YBR125 and Yamaha YBR125G are powered by an OHC, 125cc, air-cooled engine with a displacement of 124cm3. This engine configuration, combined with a CDI injection system, ensures efficient fuel delivery and optimal performance. The front suspension of the motorcycles features telescopic forks, while the rear suspension consists of a swing arm. This suspension setup provides exceptional performance, absorbing shocks and vibrations even on rough and uneven roads. The well-designed suspension system contributes to a comfortable and smooth ride for the rider and passenger.
To enhance ride quality, the Yamaha YBR125 and Yamaha YBR125G are equipped with an engine balancer. This feature effectively minimizes engine vibrations, ensuring a smoother and more enjoyable riding experience, particularly during long journeys. The Yamaha YBR125 comes with electric starter technology, allowing riders to start the bike quickly and conveniently, eliminating the need for a tiring kick-start mechanism. This proves especially useful in dense traffic or when frequent stops and starts are required. The inclusion of electric starter technology enhances rider comfort and convenience. Illumination is a crucial aspect of safe riding, and the Yamaha YBR125 addresses this with its halogen headlights. These headlights provide bright and clear illumination, ensuring excellent visibility on dark roads and promoting rider confidence.
The braking system of both bikes is efficient, with disc brakes at the front and drum brakes at the rear. This combination offers reliable and smooth stopping power, enhancing overall safety while riding. A five-speed manual transmission is featured in both models, allowing riders to shift gears smoothly and effortlessly. This transmission ensures optimal power delivery and adaptability to various road conditions. The Yamaha YBR125 and Yamaha YBR125G are equipped with special tires designed to provide a sturdy grip on roads, enhancing overall stability and control. These tires contribute to a safe and enjoyable riding experience, whether on adventurous journeys or daily city rides. Furthermore, the motorcycles are equipped with an engine guard, which serves to protect the engine from potential damage. The powerful engine in these bikes delivers impressive performance, providing riders with the power and capability for their desired adventures.
In summary, both the Yamaha YBR125 and Yamaha YBR125G offer a sporty and adventurous ride, with powerful engines, efficient braking systems, comfortable suspensions, and features that prioritize rider comfort, safety, and control. These motorcycles are designed to deliver a quality ride, whether on long journeys or daily city commutes.
Fuel Economy & Top Speed:
The Yamaha YBR125 and Yamaha YBR125G give you better than expected mileage with their 13 liters of fuel tank. It gives you a mileage of 50-60 kilometers per liter which is quite impressive. It gives you a top speed of up to 112 kilometers per hour.
Exterior Design & Build Quality:
The Yamaha YBR125 and Yamaha YBR125G indeed have distinct design elements that set them apart from each other. The Yamaha YBR125G features special double front fenders, which not only add to its visual appeal but also provide additional protection from dirt and debris when riding off-road or on rough terrains. The round halogen headlamps on the Yamaha YBR125G illuminate the road ahead, ensuring clear visibility in various lighting conditions. The cast wheels of the Yamaha YBR125G come with a chrome protector muffler, further enhancing its stylish and attractive appearance. In terms of instrumentation, both bikes feature gear induction and fuel gauges, providing riders with essential information about the bike's running status. This allows riders to stay informed and make necessary adjustments during their rides.
The seat height of the Yamaha YBR125G is increased compared to the Yamaha YBR125, offering riders a more commanding and comfortable seating position. The sporty seat design adds to the overall aesthetic appeal and ensures a relaxing journey for the rider. On the other hand, the Yamaha YBR125 features a square halogen headlamp with a smoked shield, which gives it a distinct look compared to the round headlamp found on the Yamaha YBR125G. The graphics on the Yamaha YBR125 are different from those on the Yamaha YBR125G, further differentiating the two models. Additionally, the Yamaha YBR125 is equipped with eye-catching cast wheels that come with eighteen-inch tires, providing a balance of style and functionality. Both the Yamaha YBR125 and Yamaha YBR125G exhibit exceptional build quality, ensuring durability and reliability on various terrains. These motorcycles aim to deliver an exhilarating riding experience and fulfill the desires of riders, whether it's for everyday commuting or chasing thrilling adventures.
In summary, the Yamaha YBR125 and Yamaha YBR125G offer unique design features, instrumentation, and seating arrangements. These motorcycles are built to provide riders with an exciting and enjoyable experience while fulfilling their dreams of stylish and reliable transportation.
User Reviews:
The Yamaha YBR125 and Yamaha YBR125G have gained a strong reputation among riders, making them standout choices among 125cc motorcycles. Users have expressed high levels of satisfaction with the performance of both bikes, citing factors such as comfort, reliability, and fuel economy. The Yamaha YBR125 and Yamaha YBR125G provide a comfortable riding experience, ensuring that riders can enjoy their journeys without compromising on comfort. The bikes are designed to offer a reliable performance, instilling confidence in riders as they navigate various terrains. One notable aspect of both models is their fuel efficiency. Users appreciate the economical fuel consumption of the Yamaha YBR125 and Yamaha YBR125G, as it helps minimize fuel expenses and provides cost-effective transportation.
Furthermore, the price point of the Yamaha YBR125 is considered impressive, as it offers a comprehensive package that combines performance, comfort, and value for money. This factor has contributed to the popularity of these bikes among riders seeking a well-rounded and affordable option. While the maintenance costs of the Yamaha YBR125 and Yamaha YBR125G may be slightly higher compared to some other motorcycles, users generally do not consider them excessively high. The overall ownership costs remain reasonable, considering the bikes' performance and the benefits they offer. In recent times, there has been a noticeable increase in the use of Yamaha bikes, including the Yamaha YBR125 and Yamaha YBR125G, for long trips in Pakistan. This can be attributed to the combination of factors such as ride quality, suspension systems, and fuel economy, making these motorcycles particularly well-suited for extended journeys.
Overall, the Yamaha YBR125 and Yamaha YBR125G have earned a reputation as reliable, comfortable, and fuel-efficient bikes. They offer a compelling package that caters to the needs of riders seeking a versatile and economical mode of transportation, making them popular choices for long trips and daily commuting in Pakistan.
Major Competitors: