2023 United US 125 Euro II
Sold in Pakistan = 2018-Present
Technology = Euro-II
2023 United US 125 Euro II Price in Pakistan
Price Effective from 11-April-2023
| | |
| --- | --- |
| United US 125 Euro II  | 154,000 PKR |
The United US 125 is one of the best bikes by United Company, and it was introduced for those customers who were demanding a fuel-efficient powerful bike alternative to Honda 125. The name United US 125 Euro II emphasizes the Euro II technology introduced in the motorbike, which is engineered exclusively to fulfill your mileage requirements. United has given the best option to customers who are looking for a 125cc bike. It provides tough competition to Ravi Piaggio Storm 125, Hero RF 125, Honda CG 125, Yamaha YBR 125, and Unique UD 125. It attracts its customers because of its lowest price tag. Customers, who are looking for a 125cc bike and do not have much budget, choose United US 125. The United US 125 comes with a new design of the fuel tank. It is available in red and black exterior colors. It offers a kick-start technology, and 2 liters of fuel reserve, while the fuel tank capacity is also significant. It comes with a capacitor discharge ignition system and offers a 4-speed transmission. The United US 125 comes with a beautiful seat at the rear that has a grip to support the passengers.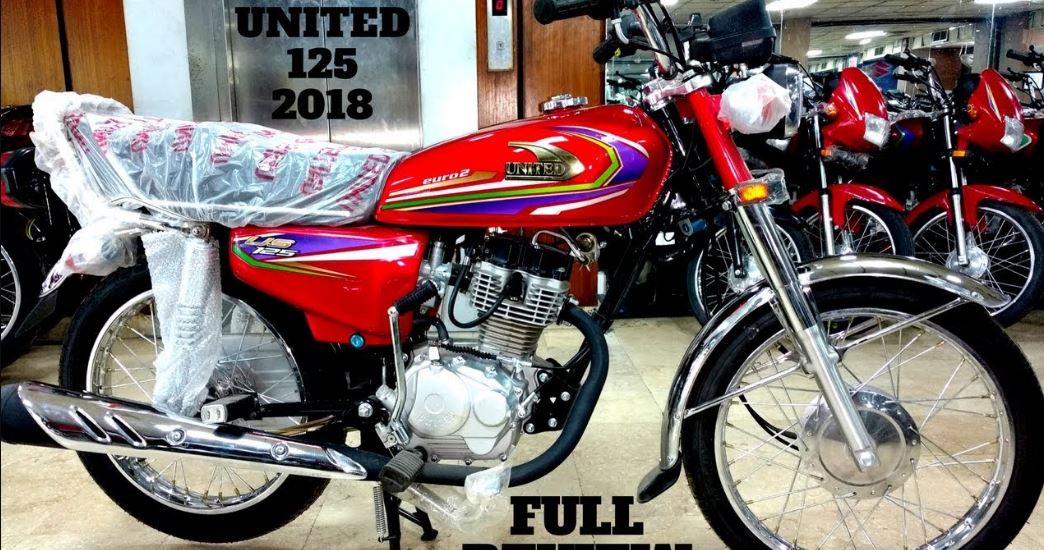 Performance & Ride:
The United US 125 gets its power from a 4-stroke, OHV, air-cooled, 125cc engine with a capacitor discharge ignition system, and the 4-speed transmission is efficient enough to deliver a smooth performance. You can move your bike smoothly in traffics and at high speeds with precise gear changes. The United 125 is best-suited for long journeys as it has a large fuel tank and offers 2 liters of reserve fuel with an engine oil capacity of 1 liter. The bike comes with a newly designed muffle that provides more road grip and better performance, and the stability of the ride is maintained with its good tires that provide extra road grip. The United US 125 comes with a kick-start technology and does not offer electric-start technology, but a single kick is enough to start the bike without any hassle. The shock absorbers of United US 125 are also improved so you can run the motorbike smoothly over uneven roads and paths. The brakes at the front and rear are mechanical drums, but make the braking system efficient and are applied conveniently without disturbing the passenger's comfort.
Mileage & Top Speed:
The United US 125 Euro II gives you a mileage of 50 kilometers per liter with a fuel tank capacity of 9 liters. It may give you a top speed of 100-120 kilometers per drive, but the ride's efficiency slows down when riding at higher rates.
Exterior Design & Build Quality:
The United US 125 is good-looking introduced with a new shape of the United logo added to it, and the colorful stripes on the bike look striking. It has stainless steel mudguard and steel wheel that are eighteen inches in size and look beautiful. The front end has an impressive headlight and beautiful handlebars, while the speedometer is quite stylish. The fuel gauge indication tells you about the remaining fuel, and the rear taillight is made equally attractive. The seat is designed beautifully, and it comes with a back grip. The seat is spacious to accommodate your small family, and the seat height is also adjusted ergonomically. The seat is comfortable so you can enjoy your long-route journeys. The build Quality of United US 125 is also good as it gives you a reliable and durable performance.
User Reviews:
Customers like the style and fuel average of United US 125 Euro II. Unfortunately, it gives you lower mileage than claimed. The users are disappointed that it provides a mileage of 30 to 35 kilometers per liter which is much less, and it may also give vibrations that cause bolts to come out. The quality of the bike is much lower than its competitors, and it does not compete with Honda's much better quality bikes. The performance is not as smooth as you expect. The maintenance value of the United US 125 Euro II is also high. The resale value of the United US 125 Euro II is also not good.
Pros:
Less Expensive
Same Shape as Honda CG 125
Good Sound
Good Comfort
Cons:
Low Mileage
Engine Noise
A lot of Vibration
Low Quality
No Resale Value
Totally Unsatisfying
It less Initial Pick as compared to Honda CG125
Slightly Underpowered
Major Competitors: