2023 Yamaha YB 125Z-DX
Sold in Pakistan = 2018-Present
Technology = Euro-II Carburettor
2023 Yamaha YB 125Z DX  Price in Pakistan
Price Effective From 06-Sep-2023
| | |
| --- | --- |
| Yamaha YB125z-DX | 396,000/- PKR |
| Yamaha YB125z | 423,500/- PKR |
The Yamaha YB125Z was initially introduced in April 2017 in Pakistan, followed by the launch of the Yamaha YB125DX in 2020. Both motorcycles share similar powertrains and are equipped with five-speed manual transmissions, offering riders versatility and control over their riding experience. The key distinction between the two lies in their basic design. The Yamaha YB125Z is available in three color options: vivid cocktail red, racing blue, and metallic black. In contrast, the YB125DX is offered in cocktail red and metallic black. Both models feature the alluring down gear shift pattern, which sets them apart from their competitors and adds to their visual appeal.
The Yamaha YB125DX boasts several additional features compared to the original Yamaha YB125Z. These include a longer and wider seat, an extended mud flap, a round halogen headlamp, a front disc brake, cast wheels, and an electric start system. These enhancements contribute to improved comfort, convenience, and overall performance. On the other hand, the Yamaha YB125Z distinguishes itself by offering different graphics and minimizing engine vibrations. It also incorporates gear indication, a fuel gauge, and a trip meter for added convenience. Notably, the YB125Z features alloy wheels, front disc brakes, and a mud flap on the front fender. Additionally, a new sticker has been added to enhance its visual appeal.
While the Yamaha YB125DX offers additional features and upgrades, it is priced higher than the original Yamaha YB125Z. However, it remains competitively priced compared to similar motorcycles in the market.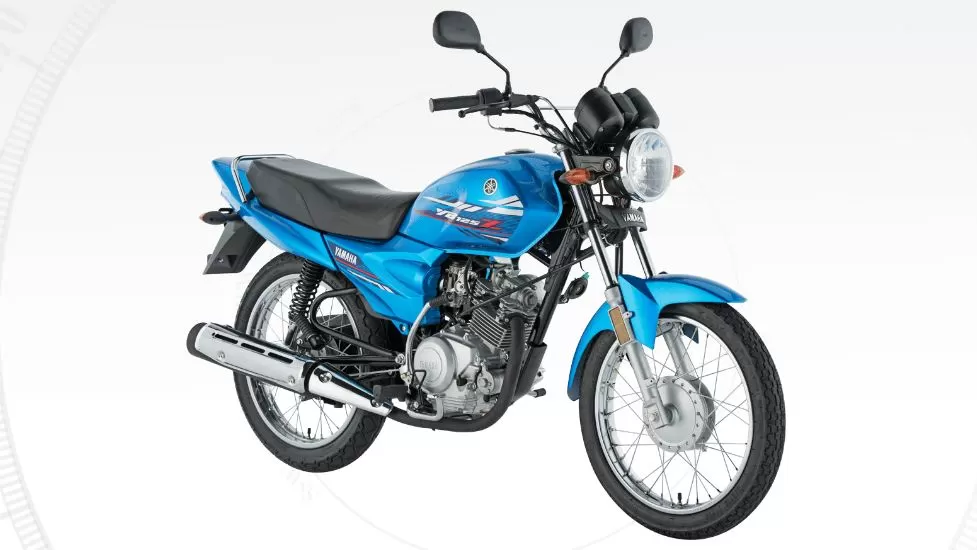 Performance & Ride:
Both the Yamaha YB125Z and YB125DX motorcycles are equipped with a reliable 125cc, air-cooled, 4-stroke engine with a displacement of 124cm3. This engine configuration delivers a balance of power and efficiency suitable for various riding conditions. The five-speed transmission ensures smooth gear shifting, allowing riders to easily adapt to different speeds and road conditions.
In the Yamaha YB125Z, the adjustable rear suspension plays a crucial role in providing a comfortable and smooth ride. Whether riding alone or with a passenger, the suspension system efficiently absorbs bumps and road imperfections, ensuring a pleasant experience for both rider and passenger. Additionally, the electric start technology eliminates the hassle of kick-starting, allowing riders to effortlessly start the bike with the push of a button. The engine balancer minimizes vibrations, further enhancing the overall comfort and smoothness of the ride. The all-downshift gear pattern offers convenient gear changes, giving riders the freedom to shift gears comfortably according to their preference. This versatility makes the Yamaha YB125Z suitable for daily commuting as well as long-distance journeys.
On the other hand, the Yamaha YB125DX introduces new front disc brakes, enhancing the efficiency of the braking system and providing improved stopping power. The YB125DX features an OHC engine that delivers smooth running with minimal vibrations. This, combined with the bike's fuel efficiency and Euro technology, ensures an economical and eco-friendly ride. The ground clearance of 145 millimeters contributes to a smooth ride over various road surfaces, while the seat height is designed to allow riders to comfortably handle long-route journeys and easily place their feet on the ground when stopping at signals.
Both the Yamaha YB125Z and YB125DX are designed to offer riders a comfortable, efficient, and enjoyable riding experience. These motorcycles incorporate features and technologies that prioritize rider comfort, fuel efficiency, and reliable performance, making them versatile choices for various riding needs.
Mileage & Top Speed:
The Yamaha YB125Z is a fuel-efficient bike that gives you a mileage of 60 kilometers per liter. The motorbike can give you a top speed of up to 102 kilometers per hour, but the engine delivers its best fuel economy at 60 to 70 kilometers per hour.
Exterior Design & Build Quality:
The Yamaha YB125Z and YB125DX share a similar foundational design, but the Yamaha YB125DX incorporates several new upgrades to enhance its overall appeal and performance. The Yamaha YB125Z measures approximately 1980 millimeters in length and 735 millimeters in width, providing a balanced and compact size for maneuverability on various terrains. The Yamaha YB125Z is equipped with a long and wide seat, boasting a height of 770 millimeters. This design consideration caters to family use, offering ample space to accommodate passengers, including children. The broad width of the seat serves another purpose by reducing the impact of shocks when traversing rough or uneven roads, ensuring a more comfortable ride for both rider and passengers.
Illumination during nighttime rides is facilitated by the Yamaha YB125Z's round-halogen headlamp, equipped with a halogen light source. This lighting setup provides sufficient brightness to illuminate the streets, particularly in foggy conditions, enhancing visibility and promoting safer riding experiences. Additionally, the bike features two circular meters, keeping riders informed about crucial information such as fuel levels, speed, and gear indication. In the case of the Yamaha YB125DX, notable upgrades include a visually appealing new sticker design and alloy cast wheels. The addition of the new sticker enhances the bike's aesthetic appeal, giving it a fresh and attractive appearance. The alloy cast wheels not only contribute to the bike's visual appeal but also provide durability and improved performance.
Furthermore, the Yamaha YB125DX features an extended mud flap and front disc brakes. The extended mud flap helps to minimize splashes and protect the rider from debris while riding on wet or muddy surfaces. The inclusion of front disc brakes enhances the braking system's efficiency, allowing for better stopping power and improved overall safety. Both the Yamaha YB125Z and YB125DX prioritize build quality, ensuring the use of high-quality materials in their construction. This attention to quality results in motorcycles that are reliable, durable, and capable of withstanding the demands of regular use. Moreover, the utilization of high-quality fabrics and materials contributes to a more comfortable riding experience, enhancing overall rider satisfaction.
In summary, the Yamaha YB125Z and YB125DX share a fundamental design but offer distinct enhancements and features. These motorcycles prioritize functionality, comfort, and style, making them appealing choices for riders seeking reliable and enjoyable rides.
User Reviews:
The Yamaha YB125Z and Yamaha YB125DX have garnered positive feedback from many users who appreciate their performance, comfort, and stylish appearance. These motorcycles are considered ideal for family use, offering a smooth and comfortable ride even on long journeys. The bikes' reliability and user-friendly features contribute to an enjoyable riding experience. However, it's worth noting that some customers have reported lower fuel efficiency than the estimated 60 kilometers per liter. Instead, they have experienced an average mileage of around 45 kilometers per liter. While this figure is slightly lower than expected, it is still considered acceptable and does not significantly diminish the overall value and appeal of these motorcycles.
It's important to remember that fuel efficiency can vary depending on several factors, including riding style, road conditions, traffic, and maintenance practices. Therefore, individual mileage may vary among different users. Nonetheless, achieving an average of 45 kilometers per liter is still commendable for a motorcycle and can result in cost savings over time compared to less fuel-efficient models.
Overall, the Yamaha YB125Z and Yamaha YB125DX continue to be regarded as reliable, comfortable, and stylish options for riders. While some customers may have experienced slightly lower fuel efficiency, the overall performance and positive feedback from users underline their value and appeal in the market.
Major Competitors: