2023 Vespa Primavera 150
Sold in Pakistan = 2021-Present
Technology = 4-Stroke Single Cylinder Air Cooled with Electronic Injection
2023 Vespa Primavera 150 Price in Pakistan 
| | |
| --- | --- |
| Vespa Primavera 150cc | 80,000,0/- PKR |
Vespa Pakistan has been introduced through a collaboration between Ravi Automobiles and Piaggio Italy. Renowned as an iconic brand in the world of scooters, Vespa has enthralled generations with its timeless appeal. Among the esteemed models offered by Vespa, the Vespa Primavera 150 stands out as a popular choice. Manufactured by Piaggio, the parent company of Vespa, the Primavera 150 seamlessly combines classic Vespa design elements with modern advancements in performance and features. Powering the Primavera with a 150cc engine, providing ample power for both urban commuting and longer journeys. Its performance strikes a balance between efficiency and spirited riding. Retaining the quintessential Vespa design, the Primavera 150 exhibits a sleek and timeless aesthetic. Its elegant appearance is complemented by a steel monocoque chassis, which adds strength and durability to the scooter's structure.
Embracing modern technology, the Vespa Primavera 150 incorporates various features to enhance the riding experience. LED lighting ensures clear visibility, while a digital instrument cluster provides easy access to essential information. For those seeking connectivity, the scooter offers an optional multimedia platform known as the Vespa Mia system. By linking your smartphone, you can access a range of features, further enhancing convenience and entertainment during your rides. Comfort is prioritized in the design of the Primavera 150. The scooter offers a spacious seat for the rider, ensuring a relaxed posture and enjoyable rides. Additionally, ample under-seat storage and a convenient glove compartment allow riders to carry their belongings securely. The Primavera 150 also emphasizes safety with a front disc brake and a rear drum brake, ensuring efficient stopping power. To further enhance safety, the scooter is equipped with advanced features like an anti-lock braking system (ABS) and a traction control system (TCS). These systems work in unison to improve stability and control, especially during braking and acceleration, providing riders with added confidence on the road.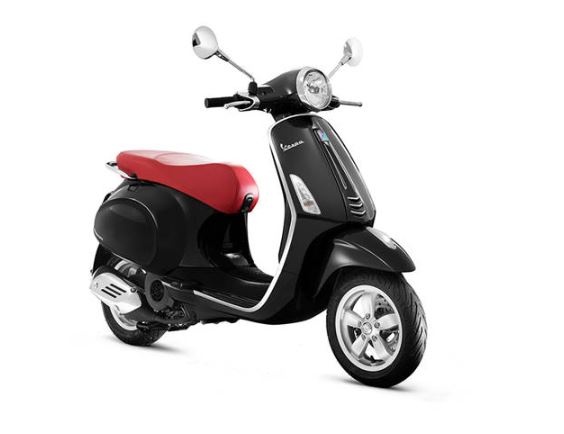 The reintroduction of Vespa in Pakistan through the launch of the Vespa Primavera 150 in collaboration with Ravi Automobiles marks a significant milestone. With its blend of classic design, modern features, and enhanced performance, Vespa is poised to make a lasting impression in the Pakistani market.
Engine & Performance:
The Vespa Primavera 150, designed in collaboration with Ravi Automobiles and Piaggio Italy, is equipped with a robust 150cc single-cylinder, air-cooled engine. This powertrain strikes a harmonious balance between performance and efficiency, catering to the needs of urban commuters and enthusiasts embarking on longer rides. With a power output of 9.5 hp at 7000 RPM and a torque of 12.8 Nm at 6500 RPM, the Primavera 150 delivers responsive acceleration and a satisfying riding experience. Starting the scooter is a breeze, thanks to its electric start technology, ensuring quick and convenient ignition even at traffic signals. In terms of fuel efficiency, the Primavera 150 boasts an average of 50 kilometers per liter, allowing riders to cover substantial distances on a single tank of fuel. Speaking of distances, the scooter is capable of reaching a top speed of 90 kilometers per hour, enabling smooth cruising on highways and open roads. Its fuel tank capacity of 8 liters ensures that riders can venture further without frequent refueling.
To minimize vibrations and provide a refined riding experience, the Primavera 150 is equipped with an automatic dry centrifugal clutch featuring dampers. This system effectively reduces vibrations, allowing for a smooth and enjoyable ride. One of the notable aspects of the Vespa Primavera 150 is its nimble and maneuverable nature. Its lightweight construction makes it particularly agile in navigating through congested city traffic and effortlessly weaving through tight spaces. This attribute enhances the scooter's overall handling and responsiveness, contributing to rider confidence and ease of operation. The Primavera 150's suspension system is thoughtfully designed to ensure a comfortable ride, effectively absorbing bumps and road imperfections. The seating position and ergonomics are carefully considered to prioritize rider comfort during longer journeys, minimizing fatigue and promoting a relaxed posture. The scooter incorporates a single-arm, coil-spring front suspension system that excels at absorbing shocks and vibrations from the road. This setup enhances rider comfort, providing a smooth and stable ride even on uneven surfaces. The suspension system works in harmony with the scooter's overall design and construction, offering optimal balance and handling characteristics.
The Vespa Primavera 150's rear suspension incorporates a coil-spring, dual-shock absorber setup, which plays a crucial role in maintaining the scooter's overall stability and delivering a smoother ride. By effectively dampening the impacts from uneven road surfaces, this suspension configuration enhances rider comfort and confidence, allowing for a more enjoyable riding experience. The combination of the front and rear suspension systems provides a balanced and responsive feel, ensuring that the scooter handles well in various road conditions. When it comes to braking, the Vespa Primavera 150 is equipped with a reliable and efficient braking system. At the front, it features a hydraulic disc brake, which offers strong and consistent braking performance. This setup ensures that the scooter can come to a halt quickly and safely when necessary, instilling confidence in the rider. The disc brake's responsive nature and precise modulation allow for effective control over the braking process. At the rear, the Primavera 150 utilizes a drum brake. While drum brakes may not provide the same level of stopping power as disc brakes, they are known for their durability and low maintenance requirements. The rear drum brake still offers sufficient braking performance for most urban riding scenarios, ensuring that riders can slow down and come to a controlled stop with ease. In certain versions of the Vespa Primavera 150, riders may also find the inclusion of a Combined Braking System (CBS). This braking technology applies braking force to both the front and rear wheels simultaneously when the rider activates the rear brake. The CBS enhances stability and control during braking, particularly in emergency situations, by distributing braking force to both ends of the scooter. This feature ensures that the scooter maintains balance and reduces the risk of skidding or loss of control during abrupt stops.
Overall, the suspension system and braking setup of the Vespa Primavera 150 are designed to offer a blend of comfort, stability, and control. Whether navigating through urban streets or embarking on longer journeys, riders can rely on the Primavera 150's suspension and braking systems to provide a smooth and safe riding experience. The Vespa Primavera 150 combines its powerful and efficient engine with agile handling and a well-designed suspension system to deliver a comfortable and enjoyable riding experience. Its thoughtful engineering and attention to detail make it a popular choice among scooter enthusiasts.
Exterior Design & Build Quality:
The Vespa Primavera 150 exudes elegance and style, combining classic Vespa design elements with modern features. Its iconic design has stood the test of time and continues to captivate riders of all generations. Manufactured with precision and craftsmanship, the Primavera 150 showcases the quality and attention to detail that Vespa is renowned for. The Primavera 150 retains the signature Vespa silhouette, characterized by its curvaceous body and sleek lines. Its steel monocoque chassis not only ensures robustness and durability but also adds to the scooter's visual appeal. The use of steel body panels further enhances its premium and retro look, giving it a timeless charm. At the front, the Primavera 150 boasts a rounded design, complemented by a chrome-plated crest on the front mudguard, exuding an air of sophistication. The round headlamp and integrated turn indicators seamlessly blend into the scooter's overall aesthetics, creating a harmonious and refined appearance.
While staying true to its classic heritage, the Primavera 150 incorporates modern design elements that enhance its overall appeal. The inclusion of LED lighting for the front and rear lights not only provides better visibility but also lends a contemporary touch to the scooter's overall look. The use of LED lights also offers energy efficiency, reflecting Vespa's commitment to sustainability. One of the defining features of the Vespa Primavera 150 is the wide array of color options available. Riders can choose from classic Vespa colors, vibrant shades, and stylish metallic finishes, allowing them to express their individuality and personal style through their scooter's appearance. Vespa's dedication to excellence is evident in the Primavera 150's build quality. Every detail is meticulously crafted to ensure a high-quality and durable scooter. Vespa scooters are known for their longevity, and the Primavera 150 is no exception. With regular maintenance and care, this scooter can accompany riders on their journeys for many years, becoming a reliable and cherished companion.
In conclusion, the Vespa Primavera 150 showcases an exquisite blend of classic Vespa design and modern features. Its timeless appeal, attention to detail, and high build quality make it a coveted choice for riders seeking a stylish, reliable, and enduring scooter.
User Reviews:
Reviews of the Vespa Primavera 150 offer valuable insights from riders and experts who have firsthand experience with the scooter. The overall feedback for the Primavera 150 is positive, highlighting its iconic Vespa design, timeless aesthetics, and attention to detail. Reviewers appreciate the classic yet modern appearance, noting the high-quality finishes and stylish elements that make the scooter stand out. The performance of the 150cc engine is generally regarded as satisfactory for city commuting and occasional longer rides. The power output is deemed sufficient for navigating through urban traffic, offering a smooth and enjoyable riding experience. Riders appreciate the ease of maneuverability and agility of the Primavera 150, making it well-suited for navigating congested city streets.
Comfort is an important aspect, and the Primavera 150 receives favorable comments in this regard. Reviewers mention that riders of various heights can find a comfortable seating position, allowing for extended rides without fatigue. The spacious seat and ergonomic design contribute to a pleasant riding experience, making it suitable for both short commutes and longer journeys. Vespa's reputation for excellent build quality is evident in the Primavera 150, and reviewers appreciate the solid construction and durability of the scooter. The use of high-quality materials and craftsmanship ensures that the scooter can withstand daily use and remain reliable over time.
The Primavera 150 also incorporates modern features that enhance convenience and safety. Reviewers commend the inclusion of LED lighting, which not only provides better visibility but also adds a contemporary touch to the scooter's design. The presence of safety features like an anti-lock braking system (ABS) and traction control system (TCS) further contributes to rider confidence and control. However, one common point of concern raised in reviews is the high price of the Vespa Primavera 150. Some customers may find it to be relatively expensive compared to other scooters available in the market. Additionally, the resale value of scooters in Pakistan is generally lower, which can be a drawback for potential buyers.
Despite these considerations, the Vespa Primavera 150 continues to be a popular choice among riders who value its iconic design, comfortable ride, and Vespa's reputation for quality. Ultimately, individual preferences, budget considerations, and resale value factors will play a role in the purchasing decision.
Pros:
High Speed
Powerful Engine
Good Quality
Cons:
High Price
No return for money
Major Competitors: