2021 JMC New Boarding  (1st Generation) Pakistan
Current Price 2021 in Pakistan:
JMC New Boarding Double Cabin:

39,50000/- PKR

JMC New Boarding Single Cabin:

29,50000/- PKR
Jiangling Motors Cooperation in China made its entry into the Pakistani automobile markets with its commercial vehicles. 
After the success of JMC Vigus, JMC has introduced another vehicle, which is JMC New Boarding. JMC launched its New Boarding in the mid of 2020 with double-cabin and single-cabin options. It offers an engine of 2800 cc, aluminium rims, an MP3 player, matching bumpers, power steering, and power windows. It is a front-engine with a rear-wheel-drive vehicle or a four-wheel-drive vehicle. It has a similar design to Ford Ranger and Mazda BT-50, but it does not use their platform instead, it is built on JMC's platform. JMC left the Australian markets in 2018 because of poor sales in Australia. JMC New Boarding can be purchased from TOPSUN-dealers, which have their outlets in Lahore, Sahiwal, Gujranwala, and Sialkot. You can have a test drive and then book your New Boarding from any of these outlets. The model of JMC New Boarding available is the same as the 2020 JMC New Boarding model, and it delivers efficient performance with its powerful engine, and the diesel engine is fuel-efficient. The utility of JMC New Boarding is versatile, and it can be utilized in various sectors, either as a security vehicle, commercial vehicle, family car, or police vehicle.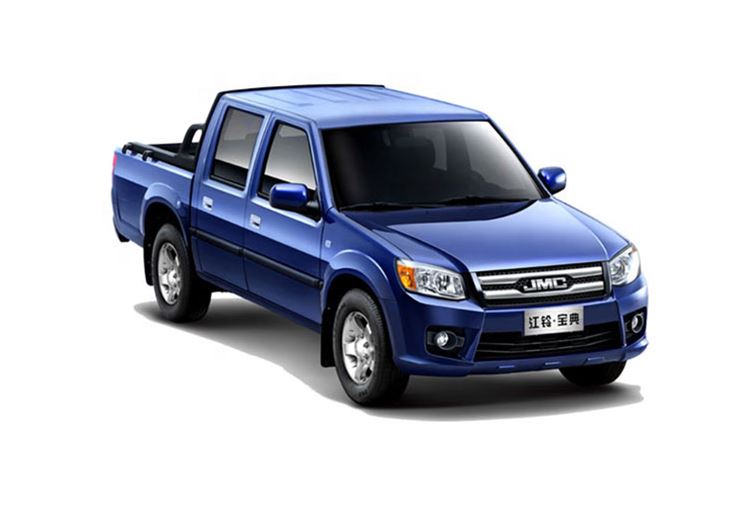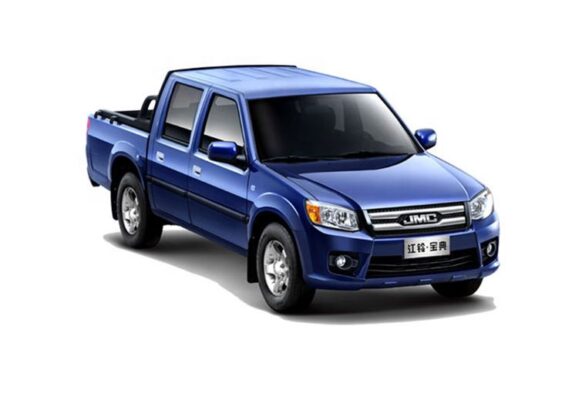 Trims & Variants:
 Two trims of JMC New Boarding available in Pakistan are the Single Cabin JMC Boarding and the Double Cabin JMC Boarding. The single cabin JMC Boarding offers seating capacity to two adults and features a cargo length of 2290 millimeters. The double cabin JMC Boarding offers a seating capacity for 5 adults, and the cargo length is reduced to 1480 millimeters. Both of these variants are available in either a 4×2 wheel drive or a 4×4 wheel drive that means you can either run the vehicle on its rear wheels or all the four wheels.
Engine, power & Transmission:
JMC Boarding gets its power from Euro-I, II, III diesel engines. The Euro I diesel engine produces a power of (76 hp)/57 kW at 3600 RPM, and the Euro II diesel engine generates a power of (83 hp)/62 kW at 3600 RPM, while the Euro III diesel engine generates a power of (91 hp)/68 kW at 3600 RPM. Similarly, the torque production of the Euro I engine is 72 Nm at 2000 RPM, the Euro II engine is 200 Nm at 2200 RPM, and the Euro III engine is 210 Nm at 2000 RPM. JMC New Boarding offers a five-speed manual transmission. It uses ventilated disc brakes at the front axles, and drum brakes at the rear axles. It features a Direct Injection Diesel fuel system that delivers a fuel-efficient drive.
Performance & Drive:
The first generation of JMC New Boarding available in Pakistan delivers wonderful-driving performance with its options of four-wheel-drive or rear-wheel-drive. The four-wheel-driving feature makes its performance even better on rough terrains and hilly roads of our North. It makes your adventure more thrilling and convenient, and this is the reason why JMC New Boarding is used for traveling purposes by travel companies. The power steering of JMC New Boarding is light-weighted, which makes the handling of the car easy even on curvy roads, and the body roll of the vehicle is minimal. The braking system is efficient, so you can apply the brakes smoothly when required, and the suspension is also well-tuned, so the overall quality of the ride is not affected, and it ensures you a smooth drive. The five-speed manual transmission is smooth with easy gear changes, so a balanced ride is given to the passengers. You can load 570 kilograms of load in double cabin New Boarding and 840 kilograms of load in single-cabin New Boarding. The amazing fact is that the load in the cargo area does not affect the performance of the car, and you can run it smoothly regardless of the terrain on which you are driving. The fuel economy of JMC New Boarding is not bad, giving you 12 kilometers per liter in the city when driving with a rear-wheel-drive option and 13 to 14 kilometers on the highway. The acceleration of JMC New Boarding is also quick, giving you a top speed of 220 kilometers per hour.
Exterior design and features:
JMC New Boarding has two exterior designs that can be a large deck with a single cabin option or a comparatively small deck with a double cabin option. The basic design is the same in both of the variants. The front end has two vertical silver chrome strips in the central grille, which has the JMC logo encrypted in it, and two sharp headlamps are on its sides. The rear end is typical, with a deck and two taillights fixed on its rear bumper, and aluminium wheels give it a beautiful stance. It is available in seven exterior colors that are shining-gold, silver-grey, dark-green, moonlight-white, sapphire-blue, gem-red, and pearl-black.
Interior design and features:
The inside of JMC New Boarding is comfortable with either two seating configurations or a five seating configuration. The seats are covered with leather and provide a comfortable journey to the passengers. You will be given headrests on the seats so you can enjoy a relaxing journey. The steering wheel is adjustable, and all four doors and windows are electronically controlled, enhancing convenience for the passengers. The driver and the passenger seat are manually adjusted, and the vehicle information is displayed to the drivers through the instrument panel. The central lock function in the cabin provides safety to the passengers, and the air conditioning system works well, adjusting the temperature in the cabin comfortably despite the hot temperature outside. The air conditioner works well even when there is heavily loaded in its cargo. The cabin has gold-brown trim pieces giving it an elegant view, while the higher-end trim offers a black theme in the cabin. The entertainment to the passengers is given via MP5 player and FM/AM radio, and two speakers give you good sound quality.
Safety & features:
The standard safety features JMC New Boarding offers are rear seatbelts so the extreme of a collision can be minimized and the safety of passengers is ensured. Another safety feature it provides is a warning lamp for the driver's seatbelt that alarms the driver for wearing seat belts. But the Some other Basic features are not provided as available in international models, there are no airbags, no rearview camera, and no ABS. Companies launching their New vehicles should equip them with at least the basic features which are now also become compulsory as guided by Lahore High Court.
Major competitors:
Price:
The 4×2 single cab JMC New Boarding has a starting price of 29.5 lacs Pakistani rupees, and the 4×2 double cab JMC New Boarding has a starting price of 39.5 lacs Pakistani rupees.