2023 Nissan Clipper NV100
Sold in Pakistan = 2007-Present (Import Model)
1st Generation
2023 Nissan Clipper NV100 Price in Pakistan
Nissan Clipper

09-33 Lac PKR

(As Per Condition & Model)
Nissan Clipper is a nameplate used for two commercial vehicles that are NT100 and NV 100, which were first introduced by Nissan in 2003 in Japan. Some other automobiles of the same category like Suzuki Carry and Suzuki Every also lineup-among them in late 2013. Nissan Clipper NV100 and NT100 have won high approval from customers ever since their launch in 2003, and they have kept their excellence in providing you with the best fuel economy and better loading capacity. Nissan Clipper equipped with a 660 cc engine also imported to Pakistan. The Clipper series 2021 is available in Japan and has the option of both two-wheel-drive and four-wheel-drive. The all-new Clipper vans can be imported from Japan to Pakistan via verified Nissan dealers in Pakistan, and the present models of Clipper get updated from the previous ones. Initially, Nissan Clipper was the only option as the quality vehicle among low-budget commercial vans, but today many new choices are also available in Pakistan. Nissan Clipper competes with its rivals because of its best turning performance, smooth handling, easy parallel parking, good loading capacities, roomy cabin, up-to-date safety features, and excellent fuel economy.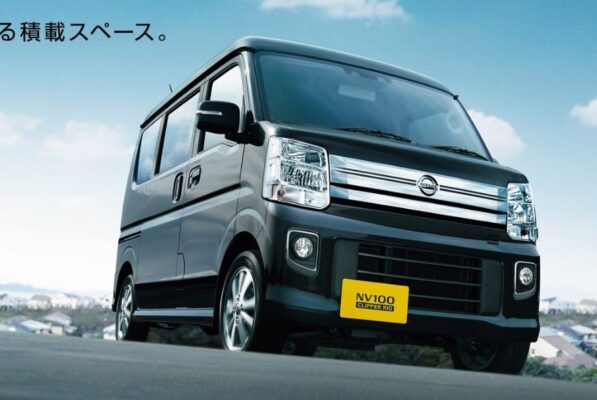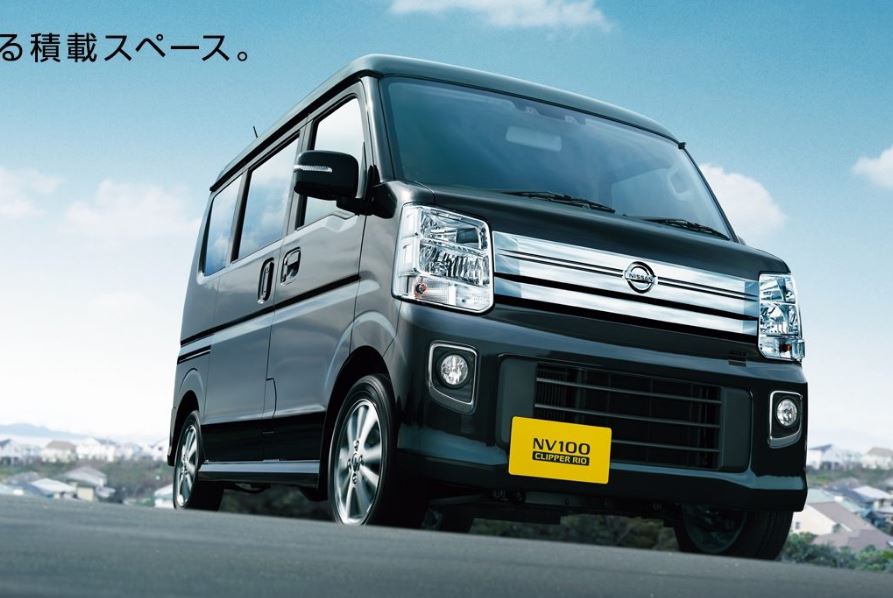 Nissan Clipper vehicles:
NV100 Clipper

: it features the best turning performance and environmental performance.

NT100 Clipper: 

it features the best fuel economy and loading capacity.

NV100 Clipper Rio

: it adds luxury features in light truck class and a variety of seating arrangements.
Engine & Power NV100 Clipper Minivan:
The 2021 NV100 Clipper van features a 660cc DOHC, three-cylinders, 12-valves engine that produces a power of 48 hp at 6000 RPM and torque of 62 Nm at 4000 RPM. It offers you a four-speed automatic transmission (with turbo/4WD & GL packages), and it features a 2WD option along with a 5MT or 5AGS transmission option (with DX & GX High roof/Standard roof packages). The newly introduced AGS transmission works efficiently by operating the clutch and shifts automatically. The Clipper Rio comes with a turbocharged engine, and it provides you four-speed automatic transmission and works with a 4WD system. The 660cc Turbo Engine of Nissan Clipper Produces 64 Hp @ 6000 RPM and a torque of 95nm at 3000 RPM.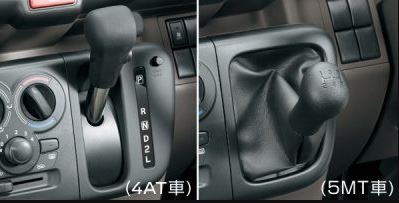 Nissan Clipper NT100 Pickup:
Nissan Nt100 Pickup powered by 3 cylinders 658cc engine that generates 50 HP at 5700 rpm with a torque of 63 nm at 3500 rpm and the engine paired with 5-speed Manual transmission. It is again available with both 4WD and the 2WD system as per package.
NV100 Minivan Trims available:
It is available in three trim levels; G trim high roof, E Standard roof, and E trim with High Roof. The G trim of NV100 is a two-wheel drive and comes with five-speed auto gear shift transmission and five-speed manual transmission. The E trim of NV100 Clipper comes with a four-speed automatic transmission and offers you both a two-wheel driving option and a four-wheel driving option. The E trim is available in both standard roof and high roof options.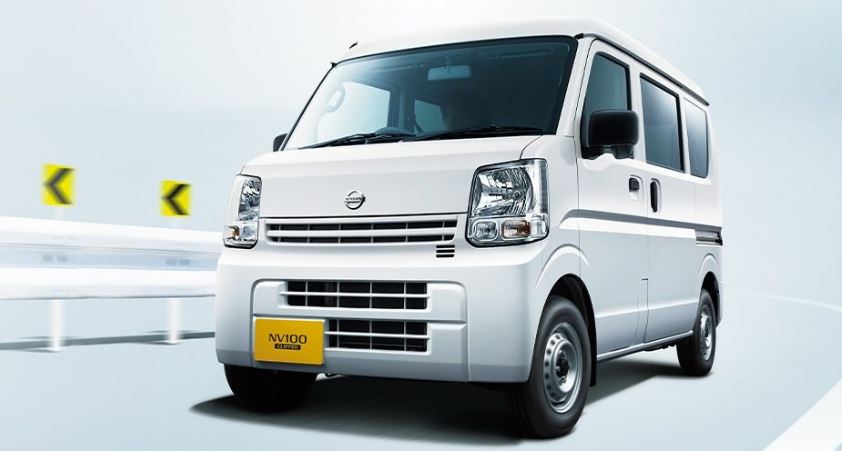 Performance & Drive:
It is a wagon that makes your weekends substantial and active that has become a Suppor Car S Wide. That means that it has been equipped with mitigation brakes for pedestrians and an acceleration suppression device that will slow down the car even when the pedal gets pressed mistakenly. The lane departure warning feature comes with advanced lights and is also available in Standard Car S wide and is offered with all trim levels. The transmission of the NV100 Clipper is smooth and efficient. The shift knob located close to the steering wheel makes the changing of the-gears easy and contributes to low fuel consumption. The wheelbase design of NV100 Clipper gives you good stability when driving in a straight line or the streets by achieving a minimum turning radius of only 4.5 meters. The lower turning radius means you can drive a minivan comfortably in the narrow streets and can easily park your car in the garage. It gives you the options of international driving modes that consist of urban driving mode, suburban driving mode, and expressway driving mode. The urban driving mode drives the car at relatively lower speeds, especially when driving it in city traffics. The suburban driving mode gets it at a higher speed when there is less or no traffic jam, and the expressway mode used when driving is on expressways or highways. One of the best things about NV100 Clipper is its low fuel consumption regardless of the environmental conditions and driving methods, even when using air conditioners. Estimated it gives 16 kilometers per liter of mileage in the city when driving the car in four-wheel driving mode with the turbo engine and two-wheel driving gives a mileage of 17 kilometers per liter with the standard engine. The vehicle dynamic control provided with traction control gives a stable drive by handling the car with full confidence on slippery roads or during emergency handling preventing accidents. The advanced technologies provided in Nissan Clipper NV100 include forward emergency brakes, emergency assist for pedals, hill start assists, and emergency stop signals.
Exterior Design & Features:
Nissan NV100 Clipper is a light commercial van with a body built of corrosion-proof steel plates painted with anti-rust triple coated paint. The Nissan NV100 Clipper design is very similar to the Suzuki Every minivan because the Suzuki Every is the Re-badged version of the Nissan Clipper, and both of the cars have about the same length and width of 3395 mm and 1795 mm. Nissan Clipper is available in bluish-black pearl, silky silver metallic, and Superior white exterior colors. 
Interior Design & Features:
Inside Nissan NV100 Clipper is spacious and features lots of the latest technology. The Nissan clipper is famous for its versatility because you can change the seating arrangement according to your need and the number of passengers to be seated. The front seat can be fully folded, and a full flat seating space is acquired that works as a cargo area. An instrumental panel mounted in it features a simple easy to understand design. The front seats are comfortable to travel on long routes, but the rear seats are not pleasant (old Models Present in Pakistan) and replaced with after-market seats by owners (The latest Models of Nissan Clipper equipped with much Comfortable rear seats). The cargo area is overall 1910 millimeters in length and 1385 millimeters in width with all seats out, which is greater than previous models, and you can carry a large amount of cargo with you. It is also the reason for mainly used for commercial purposes. Apart from it, generous storage spaces are also present at the front with the seat that includes a hook, multiple pockets, and a storage box. The sliding door and a large rear door opening make the entry and loading to the car trouble-free. 
2021 to onward latest models of Nissan clippers also come with company fitted Infotainment screen, power windows, power side mirrors, adjustable seats but the old models present in Pakistan don't have it.
Safety & Features:
Nissan Clipper has all the fundamental safety features that make your ride safe and convenient (Previous Models present in Pakistan don't have safety features listed below other than seat belts, halogen headlamps, and height mount stop lamps. Present in 2021 to Onward: The safety features present in the latest models of Nissan Clipper include; multi-reflector halogen headlights (that come with manual headlight leveler), automatic low and high beam xenon headlights, height mounted stop lamp, Anti-Lock Braking System, Electronic Brake Force Distribution, front ventilated disc brakes, SRS airbags for driver and front passengers, emergency locking retractor and hill-start assist system.
Major Competitors:
Verdict:
The latest NV100 Clipper can be imported directly from Tokyo base dealers in Japan, and the spare parts can also be imported anytime you want the maintenance of the vehicle. The price of this commercial van is high compared to the competitors but it is more durable, reliable, and has more safety features.