2023 Suzuki Bolan & Suzuki Carry Dabba 
Sold in Pakistan: 1979-Present
7th Generation
2023 Suzuki Bolan Price in Pakistan
Price Effective from 20-Feb-2023
Bolan VX

 PKR 1,415,000 /-

(Discontinued)

Bolan VXL with AC

1,940,000/-

PKR

Bolan Cargo Van

1,944,000/-

PKR
Suzuki Bolan is a Hi-Roof minivan car produced by Suzuki Motors, Available in Pakistan only. Like its other version, Bolan VX is also equipped with a 796 cc engine with 36 Horsepower, having manual transmission with rack and pinion steering. Suzuki Bolan is mainly used for Families having more members. It provides an ease to large families for traveling around with low prices and low fuel consumption. Most are used by colleges and Universities to pick and drooping Students.
Detailed Overview & Review of Suzuki Bolan
Nothing has changed in about the last three decades; Suzuki Bolan has been in production since the '90s, but with every passing year, instead of increasing its worth or introducing new Generation updated models of Bolan with more features Company is declining even its build quality. But even after all of this, Bolan is still among the selling cars of Suzuki and the most demanding small MPV in Pakistan.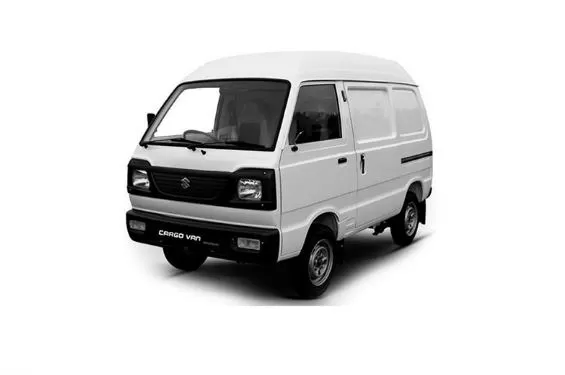 Engine and Power:
Suzuki Bolan is a 796cc MPV that is available with only one engine option. The only thing that changed in this particular MPV in all these years is the introduction of the Euro-2 engine in place of the Carburetor engine. This 796cc inline three-cylinder Euro-II Engine Produces 37HP@5000Rpm with 62Nm of torque while the engine is paired with the same five-speed manual transmission. The top speed of the Bolan is between 120-140Km's per hour, and it takes 10-12 seconds to accelerate 0-60 kilometers per hour.
Older Bolans still have Higher Demand in Hilly Areas:
One of the fascinating facts about Bolan is that the old Models of Bolan Manufactured before 2004 if maintained carefully, have higher demand in Hilly Areas than Euro-2. Even, Some Areas like Azad Kashmir Well Maintained Older Bolans sell pricier than New Euro-2 Bolans. A few Major Differences Between Old and New Models make the old models more worthwhile which are the following;
Build Quality:
There is no doubt that Older Models of Bolan before 2004 had better Build quality in terms of Body and structure, and if compared with New Models, they have more weight all because their Body and frame are made up of high-quality iron. Before 2004 Assembling parts of Suzuki cars imported from Japan was of high quality, but after the start of Local Manufacturing in Pakistan, the Quality declined a lot.
Carburetor Engine:
This is also the most critical factor that increases the demand for older Bolans; if it is said that the carburetor engine is somehow more potent than Euro, then it may not be wrong. In a personal experience, a test being conducted between Euro-II and Carburetor Engine showed that in hilly areas, the carburetor engine works better than Euro because of high air compression. It generates enough power to make it move upward quickly on steep paths. In contrast, the Euro Engine for covering the same vertical direction requires a long Start from Behind compared to the carburetor.
Another thing that makes Carburetor Engines more feasible is the availability of mechanics; Euro Engine Requires a Separate electrician and some digital tools to inspect and repair the fault. For Carburetor engines, highly experienced mechanics are available all over Pakistan.
Exterior & Interior:
In Overall Design, including Exterior and interior, there have been seen no significant changes that make the new Bolan more attractive to the customers. If compared, the current Bolan has the same Black grille, Black Bumper, and Black Exterior Mirrors, while the only thing that changed in all these years is the Shape of the headlamps from Round to Square. Even the Ground Clearance, Length, Width, and Height are the same as it was.
Just like the exterior, the interior of the Bolan is the same as it was in the '90s with the same fabric seats, Plastic Dashboard, Manual Doors, Sun visor without Vanity Mirrors, No Cup Holders, Manual Windows, Front seat belts, and more importantly lower build Quality than ever Before.
What Has Improved in New Bolan? :
The only thing that improved in all these years is the fuel efficiency that increased after the introduction of the Euro-2 engine, and now it gives about 12 km/l in the city and 14/km on highways. With a full fuel tank of 36 liters, it covers a distance of 432 kilometers combined. Currently, Bolan is available in 3 different colors, including Solid White, Pearl Red, and Silky Silver.
Pros:
Large seating capacity
Affordable Maintenance
Parts Availability
Strong Dealership Network
Now Available in the AC variant
Cons:
Unstable at High Speeds
Lacks Basic Equipment
Uncomfortable Ride
No Safety Features
Same Shape for Decades
Low-Quality Material
Low Build Quality
Euro-II Engine is not good for Steep Roads
Major Competitors:
Currently, there are the following competitors of Bolan in the Pakistani Market.
Faw XPV, Daihatsu Hijet, Mazda Scrum & Nissan Clipper, Changan M9 Karvaan MPV