2021 Peugeot 2008 SUV (2nd Generation)
Test Units Have Arrived in Pakistan (In Testing Phase)
Expected Launch in Pakistan:

2021

Expected Price in Pakistan:

4.5 – 6 Million PKR
The 2nd generation of "Peugeot 2008" was debuted in 2019, and it built on PSA CMP platform like other PSA models included; the DS 3 Cross back and Opel Corsa F. The Peugeot 2008 is available in France, Australia, Spain, China, Malaysia, and parts of Europe. It was introduced as a subcompact five-door crossover/SUV with a front-engine and front-wheel-drive that comes in various engine options and transmission options. The electric version of Peugeot 2008 went on sale in Europe in 2020. The latest model of "Peugeot 2008" has cutting-edge technology, and it delivers a solid ride quality and furthers the ride accompanied by Grip Control System. It is now longer and wider than the previous model, and its roof is slightly lower as well, which makes it look more like a hatchback than a subcompact crossover or SUV. It gives you a 3D I-Cockpit instrument display with high resolution and a hallmark steering wheel design. All the trims of "Peugeot 2008" has front-wheel drive, but the installed bespoke tires reduce the rolling resistance which reduces the effect on the overall efficiency of the ride. The price for 2021 Peugeot 2008 is quite competitive as compared to its rivals.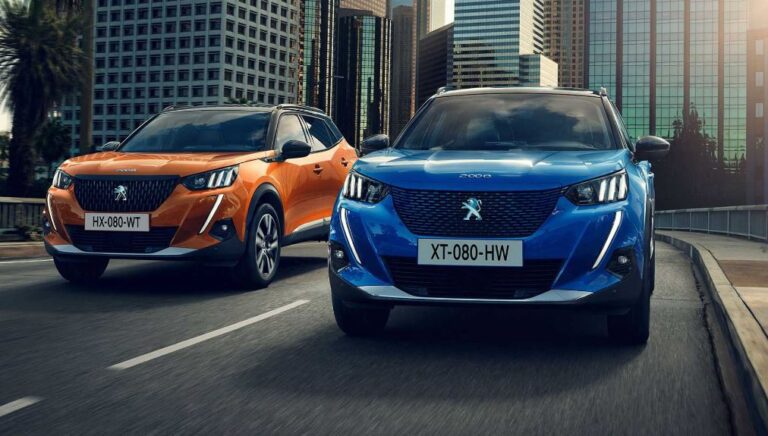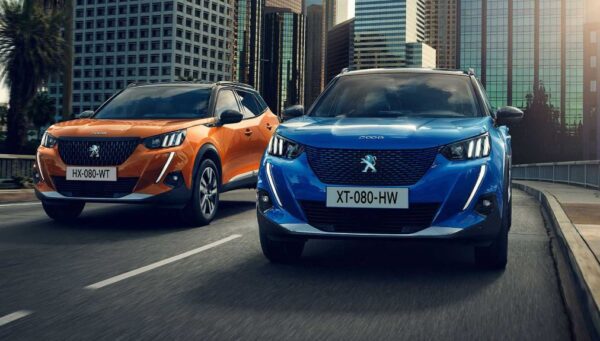 Trims & Variants:
Five trims of the "Peugeot 2008" SUV are available in the United Kingdom includes; Active Premium, Allure, Allure Premium, GT, and GT Premium. There is another e2008 electric version of Peugeot also available in the market. The Active Premium is the entry-level trim that comes with less equipment's while the Allure trim comes with alloy wheels, front fog lights, leather upholstery, and Bluetooth connectivity. The GT Line of Peugeot comes with luxurious touches that offer you advanced technology like an electric tailgate, keyless entry, push start button, panoramic sunroof, massage function in driver's seat, and nineteen inches alloy wheels.
Engine & Power:
It is available in various engine options. The 1.2 liters Pure Tech 100 SS petrol engine delivers a horsepower of 101 PS and is mated with six-speed manual transmission or an eight-speed automatic transmission. The 1.2 liters Pure Tech 130 SS engine produces 130 PS power, and the 1.5 liters 110 SS diesel engine generates a horsepower of 110 PS. The Active Premium trim offers these three engine choices. The 1.2 liters Pure Tech 155 engine is available in only GT trim. The electric version of Peugeot 2008 powered by a 100 kW electric motor that gets charged by a 50 kWh battery and delivers a power of 134 hp.
Performance & Drive:
The 1.2 liters Pure Tech 130 is the most demanding engine of Peugeot 2008 that delivers you impressive driving performance, while the diesel engine also offers lower-rev pulling power as compared to the petrol engine so it gives a smooth driving experience without changing your gears more often thus it delivers good mileage. The suspension of Peugeot 2008 is soft and smooth in all the trims, which lets you enjoy a smooth ride, but the ride quality is compromised a bit when moving in towns over potholes where the shockwave ripple felt quite a lot in the car. The GT trim comes with a comparatively less comfortable ride. Now the steering and control of the car, which is naturally weighted and requires little effort to turn the car around corners, and the handling of Peugeot 2008 is not a problem. The transmission of Peugeot 2008 is quite precise, while the manual gearbox being better and more smooth than the automatic transmission. The petrol and diesel engine do not produce roar so the passengers can enjoy a comfortable noise-free ride, and the only noise they hear is of the wind at motorways when driving at higher speeds. The acceleration of "Peugeot 2008" is remarkable as the Allure trim claims to take 9.3 seconds to accelerate from 0 to 100 kilometers per hour and consumes fuel of 6.5 liters to give a mileage of 100 kilometers, while the GT trim takes only 8.7 seconds, and consumes 6.1 liters of fuel to give a mileage of 100 kilometers. The electric version of Peugeot 2008 is an exceptional car with effortless performance, and it gives you a range of 192 miles. The regenerative brakes in it top up the battery when you lift your foot from the accelerator. 
Exterior design and features:
The design of "Peugeot 2008" is aggressive and modern that features a large-sized chrome grille on the front end with two tiger-clawed LED headlights. The GT line comes with a black roof, and C-pillar giving you a floating roof adding to a menacing appearance. The seventeen-inch alloy wheels are standard in the entry-level trim, while the higher-end models come with nineteen-inches diamond-cut alloy wheels that look stunning from all angles. The rear end has restyled LED fog lights having a feline bearing shape at its fangs, and the side panels have geometric folds that attract every eye.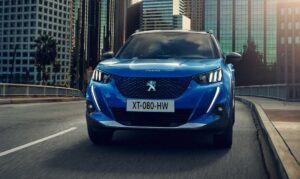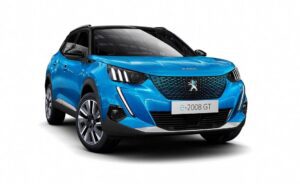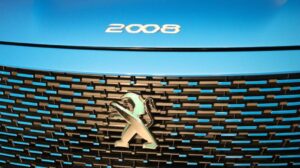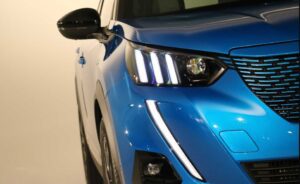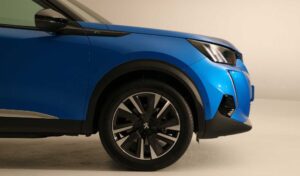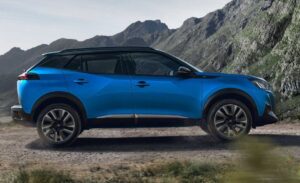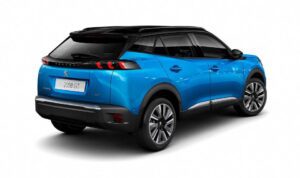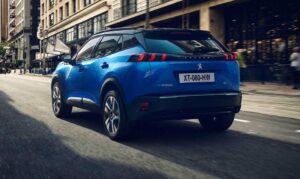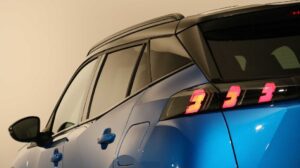 Interior Design and features:
You will find high-quality trim pieces inside the Peugeot 2008. The seats are mounted high inside the car, so you get a real SUV experience, and you get a variety of adjustment options in its steering wheel and driver seat. The higher-end trim also provides lumbar support to the drivers. The I-Cockpit layout has dials higher than usual, so the access and operating are easy, while the high driving position gives you a clear view of the road ahead. There is a seven-inch touchscreen display mounted on the dashboard in entry-level trim, on the other hand, the higher-end versions come with a larger 10 inches touchscreen display that provides infotainment that is compatible with Android Auto and Apple Car play interface. An optional sunroof adds more light and fresh air inside the cabin, and the smart-trunk gate opens easily, so the loading of your luggage gets convenient in the boot. The rear seats are foldable to increase the boot space up to 434 liters. Other than this, you will get keyless entry, rear parking sensors, massaging, and heating function of the driver seat, leather upholstery, and push start button in your vehicle.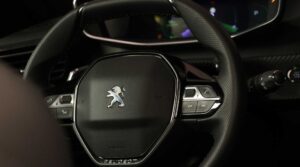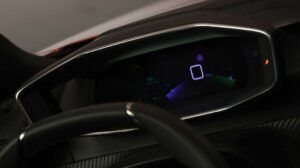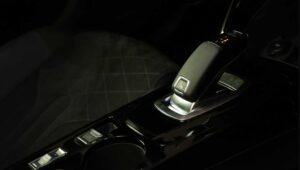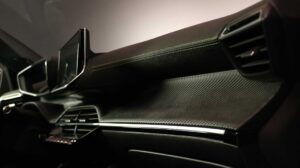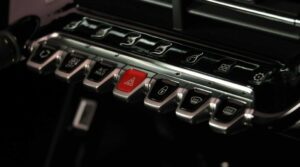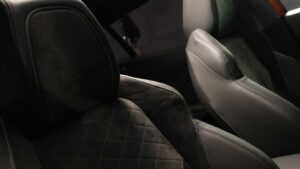 Safety & features:
The 2nd generation of Peugeot 2008 has scored four stars by Euro NCAP and equipped with all standard safety features that include;
Six airbags

Hill-descent control system.

Tire pressure monitoring alarm.

Pedestrian detection system.

Blind-spot detection.

Adaptive cruise control.

Forward collision warning alarm.
Major competitors:
Price:
The price for 2021 Peugeot 2008 starts from 20,500 UK Pounds. There is news that Lucky Motors has also brought 1st Peugeot 2008 in Pakistan on 14th February 2021 that is a 1.2 liters petrol engine vehicle. It means it will be launched soon, and its expected price is around 4.5-6 million Pakistani rupees.