2023 Kia Cerato 
Expected Launch in Pakistan =

2023 or 2024

Expected Price in Pakistan =

40-45 Lac PKR

4th Generation 
Korean Automaker Kia introduced its compact car Cerato in 2003, which was renamed in the United States of America as Forte in 2008, and K3 in South Korea. The fourth generation of Kia Cerato was introduced in 2018 at the American International Auto Show held in Michigan. CBU units of Kia Cerato were also brought to Pakistan in 2018 for testing. The company Kia already working on the assembly of Cerato locally, expected to be launched soon in Pakistan under green-field ADP 2016-2021. 
This ADP policy soon ends in June 2021, and Kia is planning to launch Kia Cerato soon, before June 2021. After the great success of Kia Sportage, Kia has gained trustworthiness and an impressive position in Pakistani automobile markets, which is why now customers are keenly waiting for the next vehicle of Kia to come into the markets. Talking about other countries the 2021 version of Kia Cerato Forte has already been introduced. The 4th generation Kia Cerato Forte owns splendid styling and is equipped with a list of attractive-generous features. It promises its customers a calm and comfortable ride. The 2021 Kia Cerato Forte has tough competition in the market, but its handsome styling and excellent fuel economy will let you prioritize it among other competitors.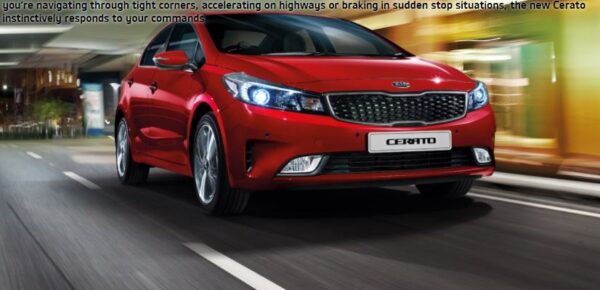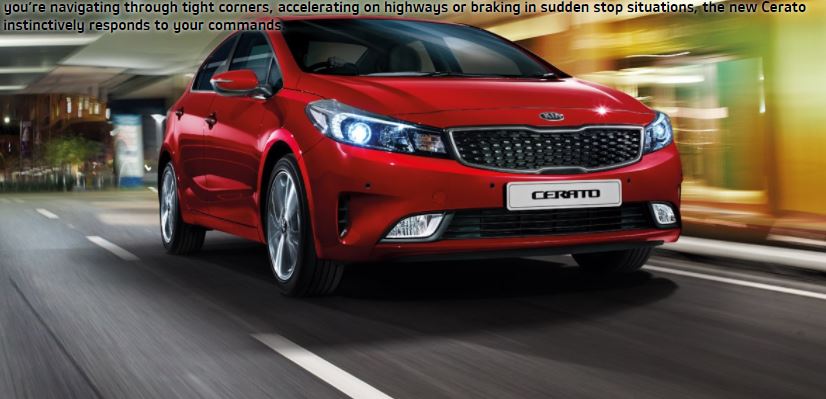 Trims  & Versions:
Five trims are available for Kia Cerato Forte:
FE trim: it features fifteen inches steel wheels, 6-speed manual transmission, eight inches touchscreen display, four speakers, and advanced driver safety features.

LXS trim: it is equipped with sixteen inches alloy wheels, rear folding seats, different driving modes, and upgraded interior trim pieces.

GT-Line trim: it is upgraded with seventeen inches alloy wheels, foglights, keyless entry, leather-wrapped steering wheel, and blindspot detection.

EX trim: it features leather upholstery, heated seats, a dual-zone climate control system, navigation, and a wireless charging device.

GT trim: upgraded with eighteen inches wheels, faux leather seats with red detailings, paddle shifter, and 7-speed automatic transmission.
 Expectations are that the Kia Cerato launched in Pakistan with GT trim.
Engine & Power:
The Kia Cerato to be launched in Pakistan will be available in a 1.6-liter four-cylinder engine option that will generate a horsepower of 201 hp. On the other hand, the latest Kia Cerato Forte offered two engine options including a 1.6-liter 4-cylinders turbocharged engine, and 2.0 liters four-cylinder engine producing a horsepower of 147 hp. The GT trim offers a 1.6 liters engine while all the other Trims are equipped with a 2.0 liters engine. It offers both manual and automatic transmission depending upon the version.
Performance & Drive:
The Kia Cerato Forte is available in both manual and automatic transmissions that give a smooth driving experience. Both the transmission options work with smooth throttle changes, while the manual transmission works more efficiently and delivers better performance as it takes only 6.7 seconds to accelerate from zero to sixty miles per hour. The CVT sometimes feels unpolished, and its drop-down revs very fastly when you ease off the throttle. The handling techniques of Kia Cerato Forte are not very impressive, but on the whole, it gives you a stable drive. The acceleration of the Kia Forte is sluggish and the turbocharged engine mated with manual transmission delivers better acceleration powers than the non-turbocharged engine mated with CVT. The non-turbocharged CVT engine takes 8.2 seconds to accelerate from zero to sixty miles per hour. The fuel economy of the Kia Cerato is not bad if you opt for its 2.0 liters engine that gives the mileage of 33 miles per gallon (14-15 kilometers per liter) in the city and 40 miles per gallon (17.5 kilometers per liter) on the highway, while the 1.6-liter engine car gives you a mileage of 30 per gallon (12-13 kilometers per liter) in the city. The ride and drive of Kia Cerato are more exciting and safe because of its smart cruise control technology that senses the vehicle in front and slows down automatically to maintain a safe distance from the car ahead. All trims of Kia Cerato Forte are also equipped with the Lane Keeping Assist feature that returns the steering to its original position to bring your vehicle back to its lane under certain circumstances. Driving it in hilly areas and slopes are also made easy with its Hill Start Assist Control feature that maintains a smooth drive when rolling down the hills by using the vehicle's impressive brakes.
Exterior Design & Features:
The stylish exterior fascia of the Kia Cerato Forte features a sporty design that has a tiger-nose grille on the front and diamond-shaped LED headlamps on its sides. The LED headlights are equipped with high beam assist technology giving you more safety on roads. The rear end also features equally beautiful LED taillights that deliver a striking impression from all angles. The flowing contours of Forte give it a sporty stance even when standing still. Eighteen inches alloy wheels in higher-end trims are machine-finished and give it a really sporty look. The smart trunk can easily be opened with the key fob and opens the trunk automatically without using your hands and feet.
Interior Design & Features:
The interior of the Kia Cerato consists of an alluring layout that has all the standard features anyone needs. It features ample legroom and headroom accommodating five adults comfortably. The base trim has cloth-covered seats, while the higher-end is equipped with leather seats given with red stitching details. The front seats have a heating and ventilation facility, and the driver's seat comes with a ten-way power adjustment and two-way lumbar support that gives maximum comfort to the drivers. The dual-zone automatic climate control feature lets the passengers choose the independent setting of temperatures for themselves. An eight-inches touchscreen mounted on the dashboard displays a voice command navigation system helping you find your way and the infotainment system is also compatible with Android Auto and Apple CarPlay. A wireless charging pad has also been given on the central console that lets you charge your phones anywhere and anytime. The UVO link connectivity lets you control the vehicle by locking and unlocking doors and remote start from your smartphone.
Safety & Features:
It has been rated four stars by NHTSA, and IIHS has named it Top Safety Pick vehicle in 2019. It has equipped with a forward collision warning alarm, lane-departure warning alarm, adaptive cruise control, anti-lock braking system, Brake Assist system, smart cruise control, airbags, and blind-spot detection.
Major competitors:
Verdict:
There is a welcoming place for midsize sedans like Kia Cerato in the Pakistani automobile markets, and there is already healthy competition in the markets. It will not prove to be a good option for the customers but will urge other carmakers to provide better quality vehicles. All the up-to-date features of the Kia Cerato justify its price tag, and people are already looking forward to its launch in Pakistan.