2023 Chery Tiggo 4 Pro
Sold in Pakistan = 2022-Present
1st Generation facelifted
2023 Chery Tiggo 8 Price in Pakistan
Price Effective from 09-Aug-2023
| | |
| --- | --- |
| Chery Tiggo 8 Pro |  69,990,00 PKR |
The Chinese manufacturer Chery automobiles introduced Chery Tiggo 4 in 2017, also called Chery Tiggo 5x outside Russia and Chile. It is a subcompact crossover SUV with a front-engine and front-wheel-drive system, and it has a similar platform as Cowin Showjet. It received a facelift in 2019 in China and another facelift in 2020 that has an updated front fascia. The Chery Tiggo 4 pro comes with an updated infotainment system and a refreshed design of wheels. It is available in two engine options and offers Asinine six-speed manual transmission. It is available in a variety of trim options that differ in terms of engine sizes. It is an exceptionally great car that makes your family's adventures fun and thrilling. You can carry lots of goods on your road trip in its roof rack along with the cargo area, and the latest technology induced in the cabin makes your journey comfortable. The design of the new Tiggo 4 pro follows a dynamic language, having the traditional SUV design and its safety features updated with an eight-in-one safety protection system that ensures maximum stability and lets you drive on slopes and hills with complete steering control and an efficient braking system. At the same time, the reversing radar makes reversing and parking easier. The Chery Tiggo 4 pro operates excellently in cold weather in Russia; its winter package offers a heated steering wheel, heated windshield, heated seats, exterior mirrors, and washer nozzle. At the same time, the ERA-GLONASS emergency services provided by an alert system installed in Tiggo 4 pro ensure a safe and secure drive for you.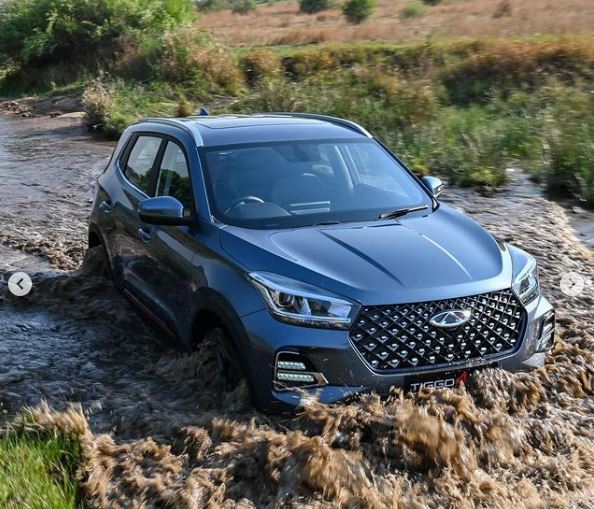 Trims Available:
The Chery Tiggo 4 pro is available in one trim only with a 1.5-liter turbocharged engine and CVT Transmission.
Engine & Power:
The Chery Tiggo 4 is powered by a 1.5 liter, 1498cc, 4-cylinders, and 16-valve turbocharged engine that produces a maximum of 144 horsepower at 5500 RPM and a total 210 Nm torque at 1750 RPM to 4000 RPM paired with  Continuous variable transmission.
Performance & Drive:
The latest Chery Tiggo 4 pro offers impressive ride quality with both of its engine choices. The 1.5 liters turbocharged engine is powerful and saves fuel along with producing lower emissions. In comparison, the 2.0 liters naturally aspirated engine DWT technology optimizes the timing of valve intake, and its exhaust cram shift improves the running condition by offering you a large speed range. On the whole, the car delivers a linear and smooth ride.  The continuously varying and dual-clutch transmissions are equally efficient and deliver a smooth ride. It offers you various driving modes that include Eco mode, Sport mode, and normal mode. You can shift between desired driving modes easily, without disturbing the comfort of the passengers. The suspension system of Chery Tiggo 4 pro is made impressive with multi-link suspension at the rear that enhances comfort and improved maneuverability. The chassis is adjusted by International British expert Lotus which enhances the stability of the ride. The Chery Tiggo features an integrated cage body that uses high-strength steel and ultra-high-strength steel to provide more protection, and longitudinal beam frames absorb collision forces to improve resistance in collisions. The airbags in Chery Tiggo 4 pro are manufactured by Sweden Autoliv Company, the largest one in the world to produce automobile protection systems. The steering wheel comes with a speed limit, speed cruise, audio controls, and color instrument page-turning and is so light in weight that you can control your SUV smoothly with lesser effort. The acceleration of the Tiggo 4 pro is also quick, and all the trims offer a maximum speed of 190 kilometers per hour which means it runs smoothly on highways and makes your journeys comfortable.
Exterior Design & Features:
The Chery Tiggo 4 pro has a dynamic design with a waterfall front face. It has an overall length of 4318 millimeters, a width of 1830 millimeters, and a height of 1670 millimeters, while it has a wheelbase of 2630 millimeters. The intelligent LED headlights are striking with DRLS and the stereoscopic logo on the meshwork grille stamps boldness to its style. At the same time, the scooting LED taillights are sporty and add more stereoscopic sense to the rear. The headlights switch on and off automatically while its beam can be adjusted to double to provide you with more light when needed. The front fog lamp activates automatically when you turn the steering wheel to provide more safety when turning. A large electric panoramic sunroof adds more nature to the cabin and operates with a button. The body design also features a roof rack which increases the load space facilitating your journeys. It features seventeen-inch alloy wheels that give Tiggo 4 a sporty look.
Interior Design & Features:
You will get a premium feel when you move inside the Chery Tiggo 4 pro, as you will find chrome-plated ornaments in it, either a dashboard or a central armrest or shift handle, or air vents. The steering wheel has a 3-spoke design, while the leather seats are well braced and cushioned to provide you maximum comfort in your journeys. It can accommodate five adults comfortably. There is a 5.7 inches LCD panel with a friendly interface that works as an instrument panel, and the 10.25-inches HD touch screen provides an infotainment system. The console screen can be mapped with mobile phones, so the basic functions of the mobile device can be shown on the console screen. You can conveniently switch off and on your cars with a push button, while the windows can be rolled up conveniently by a windows control button.
Safety & features:
Recently, in the C-NCAP crash test conducted by the Chinese automotive safety test institution, Chery's new-generation SUV-Tiggo got the 5-star safety certification with a score of 52.9 points and illustrated its outstanding safety performance.
Some of the safety features the Chery Tiggo 4 pro offers are as follows:
2 Airbags at the front
Anti Lock Braking system
Roll stability control
Hill-Start Assist System that prevents slipping on hilly roads.
Electronic stability control
Emergency brake distribution
BOSCH ESP9.1 8-in-1 safety protection system
Reversing Radar
Tire Pressure Monitoring System that uses advanced TPMS
The ultra-high-strength steel body
6D longitudinal Beam Frame body
Speed Limiter Reminder
Pros:
Comfortable Ride Quality
Feature Packed
Low-budget cars as compared to competitive cars
Good in exterior dimensions
Cons:
Uninspiring design
Lack of Spare Parts
High-Cost Maintenance
Dealership Network is not widely present
Need time to make its name in the industry
Major Competitors: