2024 Dodge Durango
3rd Generation 2nd Facelift
Sold in USA = (2021-Present)
Overall Ratings = 7/

10
2024 Dodge Durango Price in the USA
Durango SXT

Start at:

40,140 $

Durango GT

Start at:

42,640 $

Durango RT

Start at:

53,240 $

Durango CITADEL

Start at:

54,140 $

Durango SRT

Start at:

72,715 $

Durango SRT HELL CAT

Start at:

93,605 $
The Dodge Durango is a mid-size SUV (sport utility vehicle) produced by the American automaker Dodge, a subsidiary of Stellantis (formerly Fiat Chrysler Automobiles). The Durango has been in production since 1997 and has gone through several generations of updates and redesigns. The Dodge Durango is known for its spacious interior, powerful engine options, and towing capability. It's often considered a family-oriented SUV that combines utility with performance. The vehicle typically offers various engine choices, including V6 and V8 options, along with different trim levels and features to cater to a list of consumer preferences. The latest Durango has a few changes to make it even better. There are four new colors for the outside of the car: Frostbite, Night Moves, Red Oxide, and Triple Nickel. There were only four colors in previous models, but now there are eight to pick from. The front seats will keep you warm in all Durango variants because they have heaters built in.  If you choose the basic SXT model, you can get a feature that helps you avoid crashing into things in front of you. It's called "forward collision warning," and it wasn't available in the basic model before. The Dodge Durango SUV continues to have a version called the SRT Hellcat. This special version has a powerful engine (a 6.2-liter V8). This engine will make the Durango SRT Hellcat superfast, with 710 horsepower and 645 pounds-feet of twisting force. This special Durango first came out in 2021 with a plan to exist for just one year, but it's back again to push the limits of how fast a Durango can go.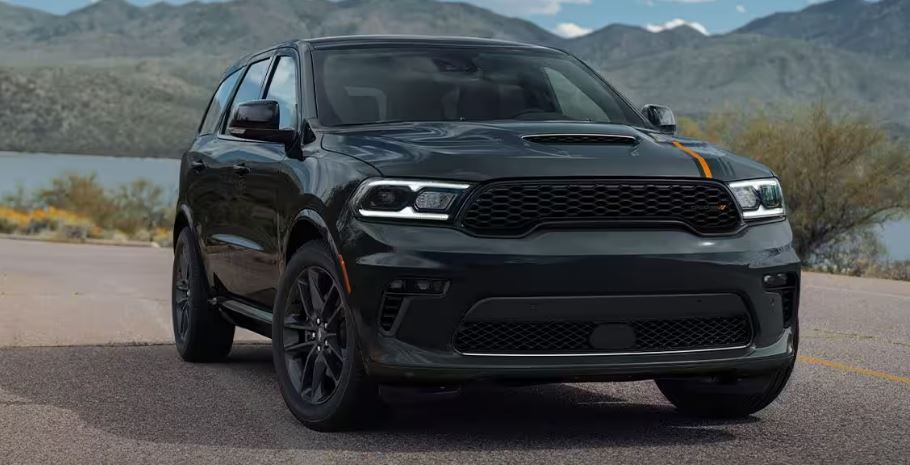 Trims & Variants: 
The Dodge Durango offers six different versions: SXT, GT, R/T, Citadel, SRT 392, and SRT Hellcat. You can choose which one you like the most. There are two kinds of engine options: V6 and V8. The car has an automatic transmission with eight speeds, and it can change gears smoothly. Most of the time, the back wheels make the car move, but in some versions, all the wheels can help. The SRT 392 and SRT Hellcat versions always have all-wheel drive to make sure they have a good grip on the road.
SXT: The base trim, equipped with a V6 engine, rear-wheel drive, and a range of standard features including three rows of seating, a touchscreen infotainment system, and more.
GT: The GT trim typically offered additional features and options compared to the SXT, such as all-wheel drive and more advanced infotainment systems. It provided a sportier appearance and performance.
Citadel: The Citadel trim focused on luxury and comfort, offering premium materials, advanced technology, and additional amenities like leather seats, upgraded audio systems, and more.
R/T: The R/T trim was known for its performance-oriented features. It came with a V8 engine, sport-tuned suspension, and various sporty design elements.
SRT: The Durango SRT was the high-performance variant of the lineup, featuring a powerful V8 engine with even more performance enhancements, sportier styling, and a more aggressive stance.
Durango SRT Hellcat: Introduced in 2021, this was the top-of-the-line and most powerful Durango model. It was equipped with a supercharged V8 engine producing over 700 horsepower, making it one of the fastest three-row SUVs on the market. This variant was designed for enthusiasts who wanted both practicality and extreme performance.
Engine & Power:
The SXT uses a 3.6-liter V6 engine. This engine makes the car go with 295 horsepower and 260 pounds-feet of torque. The car also has an eight-speed automatic transmission, which helps it change gears smoothly. The Durango R/T decided not to use the V6 engine and put in a bigger 5.7-liter V8 engine. This engine is powerful, with 360 horsepower and 390 pounds-feet of twisting force. It also has an eight-speed automatic transmission. The Durango Citadel version can have both the 3.6-liter V6 and the 5.7-liter V8. You can choose between these engines. This version is special because it includes all the cool things from the GT Plus version. The SRT version of the Durango is powerful. It uses a 6.4-liter V8 engine that's like a big heart for the car. This engine can make the car go superfast with 475 horsepower and 470 pounds-feet of torque. The SRT Hellcat has a super powerful engine, a 6.2-liter V8. This makes the engine even stronger, giving the car a whopping 710 horsepower and 645 pounds-feet of torque.
3.6-Liter Pentastar V6: This was the base engine option for many Durango trims. It produced around 293 horsepower and 260 lb-ft of torque.
5.7-Liter HEMI V8: This engine option was available in higher trim levels, such as the R/T. It produced approximately 360 horsepower and 390 lb-ft of torque.
6.4-Liter HEMI V8: The Durango SRT was equipped with a larger 6.4-liter HEMI V8 engine, which was capable of producing around 475 horsepower and 470 lb-ft of torque.
6.2-Liter Supercharged HEMI V8: Introduced in 2021, the Durango SRT Hellcat featured a supercharged 6.2-liter HEMI V8 engine that produced over 700 horsepower and 645 lb-ft of torque, making it one of the most powerful SUVs on the market.
Performance, Drive & Mileage:
The Durango delivers an excellent performance with a variety of engine options and power generation. The Durang's V-6 engine can go from 0 to 60 miles per hour in about 7.4 seconds. But when it has the V-8 engine, it can do the same in just 6.2 seconds. The way the Durango drives is balanced between feeling sporty and comfortable. The steering and how well it brakes remind you that you're in an SUV, not a sports car. It is not made for sportiness specifically, the way it's built, with the rear wheels helping, makes it feel like it's good at moving fast. It keeps its strong personality like a muscle car. It still gives you a comfy ride, which makes it a great SUV for families. You can enjoy driving it, and it's also easy to use. The Durango with the V-6 engine might get around 19 miles per gallon when driving in the city and 26 miles per gallon on the highway. The V-8 version is a bit less efficient, with an estimate of around 14 miles per gallon in the city and 22 miles per gallon on the highway. You can tow things that are really heavy, like a travel trailer, a sailboat, or even your friend's SUV. The Durango can handle up to 8,700 pounds, making it great for big loads.
Exterior Design & Features:
The overall shape of the Durango is sleek and aerodynamic, which helps improve its performance and fuel efficiency. The SUV's body is well-proportioned, and its stance exudes confidence. The Durango comes with a special badge on the side that people have respected on the roads for a long time. It's like a mark of strength. The Durango also has a really cool LED taillight that looks like a racetrack. This taillight is something people recognize when they see it on the road. At the front of the car, there are LED headlights that can shine really bright. They can light up the road well, making it easier to see anything ahead. Inside the car, when you have a lot of people, there's still space for your things. You can put stuff on the roof using the roof rack. It's like an extra storage space. The roof rack can hold up to 150 pounds of things.
Interior Design & Features:
The Dodge Durango has an airy space inside the cabin, and it's easy to see outside. However, in tight spots, the pillars at the front and back can sometimes block your view. The inside of the car is designed in a clear and easy-to-use way. The controls are simple, and finding what you need is straightforward. The screen in the Durango, called Uconnect 4C, is about 8.4 inches in size. It might look a little old-fashioned, but it's easy to use. It works nicely with Apple CarPlay and Android Auto, which let you connect your phone to the car. If you can choose the bigger 10.1-inch screen, it's even better. It has the latest software from Chrysler/Dodge for things like maps and entertainment. No matter where you're sitting in the car, there are places to plug in your devices. You can use USB ports and 12-volt chargers to keep things powered up.
Safety & Features:
Advanced Airbags: The Durango typically came equipped with front airbags, side curtain airbags, and side-impact airbags to protect occupants in the event of a collision.
Electronic Stability Control: This system helps maintain vehicle stability and prevent skidding in slippery conditions.
Anti-lock Braking System (ABS): ABS helps prevent wheel lockup during hard braking, improving steering control.
Traction Control System: Traction control helps maintain traction on slippery surfaces.
Blind Spot Monitoring: Many Durango models offered blind spot monitoring to alert the driver of vehicles in their blind spots.
Rearview Camera: A standard feature in many trims, the rearview camera assists with parking and backing up.
Adaptive Cruise Control: Some higher trims may have featured adaptive cruise control, which adjusts the vehicle's speed to maintain a safe following distance from the vehicle in front.
Forward Collision Warning: This system typically alerted the driver to an imminent collision and, in some cases, could apply the brakes to mitigate or prevent a collision.
Lane Departure Warning: It alerted the driver if the vehicle was unintentionally drifting out of its lane.
Automatic Emergency Braking: In some trims, this system could automatically apply the brakes to avoid or reduce the severity of a collision.
Park Assist: Some Durango models may have offered park assist systems to aid with parallel parking and other maneuvers.
Pros & Cons:
Pros:
Towing Capability: The Durango is capable of towing heavy loads, making it suitable for those who need to transport trailers, boats, or other large items.
Spacious Interior: The interior of the Durango offers ample space, allowing it to accommodate up to seven people comfortably.
Engine Options: The vehicle provides a range of engine choices, including V6 and V8 options, catering to different performance preferences.
Performance: The Durango offers strong performance, with powerful engine options and quick acceleration.
Exterior Design: The sleek and aerodynamic design of the Durango gives it a confident and appealing appearance on the road.
Interior Design: The cabin has an airy and well-organized layout, with user-friendly controls and modern technology features.
Infotainment System: The Uconnect infotainment system is easy to use and offers features like Apple CarPlay and Android Auto compatibility.
Towing Capacity: The Durango can handle towing up to 8,700 pounds, making it suitable for towing heavy loads.
Cons:
Limited Standard Safety Features: Some safety features may not come as standard in the base models, requiring additional spending on optional packages or higher trims.
Limited Space in Rear Rows: The second and third rows of seats may not provide as much space as some competitors, potentially affecting passenger comfort on longer trips.
Fuel Efficiency: The Durango, especially with V8 engines, may not be very fuel-efficient, with lower miles per gallon compared to some other mid-size SUVs.
Major Competitors:
The Dodge Durango faces competition from several other mid-size SUVs in the market. Major competitors of the Dodge Durango include:
Ford Explorer: The Ford Explorer is a popular mid-size SUV known for its versatility, available three-row seating, and various engine options, including hybrid and performance-oriented models.
Chevrolet Traverse: The Chevrolet Traverse offers a spacious interior, comfortable ride, and a range of family-friendly features, making it a strong competitor in the mid-size SUV segment.
Toyota Highlander: The Toyota Highlander is known for its reliability, strong resale value, and hybrid variants, which cater to those looking for fuel efficiency.
Honda Pilot: The Honda Pilot is another reliable choice in the mid-size SUV category, offering a spacious interior, good resale value, and a reputation for longevity.
Subaru Ascent: The Subaru Ascent is a three-row SUV known for its standard all-wheel drive, safety features, and practicality, making it a competitor in regions with a need for all-weather capability.
Kia Telluride and Hyundai Palisade: These sister models from Kia and Hyundai offer a compelling combination of value, style, and features, making them strong contenders in the mid-size SUV market.
Nissan Pathfinder: The Nissan Pathfinder has been redesigned to offer more modern features, and it competes with the Durango in terms of family-friendliness and cargo space.
GMC Acadia: The GMC Acadia is known for its upscale features and available luxury options, providing a more premium alternative to the Durango.
Volkswagen Atlas: The Volkswagen Atlas offers a spacious interior and a comfortable ride, with a focus on family-friendliness.
Mazda CX-9: The Mazda CX-9 combines style and handling with a well-appointed interior, making it a contender for those looking for a more premium experience in a mid-size SUV.
These competitors vary in terms of features, performance, and pricing, so potential buyers should consider their specific needs and preferences when comparing them to the Dodge Durango.