Honda Grace Hybrid
Latest Generation Model Available As City only
Sold in Pakistan = 2014-2020
Generation = 6th (Discontinued)
Price in Pakistan =

24-45 Lac PKR

(As Per Condition & Model)
Honda City is known as one of the most selling fuel-efficient cars when it comes to budget sub-compact sedans. The 6th-generation launched in 2014 received a lot of international awards including the Middle East Car of the year award, In short, it was a huge success all around the international markets. In 2015 Honda decided to launch the sixth generation of Honda City under the name of Honda Grace in the Japanese market while Honda City is in the Indian market. The City received a major upgrade as it was more of a Honda Fit successor rather than the 5th gen Honda City. The display cluster is the same as in Honda Jazz Hybrid along with the gear-lever. Honda Grace is claimed to be the most fuel-efficient sedan selling in the market right now, as claimed by Honda Japan.
Great Looking Exterior of Honda Grace:
When it comes to exterior Honda Grace features competitively the same look as 6the generation Honda City. However, the list of differences includes a new front grille with a blue chromed grill, at the back, it gets new LED taillights and the trunk consists of an on-trunk spoiler much like a lip on top. Coming toward the wheels Honda Grace received the same wheels as in Honda Jazz Hybrid; 15-inch wheels in AWD with wheel hub caps and 16-inches wheels in two-wheel drive (2wd). Honda Grace comes with a longer wheelbase than its previous 5th generation. The vehicle is lower and longer than before with a wheelbase being 70mm longer with 2600mm in total, A longer wheelbase thus ensures a more comfortable and stylish look as compared to the old version. The facelift launched in 2017 came with LED headlamps with DRL (daytime running lights) along with an upgraded front chrome grill.
Fascinating interior of Honda Grace Hybrid:
Honda Grace offers some fancy interior looks and features as compared to the 5th generation; It comes with additional equipment such as an automatic climate control touch panel, a Navigation display of 5-inches, 8 speakers with an audio Bluetooth option, and a reverse camera. However, the cool features that remain missing in most budget sedans are rear ac vents and 4 power outlets. In terms of comfort, the seating area of the front seat is lowered to 10mm and 25mm to the back in order to ensure more comfort while sitting. Similarly, rear seats were lowered to 20mm with a legroom of 275mm so you can stretch and cross your legs easily when sitting in the back seat. The rear seats are designed to fold down, thus providing a cargo area connecting it to the trunk of 430-litres which is an impressive size for a local sedan. Honda Grace's ground clearance is set to sufficiently enough of about 590mm.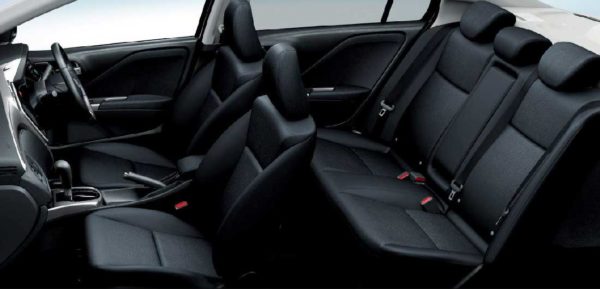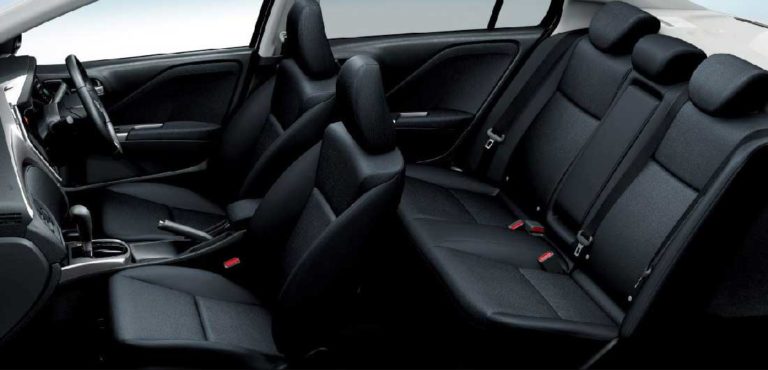 Honda Grace is called different names in different markets all across the globe. In India, it sells under the name of Honda City whereas in South Africa under the name of Honda Ballade. Chinese market badges it as Honda Ginea while the Japanese market sells it under the most widely known name Honda Grace Hybrid.
Engine and Power:
The name Grace is specifically limited to the Hybrid version of this generation while there are petrol versions of 1.5L with many trims offered all around the world, Grace comes with Hybrid technology. Honda Grace is powered by a 1.5L Atkinson-cycle engine with an "Intelligent Power Unit" known as IPU packed with a battery of lithium-ion. The transmission consists of 6-speed dual-clutch CVT (Continuously Variable Transmission).  The engine and hybrid motor make 134Nm and 160 Nm torque respectively, the engine and electric motor combined generates 139.5 BHP in total. These figures enable Honda Grace to give an astonishing excellent fuel average of 34.4km/l. This translates to 80.9 mpg in USA and 97.1 mpg in the UK.
H
onda Grace Trims:
Honda Grace comes in 3 trims with all the versions being 4wd.
Hybrid DX: It features push start, Honda smart key, S-mode switch, and Rear LED tail lamps.
Hybrid LX: The LX comes with the addition of front LED headlamps, cruise control, chromed door handles, etc.
Hybrid EX: This is top of a line version for Honda grace; it comes with safety features such as an active braking system, front-seat airbag for I-side and side airbag. The bumper comes with fog lamps, 16-inches rims instead of 15-inches, smooth fabric seats, 8 speakers with silver linings, and 2 Smartphone holders for the rear seat.
Price of Honda Grace in Japan:
Honda Grace is priced at 1,548,000-1,699,000 yen in Japan ($14,263-$15,654) with it being one most fuel-efficient and economical cars to buy in the sub-compact sedan category.
Major competitors: