2023 Kia Rio
4th Generation Facelift
Expected Launch in Pakistan =

2023 or 2024

Expected Price in Pakistan = 30-35

Lac PKR
The Kia Rio's 4th generation, launched in 2016 in Paris, is a subcompact hatchback with front-wheel-drive and four-wheel-drive options. 2021 brought a restyled version of the Kia Rio with sportier looks. The latest Kia Rio is also making its way to Pakistani automobile markets, and it will be available as a five-door hatchback here. The Kia Rio is a dynamic hatchback perfect for daily usage because of its budget-friendly fuel economy. The exterior design of the Kia Rio is bold with body-colored door handles, a meshwork radiator grille, and an attractive rear design. The features offered inside the cabin are the latest and facilitate making your ride comfortable and relaxing. Many of the latest safety features are also available in Kia Rio. The Kia Rio was first displayed at Pakistan Autoshow in 2019, and soon after that, customers had their eyes on the much-awaited launch of Kia Rio. Unfortunately, Kia Motors only launched Kia Picanto in 2019, and the launch of the Kia Rio was delayed. It was expected to launch at the end of 2021, but it was postponed. Therefore, we will see Kia Rio on our country's roads in 2022.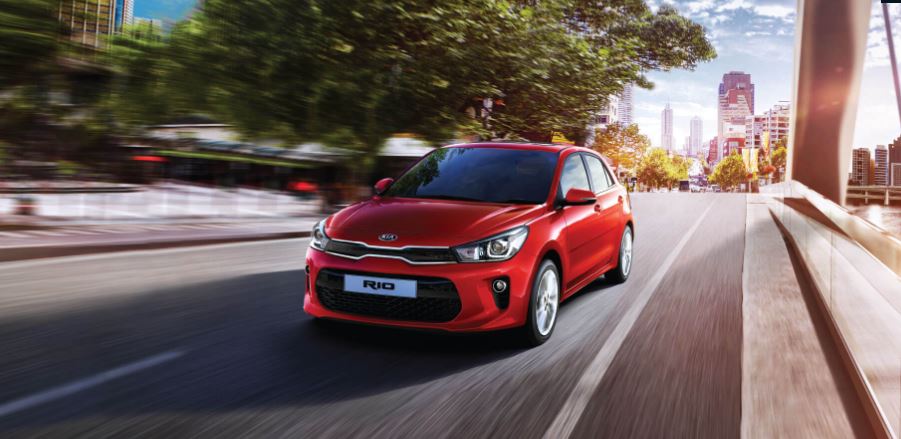 Trims & Variants:
The Kia Rio is available in two trim levels: S and LX. The SX trim was discontinued in 2017, and now only two trims are available. The LX trim offers a rearview camera, 15-inches steel wheels, Android Auto and Apple Carplay, an 8-inches touch screen, 6 speakers, and a USB port. It is available in a sedan body style, while the S trim is available in hatchback and sedan. It will offer folding rear seats, keyless entry, 2 USB ports, automatic climate control, forward collision warning alarm, and emergency braking. The S trim is relatively less in price than the LX trim.
Engine, Power & Transmission:
The Kia Rio will be available in two engine choices that are K1.4 MPI and K 1.2 MPI. The K1.4 MPI has a displacement of 1368 cc and produces a maximum of 100 ps (98 Horsepower) at 6000 RPM and a torque of 133 nm at 4000 RPM. It offers six-speed manual transmission or 4-speed automatic transmission. The K1.2 MPI has a displacement of 1248cc, and it produces a maximum of 84 ps (82 Horsepower) at 6000 RPM and 121 nm of torque at 4000 RPM. It offers a five-speed manual transmission.
Performance & Drive:
The Kia Rio is an easy and enjoyable car with agile handling and excellent gas mileage. You will not get any significant issues when driving this car within the city, but driving it at higher speeds may feel a little underwhelming. The power and acceleration are best at lower speeds. The handling of the Kia Rio is easy because of its small turning radius, which makes the ride quality impressive even when you are passing by rough roads. The suspension is nicely sorted, so you have a mix of comfort and agility when moving over breakers and bumps. The automatic transmission comes with smooth-shifting gears, and it transfers the engine's torque smoothly. The manual transmission is equally smooth with precise gear changes. The steering response is impressive, and drivers feel confident controlling the car with the least effort. You will have various features to assist you in a thrill ride. The parking distance warning system lets you know when you reverse in a parking spot and how much area is left behind to reverse. When little distance is left behind you, the audible beep alerts you to stop the car. You will enjoy a comfortable ride with no engine noise, but road noise may be noticeable. The 1.2 liters engine is low in power and takes 12.7 seconds to sprint from 0 to 60 miles per hour with a top speed of 108 miles per hour, while the 1.4 liters engine takes 9.8 seconds to accelerate from 0 to 60 miles per hour at a top speed of 118 miles per hour. Talking about the mileage and fuel economy is impressive. The 1.2 liters engine claims to give a combined mileage of 49.6 miles per gallon (19-21 km/Liter), while the 1.4 liters engine claims to provide a combined mileage of 47.3) miles per gallon (18-20 km/Liter).
Exterior Design & Features:
The Kia Rio has a progressive design that comes from Korea. There are straight lines in its appearance that give it a distinctive look. The front has a tiger-nose grille in the center which is more comprehensive and has glossy black meshwork. There are newly designed bi-function headlights on their sides and sculpted inside for sharper looks. There will be fog lamps in the front bumper, and the new Kia Rio has a long bonnet and longer wheelbase. The rear is upright with a vertical screen and straight lines that run from the front ends into the more sculpted tail lamps. The Kia Rio has an overall bolder appearance, and the 15-inches steel wheels look elegant and classy.
Interior Design & Features:
The interior of the Kia Rio is modern with an ergonomic layout. The straight lines run along the dashboard's width, giving a broader appearance to the cabin. The dashboard is angled towards the driver, creating a sporty look, and the design is driver-focused. There will be a 3.3-inches LCD screen that serves as an instrument cluster and is designed intelligently to provide the entire vehicle's data and outside temperature. There will be another 8-inches touch screen mounted on the dashboard that gives infotainment and comes with Android Auto and Apple Carplay. There will be cloth upholstery in the base trim and leather upholstery in higher-end trims. The longer wheelbase has increased the passenger room in the cabin, and it offers legroom of 1070 millimeters in the front and 850 millimeters in the rear and accommodates 5 adults comfortably. The Kia Rio offers one of the best cargo spaces among all its competitors, and it offers 325 liters of cargo capacity. You will also get an elastic luggage net to keep your luggage from moving around in the cargo area. Many new technological features are offered inside the Kia Rio to enhance comfort and convenience. It will come with keyless entry, automatic headlamps, cruise control, automatic climate control, a 360-view camera, and parking assistance.
Safety & Features:
The Kia Rio has been manufactured from 51 percent advanced high-strength steel, providing rigidity and passenger protection. In addition, the structural adhesive applied to Kia Rio makes it more rigid and lighter and improves vibration, noise, and harshness. Some of the standard safety features of the Kia Rio are as follows;
Forward collision warning alarm
Lane-keeping assist
Driver attention warning
Parking assistance
Anti-Lock Braking System
Vehicle stability management system
Tire pressure monitoring system
High Beam Assist
Major Competitors: