2023 Mercedes Benz GLE SUV
Sold in the USA: 2020-Present
4th Generation
2023 Mercedes Benz GLE SUV Price In the USA
GLE 350 SUV
Start at:

$57,700

GLE 350 4MATIC SUV
Start at:

$60,200

GLE 450 4MATIC SUV
Start at:

$66,450

GLE 580 4MATIC SUV
Start at:

$83,850

AMG GLE 53 4MATIC SUV
Start at:

$76,950

AMG GLE 63 S 4MATIC SUV
Start at:

$116,850
The Mercedes Benz GLE is a midsize luxury SUV ruling the luxury SUV market since 1997. It was initially called the Mercedes Benz M-Class and was renamed GLE in 2015. The latest fourth-generation Mercedes Benz GLE was introduced in 2018, and two engine choices were offered, while other engine options were introduced in 2019. The long-wheelbase variant was introduced in 2020 and sold in India only, while the European market got two plug-in hybrid versions. The latest Mercedes Benz GLE has received a few changes that include automatic high beam headlamps given as standard, and the cabin offers two color themes in leather upholstery: Espresso Brown and black and white. It offers a spacious cabin and two rows of seats as standard while an additional 3rd-row seat is also available, but it is a bit tight and only suitable for kids. A large touchscreen dominates the GLE dashboard, and the digital gauge and infotainment system are all in one panel. The Mercedes Benz GLE has an adjustable air suspension that makes your off-road adventures more comfortable and thrilling by providing additional ground clearance. The Mercedes Benz GLE is known for its sportiness and best off-road capability that also delivers good performance in everyday drives. It's time for the 2023 Mercedes Benz GLE to hit the SUV market, but it is not launched yet and is expected to launch by the end of 2022. The camouflage GLE has been spied on several times and will arrive at showrooms by the end of this year. The latest model at the Mercedes showrooms is the 2022 Mercedes Benz GLE. It is ranked number one among midsize luxury SUVs in the United States of America because of its attractive and spacious cabin, providing luxurious features and a wide range of available features.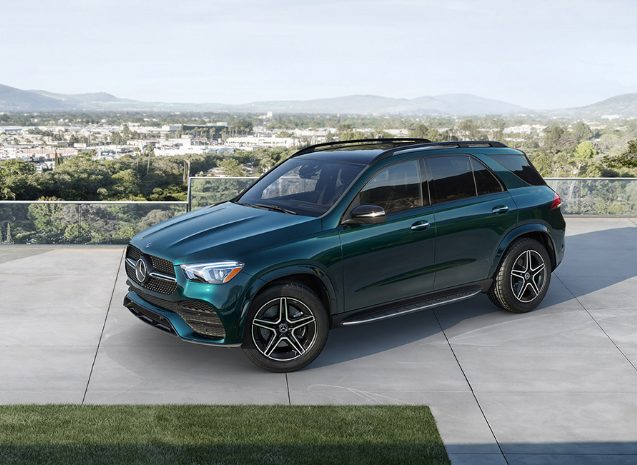 Trims & Versions: 
The Mercedes Benz GLE is available in five trim levels:
GLE 350: it offers nineteen-inch wheels, heated front seats, a sunroof, a power liftgate, keyless entry, LED headlights, a 12.3-inch infotainment screen, a 12.3-inch digital instrument panel, wireless charging device, automatic emergency brakes, and Blind-spot monitor.
GLE 450: It offers EQ boost mild hybrid technology and all-wheel-drive.
GLE 580 offers adaptive suspension, twenty-inch wheels, and an AMG Line styling package.
AMG GLE 53: it offers twenty-inch AMG wheels, upgraded brakes, Burmester surround sound system, and sporty AMG exterior and interior accents.
AMG GLE 63 S: it offers 21-inch wheels, adaptive headlights, seats with AMG badging, and an electronic limited-slip differential system.
Driver Assistance Package Plus: it offers adaptive cruise control, evasive steering Assist, Speed limit Assist, and lane keeping Assist.
AMG Line Interior package: it offers front sport seats, stylish floor mats, aluminum pedals, and a sport steering wheel.
Premium package: it offers a 115-volt power outlet, head-up display, four-zone climate control system, panoramic sunroof, and premium leather upholstery.
Engine, Power & Transmission:
The Mercedes Benz GLE offers a variety of powertrain options depending on the trim levels.
GLE 350: it gets its power from a four-cylinder turbocharged engine, generating 255 hp. It offers a rear-wheel drive or an optional all-wheel drive.
GLE 450 is powered by a turbocharged six-cylinder engine, generating 362 hp power. It offers a standard all-wheel drive. It is a hybrid powertrain with a 48-volt electrical system with a turbocharged engine.
GLE 580 has a turbocharged V8 engine that generates 504 hp power. It is a mild-hybrid version in which a 48-volt battery system combines with a 4.0-liter V8 engine.
AMG GLE 53: the turbocharged six-cylinder engine generates 429 hp power.
AMG GLE 63 S: the turbocharged V8 engine in AMG GLE 63 S generates 603 hp.
Performance & Drive:
The Mercedes Benz GLE offers a variety of powertrains, but the performance efficiency is well in all trim levels. The base variant with a 4-cylinder engine is also quick enough to accelerate from 0 to 60 miles per hour in 7.1 seconds, and the GLE 450 takes 5.3 seconds to accelerate from 0 to 60 miles per hour. It makes GLE one of the quickest SUVs. The steering control is excellent and feels light, giving confidence in driving. The transmission in the base engine is a little harsh but moving toward the higher engines, the transmission gets smoother, eliminating most of the issues. The braking system is efficient, with solid and easy-to-control brakes. The AMG version is known explicitly for the sportiness that meets everyday practicality. It offers various driving modes like Eco, Individual mode, sport mode, and comfort mode, so you can select according to your requirement. The plug-in hybrid technology in GLE offers the convenience of charging the battery from an external electricity source with access to fast-charging stations and one invoice charging process for payment. The all-wheel-drive system makes your drive more accessible in all types of terrains. An additional air suspension system further assists in off-road adventures, so when your car is stuck in mud or uneven surface, the ground clearance is increased to drive smoothly. The suspension is tuned well and smoothly moves the car through bumps and breakers, so the ride quality is not compromised. The fuel economy of all the variants is good, but the GLE 450 with the six-cylinder engine has the highest fuel economy, and it gives 21 miles per gallon mileage in the city and 26 miles per gallon on the highways. The mild hybrid system in 450 GLE makes an extra 107 hp power. The GLE 350 gives 19 miles per gallon in the city and 22 miles per gallon on the highways.
Exterior Design & Features:
The Mercedes Benz GLE has a dynamic expression of bold design with an overall length of 194.3 inches and a wheelbase of 117.9 inches. The LED high-beam headlights are given with daytime running lights and accentuate forward beside the grille. The AMG Line package adds gloss black exterior accents, AMG badging, and twenty-inch wheels to enhance the car's beauty. The panoramic sunroof can tilt up for fresh air and creates a fifty percent larger viewing area. It is available in various exterior color options to choose from.
Interior Design & Features:
The Mercedes Benz GLE's cabin gives a luxurious and premium feels with fine leather, wooden and metallic trims. The front seats, armrests, and center console lid are provided heating technology so you can enjoy the journey comfortably in winter. The spacious cabin has two-row seats and an optional 3rd row, which is best for kids. The cargo space is enough to carry eleven suitcases, while the rear seats get folded to carry up to twenty-six suitcases. There is a 12.3-inch touch screen stretch across the dashboard that comes with Android Auto and Apple Car play interface. The MBUX voice recognition allows drivers to turn on the heat or ventilation of the seat and change the radio channel without touching the button. It offers a navigation system, Wi-Fi hotspot, adaptive cruise control, and an automatic climate control system.
Pros & Cons:
Pros:
It has a striking exterior design, and the cabin is spacious with a 2nd-row seat, having ample passenger room. It has a high-tech cabin with intuitive features and looks luxurious. The outward visibility is excellent, and the infotainment system is easy to use.
Cons:
The ride quality is good, but sometimes it feels floaty with its air suspension. The high technology features come with an expensive price tag. The 3rd-row seat is not spacious and not fit for adults.
Safety & Features:
The GLE-Class received the full five stars for driver and passenger safety, as well as overall, from the NHTSA. The IIHS also awarded the 2021 GLE its Top Safety Pick+ award, with a top rating of Good in all six categories.
Some of the safety features the Mercedes Benz GLE offers are;
Active Brake Assist.
Blind-spot Assist.
Active Steering Assist.
We have automated emergency brakes.
Adaptive cruise control.
Rear-cross traffic alert.
Major Competitors:
Volvo XC90
Porsche Cayenne
Ford Bronco