2023 Crown CR 125
Sold in Pakistan = 2022-Present
Technology = Euro-II Kick Start & Self Start
Official Contact = 021 111 000 (348) 
2023 Crown CR 125 Price in Pakistan
| | |
| --- | --- |
| Crown CR 125 Self Start | 151,900/- PKR |
| Crown CR 125 Standard | 138,700/- PKR |
Crown Automobiles has been serving the Pakistani motorbike market for 15 years through a joint venture with Lifan Group China, dealing in motorbikes, rickshaws, and tires. They offer a variety of motorcycles, including 70cc, 100cc, and 125cc models, and manufacture high-quality spare parts, dominating the spare parts industry. Today we will review their Crown CR 125, a power-oriented bike designed for good performance, impressive for both long and short journeys. The Crown CR 125 has a premium quality chassis and claims to offer a good quality bike, equipped with Euro II technology and a four-stroke engine. It has kick-start technology, but electric-start is not available yet.
Talking about its design, the Crown CR 125 has an attractive fuel tank with a stylish look. Its appearance is similar to other highly-priced 125cc bikes, but it comes with an affordable price tag. The latest Crown 125 has a restyled design with new graphics added to the fuel tank and better build quality. Although the price of the Crown CR 125 has increased from the previous year due to inflation, it is still cheaper than its competitors.
The Crown CR 125 competes with Honda 125, but it comes with a comparatively lower price, making it an attractive option for users who want to ride a 125cc bike at an affordable price. Besides Honda, it also competes with Ravi Piaggio Storm 125, Aprilia RS 125, and Kawasaki GTO 125, but the Crown CR 125 is of better quality than other Chinese bikes. The Crown CR 125 comes with a warranty period of six months, giving customers reliability. The company also offers free home delivery service, and customers can purchase from their online stores or showrooms located all over Pakistan.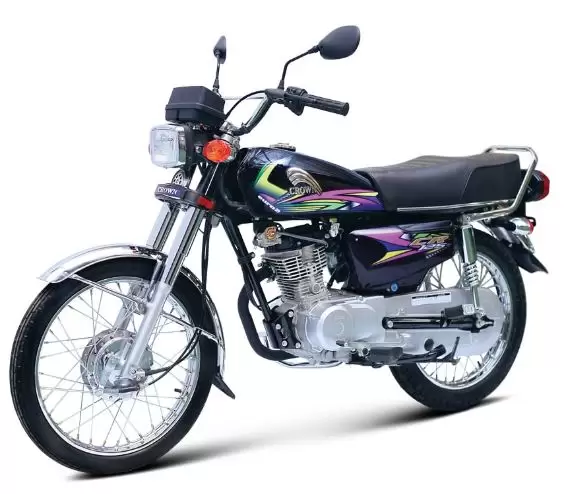 Engine & Performance:
The Crown CR 125 has a 4-stroke, OHC, single-cylinder, air-cooled, 124cc engine, offering a continuous 4-speed mesh transmission. It generates 12.0 hp power at 7500 RPM and torque of 10.0 Nm torque at 6000 RPM. The bike is designed to perform well in daily city travels and long-distance journeys, keeping up with the intense road. It offers a smooth transmission, and riders can conveniently change gears while keeping the ride quality smooth. The bike accelerates from 0 to 60 kilometers per hour in 13 seconds, offering a top speed of 100 kilometers per hour. The Euro II engine is powerful and delivers efficient performance. It comes with heavy-duty shocks that help provide smooth ride quality and prevent vibrations when riding on bumpy roads.
Fuel Economy:
The Crown CR 125 has a fuel tank capacity of 9.2 liters with a reserve fuel capacity of 2 liters. It gives a fuel average of 40 kilometers per liter.
Exterior Design & Build Quality:
 The 2023 Crown CR 125 has a stylish design with impressive looks. It features new graphics on the fuel tank, and the side covers have locks. The headlight and backlight design are typical of other 125cc bikes. The seat quality is good, providing comfort to the passengers. The seat height is designed perfectly to match the rider's convenience, allowing them to ride the bike comfortably and rest their feet on the road when stopping at signals. The bike weighs 98 kilograms and has a ground clearance of 140 millimeters, with an overall length of 1910 millimeters, a width of 730 millimeters, and a height of 1015 millimeters. It is available in red and black exterior color options. The bike's impressive build quality differentiates it from other Chinese bikes.
User Reviews: 
Customers are happy with the level of improvement shown by Crown bikes and love the Crown CR 125 for its affordability. Users enjoy a smooth and comfortable ride with a smokeless engine. They appreciate the stylish design with a decent headlight and attractive graphics on the fuel tank. They also love the speed meter design. However, some users find its fuel economy unattractive and prefer other bikes that offer a comparatively better fuel average. The bike's resale is good, and users are not worried about its resale value. The Crown CR 125's spare parts are easily available in markets, making maintenance not a problem for the users. Customers who are unable to buy the Honda 125 due to its higher price prefer the Crown CR 125 as a replacement. Many users are satisfied with the bike's performance, and its maintenance is also not an issue for them. Some users experience vibrations in the performance when riding on bumpy roads, but overall they love the bike's performance.
Major Competitors:
Warranty:
 The Crown CR 125 present price mentioned above has increased a lot because of the fluctuation of currency while CR125 comes with a warranty period of 6 months.