2023 Eagle Fire Bird DG 70 
Sold in Pakistan = 2018-Present
Technology = 4 Stroke Air Cooled
2023 Eagle Fire Bird DG 70 Price in Pakistan
| | |
| --- | --- |
| Eagle fire Bird DG 70 | 46,000 PKR |
The Eagle Group in Pakistan has introduced the most affordable bikes in this era of inflation, and its Eagle Fire Bird DG70 is a great, super economical 4-stroke engine bike. It competes with the much-loved Honda CD 70, Unique Xtreme UD70, and Pak Hero PH 70. The Eagle Fire Bird DG 70 is made better in fuel consumption and gives you more mileage. Some attractive graphics on its fuel tank, and side covers, enhance its beauty. It comes with a kick-start technology and also has a flexible suspension. It offers a 4-speed transmission and gives a comfortable ride. The Eagle Bird DG 70's price is quite economical and afforded by all working class. It also has the additional benefit of budget-friendly fuel economy, which makes it more demanding in the market.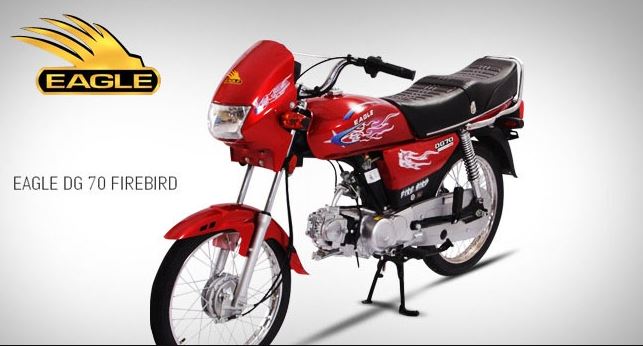 Performance & Drive:
The Eagle Fire Bird DG 70 has a 4-stroke single-cylinder engine with air-cooled technology and a displacement of 78cc. It comes with a wet-type multi-plate clutch and backbone-type frame. The Eagle Fire Bird DG 70 has a hi-tech suspension system that allows a comfortable ride and smoothly takes you through bumps and breakers. Still, it works best at moderate speeds, and riding it at high speeds may give a vibrating performance. Still, it is not unusual for even Honda CD70 can be uncomfortable and produce vibrations when we ride it at higher rates. Besides this, its performance is excellent, and the air-cooled technology in the engine creates powerful performance so you can enjoy a comfortable ride. It comes with kick-start technology, and the bike is switched on easily with a single kick. It offers 4-speed transmission and changes gears smoothly. The brakes are also efficient, and you can apply brakes smoothly when needed.
Exterior design and Build Quality:
The Eagle Fire Bird DG 70 has an eye-catching design with new graphics added to its tank that looks attractive. It has an overall length of 1911 millimeters, a width of 850 millimeters, and a height of 1192 millimeters. It has a ground clearance of 136 millimeters. It offers a newly-designed seat, has an aerodynamic design, and is much more comfortable to ride for longer distances. The seat height is designed accordingly, so the rider can ride the bike comfortably and rest his feet on the ground at signals and stops. The front has an attractive square-shaped front light that enlightens the roads and safeguards stun to help you in the worst road conditions. The Eagle Fire Bird DG 70 is available in various exterior colors, which include red, black, blue, and silver. The speedometer is simple yet stylish with clear graphics, and rod type handlebar is strong enough so you can grip it firmly. The taillight is equally delightful and energetic, and the 17-inches wheels look stylish with firm tires at the front and rear, providing a solid road grip. The overall design of Eagle Fire Bird DG70 is good with average durability.
Mileage and top speed:
The Eagle Fire Bird DG 70 comes with a fuel tank capacity of 10 liters and a reserve capacity of one liter. The latest model gives a better fuel economy with a more top speed. It can give you a mileage of 64 kilometers per liter (as per the company) which is even better than the Honda CD 70, which provides a mileage of around 50 kilometers per liter to 60 kilometers liter. The Eagle Fire Bird DG 70 gives you a top speed of 85 kilometers per hour, but as mentioned above, it produces some vibrations when riding at this speed, and that's why it is best when you ride at 60 to 70 kilometers per hour.
User Reviews:
One of the best attractions in buying Eagle Fire Bird DG 70 is its affordable price, as the Honda and Suzuki bikes are comparatively expensive. Customers are attracted to it because of the budget-friendly fuel economy. The users of this bike are satisfied with its performance, and some users even use it for long-distance traveling from one city to another. The users who use it for within-city travels are extremely happy with its performance and enjoy a comfortable ride. It is not a bike for traveling at high speeds, so it is not recommended for users who want to ride at high speeds. It is best suited for city traveling and everyday chores. The rear seat is comfortable and can accommodate one passenger, but there is a common practice of carrying two to three children along with you when traveling with family. The bike's style, comfort, and performance are appreciated by its users. They love how it looks similar to Honda 70 bikes. Talking about its durability and build quality, which is not very reliable for Chinese bikes like Eagle Fire Bird. Some users are not satisfied with the motorbike's quality and durability, so you have to invest in its maintenance. The spare parts of Eagle Fire Bird DG 70 are not available commonly in markets, and its resale value is also not promising. This is one of the drawbacks of Chinese bikes. Still, other than this, these bikes are extremely loved by the customers, and their demand is increasing every day in our country because it has made personal conveyance possible to even the low working class here.
Major Competitors: