2023 ZXMCO ZX 70 City Rider 
Sold in Pakistan: 2012-Present
Technology: EURO-II 4-stroke Single Cylinder (Self Start)
2023 ZXMCO ZX 70 City Rider Price in Pakistan
| | |
| --- | --- |
| ZXMCO ZX 70 City Rider | 60,000 PKR |
ZXMCO was founded in 2004 and was involved in the import of automobile parts from China. It then established its assembly plant in Pakistan, developed a network of a large market in a very short span, and won various awards in these years. It is a Chinese company that has offered a variety of motorcycles that are famous because of their affordability. ZXMCO offers a very competitive bike in the market of 70cc bikes is ZXMCO ZX 70 City Rider. The ZXMCO ZX 70 City Rider has a Euro 2 engine and offers an efficient ride quality. It has a stylish appearance and is comfortable to ride. ZXMCO's 70 cc bikes also have another option which is 70CC Thunder Plus. It is different from City Rider because it gives a heavy bike look with an aggressive headlight and the dashing sound of the bike. This City Rider has a good reputation in the automobile market, and one of the reasons, that makes it popular is its affordable price. People who can not afford the expensive popular bikes can purchase this Chinese bike and have their conveyance instead of using public transport daily. The ZXMCO ZX City Rider offers a kick-start technology and comes with four gears that work smoothly. The performance of the ZXMCO ZX 70 is impressive, and its Euro II engine works efficiently to give you an excellent ride. The ZXMCO 70 City Rider is economical and durable.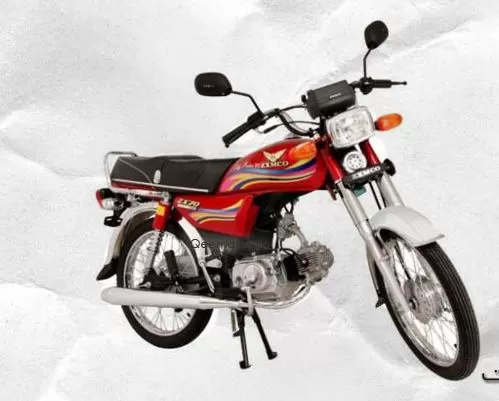 Engine & Performance:
The ZXMCO ZX City Rider gets its power from a 4-stroke single-cylinder, air-cooled engine with Euro II technology and has a compression ratio of 8:8:1. It offers a 4-speed transmission and gives a smooth performance. The ZXMCO ZX 70 comes with a disc brake at the front and applies brakes smoothly. It comes with a self-start mechanism and switches on the bike within no time. We must tell you that self-start technology is not available in any other 70cc bikes on market. Its suspension system is also good, and the bike takes you through bumps comfortably. It has a wet-type multi-plate clutch that is soft and works fine. It gives a good ride quality, and its shock absorber technology makes your ride even more comfortable. The seat is comfortable, and the rider can ride the bike comfortably, even for long-distance travel. It has a backbone-type frame which makes the bike durable.
Mileage & Top Speed:
The ZXMCO ZX City Rider has a fuel tank capacity of 9 liters and gives an excellent fuel economy per liter which ranges between 45-55 km/L. The fuel efficiency of ZXMCO ZX City Rider is impressive and makes it better than other competitors. The ZXMCO ZX City Rider can give you a top speed of 95 kilometers per hour, and the ride quality remains good even at this speed.
Exterior Design & Build Quality:
The ZXMCO ZX City Rider has a stylish appearance, that attracts every customer. It has an overall length of 1897 millimeters, a width of 751 millimeters, and a height of 1014 millimeters. It has a dry weight of 82 kilograms and a ground clearance of 135 millimeters. The seat is designed ergonomically, and the seat's height is enough so the rider can rest his feet on the ground when stopping at signals. Its seat is made comfortable enough to ride for long-distance travel, and it has sufficient space so the passenger can ride comfortably at the rider's back.  The front has a crystal headlamp that enlightens the dark roads. The rear brakes and indicators enhance its beauty. The handlebars are strong, so you can grip them tightly, and the speedometer is stylish with clear graphics. New graphic stickers added on the latest ZXMCO ZX City Rider look attractive and make it look even more beautiful.
USER Reviews:
The ZXMCO ZX City Rider has overall good reviews, and users are satisfied with its performance. The style and its appearance are appreciated by all users and are different from other traditional 70cc bikes on market. The price of City Rider is much more budget-friendly and makes it reachable to all working class. It is the only 70cc bike that offers a self-start mechanism, and this feature makes it unique among other bikes. Its fuel economy is impressive, and it can give approximately 50 kilometers in one liter, which impresses the customers, and users found it satisfactory with the fuel consumption. The maintenance cost of ZXMCO ZX City Rider is low and works fine without any problems. The resale value of City Rider is not as good as other locally-assembled bikes, but spare parts of City Rider are available conveniently all over the country, even if you can purchase them directly from the company. The wet clutch plates might feel hard sometimes, as experienced by some users, and riding it at higher speeds does not cause vibrations. The overall performance and ride quality of ZXMCO ZX City Rider is appreciated by all users.
Major Competitors: