Suzuki V-Strom 250
Sold Worldwide = 2017-Present
Engine Technology = 249cc engine with modern technology for efficient performance
Suzuki V-Strom 250 Price in India 
| | |
| --- | --- |
| Suzuki V-Strom 250 | 232,000/- INR |
The Suzuki V-Strom 250 is a lightweight adventure touring motorcycle designed for versatility and comfort. The V-Strom 250, which came out in 2017, is an adventure bike. It looks like it's ready for off-road adventures, but it is also good for long trips. This is because it has an engine with two cylinders and it has a fuel tank capacity of 17 liters. It is the smallest of Suzuki's V-Strom adventure bikes but offers features that riders love. Suzuki excitedly shared that they're getting ready to release the latest V-Strom 250SX in Japan. This comes after the bike's successful introduction in other Asian countries like India, the Philippines, and Indonesia.  The new version of the bike is not only more affordable compared to the previous model, but it also comes with a bunch of new updates. You can choose from six colors, like Yellow with Black, Red with Black, Black with Silver, Flash Black with Black, Blue with Black, and Orange with Black. The sides of the bike have a partially covered design and a low-hanging exhaust, while the front still has a round headlight and a windscreen. It has handy features like a power outlet, a lit-up digital panel, a bright headlight, and LED backlights. The bike's stopping power comes from a front fork and a rear shock absorber, with fancy names, 17-inch wheels on both sides, and front and back brakes that offer ABS to help you stop safely.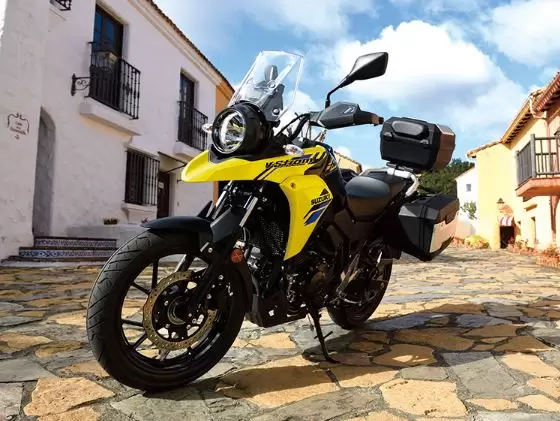 Engine, Power & Performance:
The Suzuki V-Strom runs on a 249cc engine and a single-cylinder with measurements of 76.0mm by 54.9mm. This engine can make 25 horsepower at 9,300 rotations per minute (rpm) and 16 pound-feet of twisting power at 7,300 rpm. It offers a six-speed gearbox. It meets the latest emission rules from 2020. It now uses slightly less fuel, going from 39.0 km/L to 38.9 km/L. They also changed the name a bit. It used to be called VSTROM 250ABS, but now it's just VSTROM 250 because they don't offer a version without ABS. The V-Strom 250 has a special cam shape that makes it good at speeding up between 20 km/h and 90 km/h. This helps you get going quickly. It is quieter and gives you a smoother and more comfy ride.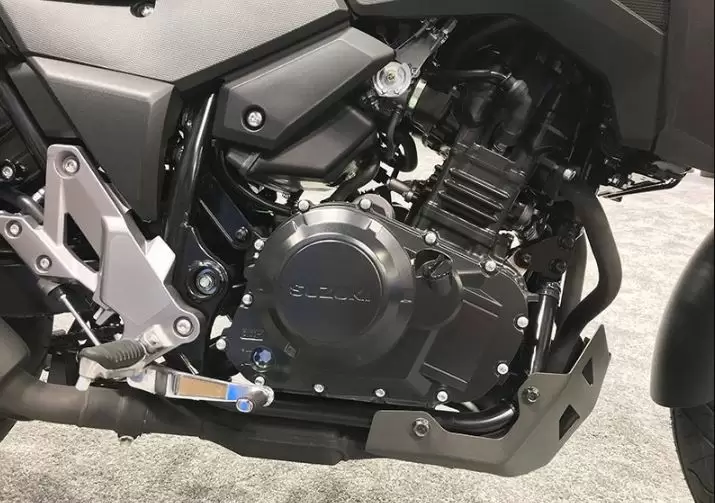 The Suzuki V-Strom 250 is known for its easy and approachable handling. It is a versatile and user-friendly bike suitable for many riders, including those who may be newer to motorcycling. The V-Strom 250 features an upright and neutral riding position. This allows for a comfortable and relaxed posture, reducing strain on the rider, especially during long journeys. The bike is relatively light in weight, making it maneuverable and easy to control, particularly in city traffic or on winding roads. The suspension system is tuned to provide a balance between comfort and performance. This helps absorb bumps and irregularities in the road, offering a smoother ride.  The V-Strom 250 remains stable at highway speeds, providing confidence for longer journeys. The front and rear disc brakes, equipped with ABS, provide reliable stopping power. This adds to the overall sense of control and safety. The 17-inch wheels and appropriate tire choices contribute to its stable and predictable handling characteristics.
Exterior Design & Build Quality:
The front of the bike has a modern stacked LED headlight, replacing the older round halogen one. The design looks sleeker and more polished. The exhaust is blacked out, and the side panels match the color scheme, giving the whole bike a more stylish and high-quality appearance. The seat is a bit higher now at 835 mm, up from the old 800 mm. This change comes with a switch to a 19-inch front wheel, and they've increased the ground clearance to 205 mm. The previous model was more geared towards the road, so these adjustments make it more versatile for different terrains. The bike comes in four fresh colors: yellow, red, silver, and matte black. They have made some changes to the design too. The side cowls, which used to be black, now match the front fenders in color. They have also updated the graphics, especially on the yellow version with blue accents. It gives the bike a nice new look. The Suzuki V-Strom 250 is loved for its solid build quality. Suzuki is known for manufacturing durable and reliable motorcycles, and the V-Strom series, including the V-Strom 250, is no exception. The bike uses high-quality materials to ensure longevity and durability. This includes the frame, body panels, and various components. The overall fit and finish of the V-Strom 250 are well-regarded. The parts are assembled precisely, contributing to a cohesive and polished look. The paintwork and coatings on the bike are typically of a good standard. They withstand the elements and maintain their appearance over time. The components such as suspension, brakes, and engine are manufactured to a high standard, contributing to the bike's overall reliability.
User Reviews:
The V-Strom 250 is praised for its versatility. It offers many riding styles, including commuting, touring, and light off-road adventures. The upright and neutral riding posture is mentioned as a factor in providing a comfortable and relaxed experience for riders, especially on longer journeys.  The bike's engine offers good fuel economy, which is for riders looking to cover longer distances without frequent stops for refueling. The V-Strom 250 is appreciated for its lightweight and quick handling. It is easy to maneuver in urban traffic and on winding roads. Suzuki's reputation for building durable and reliable motorcycles is reflected in the V-Strom 250. Riders often commend its solid construction and overall quality. Many reviewers consider the V-Strom 250 to offer good value for its price, providing a well-rounded package with features typically found in more expensive adventure bikes. The 250cc engine provides enough power for most riding scenarios, including highway cruising. The bike has a user-friendly instrument cluster and features like ABS, contributing to a modern and functional riding experience.
Pros & Cons:
Pros:
Works for Different Rides: This bike is good for different types of rides, like going to work, traveling, or easy off-road trips. It's like a flexible choice for riders.
Comfy Riding: You sit straight and comfy on this bike. That means you won't get too tired, especially during long rides.
Light and Easy to Control: It's not heavy, so it's easy to steer, especially in town or on twisty roads.
Smooth Ride: The bike's special parts make sure you don't feel every bump on the road. It's like a smooth ride.
Stays Steady on Highways: When you go really fast on highways, the bike doesn't wobble. It helps you feel safe on long journeys.
Good Brakes: The brakes on this bike work well, especially because they have a special safety system (ABS).
Saves Fuel: This bike doesn't drink a lot of fuel. That's good if you want to ride a long way without stopping for gas.
Strong and Well-Made: Suzuki makes strong and long-lasting bikes, and this one is no different. It's put together well with good materials.
Looks Modern: The bike has a stylish design. It has bright LED lights, a cool black exhaust, and a fresh look.
Bang for Your Buck: Many people think this bike gives you a lot for the money you pay. It's like getting a good deal.
Cons:
Not Super Powerful: The engine isn't super strong. It might not be great for really tough rides like going off-road in rough places or driving very fast on highways.
Low to the Ground: The bottom of the bike is closer to the road now. While this helps for off-road stuff, it might make it less stable on regular roads.
High Seat: The seat is higher, which can be a problem if you're not very tall. Some riders might have trouble getting on and off.
Limited Color Choices: You can't pick from a lot of different colors. That might not suit everyone's taste.
Not for Serious Off-Roading: It's okay for light off-road trips but not for really tough off-road adventures.
Basic Off-Road Features: It doesn't have some of the advanced features that you'd find on specialized off-road motorcycles, like adjustable suspension or special tires.
Verdict:
The Suzuki V-Strom 250 is a lightweight adventure touring motorcycle that's good for different types of rides, like going to work or traveling. It's comfy to ride, not too heavy, and gives you a smooth journey even on bumpy roads. It stays steady when you go fast on highways and has good brakes for safety. It doesn't use a lot of fuel, and it's strong and well-made. The design looks modern, and many people think it's a good deal for the money. But it's not super powerful, sits low to the ground, and has a higher seat, which might be hard for shorter riders. You can't pick from many colors, and it's not meant for really tough off-road adventures.
Major Competitors:
Kawasaki Versys-X 300: The Kawasaki Versys-X 300 is a bike that's a lot like the V-Strom 250. It has a 296cc engine and is known for being flexible and comfortable to ride.
BMW G 310 GS: BMW makes the G 310 GS, which is a small adventure bike with a 313cc engine. BMW is known for making bikes that are high quality and perform well.
Honda CRF250 Rally: Honda has the CRF250 Rally, an adventure bike that can handle both on-road and off-road trips. It comes with a 250cc engine.
Royal Enfield Himalayan: The Royal Enfield Himalayan is a bit bigger with a 411cc engine, but it competes in the same kind of category. People like it for its tough design and how it's good for long rides and off-roading.
Yamaha XT250: Yamaha has the XT250, a light bike that can go on regular roads and off-road too. It has a 250cc engine.
Suzuki DR-Z400S: The Suzuki DR-Z400S is a bike that can do both regular and off-road riding with its 398cc engine.
Benelli TRK 251: If you're looking for a budget-friendly adventure bike, the Benelli TRK 251 is a good choice. It has a 249cc engine and gives you a lot for the price.
KTM 390 Adventure: KTM's 390 Adventure is a bit more about performance. It has a 373cc engine and is known for being good at handling and going off-road.