2023 Chery Tiggo 8 Pro
Sold in Pakistan =

2022-Present

1st Generation facelifted
2022 Chery Tiggo 8 Price in Pakistan
Price Effective from 15-Feb-2023
Chery Tiggo 8 Pro
 92,990,00

PKR
Tiggo 8 was introduced by Chery under the Tiggo series in china in 2018. This front-engine and front-wheel drive mid-size crossover was revealed at Beijing Auto Show held in China. A 1.6 liters four-cylinder engine was added later in the year 2019. The Chery Tiggo 8 was awarded the best-entry-level medium SUV for the years 2019 to 2020 in China by Chin Automotive Technology and Research-Center Co. Chery has announced to launch of Chery Tiggo 8 globally in countries like Russia, Saudia Arabia, Russia, Chile, Uruguay, and Ukraine in 2021 at their 20th anniversary held on October 15th, 2020. 2021 brings a new Chery Tiggo in China, which will soon launch in the Brazilian automotive markets. The new 2021 Chery Tiggo 8 pro was revealed at the Sao Paulo Auto Show held in the United States. China's 2021 Chery Tiggo 8 pro is known for its Wider and spacious cabin, super-strong power, safe driving, and cutting-edge intelligent technology. It is built on the T1X platform, giving more headroom at the front and rear and ensuring better off-road performance. It is available with two engine choices; either a 1.5 liters turbocharged engine or a 1.6 liters turbocharged engine. United is also planning to bring Chery Tiggo 8 pro to Pakistani automobile markets also.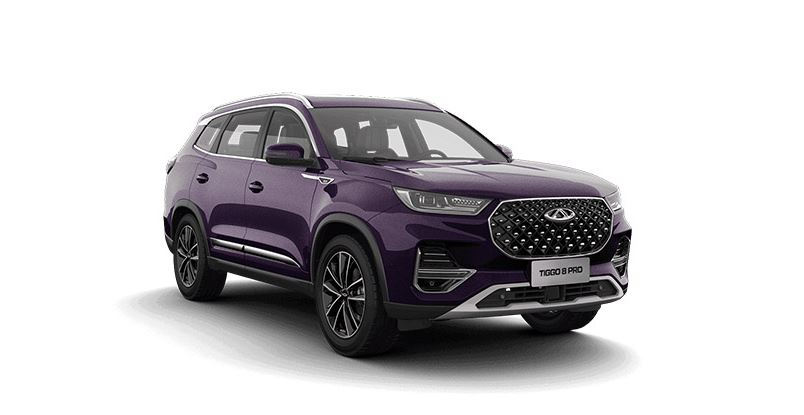 Trims & Versions Internationally:
It is available in three trim levels include Basic, Comfort, and Luxury trim. The Basic Trim features plastic trim pieces inside the cabin, 7 inches LCD, an air conditioning system, seventeen-inch alloy wheels, and standard safety features. The Comfort Trim is equipped with LED automatic headlights, soft and high-quality trim pieces used inside the cabin, multi-function buttons, and 10.25 inches LCD screen. The Luxury Trim features leather upholstery, 12.3 inches LCD instrumental panel, 10.25 inches infotainment screen, leather upholstery, and eighteen inches alloy wheels.
Engine & Power Pakistan:
The latest Chery Tiggo 8 pro is available with only one engine choice; The 1.6L GDI 1598 cc displacement 16V DOHC engine produces 195 Horsepower at 5500 RPM and torque of 290 Nm at 2000 to 4000 RPM. The GDI engine is paired with a seven-speed dual-clutch transmission.
Performance & Drive:
When talking about the driving performance of Tiggo 8 pro, then it's not bad or too good. It has been offered multiple with various driving modes, but if you want to run Tiggo 8 pro at its best, switch to Sport mode which will help it drive even on muddy tracks. The ample power and torque of the Tiggo 8 pro are good enough to run the front wheels efficiently, and it offers you two transmission options that are not bad, but its transmissions can not be considered the sharpest. If you don't want a sporty drive, then it is recommended to drive it in Eco mode for daily use when you don't want an immediate response to move on. The improved suspension of the Tiggo 8 pro enables more precise steering control, good tracking, and high reliability. The handling of this seven-seater is fair, and its steering response is also light, letting you turn and curve the car around twists and corners easily. The Acceleration of Tiggo 8 pro is average, but it's fun to drive it if you get used to acceleration. When talking about fuel economy, the Tiggo 8 pro is considered moderate again as it gives you 10 kilometers per liter in the city and fifteen kilometers per liter on highways. The latest technologies in Tiggo 8 pro make it an even more comfortable and safe ride. Its features are advanced electronic control technology that replaces the traditional hand brake concept in vehicles that avoids unexpected accidents when you don't remember to pull or release the hand brake. The six airbags introduced in Tiggo 8 pro make the ride safer as it works in conjunction with seat belts and provides maximum protection against collisions.
Exterior Design & Features:
The Chery Tiggo 8 pro is known for its stylish fascia that features a tiger-crouching front face. The front end is made prominent by two chrome modelings that extend through the starry-sky grille and headlights. The streamlined body of Tiggo 8 pro is pronounced with three main lines contouring its body. The automatic LED headlamps are uniquely designed and provided with daytime running lights. The rear end is typically boxy-shaped, giving it a traditional SUV look, and its sleek taillights are exceptional in appearance. The design of taillights is inspired by Chinese culture, the wooden pane in old Chinese architecture. The eighteen inches alloy wheels are designed in an artistic way giving Tiggo 8 pro more dignity.
Interior Design & Features:
The interior end of Chery Tiggo 8  is known for its spacious cabin and cutting-edge technology. The higher-end trim features leather upholstery that gives a premium feel to the interior. The driver's seat is six-way electronically adjustable, and the H-type design further corporate in reducing fatigue during driving. The front center armrest provides comfortable arm support to drivers and passengers and dual Zone climate control with rear AC Vents again makes the environment more favorable. The panoramic sunroof enables you to enjoy the blue sky and let the fresh air enter the cabin. It is a seven-seater SUV, and the trunk's capacity is enough to carry luggage for a family trip. A seven-inches LCD screen is used as an instrumental cluster, while 10.25 inches floating LCD screen is mounted on the central console to provide infotainment. The infotainment system is compatible with Android Auto, Apple CarPlay, and CarLife functions. The physical buttons present with the infotainment system are easy to use and contribute to the cabin's attractiveness. In contrast, the electronic shift lever and dashboard design further enhance the beautiful interior. 
6-way adjustable driver & passenger seat
Drive Memory seat
push-button start
360 Degree Camera
Cruise control & smart key
Safety & Features:
The body of Chery Tiggo 8 pro is made up of high-strength steel whose torsional stiffness is up to 21000 Nm, and it improves the resistance in cases of accidents and collisions. Some of the safety features given in it are:
Anti-theft alarm

Adaptive cruise control

Six airbags

ABS

Electronic Stability Control

EBD (Electronic Brakeforce Distribution)

Hill Start Assist Control
Tire Pressure Monitoring System

Traction control system

Rear parking sensors

Rearview camera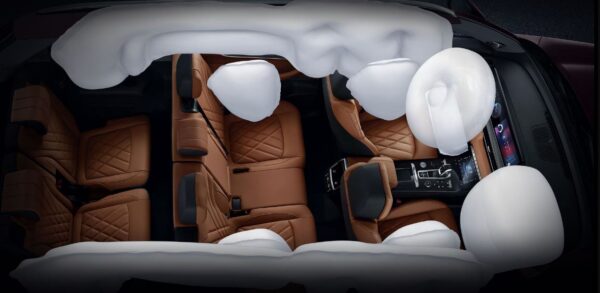 Pros:
Powerful Engine
Advanced Safety Features
7 Seater
Cons:
Expensive than other similar segment cars
Chery Dealership Network is not wide
Parts availability would be an issue
Not a renowned brand in Pakistan
Major competitors:
Verdict:
The outstanding performance and product power of Chery Tiggo 8 pro made it the Best Entry-Level Medium and Large SUV in China for 2020 and 2021. The latest Chery Tiggo 8 continued to give its customers more SPACE, more COMFORT, and SUPERIOR POWER, due to which its sales are going well. We expect a similar success of Tiggo 8 in other countries, including Pakistan, as Chery has already announced the launch of Tiggo 8 pro in other countries too.