2023 Changan CS75 
Expected Launch =

2023 or 2024

Expected Price =

50-75 lac PKR

2nd Generation
Changan CS75 introduced in 2014 by Changan Automobiles in China is a compact crossover that received some facelift changes in 2018, and its 2nd generation debuted in 2019 at Shanghai Auto Show. Currently, the 2nd generation of CS75 is available in markets, which is available in two engine choices, and it is termed as Changan CS75 plus. Changan Automobiles is also making its way to international markets, including Pakistan where CX70 and three other commercial vehicles debuted on March 13th, 2018. Changan Automobiles have introduced three vehicles in Pakistan in partnership with Master Motors Limited, and they include Changan Karvaan, Changan M8, and Changan M9. Changan Alsvin is also a rising sedan in Pakistani markets, and all these vehicles are locally produced and available at all dealership showrooms of Changan in Pakistan. Changan Automobiles Pakistan is also planning to launch its SUV CS75 in Pakistan by the end of 2022. The CS75 is a 4.7 meters long SUV that will come in various seating layouts and a beautiful exterior design that features a sunroof and delivers wonderful driving performance. Changan CS75 is a hot-selling SUV in China, and its arrival in Pakistani markets will also bring tough competition to other SUVs here.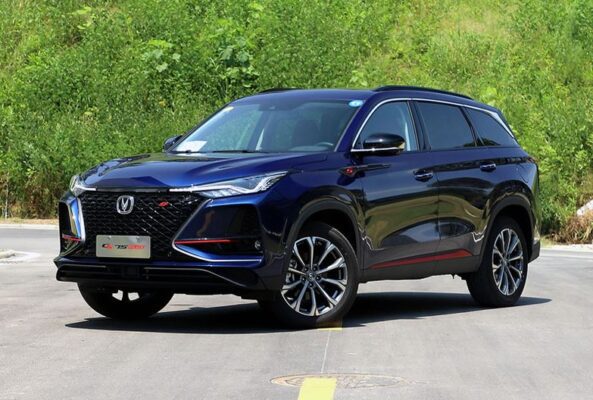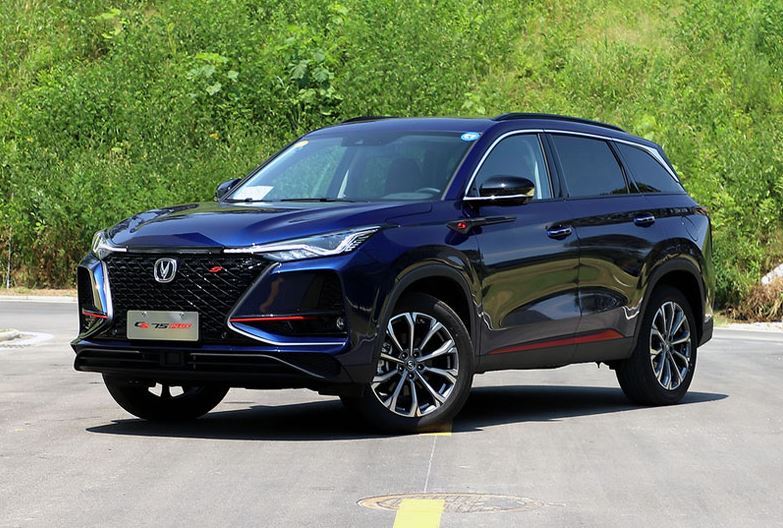 Trims & Variants:
A total of six variants of Changan CS75 are available that have different powertrain and transmission options. Three transmission types are offered in Changan CS75; One manual transmission and two automatic transmissions. Other than this, one variant will have a 1.5T displacement, and the other one will have a 2.0T displacement. There is no confirmed news about the trims going to be released in Pakistan, but these are expectations that the above variants will also be available in Pakistan.
Engine & Power:
Two engine choices are available with CS75 are; a 1.5 liter and a 2.0 liters engine. The 1.5 liter JL47 engine produces a maximum power of 178 PS (175hp) @ 5500 RPM and torque of 265 Nm at 4500 RPM. The 2.0 liter JL48 engine produces a power of 233 PS (229hp) at 5500 RPM and torque of 360Nm at 5300 RPM. It is offered with either a six-speed manual, six-speed automatic, or 8-speed automatic transmission. The fuel system it has is a direct injection and the engine generates efficient power to run the front wheels (FWD) efficiently, while the braking and suspension system is also up to date, similar to the other vehicles of the same class.
Performance & Drive:
The 1.5-liter turbocharged engine works well and is mated with six-speed automatic transmission and delivers you wonderful driving performance, while the 2.0 liters engine also delivers more refined performance. The suspension system is efficient with its MacPherson struts up at the front and multi-link setup at the rear, so you are provided with a comfortable ride, even on the bumpy streets of our country. This SUV is good, not only for your daily life work but also suitable for cruising at high acceleration on highways with a bit of footwork only. All the transmissions work smoothly with balanced gear changes, and you can shift to other gears smoothly. It comes with three-driving-modes that are Eco mode suitable for consuming minimum fuel, Normal mode for everyday duties, and Sport mode for your thrill adventure. The braking system is also designed remarkably so you can apply the brakes smoothly with slight foot pressure. The power steering works precisely that works to control your SUV with a minimum body roll, and the car does not lean much when turning or curving around corners. The steering wheel is also light, so the driver has to apply the least effort in controlling the vehicle. Other than this, it will be equipped with the latest features to make your ride comfortable and convenient. The hill-hold and descent control let you drive the car conveniently over the slopes and hilly areas, and the cruise control feature makes your drive relaxed and safe with safety measures, so the accidental chances are reduced. The electronic parking sensors will ease parking even in tight passages, and the rear camera will also assist the drivers in parking the car safely. The fuel efficiency of CS75 is supposed to be average with its powerful engine, and it has an estimated mileage of around 10 kilometers per liter.
Exterior Design & Features:
The body design of Changan CS75 is extremely remarkable, having a large honeycomb grille on its front flanked by two slim LED headlamps given with daytime running lights. The rear end design is also strong and showcases a bold charm having a typical SUV layout pronounced by a big rear door on its back and two LED taillights designed on it. The real sportiness is added to its character with its seventeen-inches alloy wheels that look bold and aggressive from all angles.
Interior Design & Features:
The interior cabin of Changan CS75 is as beautiful as the exterior ensuring maximum comfort and giving you an innovative design. The dynamic leather-covered seats not only look attractive but also provides comfort. The driver's seat comes with electric adjustment and lumbar support, so he or she feels well-catered as he gets in the car. Changan CS75 is available with two different inner layouts for the accommodation that is; a five-seat and a seven-seat configuration. Another feature adding convenience is an armrest box that offers you a cooling and warming function linked with the air conditioning system. There will be a panoramic sunroof that provides more light and fresh air in the cabin. You will be given an automatic air-conditioning system that will provide cooling inside according to the temperature, even to the rear passengers. There will be an anti-bacterial and anti-viral air filter that filters the air inside the cabin as many new upcoming vehicles, thus protecting the passengers in the current situation of COVID. There is a 12 inches touchscreen mounted on the top of AC vents that gives the infotainment and comes with smartphone compatibility, while a seven-inches LCD panel works as an instrument panel and assists drivers in driving. There is 620 liter of boot space in the rear which can be increased to 1450 liters when the rear seats are folded, so you can carry enough luggage with you.
Safety & features:
The Changan CS75 will be equipped with:
Blind-spot detection system

Tire pressure monitoring system

Six-airbags

Electrical park brakes

Electronic stability program

Tire pressure monitoring system.
Major Competitors: