2022 MG5 Sedan
Sold in UAE = 2019-Present
Generation = 2nd
2022 MG5 Sedan Price in UAE :
| | |
| --- | --- |
| Standard | AED 43,995 |
| Comfort | AED 49,245 |
| Luxury | AED 56,595 |
MG-5 has been-introduced in 2012 by SAIC Motors under the umbrella of MG marque. It shared the platform with Roewe 350 Saloon, and this compact car was revealed as a front-engine and front-wheel-drive vehicle. The second generation of MG-5 was released in September 2020 at the Beijing Auto Show, and it got a front fascia resembling with MG HS restyled model. MG-5 is a four-door sedan that is also exported to other countries from China. MG Motors has acquired a green status under Pakistan's Automotive Development Policy of 2016 to 2021. It has become a new entrant in Pakistani automobile markets in partnership with JW-ZES Group. MG Motors Pakistan is delivering MG HS and MG ZS in local markets of Pakistan, while some imported models are also available, including the MG5. The second generation of MG-5 was available in imported versions, but now MG Motors is planning to launch the 2021 version of MG5 officially in Pakistan. The CEO of MG Motors Pakistan, Javed Afridi, released some pictures of the MG 5 sedan on his Facebook account and asked for public opinion about its price in Pakistan. It showed that you can now purchase the MG-5 officially very soon at any dealership shop of MG Motors in Pakistan.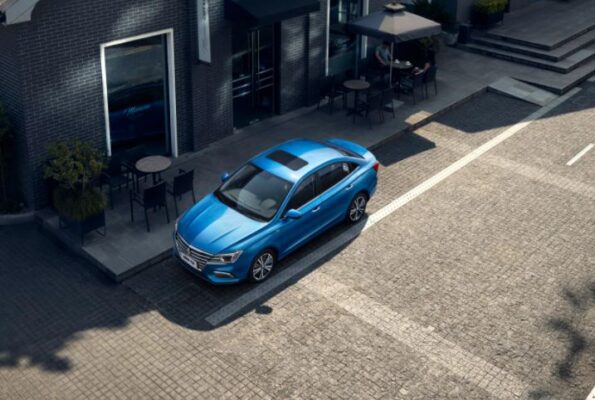 Trims & Variants:
It is available in three trim levels that are 1.5liters Standard CVT, 1.5L Luxury, and 1.15 liters Comfort-CVT while the diesel version is not available. The powertrain of all the trims is similar while they differ in some features. The 1.5L STD trim is equipped with fabric seats, four-way manual adjustment of seats, power windows, central lock, four speakers, and Bluetooth connectivity. The 1.5L COM trim features a six-way manual adjustment of seats, leather-covered steering wheel, rear-view camera, rear parking sensor, six speakers, 8 inches touch screen display, and sound-control on the steering wheel. The LUX trim features leather upholstery, 10 inches touch screen display, eight speakers, USB Ports, Bluetooth connectivity, up-to-date safety features, and automatic transmission.
Engine & Power:
The MG-5 is powered by 1.5 liters, 1498 cc engine that produces a maximum power of 84 kW (113hp) at 6000 RPM and maximum torque of 150 Nm. It offers continuously varying transmission while the STD trim features electric power steering, and the LUX trim and COM trim come with speed-sensing steering. The suspension and braking system is also the same in all the trims.
Performance & Drive:
MG5 is the most expensive compact car among MG vehicles, but its performance is worth this price tag. It delivers impressive driving performance with its refined 1.5 liters engine paired with a continuously varying transmission and provides enough power to run the front wheels efficiently. The acceleration of MG-5 is also remarkable, gaining a top speed of 180 kilometers per hour and taking 7.7 seconds to sprint from zero to 120 kilometers per hour. Talking about the handling of the vehicle, which is responsive, gives extra confidence to the drivers. The electronic or speed sensing power steering controls the car with the least effort, and it is better than other vehicles of this company. The precise steering comes with sensible-grip levels, and it has been equipped with reasonable suspension control that makes your ride even more thrilling and relaxing. This car is perfect not only for your daily life adventures but also fit for highway driving. The traction control doesn't take much time to set, and you will feel the steering wheel feel lighter. The dual cooling cycle engine promises you a better fuel economy with an ultra-smooth drive. The fuel consumption of MG-5 is not bad, consuming 5.5 liters of petrol to run a hundred kilometers. The performance is made more reliable than before with its Anti-Lock Braking System, and Electronic Stability Control System that will ensure that the brakes are working efficiently in all type of situations, and your vehicle deliver a stable ride. The cabin is made insulated from the engine noise and external wind noises so that the passengers can enjoy a comfortable ride. Several features assist the drivers in driving the vehicle comfortably and conveniently. The 360-degree view camera helps to reverse the vehicle and park it even in narrow pavements.
Exterior design and features:
MG-5 is known for its style, and there is a list of features that ensures this vehicle will have a bold design. It comes with bold bodywork, so the car has a refined figure as the flowing roofline presents a dynamic aesthetic that makes it distinctive and different. This sedan's front-end is sleek with a chrome-plated grille in the center, holding the MG logo in it and two diamond-cut headlights on its sides. The projector headlamps with daytime running lights and foglights provide exceptional visibility, and the rear-end is equally attractive with a similar design as the previous models. The electric sunroof gives a cavernous feel to the vehicle, adding bright light to the cabin and giving it an impressive style. Lastly, its bold and masculine sixteen-inches alloy wheels add more aggressiveness to its stance.
Interior design and features:
The interior of MG-5 features an indulging cabin that is crafted beautifully and presents you harmonious environment for driving. The cabin is spacious enough to accommodate five adults, and you will also get generous storage areas inside the cabin with a total number of twenty-nine, and the boot space has a capacity of 512 liters that is sufficient to carry your luggage bags for a weekend trip. The higher-end trim has leather upholstery, and you will get high-quality materials inside the cabin. The driver's seat comes with a six-way power adjustment. There is a 10.1 inches touchscreen display mounted on the dashboard giving you infotainment, and it is compatible with Android Auto and Apple Carplay. You will find all the latest technology in the cabin, from the keyless entry, cruise control, rear-view camera, push-start button to the Inkalink media system, you will get cutting-edge technology.
Safety & Features:
MG-5 has been awarded five stars by NCAP rating that ensures the passengers a safe ride. The MG-5 has been equipped with Hill-Start Assist, Electronic Brake Force Distribution, tire pressure monitoring system, airbags, ISOFIX child seats, ABS, and Curve Brake Control. The high-strength steel cage body of MG-5 is designed-especially to prevent maximum loss in accidents.
Major competitors: