Mazda Scrum (2008-2020)
Sold in Pakistan = 2008-2020 (As Import Model)
4th Generation
Mazda Scrum Minivan Price in Pakistan 
Mazda Scrum

13-20 lacs

(As per Condition & Model year)
Mazda Scrum was first introduced in 1989 with the name Autozam Scrum, and this cab-over microvan and Kei truck were exclusively made for the Japanese market. Scrum is a rebadged version of Suzuki Carry, and it uses a Suzuki engine. The scrum series include a scrum truck, scrum van, and scrum wagon. It offers you both a two-wheel-drive option and a four-wheel-drive option, and you can switch between the two. The Mazda Scrum wagon and van receive many updates, and it has now become more economical and ergonomic. These are outclassed in their quality and comfort and are used mainly for commercial purposes. The Mazda Scrum series also have been exported to other markets outside Japan, and these passenger vans have become quite successful there. The 2021 model of the Mazda Scrum van and truck is available in Japan with some minor updates. The Scrum series for 2021 include the Mazda Scrum truck and Mazda Scrum van. The Scrum truck offers you five-speed manual transmission or a three-speed automatic transmission, while the Scrum Van gives you the option of a five-speed manual transmission, five-speed AGS, or four-speed automatic transmission. Both vehicles are versatile and can import from Japan as per the policies of the government. There is also a demand for used Mazda Scrum vans in Pakistan as Japanese automobiles are more reliable than other locally manufactured vehicles that's why people are highly interested in Mazda Scrum when a passenger van or truck is needed.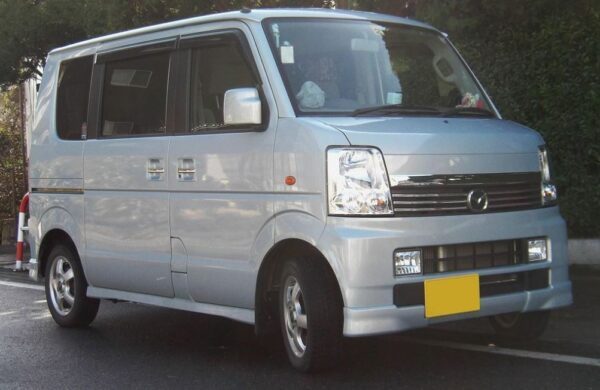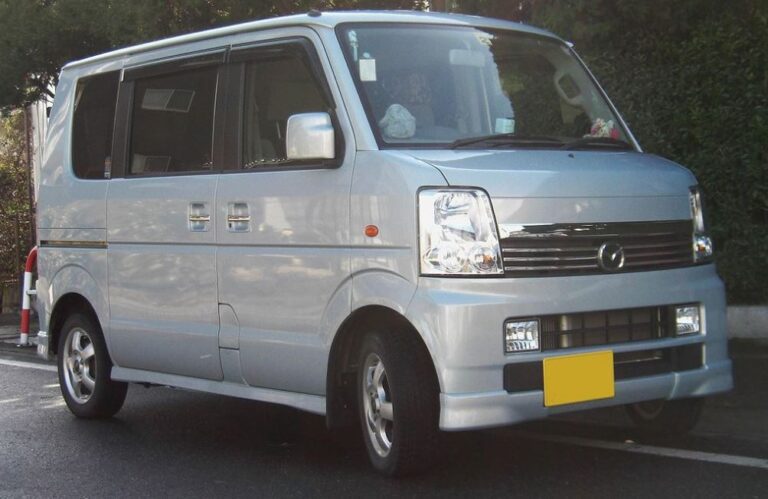 The Mazda Scrum series include:
Mazda Scrum Van

Mazda Scrum truck
Mazda Scrum Van:
The Mazda Scrum van makes your daily commute or work easy and fun because of its generous storage capacity and good maneuverability. One of the best things about the Scrum van is its large doors that make access to the cabin easy, and you can load your luggage effortlessly. A large luggage compartment has been provided to carry goods. Driving the Scrum van is easy as it gives a clear and vast view to the drivers. It gives you the seating capacity of around two to four people and offers either a two-wheel drive or a part-time four-wheel drive.
Trims Available:
It is available in five trims that include PA, PA special, PC, PC special, Buster, Standoff, and PZ Turbo.
Engine & Power:
Mazda Scrum Stand of van powered by a 660 cc R06A DOHC,3-CYLINDERS 12-VALVES intercooler engine that produces a maximum output of 36 kW (48hp) at 5800 RPM and torque of 62 Nm at 4000 RPM. The powerful R06A uses VVT which assists in achieving both strength and low fuel consumption. It ensures smooth performance with thick low to medium torque even when a lot of luggage is loaded.
PZ Turbo Version of Mazda Scrum produces 64 hp @6000 rpm with maximum torque of 95nm @ 3000 rpm with 660 cc that is paired with 4 Speed Automatic Transmission.
 Performance & Drive:
Mazda Crum van gives you excellent driving performance and fuel efficiency, with the two-wheel-drive delivering a mileage of 19 kilometers per liter, while the four-wheel-drive gives 19 kilometers per liter mileage. The engine of the Mazda Scrum van is paired with a five-speed auto-gear shift transmission. You can switch from a two-wheel-drive to a four-wheel-drive depending upon the road condition with a single switch. Handling Mazda Scrum is easy as it achieves a turning radius of 4.1 meters, and parking it in narrow alleys is made easier. 
Exterior, Interior Design & Features:
It is a five-door van whose front end features two square-shaped headlights on the sides of a narrow grille in the center, and the rear end features a boxy shape as in other passenger vans. The passenger seat at the rear compartment of the cabin is removable. It offers a luggage compartment of 1955 millimeters in length and 1385 millimeters in width. You can load a variety of bag and baggage inside it, and the back door has a large opening with a lower ground clearance that allows the goods to be loaded and unloaded conveniently. The sliding doors at both sides have a vertical door handle that makes the opening and closing of doors easy. The cabin features power door locks, power windows, power steering, a manual air conditioner, an instrument panel box, a glove box, AM/FM radio, CD player, two speakers, afterglow 3-position room lamp, and a door pocket on the front. The Mazda Scrum corresponds to the Support Car S-wide policy, which means it has advanced safety features for preventing accidents. The safety features it has included; lane departure warning function, hill-hold control, dynamic stability control, traction control system, Anti-lock Braking System, Electronic Brake-force Distribution, emergency stop signal, and high beam headlights.
Major Competitors:
Mazda Scrum Truck 
The Mazda Scrum truck is useful in various situations, and it features a wide and flat loading platform. It has a short wheelbase and a small turning radius that makes it easy to drive, even on narrow roads. The road surfaces do not affect driving performance. It is available in three trim levels that include:
KCX trim: it is high-end trim equipped with advanced safety features and standard equipment.

KC trim that features an air conditioner and power steering.

KC trim with air conditioner, power steering, and four-wheel drive.
Engine & Power:
It has the same engine as a scrum van, powered by an R06A DOHC, 12-valve, 3-cylinders VVT engine that produces a maximum output of 37 kW (48hp) @ 5700 RPM and torque of 63 Nm at 3500 RPM. The fuel consumption of a Mazda truck is also low, providing you a mileage of 19.8 kilometers per liter when driven manually and 17.2 kilometers of mileage when driving it automatically.
Performance & Drive:
The Mazda Scrum truck is easy to drive with its short wheelbase and small turning radius. The handling of this truck is also easy even on curved roads, and it provides you with stable running as the load balance is distributed equally between the front and rear wheels. The vehicle does not come in contact with the road because of decent ground clearance, even when driving on steep slopes. You can switch between two-wheel drive and four-wheel drive according to the road conditions. There has given the option of a differential lock system when rear wheels slip due to mud or snow, and it makes your drive safe.
Exterior, Interior Design & Features:
The interior cabin accommodates only two people as it is a commercial vehicle, but the interior is spacious. The door opening is wide, which makes the entry and exit easy, and the driver's seat can be adjusted to fourteen levels to make the driver comfortable while carrying heavy loads at a long distance. There is a flat loading platform in its rear, which has a total length of 2030 millimeters and a width of 1410 millimeters. It has a maximum loading capacity of 350 kilograms, and the loading platform is made rust-proof by applying a sealer to its outer circumference, so your goods are carried safely. The safety features included in the Mazda Scrum truck are dual-camera, brake support, lane-departure warning, SRS airbags, ABS, EBD, hill-hold control, and traction control.
Major Competitors: