2023 Benelli 180s
Sold in Pakistan = 2021-Present
Engine Technology = 1-cylinder/4-stroke/4-valve EFI, Electric Start
2023 Benelli 180s Price in Pakistan
| | |
| --- | --- |
| Benelli 180s | 875,000/- PKR |
Benelli, an Italian motorcycle company, entered the Pakistani market in 2016 through a collaboration with Buraq Automobiles and Qianjiang Chinese Motor Company. They introduced a range of models to cater to different riding preferences. These models include the Benelli TNT 150, Benelli 180s, Benelli TRK 251, Benelli TNT 25, Benelli 302S, Benelli Leoncino 500, Benelli Imperiale 400, Benelli 502C, Benelli 752S, Benelli TNT 600I, and Benelli TRK 502X. Let's delve into the features and specifications of the Benelli 180S in detail. The Benelli 180S is a naked sports bike that boasts a 175.3cc engine. Its design exhibits a sporty and aggressive aesthetic, incorporating modern styling cues. Depending on the specific model and market, the bike may come equipped with various features such as a digital instrument cluster, LED lighting system, front and rear disc brakes, and an underbelly exhaust.
Designed for agile and nimble handling, the Benelli 180S excels in urban commuting and sporty riding scenarios. Its precise handling and maneuverability make it well-suited for navigating through city traffic and enjoying spirited rides. The power output and performance figures of the Benelli 180S may vary based on the specific model and market it is sold in. Benelli motorcycles employ advanced engine technology to deliver optimal performance. They offer a diverse range of engine configurations, including single-cylinder, parallel-twin, and inline-three engines. These engines are carefully designed to strike a balance between performance, reliability, and fuel efficiency.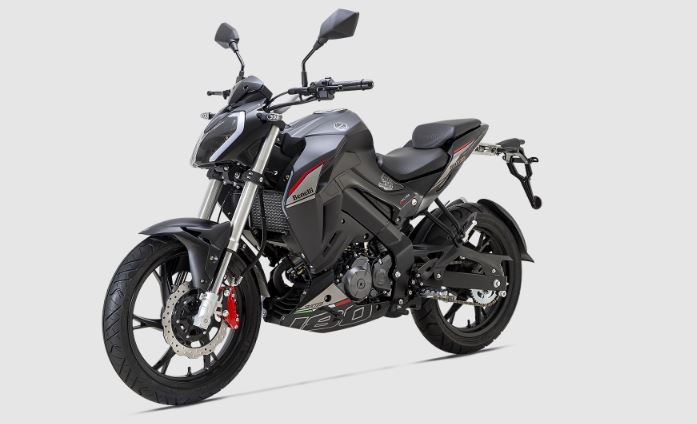 Notably, the Benelli 180S stands out with its three-spark plug system engine. This innovative design enhances performance and combustion efficiency, setting the naked sports bike apart from its counterparts. The use of advanced engine technology contributes to the superior performance and overall appeal of the Benelli 180S. With its unique features and cutting-edge engine technology, the Benelli 180S aims to provide riders with an exhilarating and satisfying riding experience.
Engine & Performance:
The Benelli 180S indeed features a 175.3cc single-cylinder, water-cooled engine. With electronic fuel injection (EFI), it ensures precise fuel delivery for optimal performance and fuel efficiency. The engine generates 13.3 kW of power at 9500 RPM and 14 Nm of torque at 7000 RPM. The three-plug spark engine design enhances fuel efficiency and overall performance, contributing to a rewarding riding experience. The bike is equipped with a 6-speed manual transmission, allowing riders to manually shift gears and make the most out of the engine's powerband. This enables better control and performance optimization based on riding conditions and preferences.
The Benelli 180S strikes a balance between performance and fuel efficiency, making it suitable for both urban commuting and sporty riding. It achieves a fuel average of approximately 40 kilometers per liter, thanks to its efficient engine and EFI system. The fuel tank has a capacity of 10 liters, providing a decent range for rides. In terms of speed, the Benelli 180S can reach a top speed of 172 kilometers per hour, offering an exciting riding experience for enthusiasts. Regarding the suspension, the front end of the Benelli 180S is typically equipped with telescopic forks. Telescopic forks use a sliding tube within a fixed outer tube to absorb shocks and provide suspension travel. This setup strikes a balance between comfort and handling, ensuring a controlled and comfortable ride.
At the rear, the Benelli 180S commonly features a mono-shock swing arm suspension. This mono-shock setup consists of a single shock absorber mounted centrally, supporting the rear wheel and providing damping. It helps maintain stability and control, ensuring a smoother ride over various road surfaces. Overall, the specifications of the Benelli 180S, including its engine performance, transmission, fuel efficiency, and suspension setup, make it a versatile and enjoyable option for urban commuting and sporty riding. The Benelli 180S, with its stable and controlled riding experience, offers riders improved stability and control. Although the suspension components on the 180S are generally not adjustable, they are tuned to provide a comfortable and compliant ride across various road conditions. The standard setup is designed to offer a balance between comfort and performance.
In terms of braking, the Benelli 180S features a reliable and effective braking system. It typically includes disc brakes on both the front and rear wheels, providing superior stopping power and efficient heat dissipation. The disc brakes usually have a diameter of 260 millimeters, further contributing to enhanced braking performance. The hydraulic operation ensures smooth and precise modulation of the brakes, allowing riders to have better control over their braking actions.
The agile and nimble handling characteristics of the Benelli 180S make it suitable for urban commuting and sporty riding. Its lightweight construction facilitates easy maneuverability and quick direction changes, enhancing the bike's responsiveness. The compact dimensions further contribute to its agility and responsiveness in different riding conditions. The ergonomics of the Benelli 180S are designed to provide a comfortable riding position while promoting control and stability. The handlebars, footpegs, and seat placement allow for an upright and relaxed posture, reducing rider fatigue during longer rides. This design also aids in maintaining control and stability over the bike.
The Benelli 180S typically features a sturdy frame and a suspension system that strikes a balance between comfort and sporty handling. The chassis provides stability and precise handling, while the suspension components absorb bumps and ensure good road holding. This combination allows for a confident and enjoyable riding experience. Lightweight alloy wheels are commonly found on the Benelli 180S, providing strength and maneuverability. The tires are designed to strike a balance between grip and durability, enabling confident cornering and overall stability.
In summary, the Benelli 180S offers a well-rounded package with its stable handling, comfortable ergonomics, reliable braking system, and balanced suspension setup. These features contribute to an enjoyable and controlled riding experience for urban commuting and sporty riding purposes.
Exterior Design & Build Quality:
The Benelli 180S boasts a sporty and aggressive exterior design that aims to turn heads on the road. With its muscular and angular aesthetics, the bike showcases a dynamic and athletic presence. The sharp lines, edgy contours, and aggressive bodywork contribute to its overall sportiness. At the front, the Benelli 180S often features a sleek and sharp headlight design that enhances its visual appeal. The inclusion of LED lighting elements not only improves visibility but also adds a modern touch to the bike's overall look. The front fender and fascia further enhance the sporty appearance, complementing the bike's overall design language. The fuel tank of the Benelli 180S is typically sculpted and designed to emphasize the bike's athletic nature. It may feature bold graphics or branding, adding to its visual appeal and creating a distinctive look. The design of the fuel tank contributes to the overall muscular and aggressive stance of the motorcycle.
Moving to the rear, the Benelli 180S often adopts a compact and minimalist tail section. This design choice helps maintain a clean and streamlined look. The inclusion of an LED taillight adds to the bike's modern and stylish aesthetics. The rear fender is typically small, further enhancing the bike's sporty appearance. The exhaust system on the Benelli 180S is usually designed with an upswept style, which not only adds to its sporty aesthetics but also contributes to the bike's overall performance. The exhaust may feature a stylish muffler or end cap, adding to its visual appeal. Regarding color options, the Benelli 180S is commonly available in black, white, and red exterior colors. These colors accentuate the bike's sporty design and give riders options to choose from based on their preferences.
In summary, the Benelli 180S features a sporty and aggressive exterior design with muscular and angular aesthetics. Its sharp lines, sleek headlight, sculpted fuel tank, compact tail section, and stylish exhaust system contribute to its overall sportiness. The available color options further enhance the bike's visual appeal.
User Reviews:
The peppy performance and lively engine of the Benelli 180S are frequently praised by riders. The bike's power delivery is reported to be smooth and suitable for daily use, providing an enjoyable riding experience. The nimble and agile handling of the 180S is another aspect that riders appreciate. Thanks to its lightweight construction, compact size, and responsive steering, the bike is easy to maneuver through city traffic and confidently navigate tight corners. The sporty and aggressive styling of the Benelli 180S is generally well-received by riders. Its eye-catching design, with sharp lines and dynamic contours, adds to its overall appeal. Additionally, the comfort of the seat and the upright riding posture enabled by the handlebar positioning contribute to a pleasant riding experience. The braking performance of the Benelli 180S is often rated positively by riders. The bike typically features reliable and effective brakes that provide the necessary stopping power and inspire confidence on the road.
Overall, the Benelli 180S is appreciated for its peppy performance, nimble handling, sporty styling, comfortable ergonomics, and reliable braking, making it a popular choice among riders seeking a dynamic and enjoyable riding experience.
Pros:
Sporty Looks
Powerful Engine
Better fuel Economy
Cons:
Expensive
Hard to Handle
Expensive Maintenance and Spare Parts
Major Competitors:
Sigma VALENTINO 150cc
Aprilia RS 150